Smoked Harissa and Brown Sugar Chicken Wings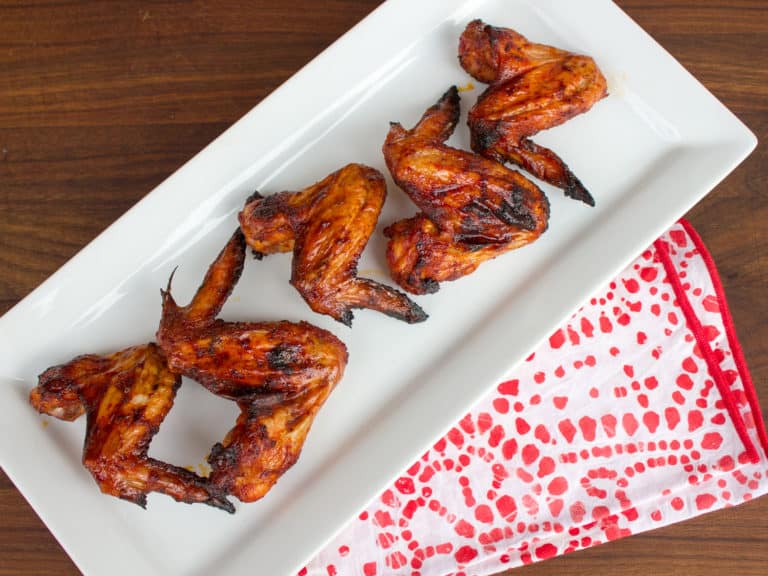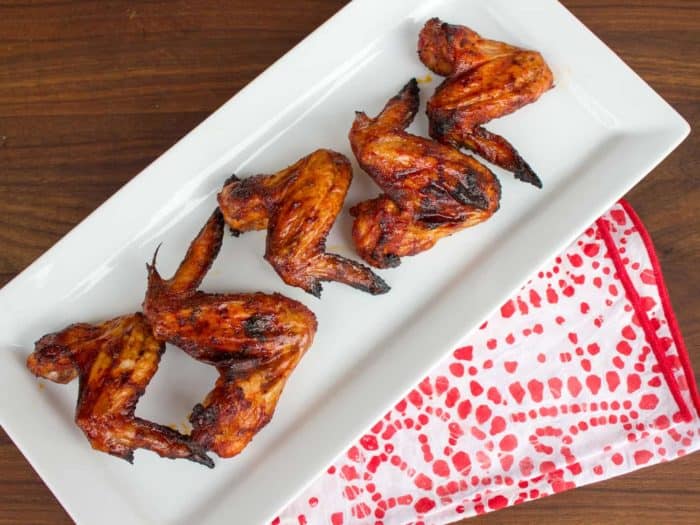 This was the winter that never wanted to end, but finally it is starting to feel like spring around here. At the same time, it is hard to believe that we still have some mounds of snow not yet melted.
One of the things I miss most during the winter is grilling and smoking. I try it sometimes, but when our backyard is filled with snow and it is bitter cold outside, I just don't have the desire to hang around my grill or smoker.
So, once the weather breaks and spring arrives, one of the first things I do, is clean my grill and smoker for another season of cooking!
To get things started I decided to smoke some chicken wings. These wings I left whole, although you could easily cut them into individual drummette and flat wingette portions.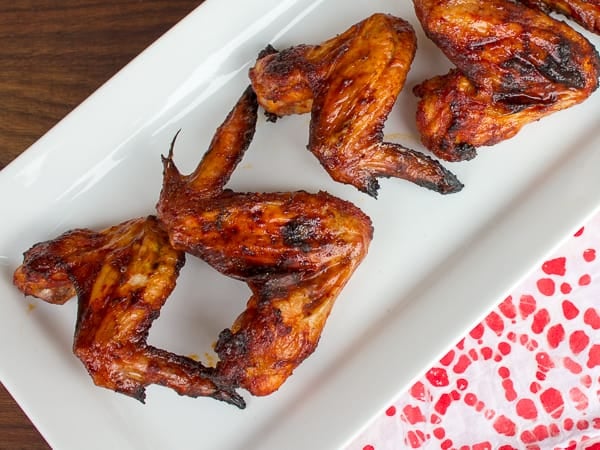 Chicken wings are one of my favourite things to smoke. They are simple to prepare and the smoky flavour is just amazing in every single bite of the chicken wing. I love how you can really vary the taste with different seasonings, rubs and glazes.
The chicken wings can be rubbed with a seasoning or marinate in a sauce before smoking. Or, they can be smoked first and then tossed in a glaze or sauce once they come out of the smoker. You can even do both: season them first and then toss them in a sauce afterwards.
There are so many possibilities!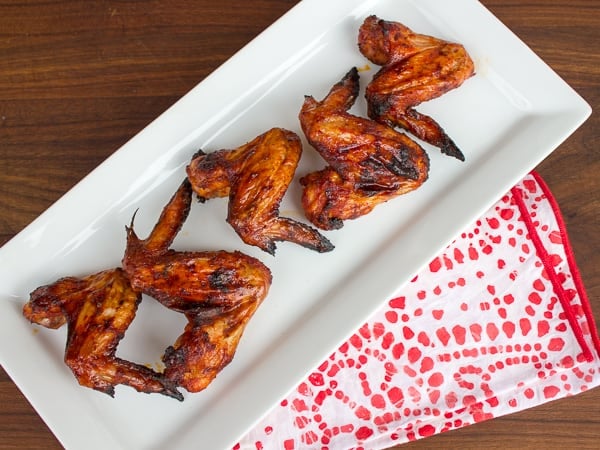 For this chicken wing recipe, I tossed them in a paste that I made with harissa, brown sugar and garlic powder. It may just be a few ingredients but there is so much flavour packed into the harissa that you don't need to add a lot of other stuff.
Harissa has become more popular lately. It is a chili paste that is part of Tunisian cuisine and is found in the regions of North Africa and the Middle East. Along with ground up chili peppers, there is also a blend of other spices like cumin, coriander, caraway and more.
Harissa is excellent mixed into so many different things. Use it in dips, hummus, rice dishes, rubbed all over fish or other meat. Once you start using it, you will discover how great it is!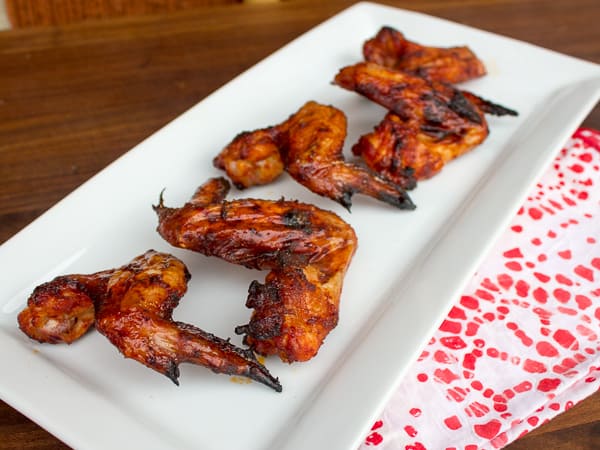 Making these wings is super simple. Toss the wings in the sauce mixture and smoke them at 275F for 2 – 2 1/2 hours.
275F is a higher temperature for the smoker than normally use. I find that this temperature helps to render the skin and will start to crisp it up.
Regarding wood choice, there are many types that are excellent for chicken. Personally, I love using pecan for chicken wings, which provides such a nice earthy smoke. Hickory, maple, apple and cherry are all great choices for wood as well.
Once the chicken wings have cooked through, and the skin has started to crisp up and render, they are ready to serve. You can serve them just like this, but if you want the skin to be a bit more crispy, you can throw them on a grill at medium high heat for just a couple minutes per side.
Smoked Harissa and Brown Sugar Chicken Wings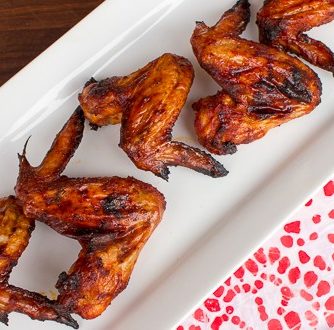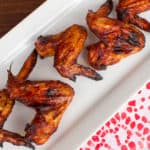 Print
Simple instructions for how to smoke chicken wings with a delicious marinade made with harissa paste, brown sugar, garlic and more.
Servings: 4 people
Ingredients
2 pounds chicken wings
2 tbsp harissa paste
2 tbsp brown sugar
1 tsp garlic powder
1 tsp salt
Instructions
If desired, cut each chicken wing into three portions: drumette, flat wingette and tip. Discard the tip of the wings and place the other portions in a large bowl.

In a bowl mix together the harissa paste with the brown sugar, garlic powder and salt. Toss the wings in the mixture, so they are evenly coated.

Set up smoker for 275F using wood of choice.

Lay wings on smoker racks and smoke for about 2 - 2 1/2 hours, or until cooked through.

Remove wings from the smoker and serve.

If you want to crisp up the skin, you could throw the wings on a grill set to medium high heat for just a couple minutes per side.
Nutrition
Per serving:
Calories: 305kcalCarbohydrates: 7gProtein: 22gFat: 19gSaturated Fat: 5gCholesterol: 94mgSodium: 773mgSugar: 6g