Sweet Thai Chili Smoked Chicken Wings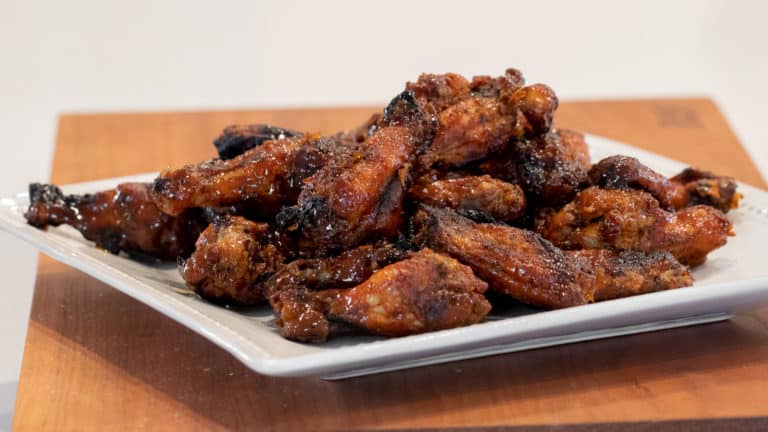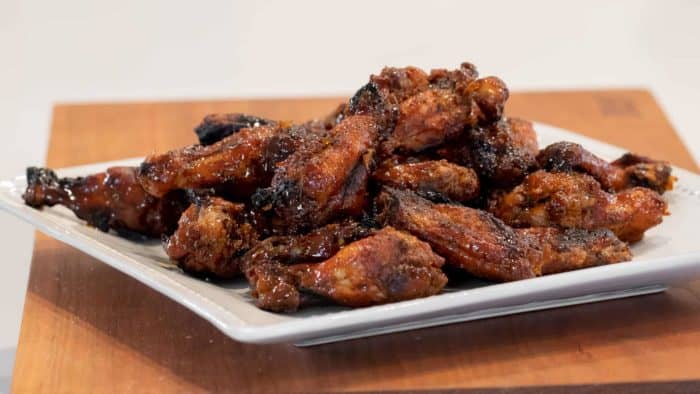 Smoking chicken wings is one of my favourite ways to cook this game day party food. Smoked wings are great for tailgating, a BBQ party or any picnic or event.
Over the years, I have cooked wings many different ways. They are great deep fried, oven baked, air fried, and smoked.
The best wings always seem to have crispy skin, lots of flavour and a sweet sticky glaze. These sweet Thai chili smoked chicken wings are the perfect wing. Smoky flavour, crispy skin and the sweet chili sauce is the perfect glaze. Sort of like a honey garlic wing with a bit of a kick.
I have made these wings so many times for parties and they always surprise people with how amazing they are. I had some friends over this past weekend and when they tried the wings, one said that it was by far the best wings he has had in years.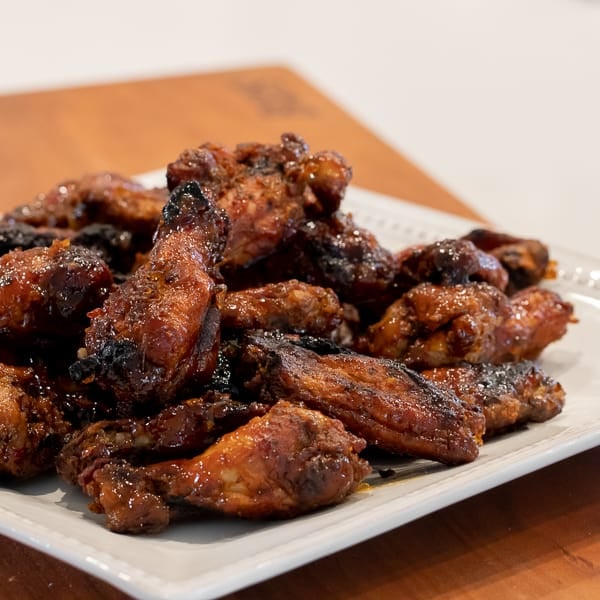 Chicken wings can be smoked whole, or divided into pieces. To divide them, cut them into 3 portions: the drummette, wingette and tip. Discard the tip and put the other pieces in a large bowl.
To make the rub, in a small bowl, mix together the melted butter, spices and sugar. Toss the chicken wings in the seasoning and place them on a smoker rack.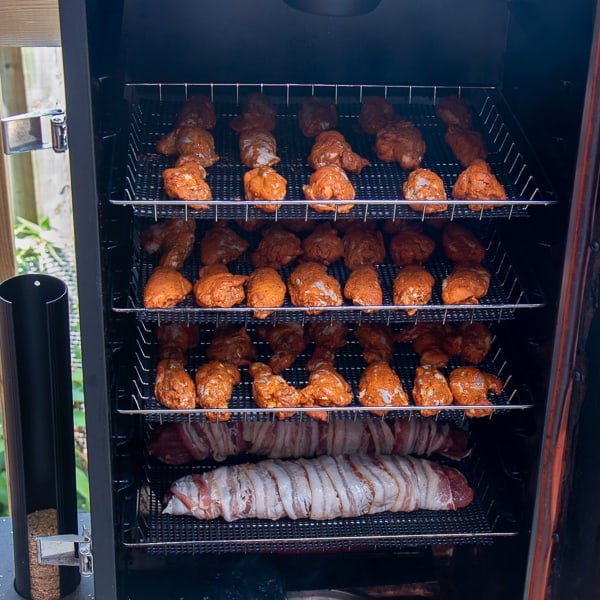 Set the smoker to 275F using wood of choice. Wood that is great with chicken are apple, cherry, maple and pecan.
Once the smoker has reached 275F, place the chicken wings in the smoker. I smoked these in an electric smoker, but they can be done this way using any smoker.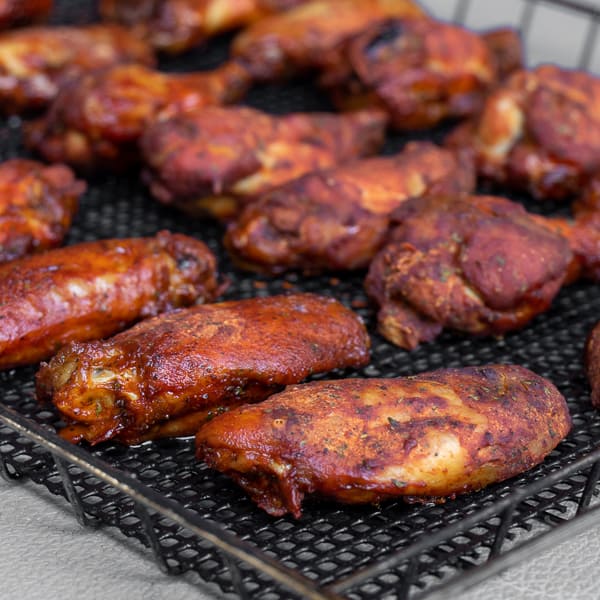 It takes about three hours to smoke the wings. The internal temperature needs to be at least at 165F, but I usually smoke them until they are around 175-180F.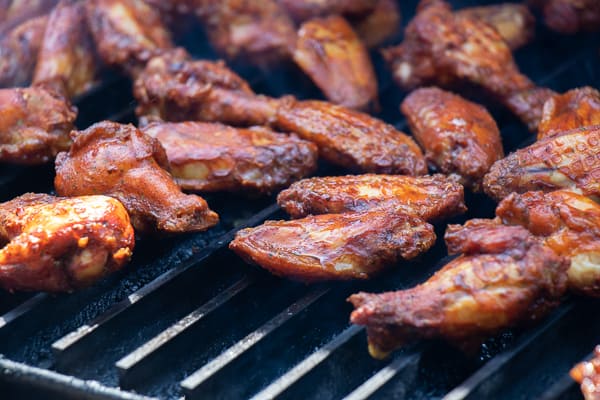 Smoking the chicken wings gives them so much flavour. Some smokers, like electric smokers, do not do a great job crisping up the skin. If desired, you can throw them on the grill, over high heat, for a few minutes. It doesn't take much time to crisp up the skin and I find it really enhances the finished wings.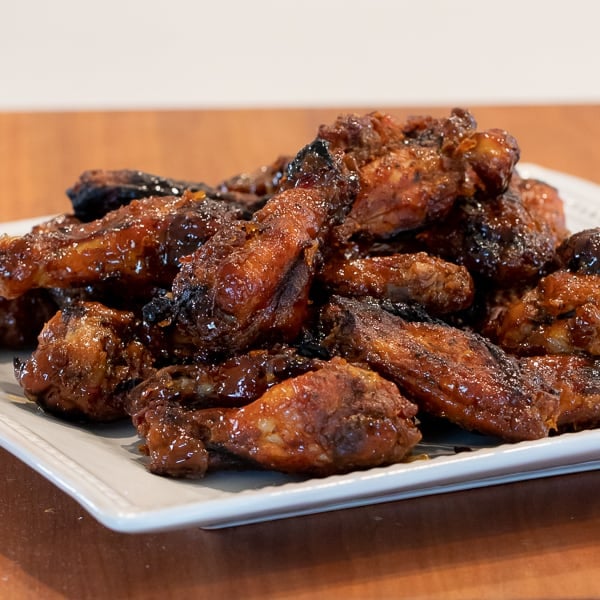 The last step to making these chicken wings is to toss them in some sweet Thai chili sauce. You can either use store bought sweet chili dipping sauce or make it using this recipe: Sweet Heat Thai Chili Sauce. Once the wings are coated in the sauce, serve them immediately.
Sweet Thai Chili Smoked Chicken Wings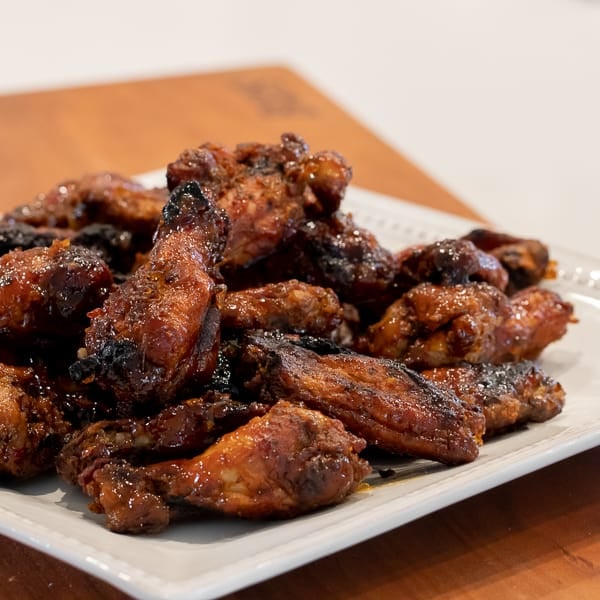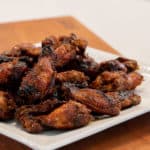 Print
Simple instructions for how to smoke chicken wings with a delicious rub and a sweet and sticky Thai chili glaze.
Servings: 4 people
Ingredients
2 pounds chicken wings
2 tbsp melted butter
1 tbsp paprika
1 tsp onion powder
1 tsp garlic powder
1/2 tsp ground ginger powder
1/2 tsp black pepper
1 1/2 tsp salt
2 tsp sugar
1 cup sweet Thai chili sauce
Instructions
If desired, cut each chicken wing into three portions: drumette, flat wingette and tip. Discard the tip of the wings and place the other portions in a large bowl.

In a small bowl, mix together the melted butter, paprika, onion powder, garlic powder, ground ginger, black pepper, salt and sugar. Toss the chicken wings in the seasoning mixture.

Set up smoker for 275F using wood of choice.

Lay wings on smoker racks and smoke for about 3 hours, or until cooked through.

Remove wings from the smoker.

If you want to crisp up the skin, you could throw the wings on a grill set to medium high heat for just a couple minutes per side.

Toss in the sweet Thai chili sauce and serve