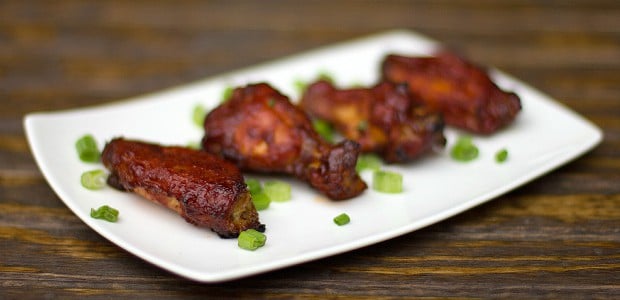 These Kansas City BBQ chicken wings are the perfect treat for me right now! This fall has been a great time for me in the world of sports. I am a huge baseball and football fan. My baseball team is the Baltimore Orioles and they had a surprising year making it into the post season. Sure they lost to those D* Yankees, but at least they made it and had some playoff games at Camden Yards. In football, I love Notre Dame in NCAA and Atlanta Falcons in the NFL. Both teams are undefeated so far and having incredible years! Life is good when your teams are winning.
There is not much better for me, when watching sports, than having snack food. Chicken wings are the ultimate party food and I love to prepare them many different ways. I have a number of chicken wing recipes already on the site being prepared using various methods.
Deep Fried Wings – Buffalo Chicken Wings and Honey Garlic Chicken Wings
Smoked Wings – Easy Smoked Wings
Oven Baked Wings – Peanut Butter and Jelly Wings
Today I want to share this Kansas City BBQ chicken wings recipe. These wings are lip smacking delicious!! They are marinated for a couple hours and the sauce develops a glaze on the wings, while baked, that will cause you to crave more of them. Trust me.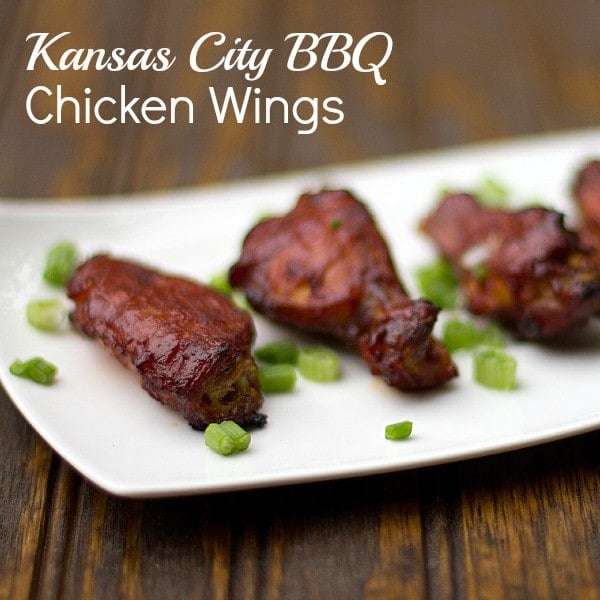 The BBQ comes from my Kansas City Rib recipe that is one of the first recipes I ever posted and still one of my favourites!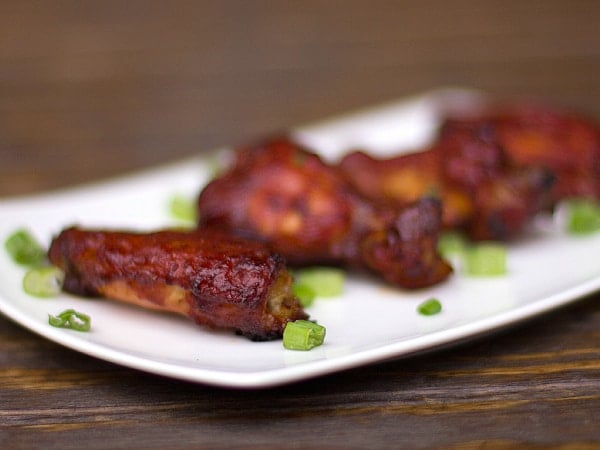 Kansas City BBQ Chicken Wings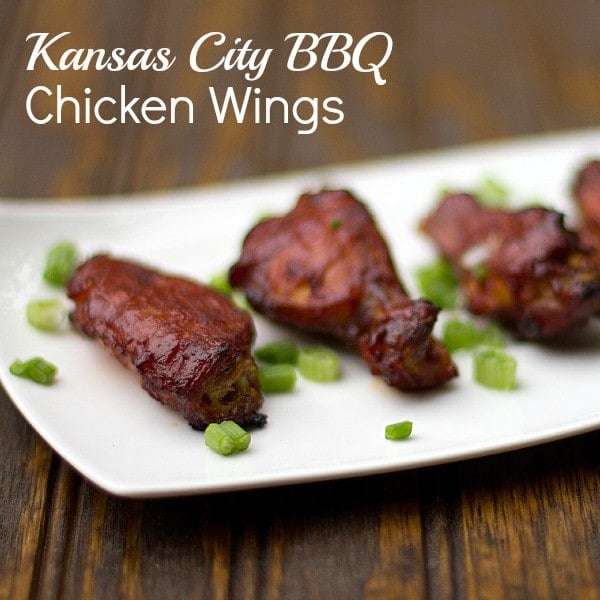 Print
Oven baked wings marinated and basted with a sweet lip smacking homemade barbecue sauce made with ketchup, molasses, brown sugar, vinegar and chili powder
Servings: 4 people
Ingredients
20 chicken wings
3 tbsp melted butter
3 cups ketchup
3 cloves garlic , minced
1/2 cup white vinegar
1 cup brown sugar
1/2 cup molasses
2 tbsp Worcestershire sauce
1 1/2 tbsp chili powder
2 tsp salt
1 tsp cayenne pepper
1/2 tsp black pepper
Instructions
Cut the wings into three pieces: drummette, middle portion and tip. (save the tips for making chicken stock in the future. I keep them in a freezer bag in the freezer for future use).

Mix the remaining ingredients to make the bbq marinade.

Reserve 1/2 cup of the marinade for basting.

Mix the remaining marinade with the cut up chicken wings until evenly coated. Place in the fridge and marinate for 1 to 2 hours.

Place a wire rack on a cookie sheet lined with aluminum foil. Spray the wire rack with cooking spray.

Place the wings on the wire rack and place in a 375F oven. Cook for 30 minutes.

Remove from the heat and brush the wings with the reserved marinade. Turn the wings over and brush the other side with the marinade.

Return the wings to the oven and cook for another 30 minutes.

Enjoy!