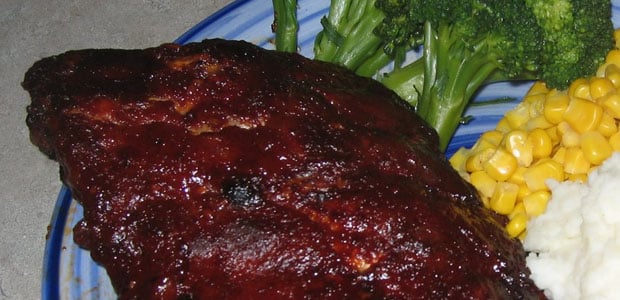 Ribs are famous across the United States and many different cities have their own take. Memphis is famous for the dry ribs with an excellent rub. Vermont is known for a maple glaze that goes on the ribs and it tastes like candy. Lexington uses a vinegar mop sauce, while South Carolina has more of a mustard based sauce. Probably the most popular are Kansas City ribs. They are covered in a rich and tasty barbecue sauce. Here is my take on Kansas City Ribs.
Kansas City Ribs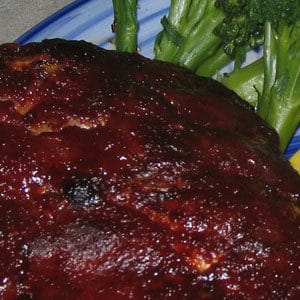 Print
Slow cooked, fall off the bone, lip smacking good ribs. These are easy to make and have an incredible BBQ sauce
Servings: 4 people
Ingredients
2 racks of pork ribs , (preferably back ribs)
4 tbsp butter
2 cloves garlic , minced
1 onion , minced
2 1/2 cups of ketchup
1/2 cup molasses or corn syrup
1/2 cup honey
1/2 cup orange juice
1/3 cup cider vinegar
1 cup brown sugar
3 tbsp mustard
2 tbsp Worcestershire sauce
1 1/2 tbsp chili powder
2 tsp salt
1 tsp cayenne pepper
1/2 tsp black pepper
1 tsp liquid smoke
Instructions
To make sauce, melt butter in a pot. Add onions and garlic and cook on low heat until onions are transparent. Add remaining ingredients and increase heat to medium. Bring to a boil and lower heat. Simmer for about 45 minutes. Cool.

To make ribs, preheat oven to 200F. Cut the racks of ribs in half. Place in a baking tray and pour most of the sauce over the ribs. Save some sauce for basting when the ribs are broiled. Cover the baking tray with tin foil and bake for 8 hours.

Take ribs out of the oven and set oven temperature to broil/grill. Carefully move the ribs to a broiling pan (they can fall apart fairly easily). Baste the ribs with the remaining sauce. Put the ribs in the oven and broil them for about 10-15 minutes. Enjoy!