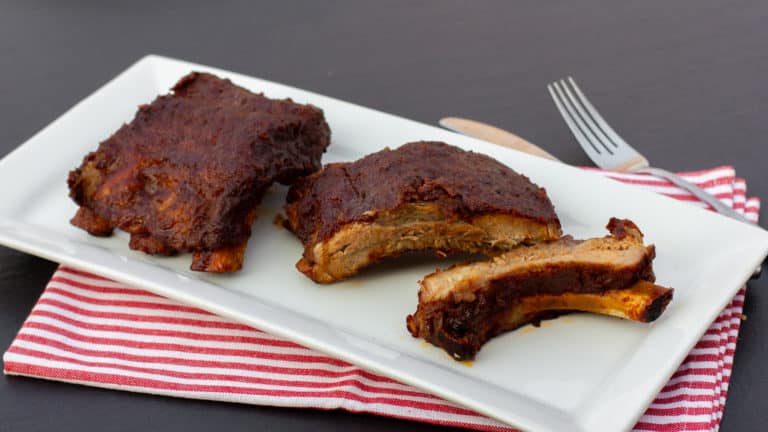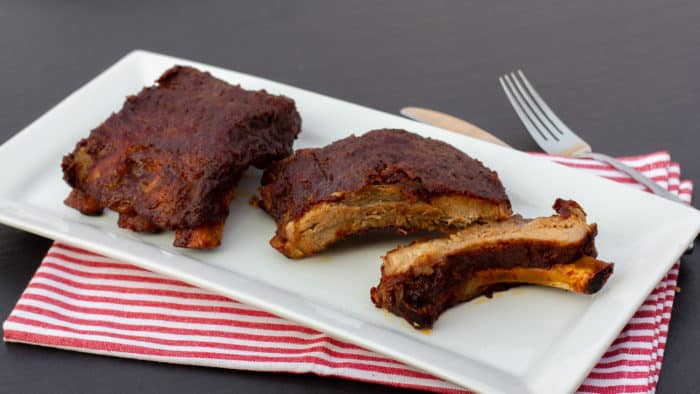 Pork ribs are a wonderful thing. There is no better meal for me than a rack of back ribs. Anytime I look at a flyer and see that they are on sale, I buy a bunch to throw in the freezer.
That way, if I am in the mood to fire up the smoker, or if we are having some people over for dinner, I can pull out a few racks we are good to go.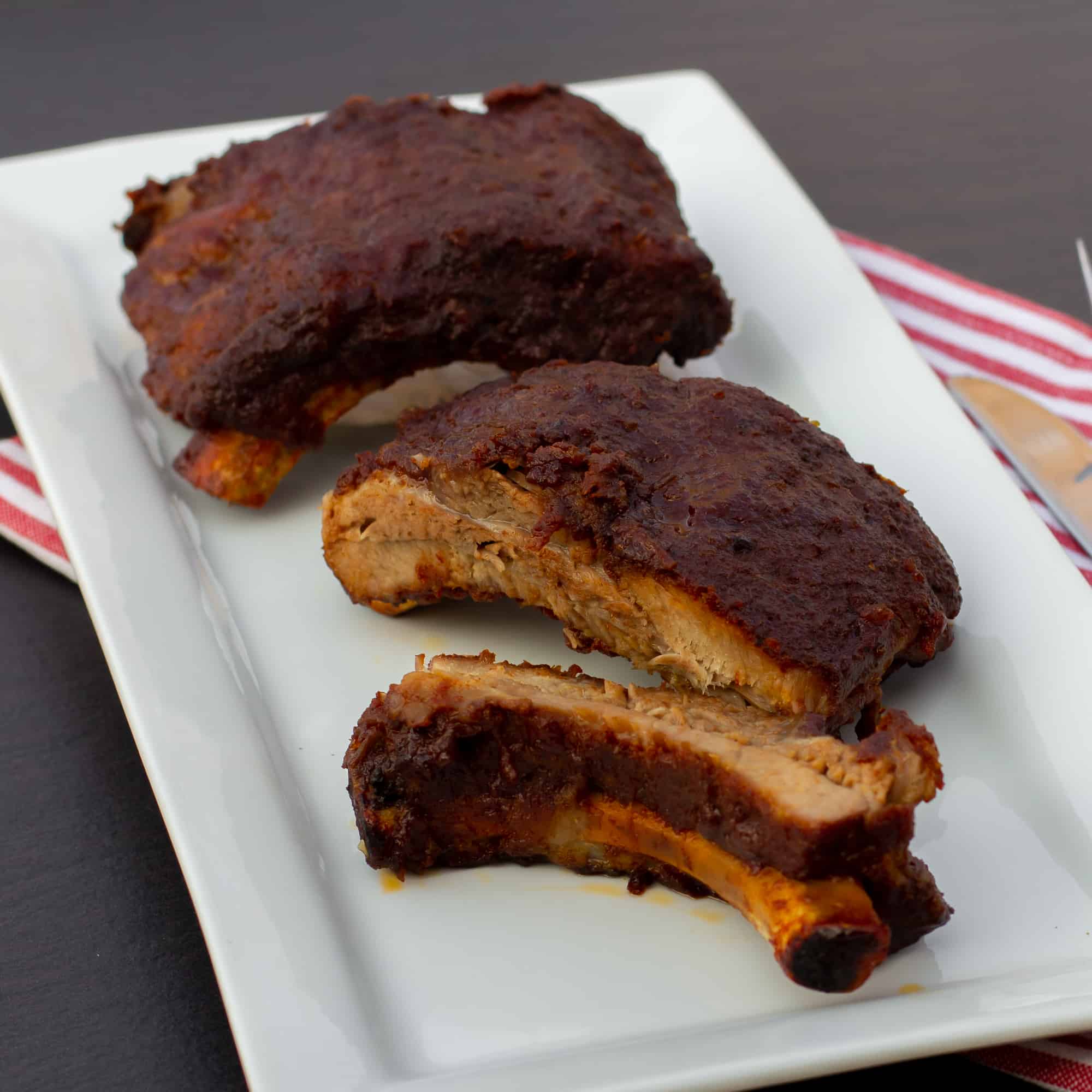 Ribs need to be saucy, sticky and fall off the bone tender. They are great in the smoker and that is the typical way I prepare ribs.
Sometimes, when the weather is bad or I am in the mood for a different flavour of ribs, I prepare them in the oven.
This recipe is the simplest way I have ever prepared ribs and they turned out phenomenal. They were so sweet, tangy and sticky. The meat was tender and fell off the bone. The bourbon gave the sauce on the ribs an awesome flavour.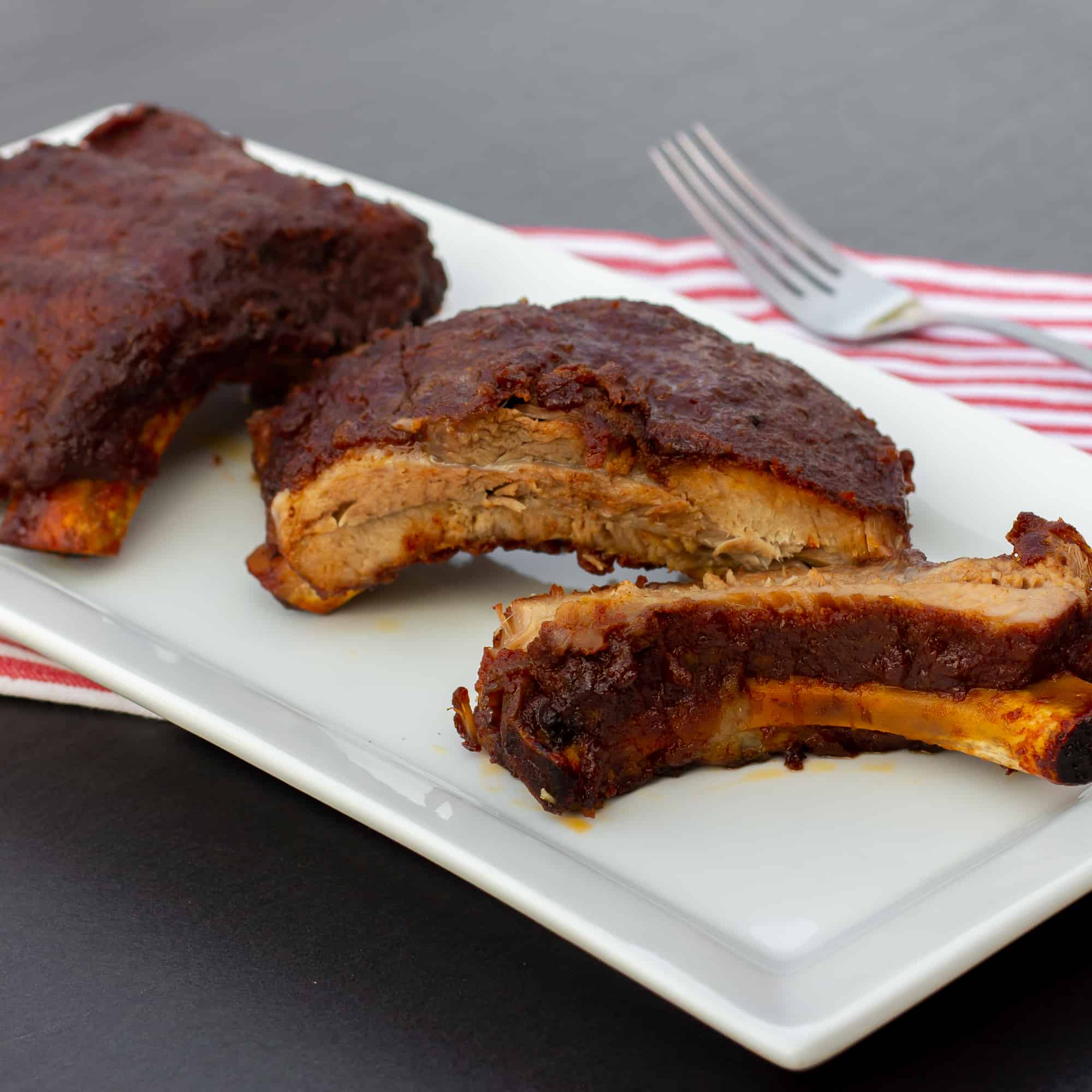 Sticky Ribs with Bourbon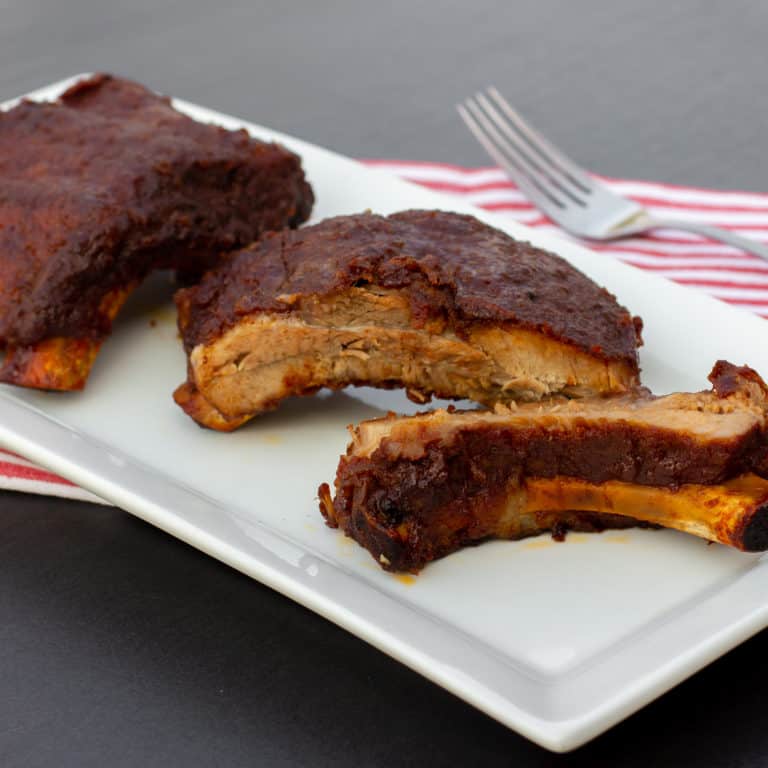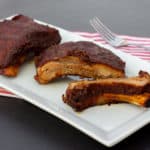 Print
Slow braised ribs with rub and bourbon bbq sauce. Cook in the oven or crock pot / slow cooker. Meat is fall off the bone tender.
Servings: 2 racks
Ingredients
Rub
1/2 cup brown sugar
1 tbsp paprika
1 tbsp cumin
1 tbsp salt
1 tbsp oregano
1 tbsp garlic powder
2 tsp cayenne pepper
3 tbsp dried onion flakes
Sauce
1 cup vinegar
1 1/2 cup brown sugar
1/2 cup bourbon
1 cup crushed tomatoes
1 tsp paprika
1 tsp cinnamon
1 tsp cumin
1 tsp garlic powder
1/2 tsp salt
1 tsp cayenne pepper
2 tbsp dijon mustard
Instructions
Make the rub by mixing all the rub ingredients together.

Peel the membrane off the back of each rack of ribs. Cut them into 3-4 bone lengths. Generously rub the BBQ spice rub all over the ribs. Place the ribs in the fridge for 1-2 hours and let the rub set on the meat.

Mix the sauce ingredients together to create the sticky glaze for the ribs.

Place the ribs in a baking dish and pour the sauce over the ribs. Turn the ribs around in the sauce to ensure that they are completely coated.

Cover the baking dish and place in a 350F oven for 2 - 2 1/2 hours. Flip the ribs over after the first hour.

Remove the cover when there is about 30 minutes of cooking time left.