Honey Sriracha Smoked Pork Side Ribs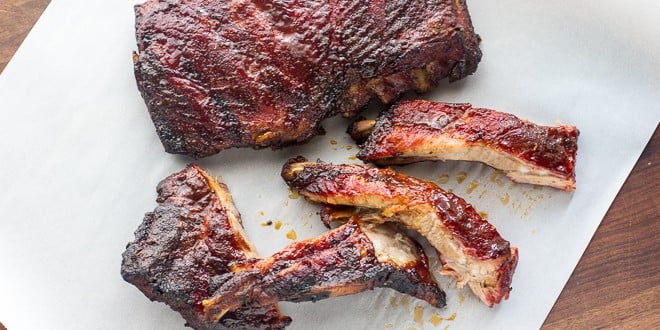 Oh ribs…. you are my weakness.
If I could only have one meal for the rest of my life, it would have to be ribs. Meaty and full of flavour, ribs are also an ideal meat to coat with lots of seasoning and sauce. Whether you like your ribs dry or saucy, they can pack quite the flavour in every single bite.
I have prepared ribs in the oven, slow cooker, pressure cooker and grill, but my favourite way to cook ribs is in the smoker. Ribs are perfect for low and slow cooking as it gives time for the connective tissues to break down so the ribs are tender.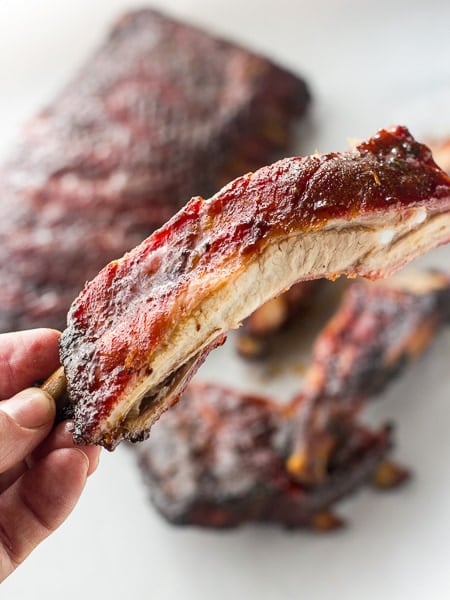 Over the years I have used many different seasonings, sauces and glazes on ribs. I have come to the conclusion that I like my ribs fairly sweet with a bit of a spicy kick as well. I love the glaze to be nice and sticky caused when the sugars in the sauce begin to caramelize.
This recipe uses a combination of honey and Sriracha sauce as the main ingredients of the sauce. Sriracha is everywhere now, and present in most fridges, so throwing this sauce together becomes fairly simple because it is likely stuff you have in your kitchen. Depending on how spicy you like your ribs, you could add more or less Sriracha. Also, I brush the ribs at the start with some Sriracha, then add the mixed honey Sriracha sauce midway through the smoking, and once more when they come out of the smoker.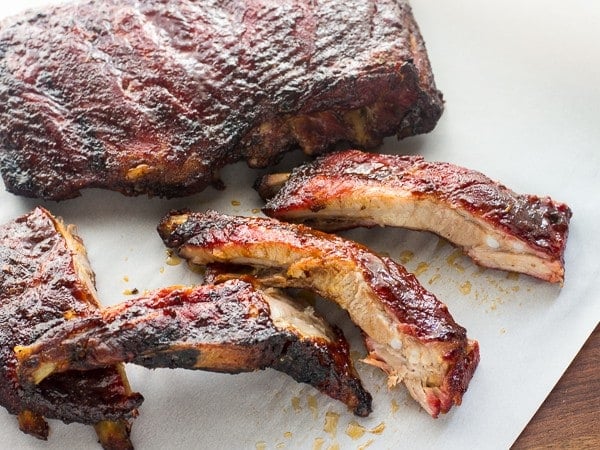 I often get asked how long it takes to smoke ribs. Unfortunately, there is not one answer. Sure, once they hit 145F they are cooked and ready to eat but the ribs would be fair to tough and not enjoyable at all. They need to be cooked until 180F or more so that the meat is tender. I usually cook till the ribs are over 190F as my family prefers the meat to fall off the bone.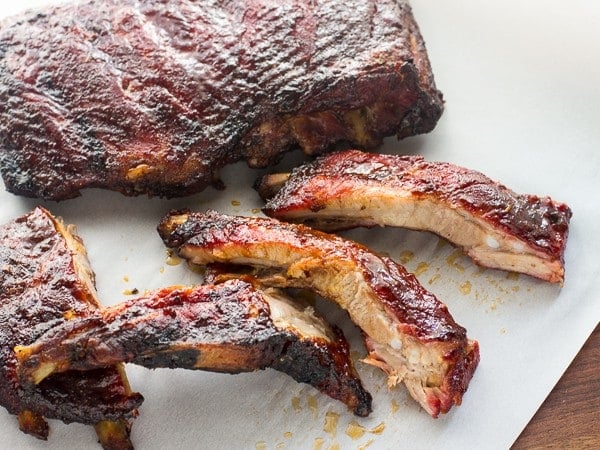 Honey Sriracha Smoked Side Ribs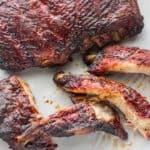 Print
Servings: 1 rack of ribs
Ingredients
1 rack pork side ribs
6 tbsp Sriracha
1/4 cup melted butter
1/2 cup honey
1 tbsp salt
2 tsp black pepper
2 tsp garlic powder
Instructions
Set smoker to 275F using wood choice (hickory, pecan and whisky oak work great for ribs).

Peel the membrane off the back of each rack of ribs.

Spread 2 tbsp of the Sriracha all over both sides of the ribs.

Place the ribs in the smoker and smoke for 3-4 hours.

Make the sauce by wishing the remaining ingredients in a bowl.

About halfway through the smoking, brush the ribs with about half of the sauce.

Once the ribs are done, remove them from the smoker and brush them with the remaining sauce.

Let them rest for 10 minutes before cutting and serving.