Oven Roasted Baby Potatoes
Roasting mini potatoes is so easy and this recipe is great for a weeknight meal! Crispy on the outside and fluffy on the inside make these oven roasted potatoes so good.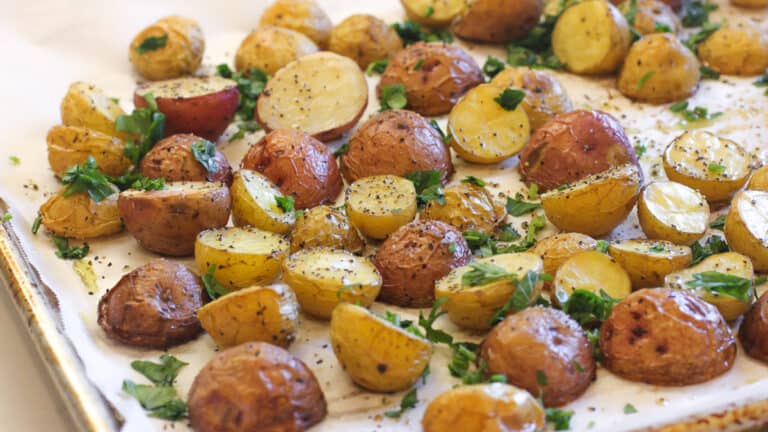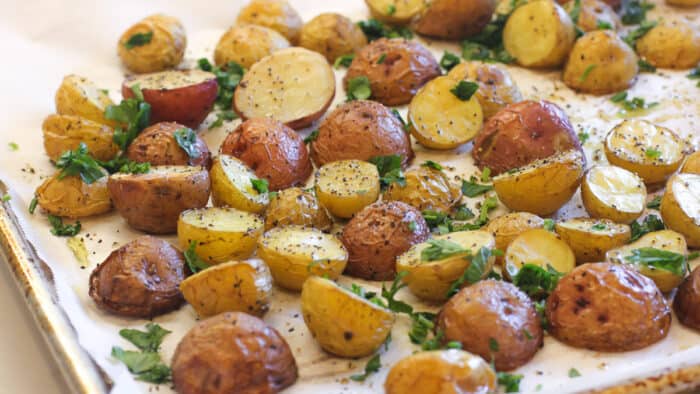 Baby potatoes are soft and buttery, with a tender fluffy inside. These are easily my favourite kind of potato. I use them all the time and regularly have a bag of these creamer potatoes in my shopping cart any time I go to the supermarket.
Oven roasted baby potatoes is one of the easiest ways to cook these bite sized delights. This is weeknight level simple, but it tastes so good that you may think you are at a nice restaurant for dinner. Pair these roasted mini potatoes with a filet of salmon, pork tenderloin or chicken breast and you have one stellar meal!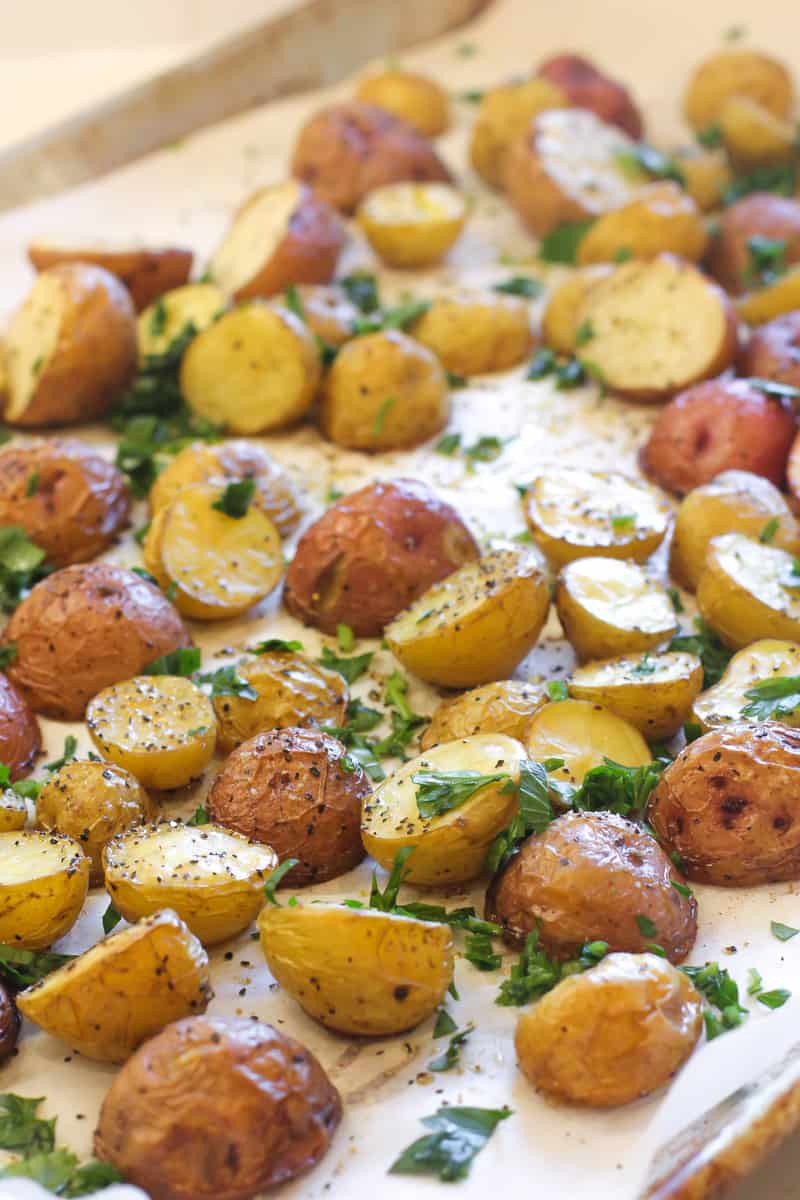 This recipe is super easy and you only need a little bit of time to get the potatoes ready. I like to use a mixture of both red and white potatoes. The different colours add a lot to the visual appeal of this side dish. There are even purple/blue potatoes that you could use as well.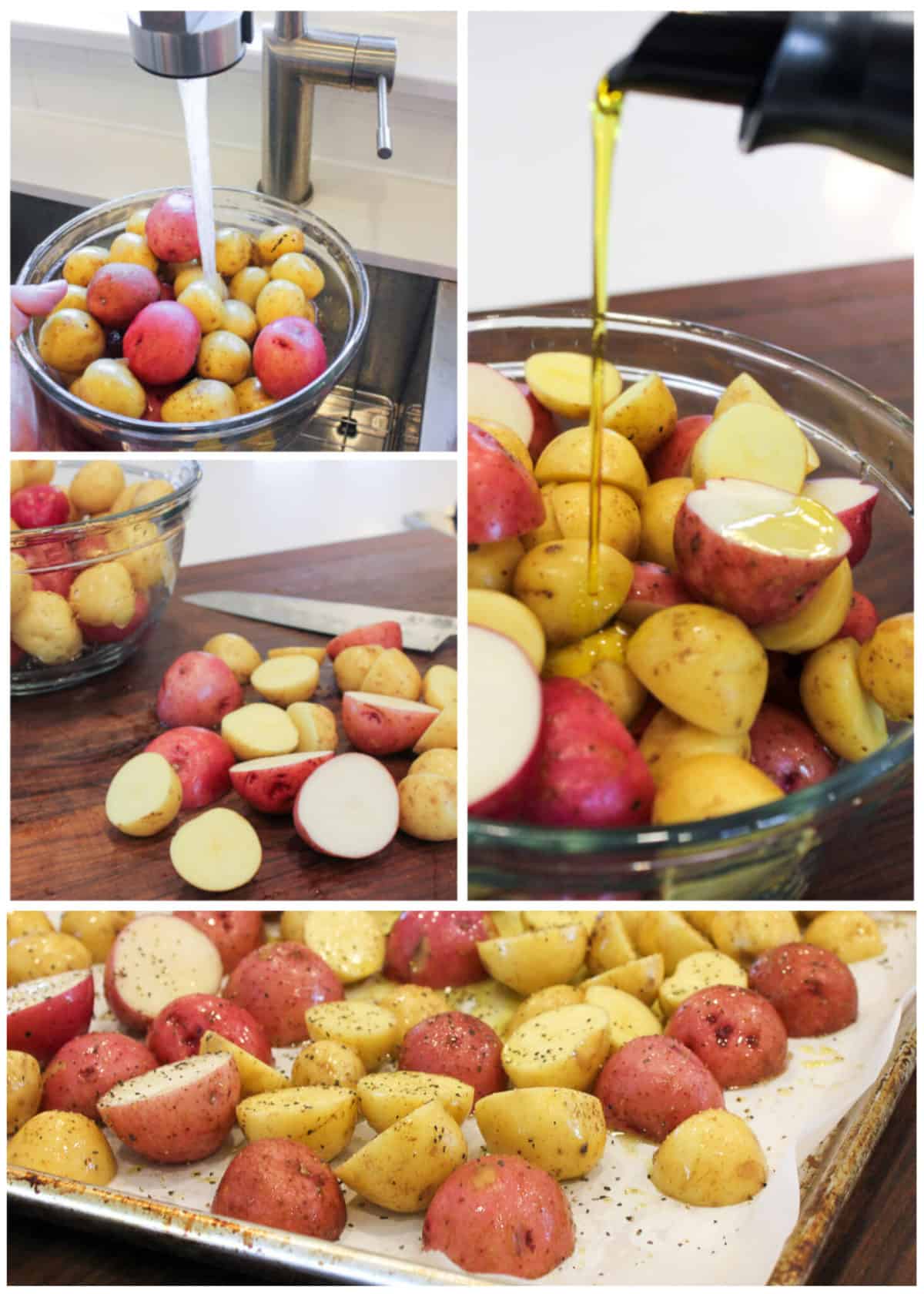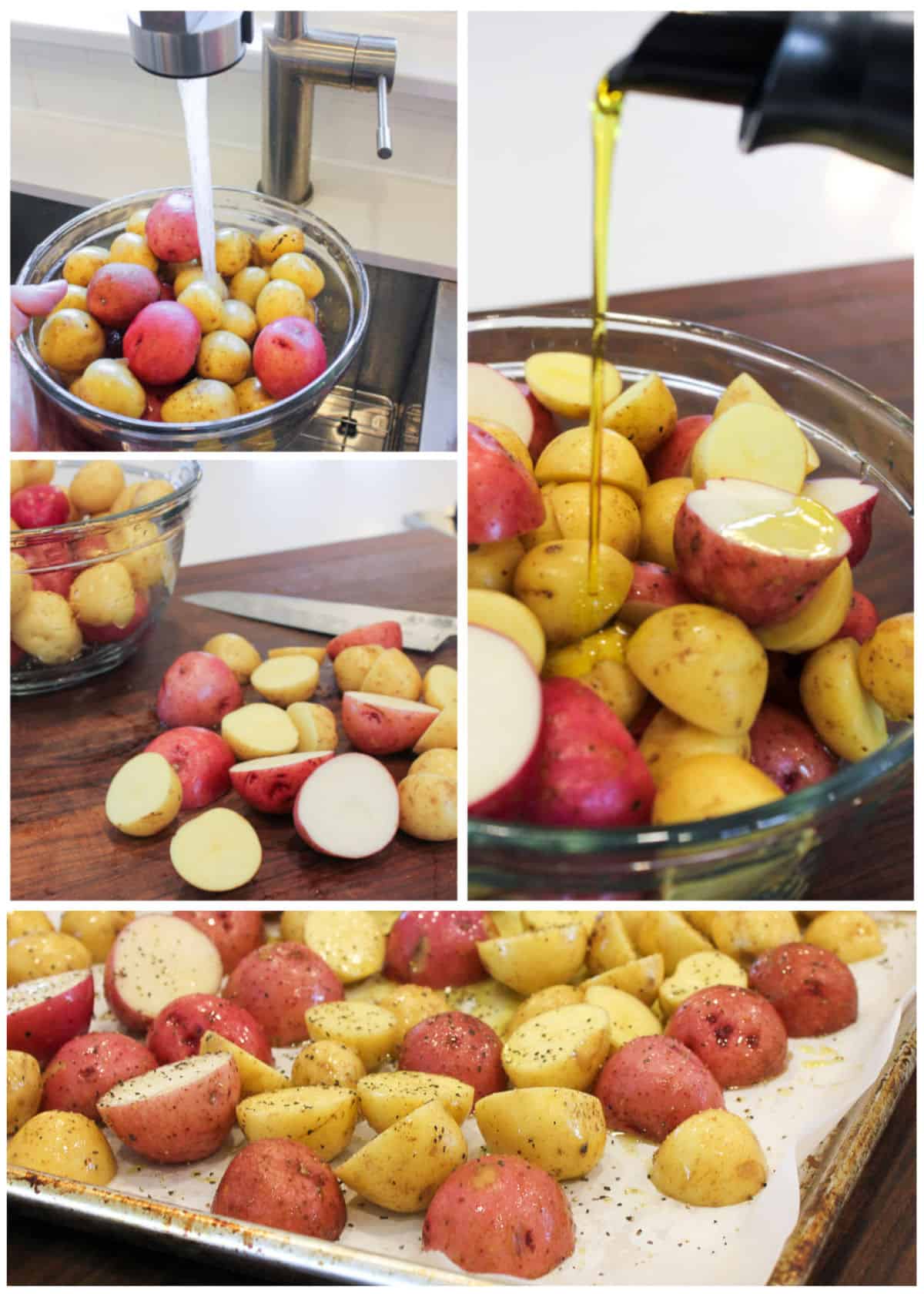 Prep the Potatoes
Baby potatoes are generally quite clean already, but it is still a good idea to wash the potatoes and give them a good rinse under cold water.
Cut them all in half and place the potatoes in a bowl. Pour the oil over the potatoes and then toss to coat. Doing this in a bowl makes it easier to ensure that all of the potato halves are covered in oil.
Evenly spread the potatoes on a baking sheet lined with parchment paper. I love using parchment paper because none of the potatoes will stick to the sheet and it allows for easier clean-up.
Season with salt and pepper.
Note: feel free to add any other seasoning to the potatoes at this point. You could use a southwest or Mexican spices or go with more of a Mediterranean herb blend. There are many different possibilities.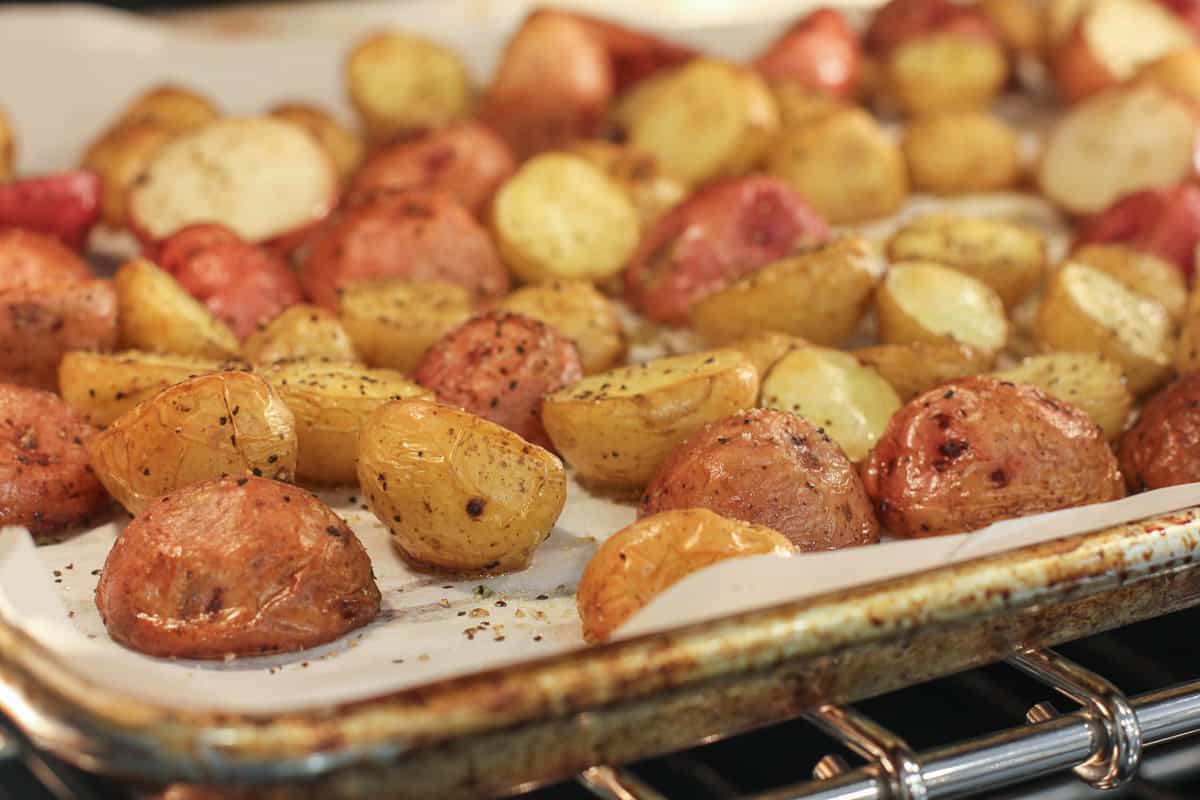 Place the potatoes in a 400F oven for 30-40 minutes. If desired, you could turn the potatoes over half way through the cooking time in the oven. I usually do not turn them, as I like the texture of having once side crispy and the other side soft and tender. The texture of these roasted potatoes is amazing!
Once they come out of the oven, garnish them with some minced fresh parsley. If desired, you could even squeeze some fresh lemon juice over the potatoes as well. So good!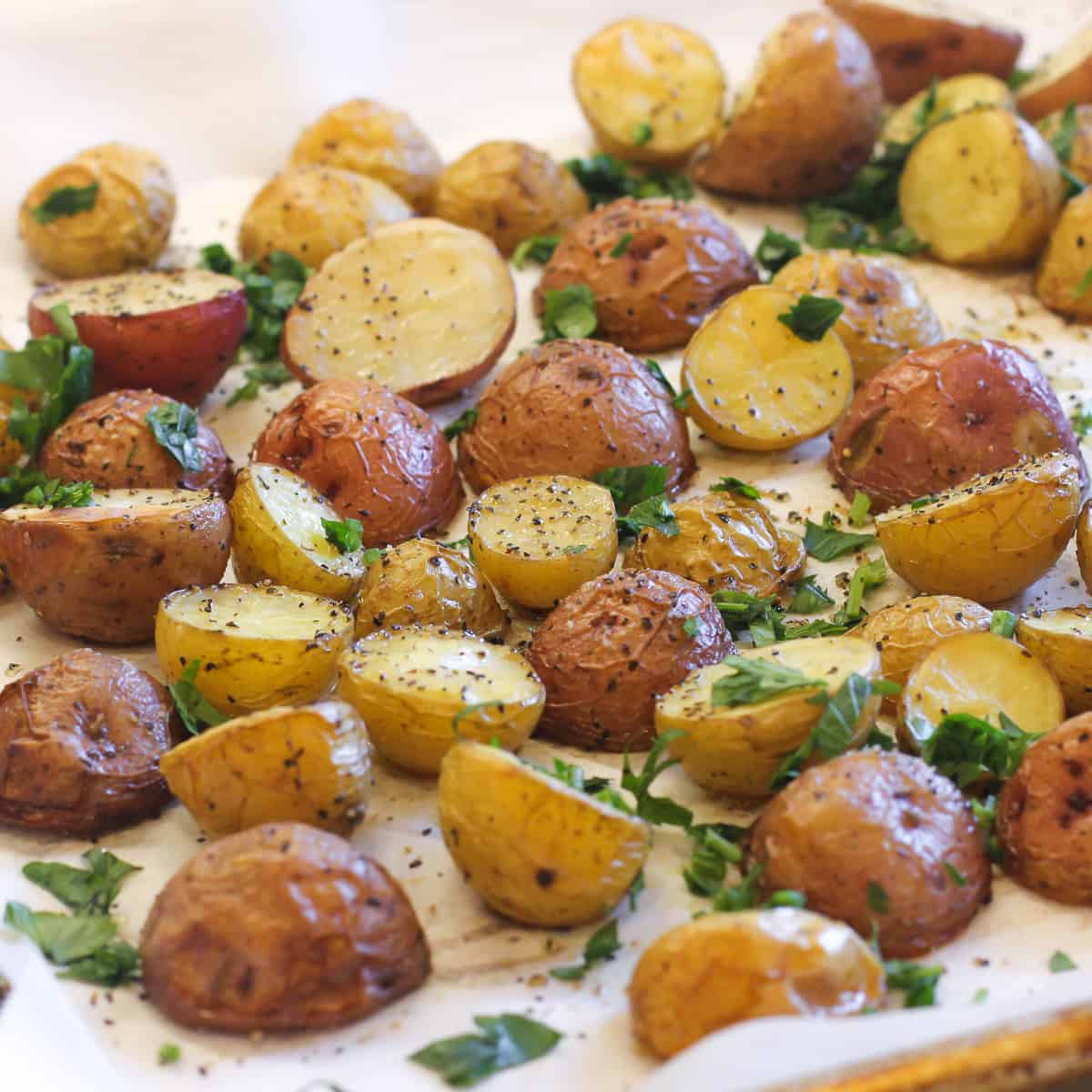 Dishes to go with these Potatoes
These oven roasted baby potatoes are the perfect side for so many different meat dishes. Here are a bunch of recipes that all work well as the main for these potatoes.
Oven Roasted Baby Potatoes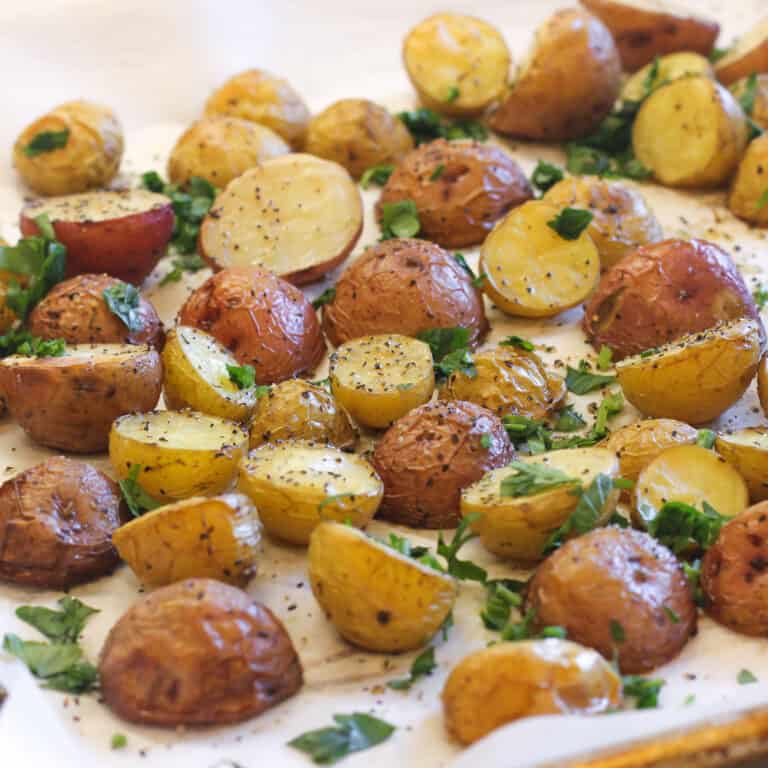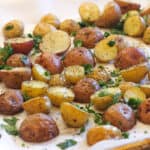 Print
Easy instructions for how to roast mini potatoes in the oven with a simple seasoning. New potatoes that are cut in half and baked in the oven.
Servings: 8
Ingredients
2 pounds baby potatoes , white or red
1/4 cup oil
1 1/2 tsp salt
1/2 tsp black pepper
1/4 cup fresh parsley , minced
Instructions
Rinse the potatoes and then cut them all in half.

Toss the potatoes in oil and spread out on a baking sheet lined with parchment paper.

Season the potatoes with salt and pepper.

Bake in a 400F oven for 30-40 minutes or until the potatoes are soft when poked with a fork/knife. If desired, turn the potatoes over, halfway through the cooking time.

Garnish with fresh parsley and serve.
Nutrition
Per serving:
Calories: 150kcalCarbohydrates: 20gProtein: 2gFat: 7gSaturated Fat: 1gSodium: 589mgFiber: 3gSugar: 1g