How to Bake Pork Chops in the Oven
Ideal for a weeknight meal, these instructions for cooking bone-in pork chops in the oven are simple and delicious. This sweet BBQ flavoured rub provides the perfect glaze for the chops.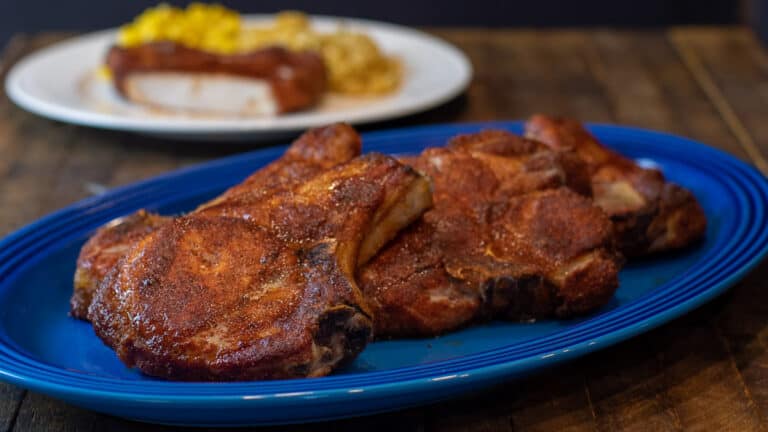 Pork chops are an economical cut of meat that is perfect for feeding both a small or large family. Simple and delicious, these are one of my go to weeknight meals. They are easy to cook and quite versatile. I love baking them in the oven as well as these Grilled Pork Chops.
The most common way that I cook chops is by baking them in the oven. I love using my Homemade Shake n Bake Recipe to coat the meat. Another great way is to just coat the meat in a spice rub and my favourite is the BBQ style seasoning in this recipe.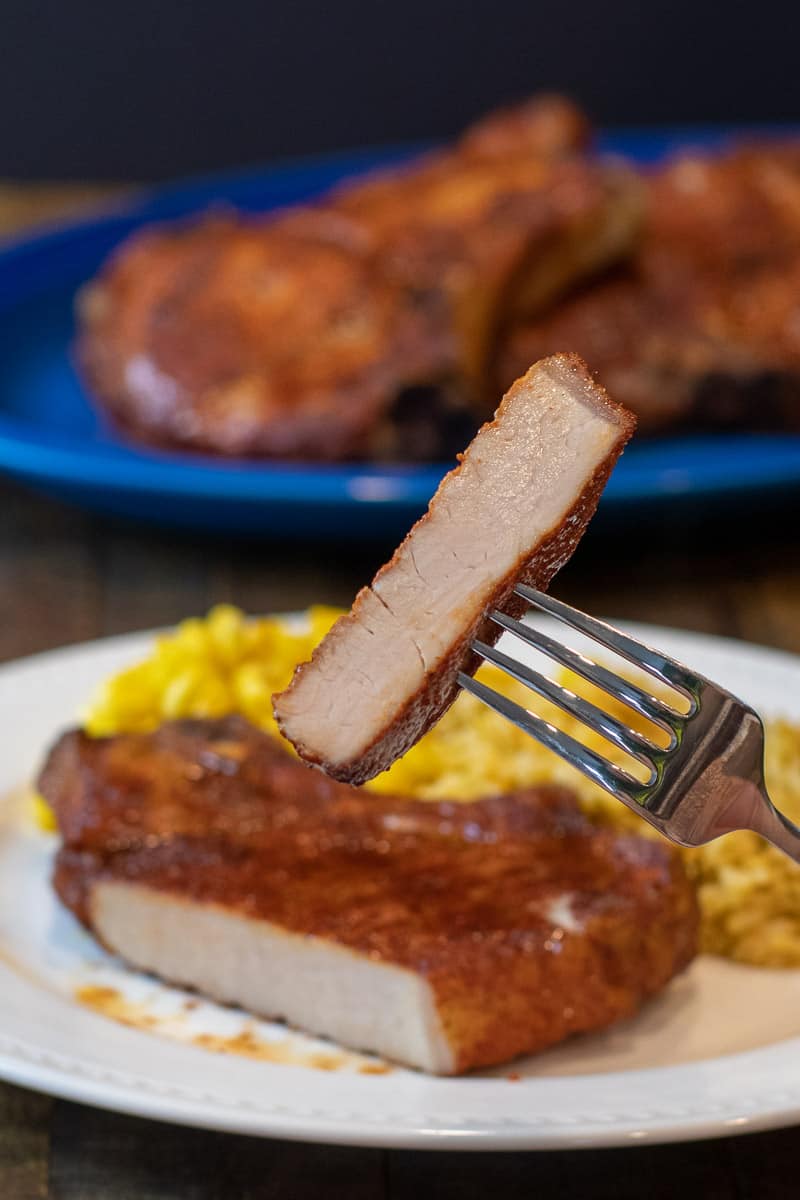 Baked pork chops are great as part of a meal and perfect alongside these delicious side dish recipes!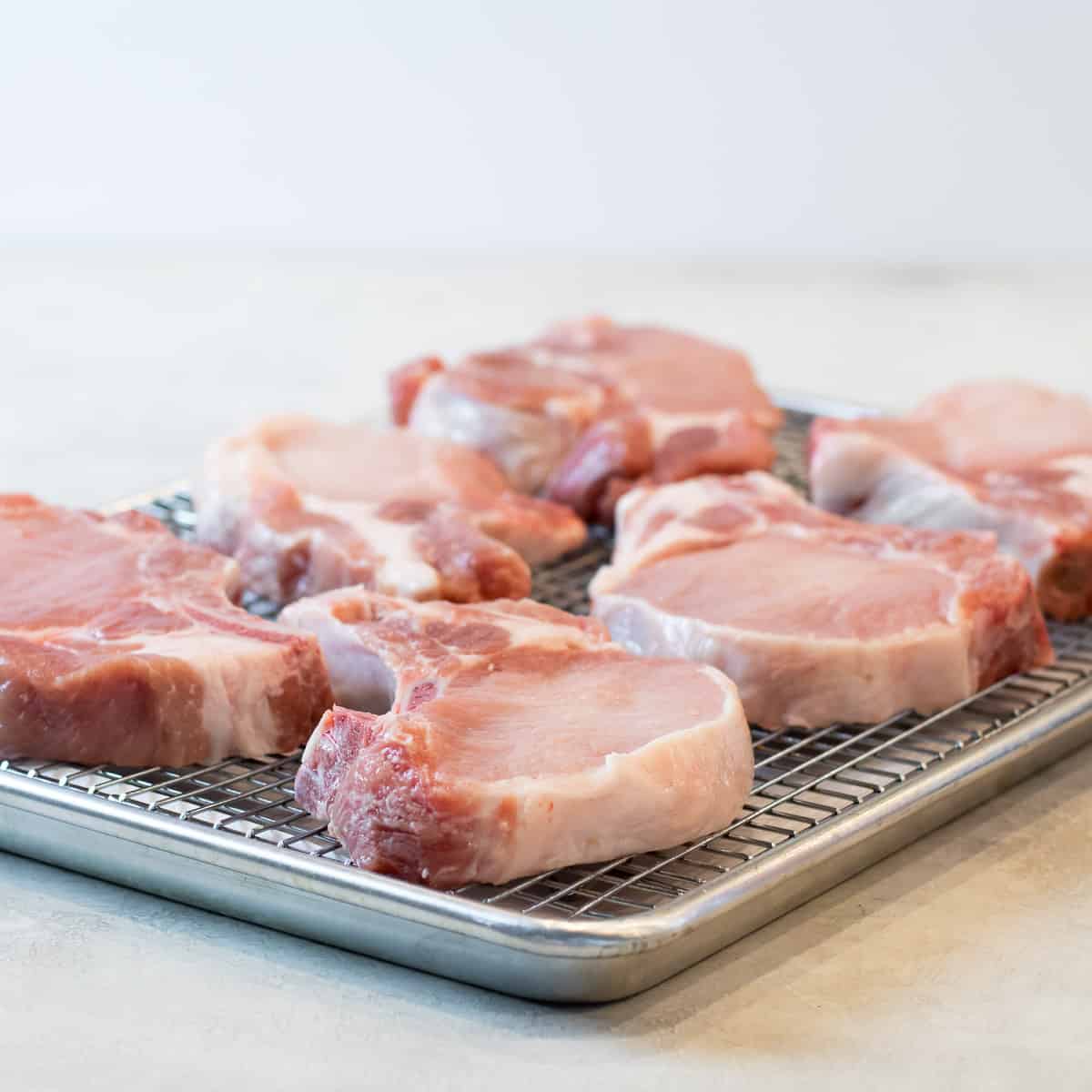 What Cut of Pork Chops to Use?
There are many various types of pork chops that are taken from different parts of the pig. While you can use, bone-in or boneless, I often find that I prefer the flavour of a bone-in chop.
All these pork chops will work fine:
Loin chops
Rib chops
Sirloin chops
Center-cut/Porterhouse chops
Boneless loin chops
Make sure to get chops that are about 3/4 inch thick. The thinner chops can tend to dry out, while a thicker chop will stay nice and juicy.
How to Season the Meat?
Mix the seasoning in a pie plate or other shallow dish. A glass pie plate is the perfect size to keep the seasoning together, as well as allowing a pork chop to lay flat in the dish.
Pat dry the pork chops with a paper towel. Lay one pork chop in the seasoning and press down for the spices to coat the meat.
Lift up the chop and turn over to coat the other side. Lift up and shake off any excess seasoning. Dredge the edges of the chops in the seasoning to coat it on all sides.
Place the seasoned chops on a baking sheet with a rack. If desired, line the baking sheet with parchment paper (which is under the rack), for easier clean up afterwards.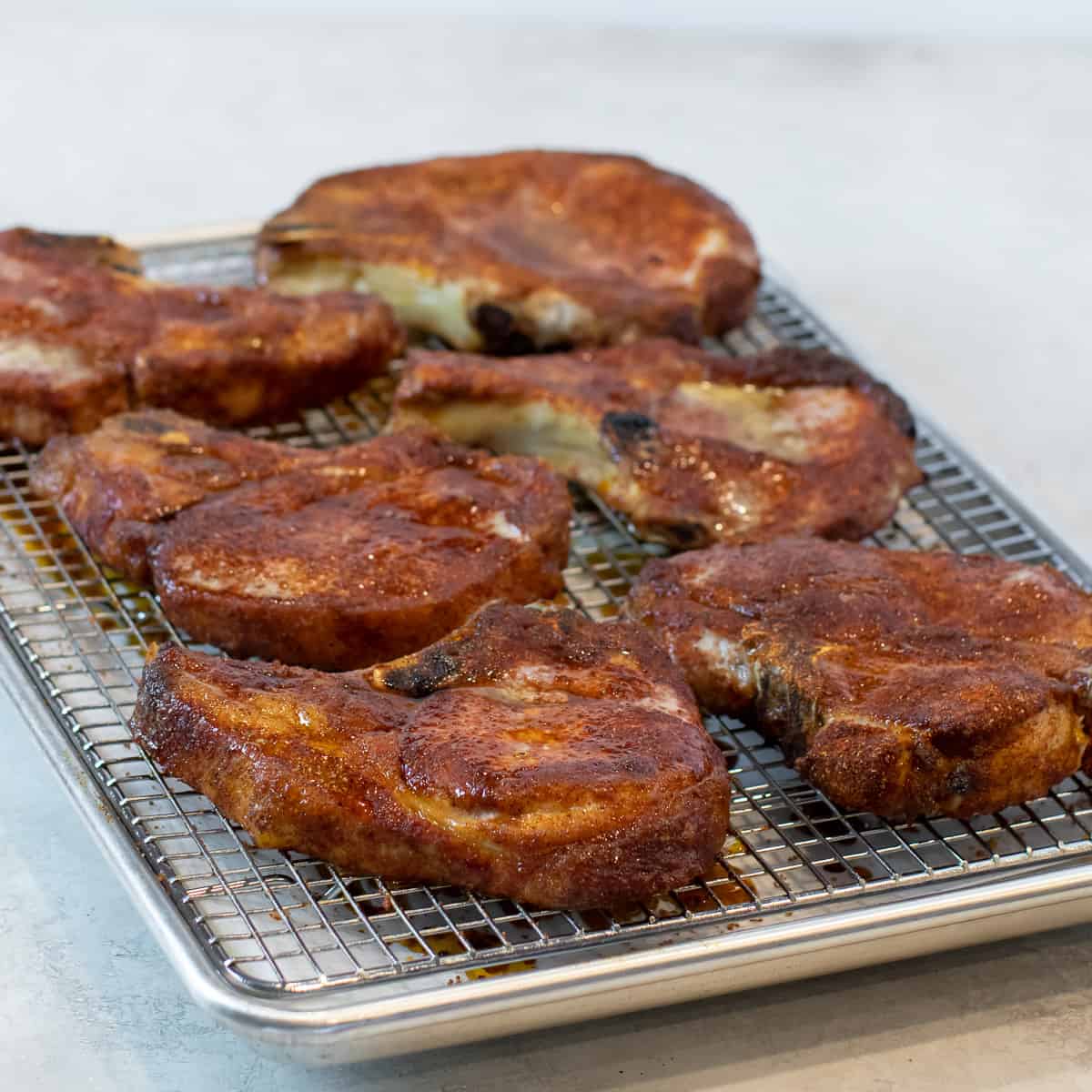 What Temperature and How Long to Bake?
I like to bake pork chops in a 400F oven. This higher temperature does a great job sealing in the juices and creating a caramelized glaze on the outside of the meat.
A bone-in pork chop will take longer to cook through compared to one that is boneless. Bake in the oven until they are cooked through and the internal temperature reaches 145F. A chop that is 3/4 inch thick should take about 35 minutes to cook.
Note: A digital thermometer is the best way to cook meat to the perfect temperature. I usually start checking the temperature with about 5 to 10 minutes of cooking time remaining. Stick the probe into the middle part of the pork chop.
Other Oven Baked Recipes!
Here are some more easy recipes for cooking different cuts of meat and seafood in the oven.
How to Bake Pork Chops in the Oven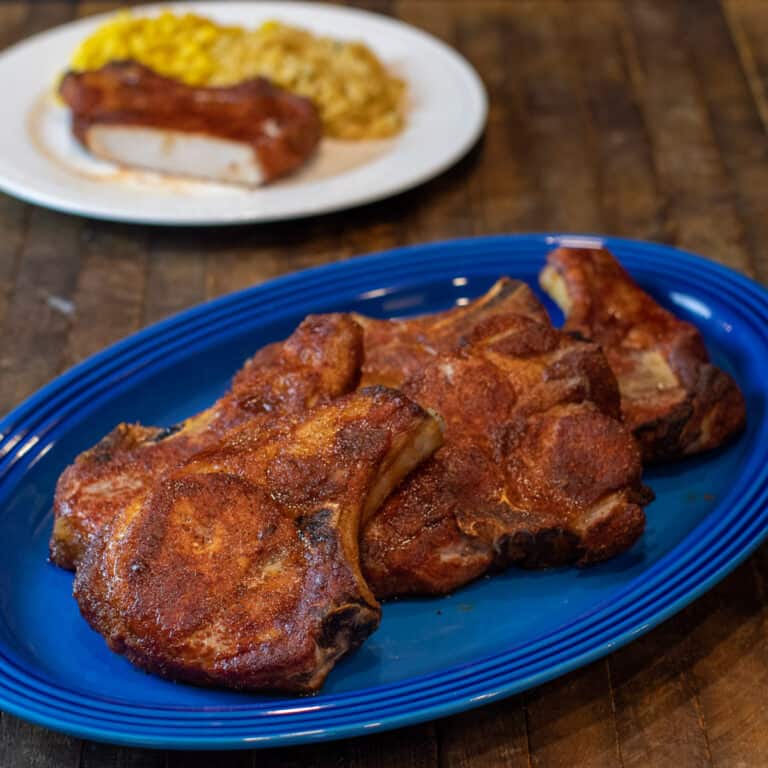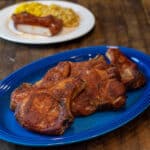 Print
This baked pork chop recipe is so easy with a delicious BBQ flavour from the spice rub.
Servings: 6
Ingredients
6 pork chops , 3/4 inch thick
2 1/2 tbsp brown sugar
1 1/2 tbsp paprika
1 tsp salt
1 tsp black pepper
1/2 tsp ground cumin
1/2 tsp garlic powder
1/4 tsp cayenne pepper
Instructions
Preheat oven to 400F.

Mix together the brown sugar and seasoning in a pie plate or other dish.

Pat dry the pork chops iwht a paper towel. Dredge the pork chops in the seasoning, making sure to coat all sides generously.

Place the seasoned pork chops on a baking sheet with a rack.

Bake in the oven for about 35 minutes, or until cooked through and reaches an internal temperature of 145F.

Serve.
Nutrition
Per serving:
Calories: 234kcalCarbohydrates: 6gProtein: 29gFat: 10gSaturated Fat: 3gCholesterol: 90mgSodium: 455mgFiber: 1gSugar: 5g