Classic Hash Brown Casserole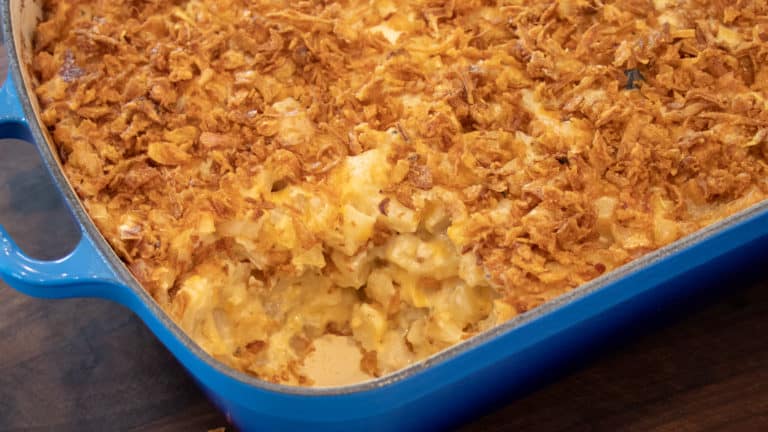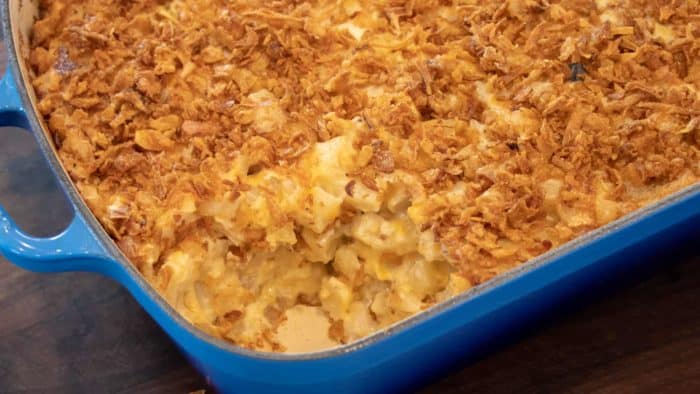 I always have at least one bag of frozen hash browns in my freezer and often two or three. We love to have 'breakfast for dinner', so having some frozen hash browns ready to go at a moments notice is important, so I always keep some on hand. I also have a great recipe for Pulled Pork Hash that uses these frozen hash browns.
But, my most common use of frozen hash browns is for hash brown casserole. This dish is almost like a lazy-mans scalloped potatoes. It is so good! Essentially, you mix the frozen hash browns with condensed cream of mushroom soup, sour cream, melted butter, cream and cheese. Then bake it until hot and it is ready to go. I just love simple recipes and this classic dish is one of them. Mix and bake – that's it!
Hash brown casserole is a classic dish that has been around for decades. This has been one of my favourite side dishes for years. I remember my mom used to make this casserole and I always loved it. My kids are just like I was and they freak out in delight whenever we have hash brown casserole.
I have a recipe for making this casserole in a slow cooker. It works great with a Crock Pot and the casserole turns out delicious. Check out that recipe here: Crock Pot Hash Brown Casserole.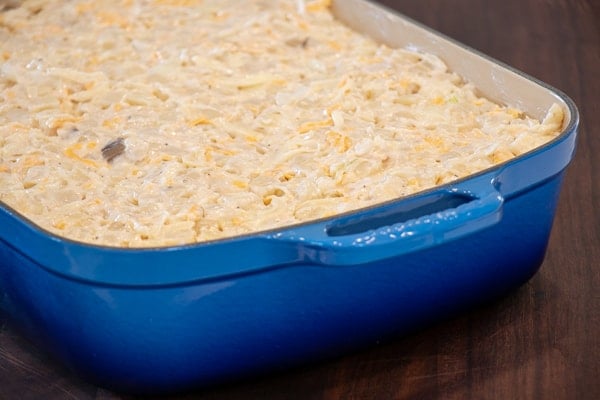 Making this casserole could not be simpler. I mix all the ingredients (minus the crispy fried onions) in a large bowl. Once everything is well incorporated and mixed, spread the hash brown mixture in a 13×9 baking dish.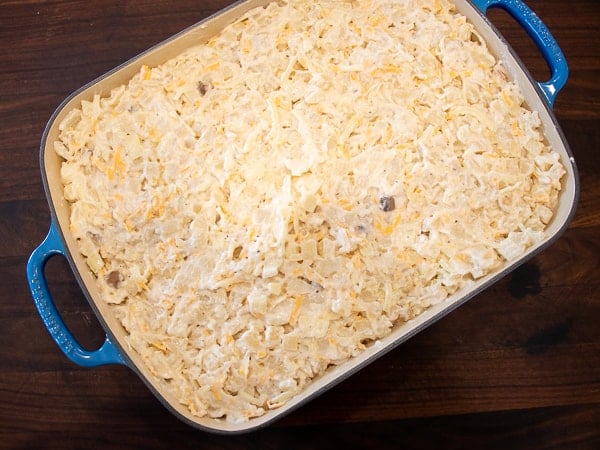 Once the hash brown mixture has been spread evenly in a casserole dish, it is ready to bake. I bake it in a 375F oven for about 75 minutes. The casserole is done, once it is heated through and hot in the centre.
Near the end of the baking time, I sprinkle some crispy fried onions on top of the casserole. There are many different brands of fried onions out there, including Frenchs and others. Any kind works.
If you prefer, you can use some crumbled corn flakes in place of the crispy fried onions.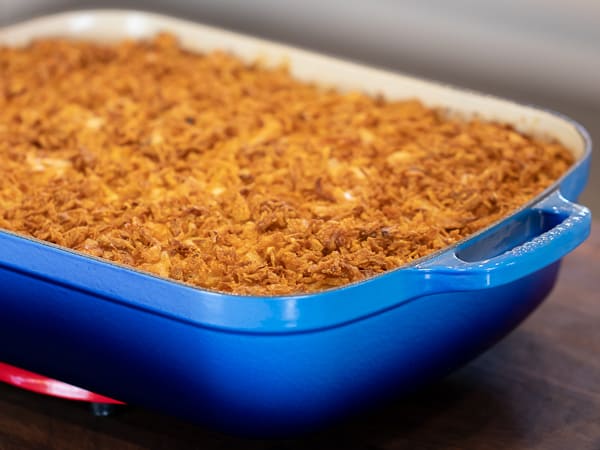 Note about these photos:
The hash brown casserole in these photos is actually a double of the recipe below. Anytime I make hash brown casserole, I almost always make a double batch. We just love the casserole and have some big eaters.
This casserole is also great for a crowd or anytime you are feeding a bunch of people. Therefore
If you do decide to double the recipe, You will likely find that you will need to add more time for it to bake in the oven. For a double batch, I bake it around 2 hours. Essentially, you want it cooked through and hot in the middle. Stick a knife or fork in the middle to test the temperature.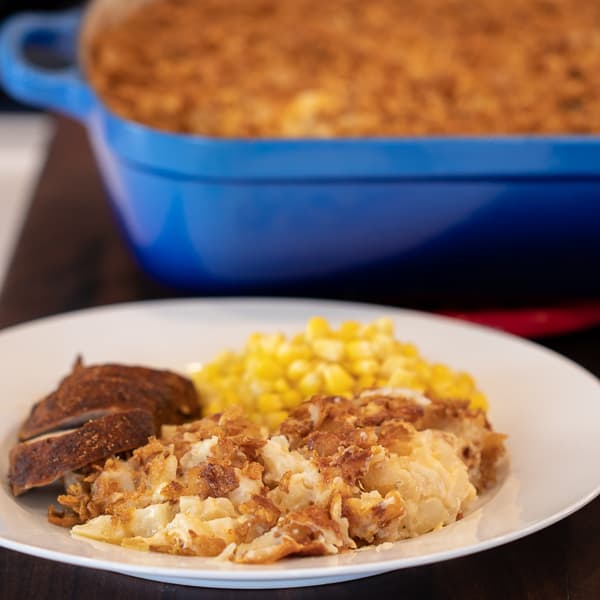 If you are looking for some other dishes that go very well with this hash brown casserole, then check out these recipes!
Classic Hash Brown Casserole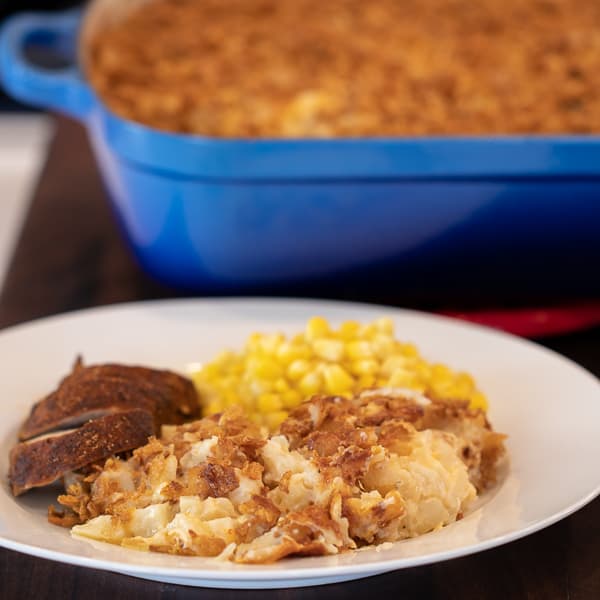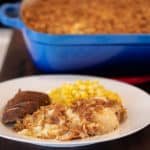 Print
Easy hash brown casserole made with frozen hash browns, cream of mushroom soup, sour cream and cheddar cheese. Oven baked casserole that is a great side dish.
Servings: 12
Ingredients
1 kg package frozen hash browns
1 cup (250ml) sour cream
1 can condensed cream of mushroom soup
1/2 cup cream (10%)
1/3 cup melted butter
2 cups grated cheddar cheese
1 medium onion , finely chopped
1 tsp salt
1/2 tsp black pepper
1/2 tsp paprika
1 cup crisp fried onions , Frenchs or other brand
Instructions
Preheat oven to 375F.

In a large bowl, mix together all ingredients except the crop fried onions. Spread in a 13x9 baking dish.

Bake in oven for 75 minutes.

With about 10 minutes left of cooking time, sprinkle the crisp fried onions all over the top of the hash brown casserole. Finish baking the casserole.

Remove from the oven and let rest for 5-10 minutes.

Serve
Nutrition
Per serving:
Calories: 311kcalCarbohydrates: 20gProtein: 8gFat: 22gSaturated Fat: 13gCholesterol: 58mgSodium: 613mgFiber: 1gSugar: 1g