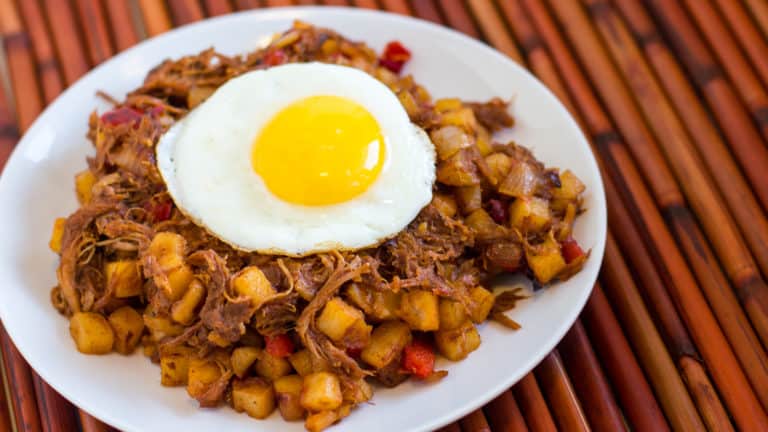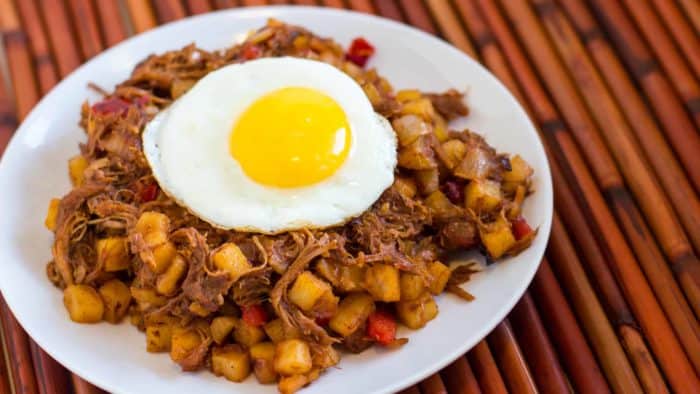 Sometimes when we are talking at home about what we want for dinner, one of us will say that "Let's have breakfast for dinner!" I love breakfast or brunch and am content having classic morning menu items like bacon, eggs, hash browns and pancakes any time of the day.
One of my favourite breakfast dishes is hash. Hash generally consists of chopped meat and potatoes fried together, sometimes topped with an egg. Corned beef hash became popular in many countries during World War II when there was limited availability of meat. I have always loved corned beef hash and look for ways to recreate this old time breakfast dish.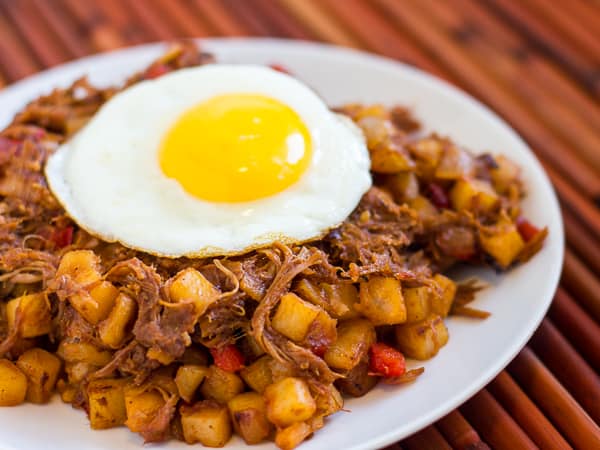 I had some left over pulled pork on the weekend and knew that this would be the perfect opportunity to make a 'new' hash recipe. After making this dish, it has caused me to come to the conclusion that pulled pork makes pretty much anything better. This hash was incredible and I would rather have pulled pork hash than corned beef hash ANY DAY!!! Yes, it was THAT good.
If you are looking for some other recipes for leftover pulled pork, then check these out!
Pulled Pork Hash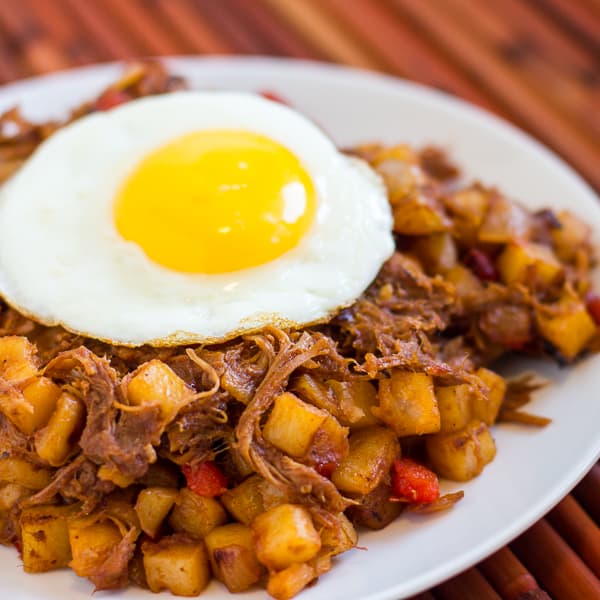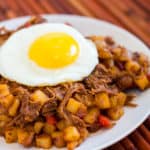 Print
Pulled pork, hash brown potatoes, onion, peppers, bbq sauce and sunny side up eggs. Great breakfast or brunch option for leftover pulled pork.
Servings: 4 -6
Ingredients
2 tbsp oil
1 onion , diced
1 red pepper , diced
2 garlic cloves , minced
750 g (2 pound) bag frozen hash browns
2 1/2 cups pulled pork
1/2 cup bbq sauce
1/2 tsp cayenne pepper
salt and pepper to taste
6-8 eggs
Instructions
Heat oil in a skillet on medium heat. Add onion, red pepper and garlic. Cook until they are tender, about 5 minutes.

Add the frozen hash browns. Cook for about 10-15 minutes so that the hash browns cook through and start to crisp up on the outside. Stir often, scraping the bottom of the skillet.

Stir in the pulled pork, bbq sauce, cayenne, salt and pepper. Cook for another 7-10 minutes, stirring often.

In another skillet, fry the eggs sunnyside up.

Scoop some of the pulled pork has onto a plate. Place one or two eggs on top of the hash.

Serve hot.