Homemade Breakfast Sausage
Make your own breakfast sausage with this simple recipe. Perfect for patties, biscuits and gravy, and so much more!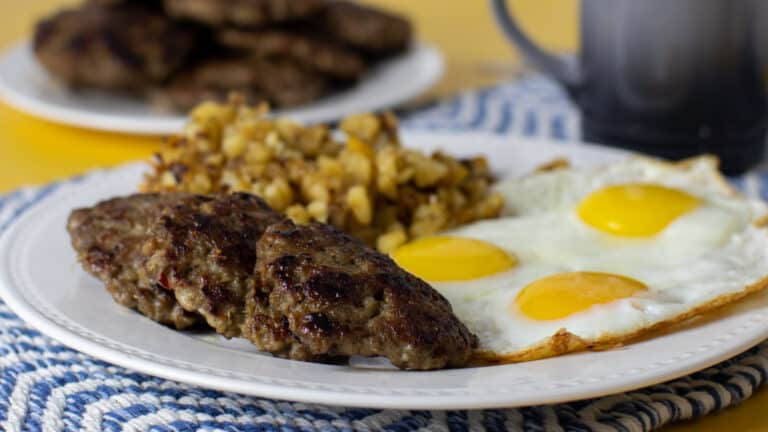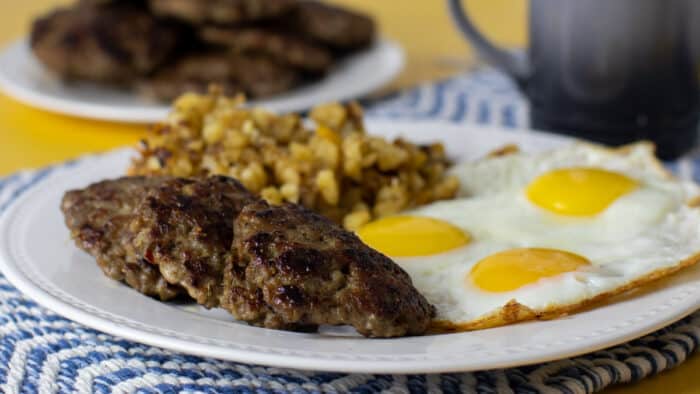 We love breakfast so much, that we often have breakfast for dinner. Eggs, hash browns, bacon and sausage are all so delicious, that they are great for any meal of the day. This recipe will teach you how to make homemade breakfast. It is both simple and delicious. The sausage will level up your breakfasts and make you wonder why you every bought breakfast sausage at the supermarket.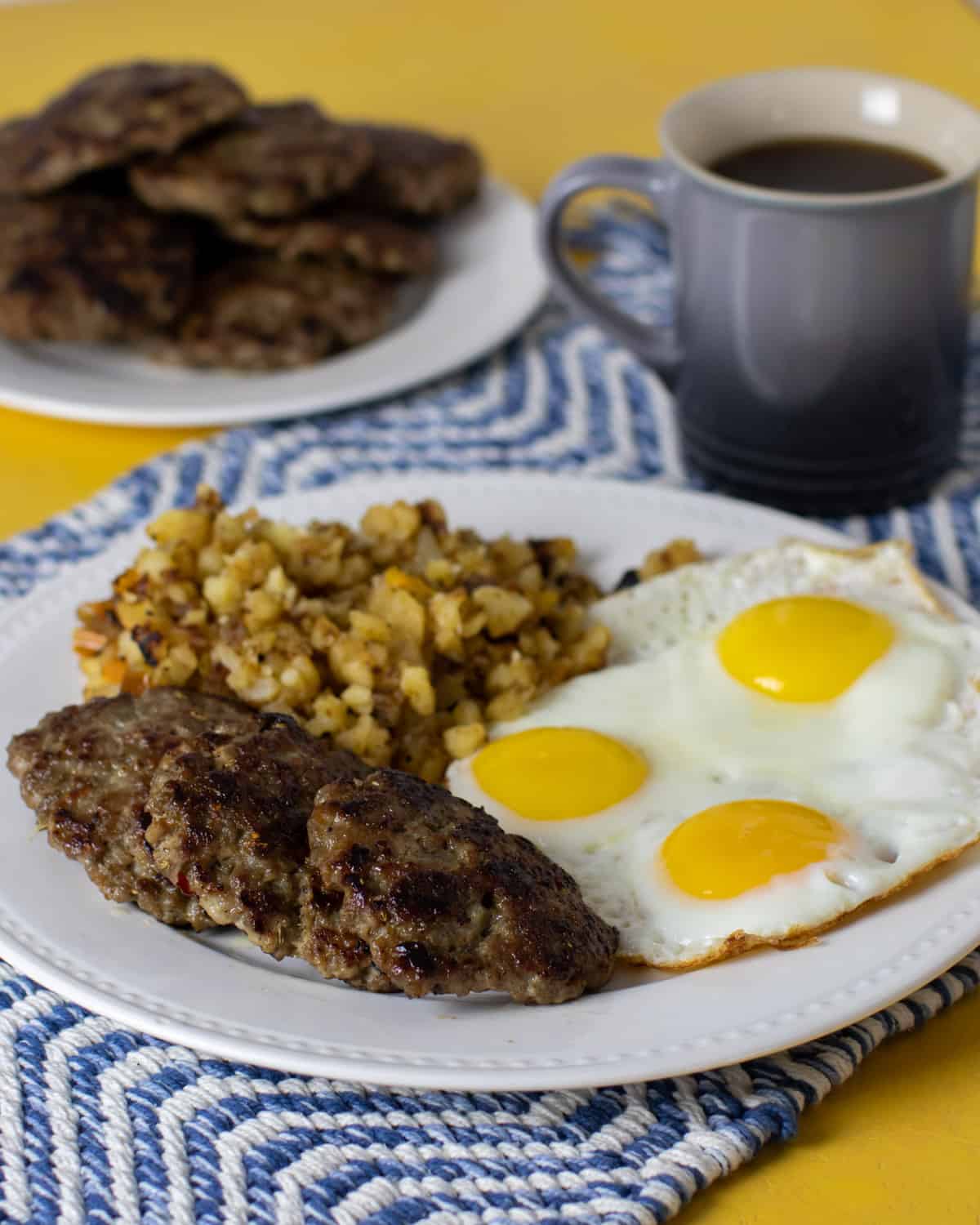 What Makes Breakfast Sausage So Good
There are many different ways to use this homemade breakfast sausage meat. Here are a few ideas.
Sausage Patties – shape the meat into round patties and fry them in a skillet.
Link Sausages – use a sausage stuffer and casings to make some breakfast link sausages.
Biscuits and Gravy – this creamy gravy has cooked crumbled sausage meat and this recipe will elevate this classic breakfast comfort food.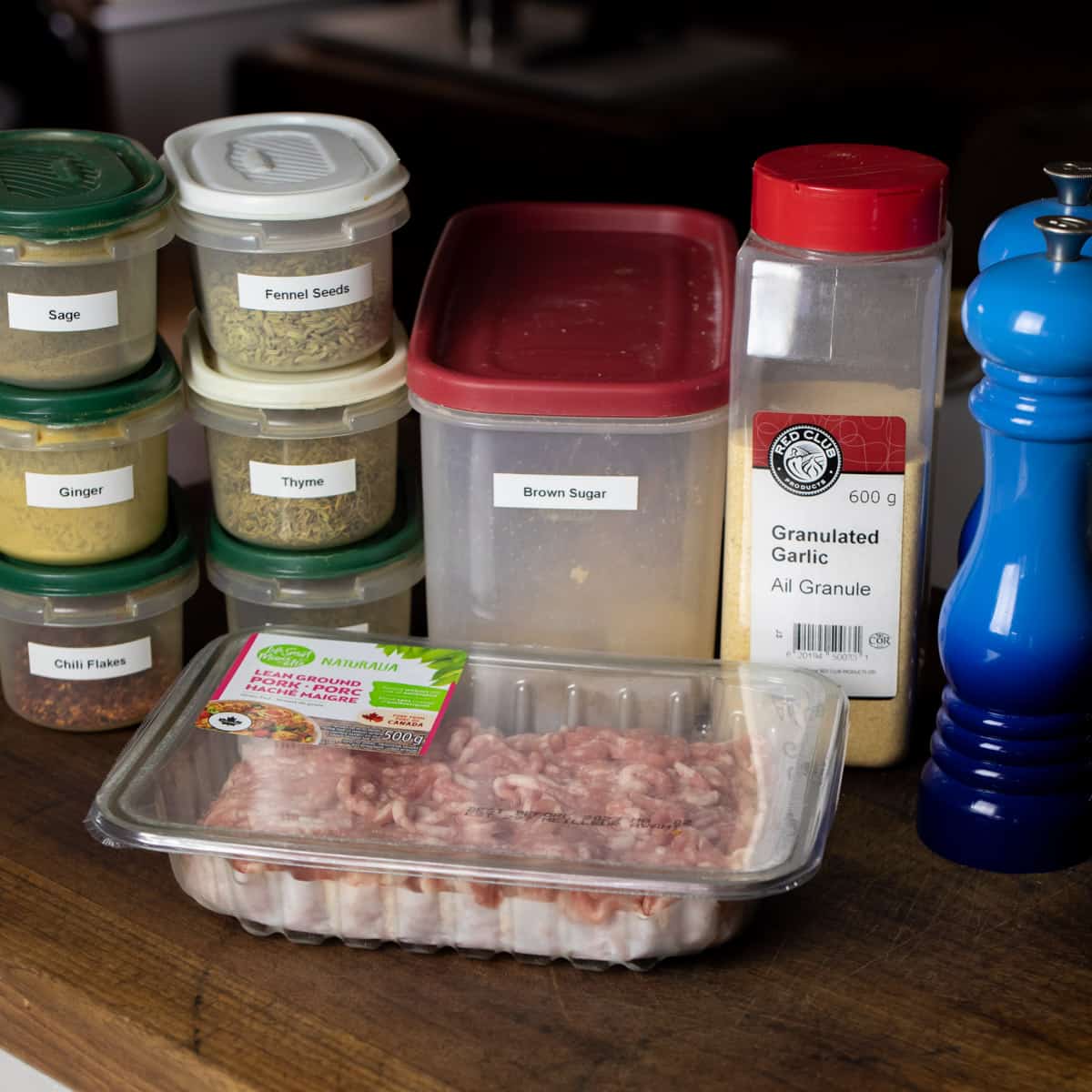 Ingredient Notes
Ground pork – I prefer to use a lean ground pork for my sausage so there is not a lot of grease in the pan.
Brown sugar – this will provide a nice sweetness to the homemade breakfast sausage. You could also use maple syrup for a hint of maple flavour in the sausage.
Spices – The blend of spices is what makes this taste like breakfast sausage. Some of the most important spices are ground sage and fennel seeds. There are also small amounts of salt, pepper, garlic, ginger, oregano, thyme and dried chili flakes.
Expert Tip! This blend of seasoning is easy to adapt. Feel free to make some changes to suit your palate and flavour preference for breakfast sausage. You could increase the pepper or chili flakes if you like your sausage a little spicier. Or you could reduce the sage or fennel if you find it a little strong.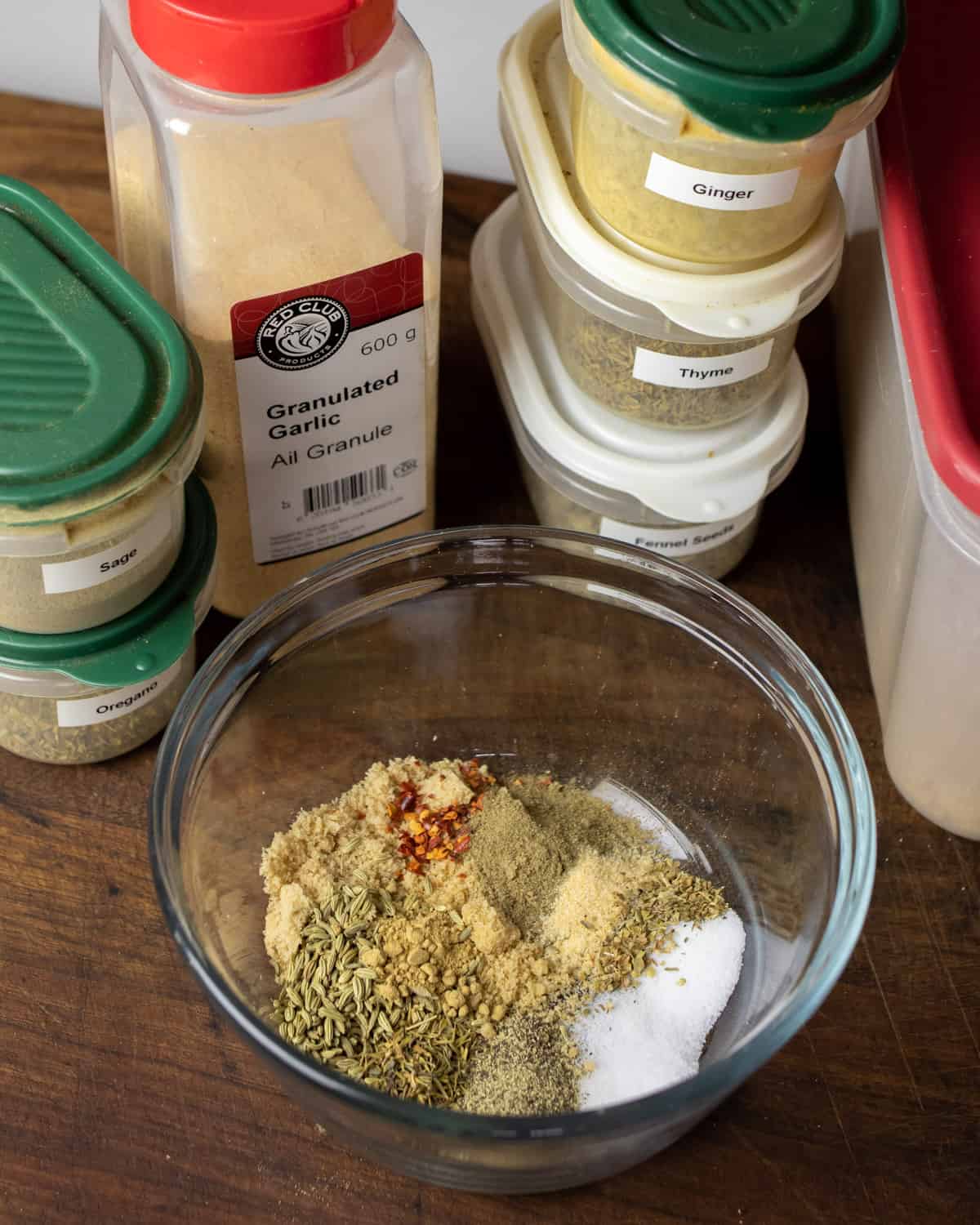 Step 1: Mix The Seasoning
Mix the spices together with the brown sugar in a separate bowl. If the brown sugar has some clumps, then use a fork or back of a spoon to break them up so there are no more lumps.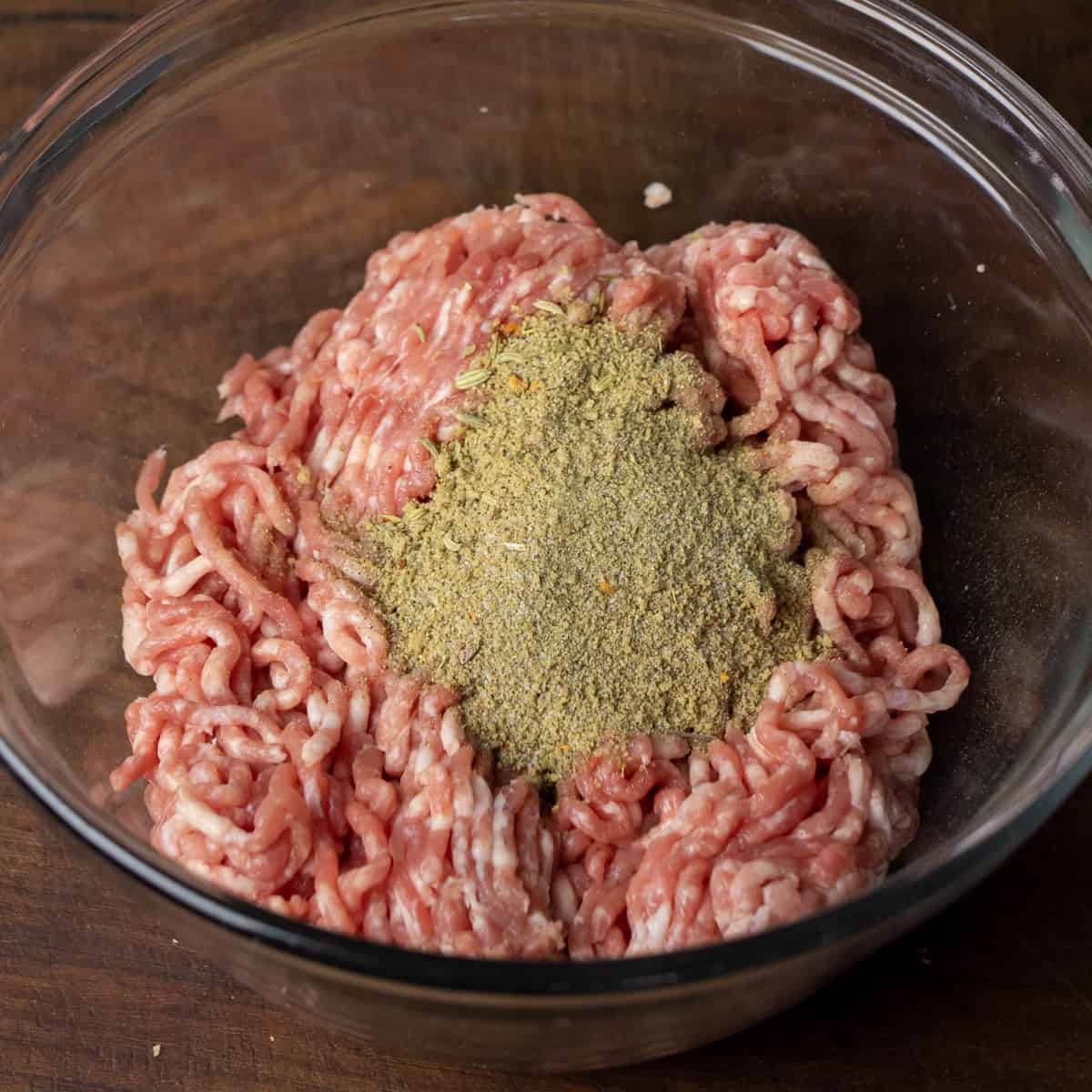 Step 2: Mix It All Together
Add the ground pork to a mixing bowl and dump in the seasoning. Knead the meat until all the spices are well blended into the meat.
Get Your Hands In There! Using a wooden spoon or other utensil does not work very well to mix the seasoning into the meat. Instead, use your hands to thoroughly knead the meat until the spices are well combined. I like to use food safe disposable gloves when mixing the sausage meat.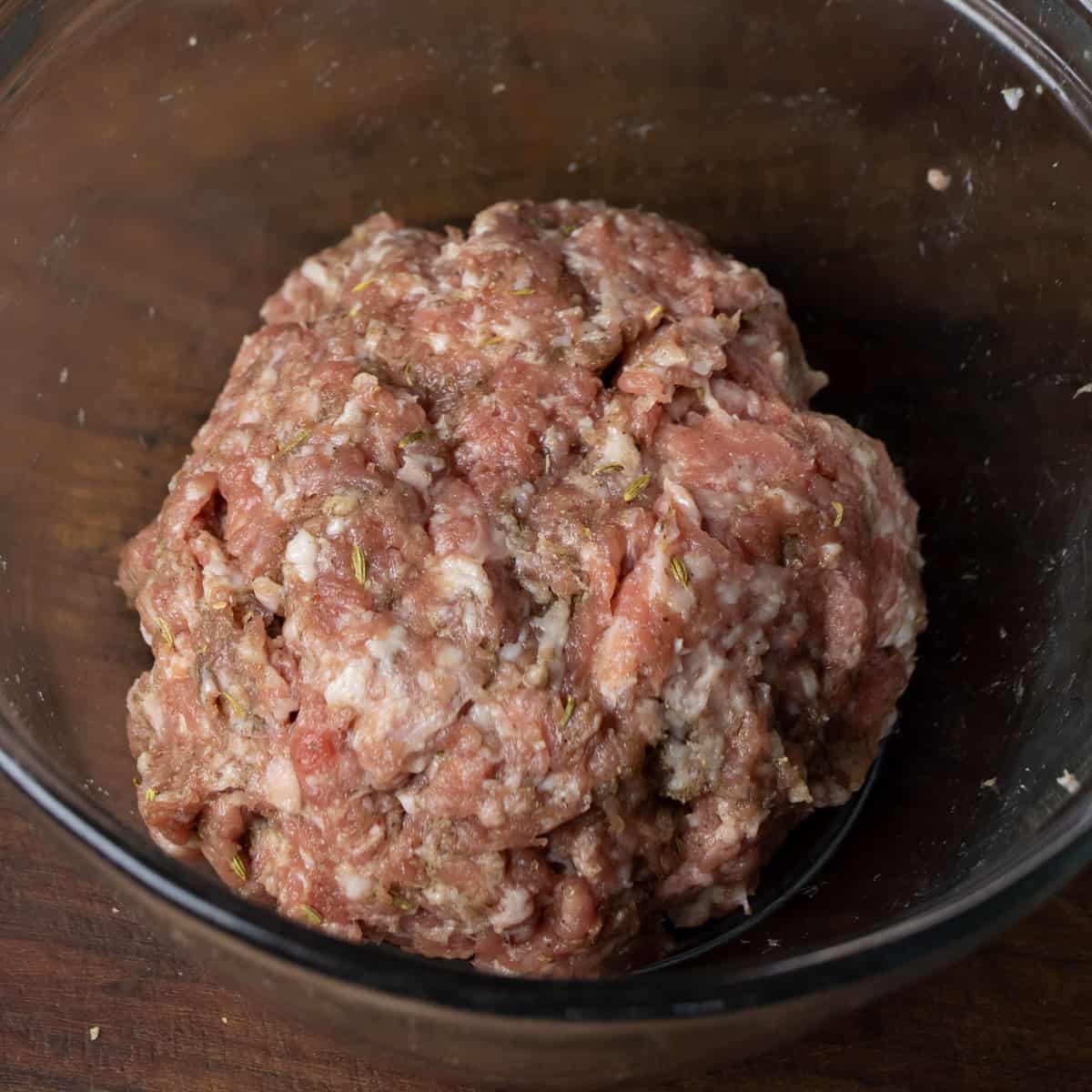 Step 3: Let It Marinate
Once the sausage meat is mixed, cover the bowl with plastic wrap and place it in the fridge. Leave it in there for at least an hour so that the seasoning penetrates into the meat.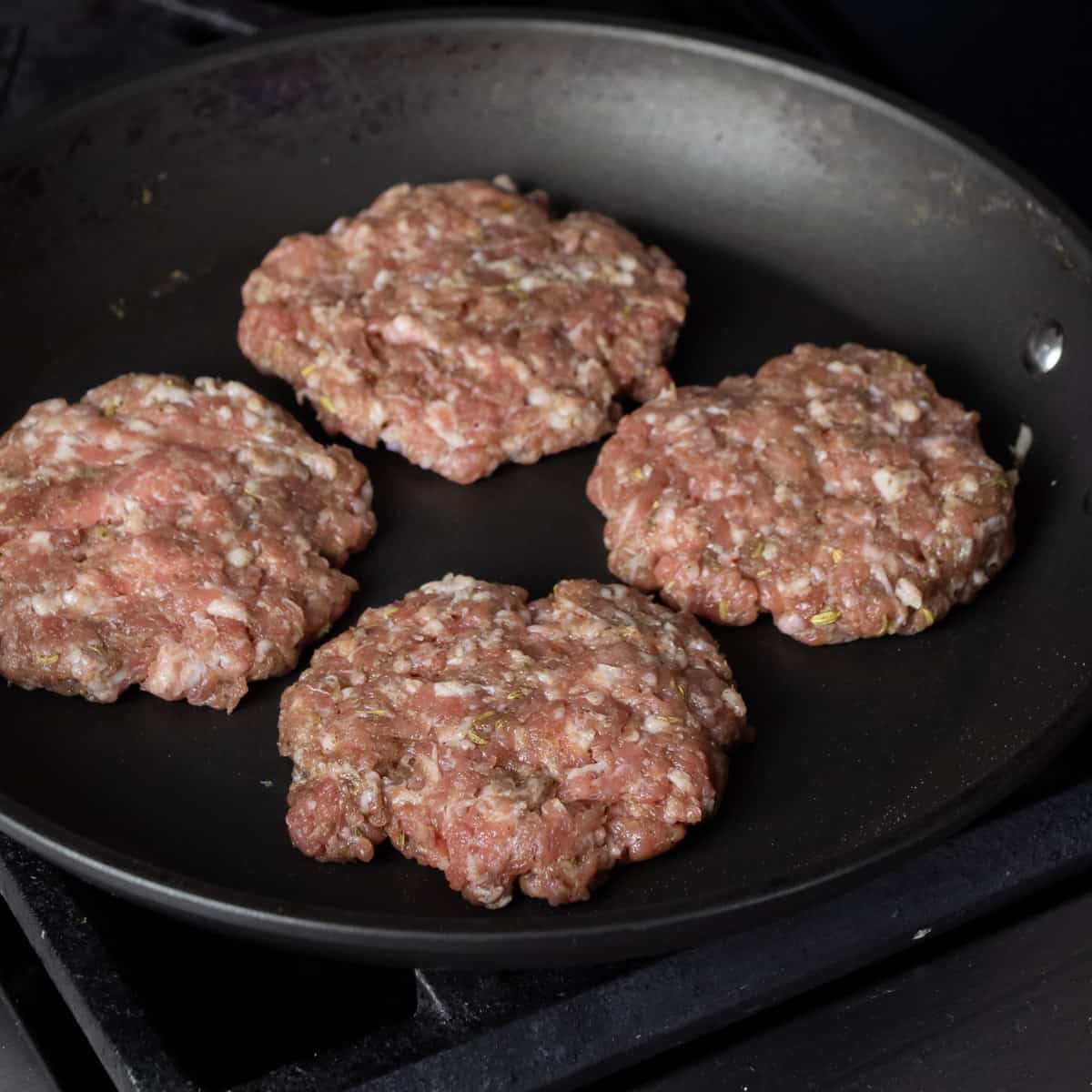 Step 4: Breakfast Time!
Once the homemade breakfast sausage meat has had a chance to marinate in the fridge it is ready to cook. You can shape them into patties, cook it as crumbled sausage meat, stuff it into lick casings and so much more.
How To Fry Sausage Patties
Frying sausage patties is super easy. Grab a small handful of sausage meat and flatten it to a small round patty. It should be like a smaller sized thin burger.
Place the patties in a skillet and cook over medium heat. Depending on the size of the skillet, you should be able to cook multiple patties at the same time.
After they have cooked for a few minutes on one side, flip them over. The cooked side should be nicely browned. Cook on the other side for a few more minutes, until they are cooked through.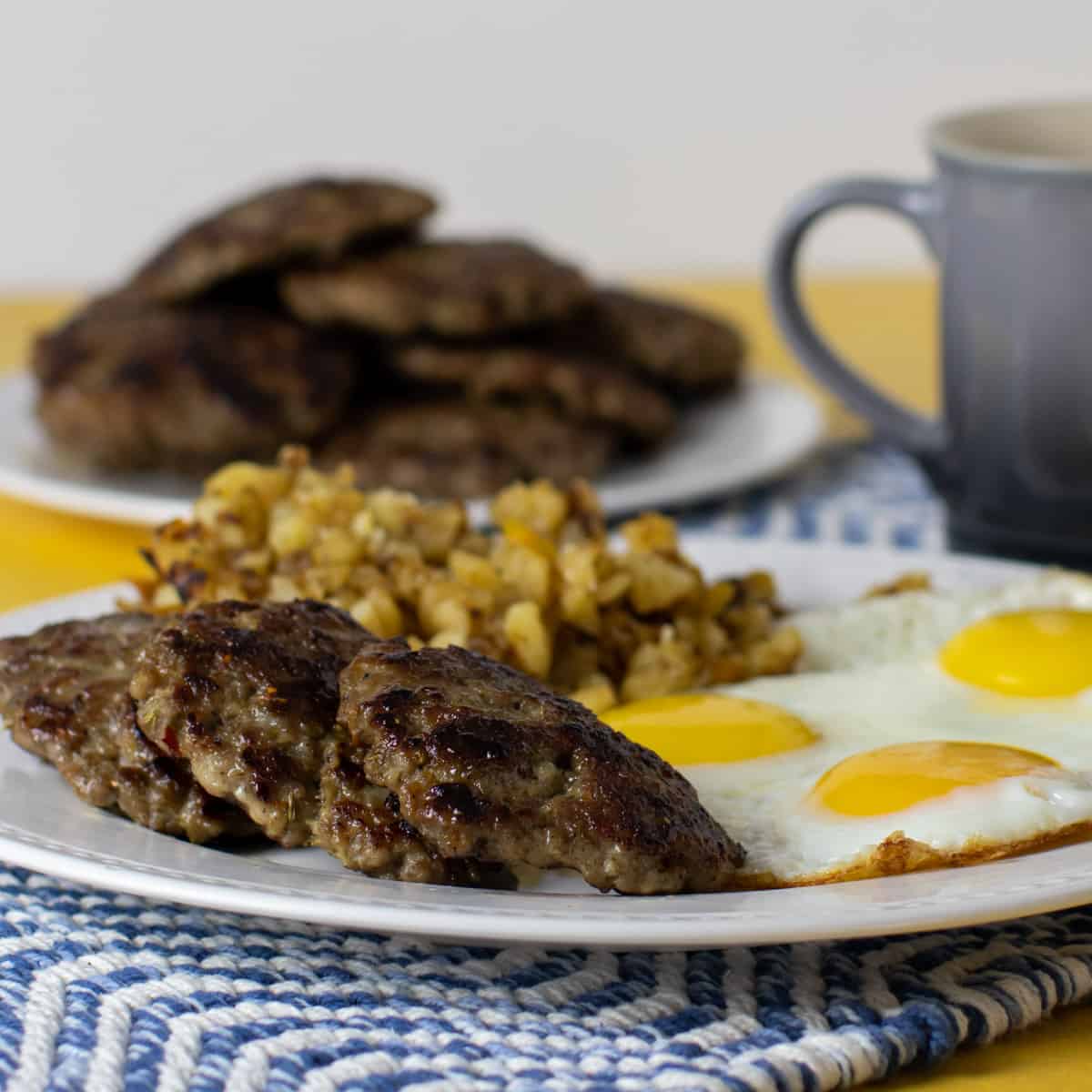 These sausage patties are perfect for breakfast alongside some sunny side eggs and hash brown potatoes.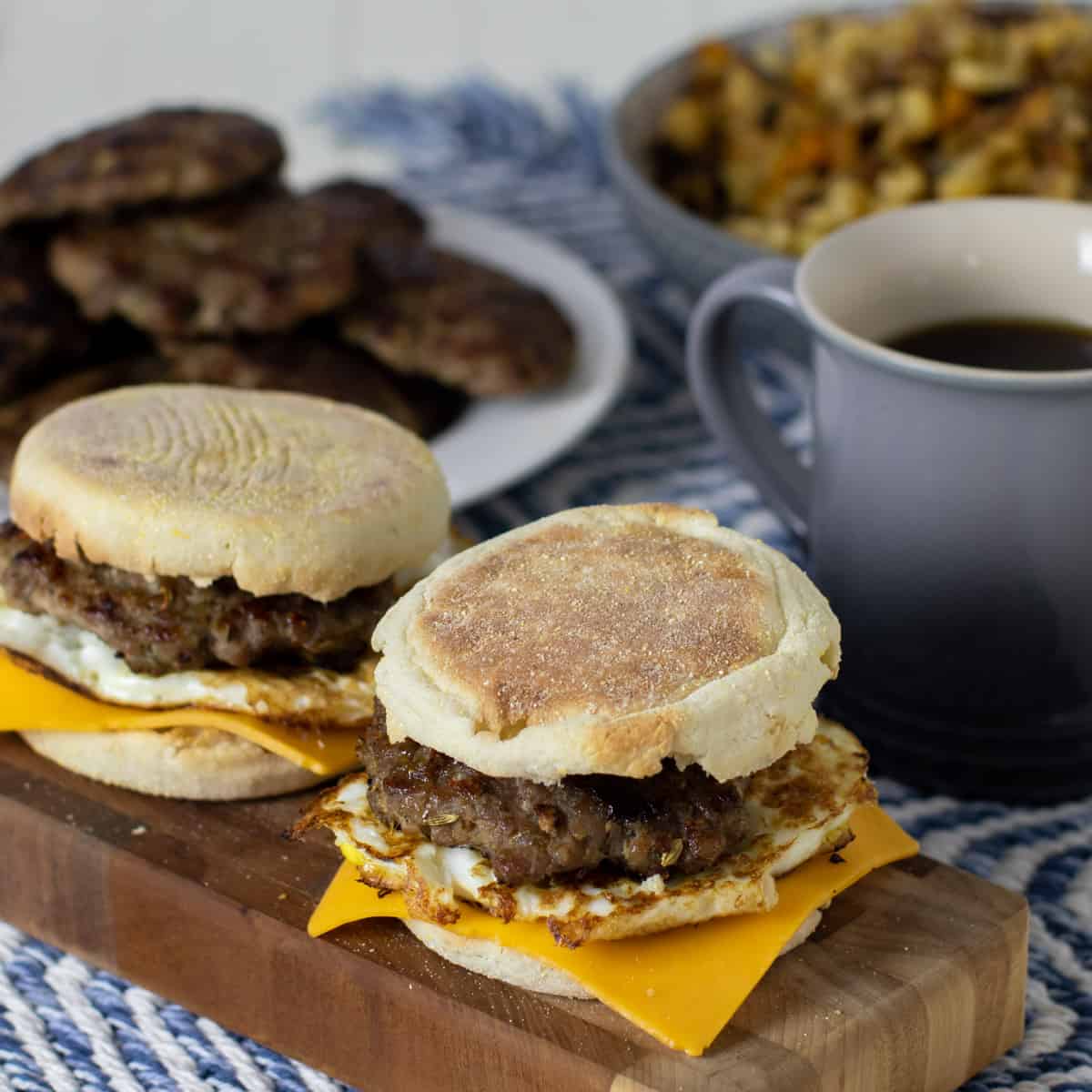 More Breakfast Recipe Ideas!
I love breakfast and brunch and here are a handful of recipes that are perfect for a family breakfast and great for a holiday brunch.
Homemade Breakfast Sausage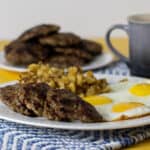 Print
This sausage meat is perfect for breakfast and has a delicious brown sugar seasoning. Perfect for biscuits and gravy, breakfast sandwiches and more!
Servings: 4
Ingredients
1 pound ground pork
1 1/2 tbsp brown sugar
1 1/2 tsp ground sage
1 tsp fennel seeds
1 tsp salt
1/2 tsp black pepper
1/2 tsp oregano
1/2 tsp thyme
1/4 tsp dried chilies
1/4 tsp garlic powder
1/4 tsp ginger
Instructions
Combine all of the ingredients in a mixing bowl. Make sure the spices are throughly mixed in the pork.

This sausage meat can be stuffed into sausage links, shaped into patties and fried, or cooked as crumbled sausage meat for biscuits and gravy and more!
Nutrition
Per serving:
Calories: 320kcalCarbohydrates: 5gProtein: 19gFat: 24gSaturated Fat: 9gCholesterol: 82mgSodium: 647mgFiber: 1gSugar: 5g