Grilled sausage meatballs stuffed with cheese and wrapped in bacon. This is a sponsored conversation written by me on behalf of Kingsford.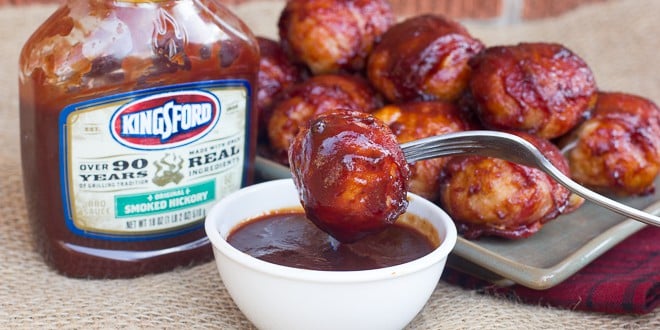 Kingsford® has been around for a long time and their charcoal and briquets are used by lots of BBQ grillers. While they have lots of different types of charcoal, they have recently expanded their product line to include some BBQ sauces and rubs. The three BBQ sauces each have a great flavour, with a deep bold taste. These sauces are perfect for grilling and will enhance whatever meat you have on the BBQ. The recipe I am going to share with you features the Hickory BBQ sauce.
There is not much that I enjoy more than a sweet and saucy meaty appetizer. That is true game-day food and great for parties or picnics. The truth is though, that I don't need a special event to enjoy these cheesy BBQ sausage bites. They are amazing and truly showcase the Kingsford® Original Smoked Hickory BBQ Sauce.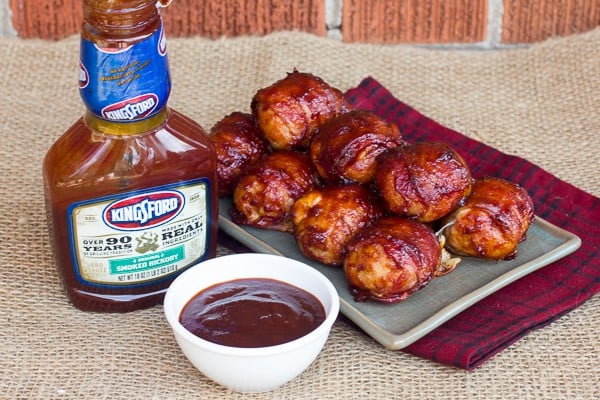 I am always on the lookout for a new type of appetizer. My family really likes bite sized snacks/starters and these cheese BBQ sausage bites are perfect for us. One of the things I loved about these grilled meatballs is that they are very easy to make and do not take long at all.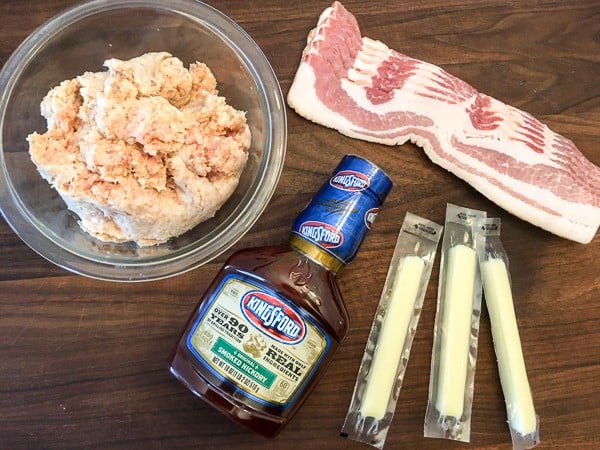 This is a great recipe because it only uses 4 ingredients! One pound of breakfast sausage, 3 mozzarella cheese strings, 12 slices of bacon and a bottle of Kingsford® Original Smoked Hickory BBQ Sauce. That is it!!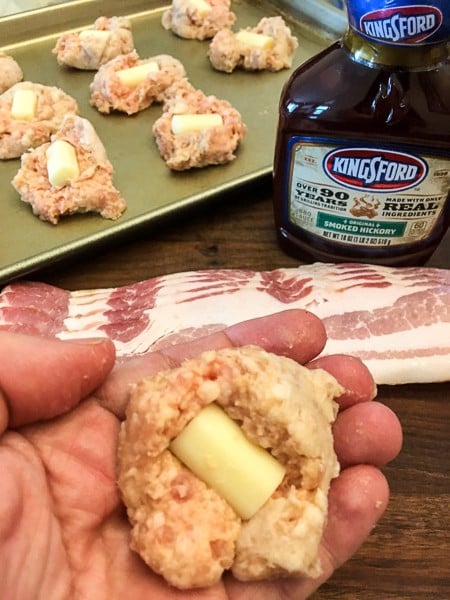 I spooned the sausage meat into 12 equal-sized individual meatballs. I cut the 3 mozzarella strings into quarters and pressed each cheese piece into the sausage meatball.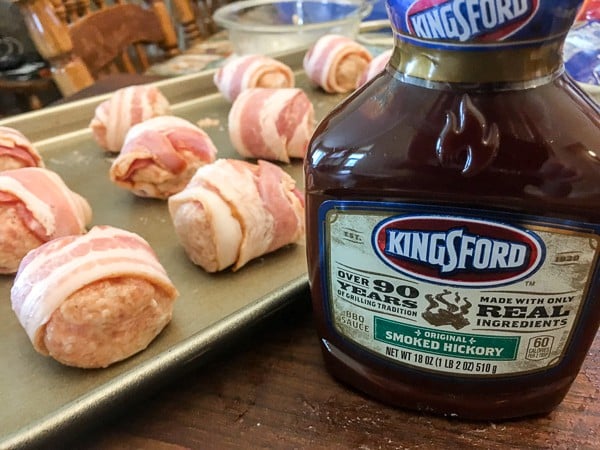 I folded the meat around the cheese, making sure it was sealed and covered. Then I wrapped a slice of bacon around each stuffed sausage meatball. These are going to be amazing!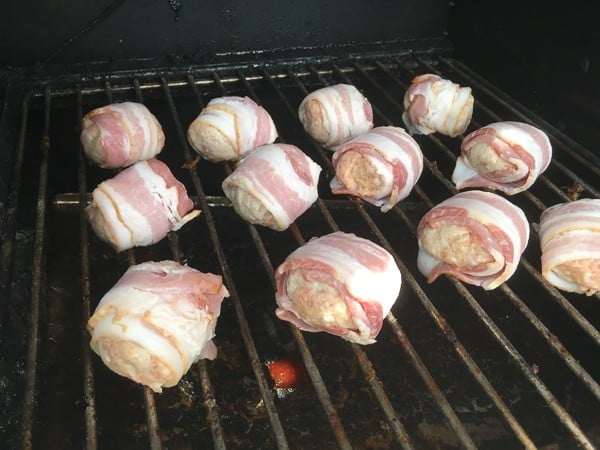 I threw them on the grill a let them cook for about 20 minutes. I made sure that I kept the lid closes while they were cooking so that the bacon would start to crisp up.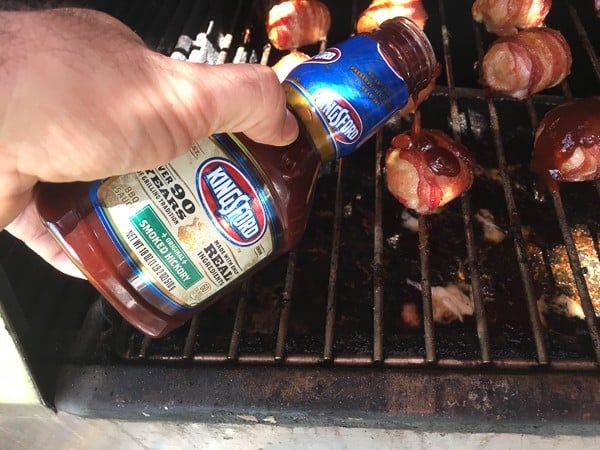 Once the meatballs are browning up and the bacon has rendered and started to crisp, they are ready to be brushed with the Kingsford® Original Smoked Hickory BBQ Sauce. After they have been coated with the BBQ sauce, close the lid and let them cook a little bit more for the sauce to set.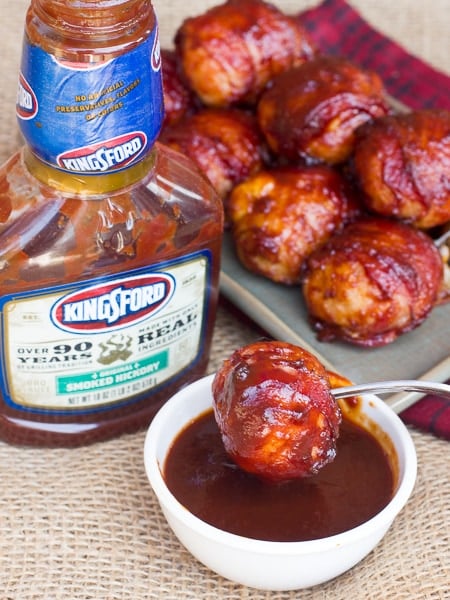 These little cheesy BBQ sausage bites were amazing. I also had a small bowl of extra BBQ sauce for dipping. This BBQ sauce was perfect for these meatballs. I really loved the smokey hickory flavour.
The only problem with these bites, was they were so good and one batch was no where near enough! I could have almost polished off all 12 of these myself. In these future, I could see myself making 2 or 3 batches of this myself.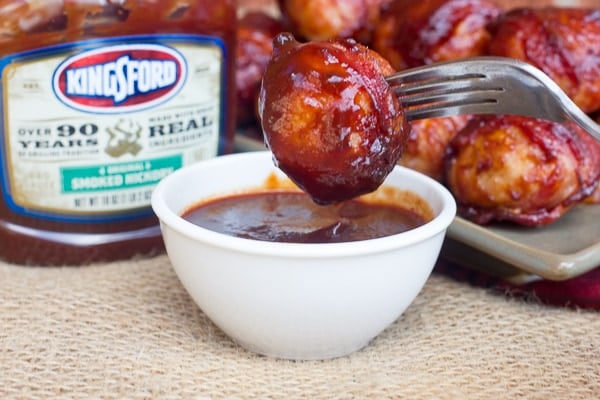 Cheesy BBQ Sausage Bites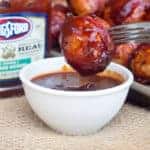 Print
Cheesy grilled sausage meatballs wrapped in bacon and coated with hickory BBQ sauce. Simple to make and the taste amazing!
Servings: 12 meatballs
Ingredients
1 pound ground breakfast sausage
3 mozzarella string cheese sticks
12 bacon slices
1 cup Kingsford® Original Smoked Hickory BBQ Sauce, plus additional sauce for serving
Instructions
Build a charcoal fire for indirect cooking using Kingsford® Charcoal Briquets with Hickory or Mesquite by situating the coals on only one side of the grill, leaving the other side void, and preheat the grill to 350 degrees Fahrenheit.

While the grill preheats, divide breakfast sausage into 12 even portions then flatten into disks. Cut each string cheese stick into four even portions and place each cheese section onto a ground beef disk. Gently form the ground sausage around the cheese so that the cheese is entirely encased. Wrap each cheese stuffed meatball in a slice of bacon and use a toothpick to secure the end of the bacon.

Place the bacon wrapped meatballs onto the cool side of the grill, cover the grill and allow them to smoke for approximately 20 minutes. When until they are cooked through and the bacon is nicely browned and crisp. Brush meatballs with Kingsford® Original Smoked Hickory BBQ Sauce, cover the grill, and allow the sauce to set for 2 minutes.

Remove meatballs from the grill and serve immediately with additional BBQ sauce.
Notes
Recipe created by Clint Cantwelll on behalf of Kingsford® Charcoal.
This is a sponsored conversation written by me on behalf of Kingsford. The opinions and text are all mine.