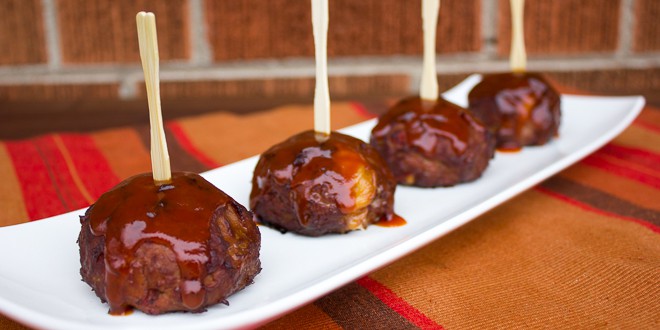 Ground chicken smoked meatballs are wonderful. Every time I make them, I realize I should smoke with ground chicken more frequently. I don't use ground chicken or turkey all that often, usually opting for ground pork or beef. I need to correct that because using chicken in these meatballs is the perfect choice of meat.
Almost any time I prepare smoked meatballs, I make sure that I stuff them. Stuffed meatballs are always better than just regular meatballs right?!?
These guys are each stuffed with a cube of cheese and this time I used some spicy pepper-jack. This cheese worked perfect in the BBQ chicken bombs as I just love how well Monterey jack cheese melts. It was gooey and delicious.
I smoked with apple wood and the sweeter fruit wood is a great choice for chicken meat. Cherry, hickory and maple are all great choices as well.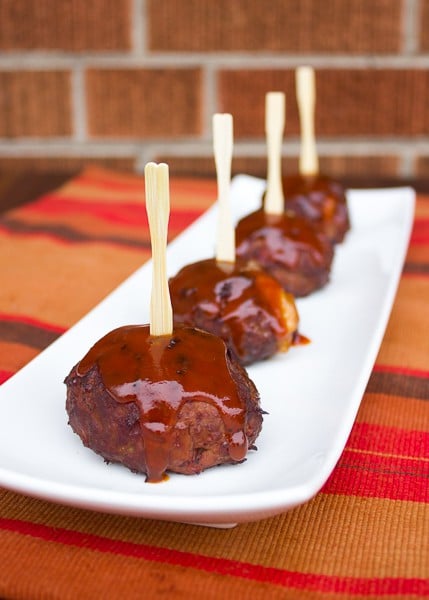 Whether it is a meatball, meatloaf or fatty, I use ground beef many different ways for smoking. Just check out some of these other recipes!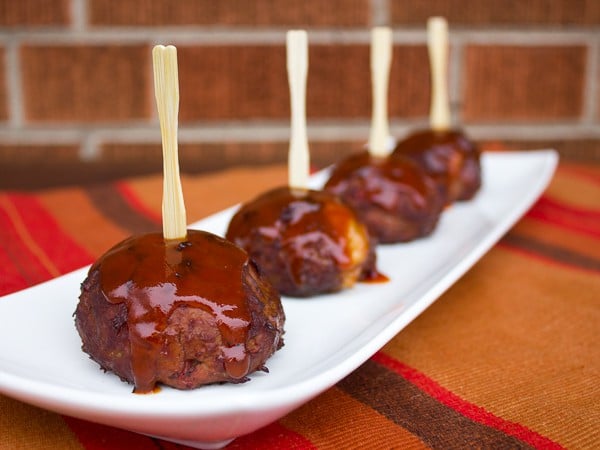 These guys are a great appetizer and perfect for a party, gameday or any event where you have a bunch of people over. I plate them on a serving dish with bamboo party forks and drizzle extra BBQ sauce on them.
Be prepared, smoked chicken bombs are sure to be very popular and will disappear quite quickly. I have made double batches of these for a party and they still didn't last long. The melted pepper-jack cheese that these guys are stuffed with is the best part!
Smoked BBQ Chicken Bombs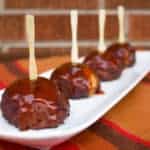 Print
Smoked meatballs that are stuffed with pepper jack cheese and brushed with BBQ sauce. Amazing appetizer! Great with chicken but could also be substituted with pork or beef.
Servings: 4 people
Ingredients
2 pounds ground chicken
1 tbsp chili powder
1/2 tsp salt
1 egg
1 cup bread crumbs
1/3 cup milk
3/4 cup BBQ sauce, divided
1 red pepper, cored and minced
150 grams pepper-jack cheese, cut into 1/2 inch cubes
Instructions
Set the smoker to 275F using wood of choice.

In a small bowl, mix together the ground chicken, chili powder, salt, egg, bread cumbs, milk, 1/4 cup of the BBQ sauce and minced red pepper until thoroughly combined.

Grab a small handful of the meat mixture and form a meatball that is about 1 1/2 inches in size. Make a small indentation in the middle, with your thumb. Press a cube of pepper-jack cheese into the indentation and fold the meat around the cheese so that it is covered. Using your two hands, roll the meat around so that it is fairly round. Place the meatball on smoker rack. Do this with the remaining meat and cheese.

Place the smoker rack in the smoker. Smoke the meatballs until they reach an internal temperature of 165F, about 2 1/2 hours.

Brush remaining 1/2 cup BBQ sauce on top of the meatballs.