Smoked Meatballs with Fusilli Marinara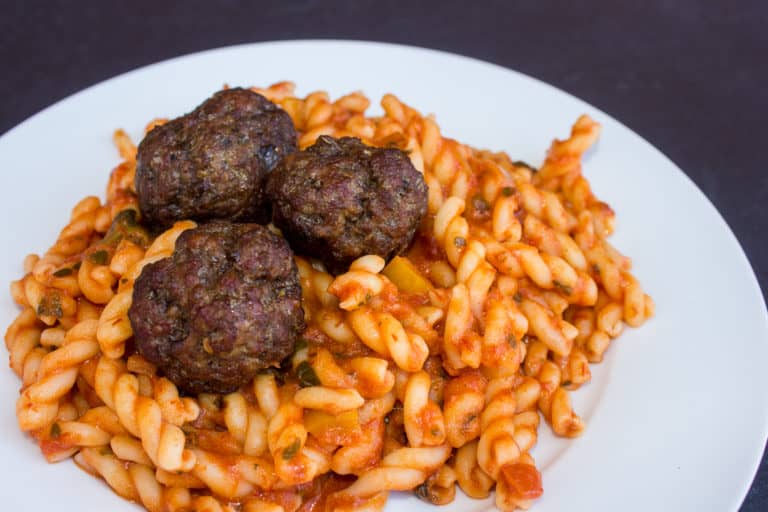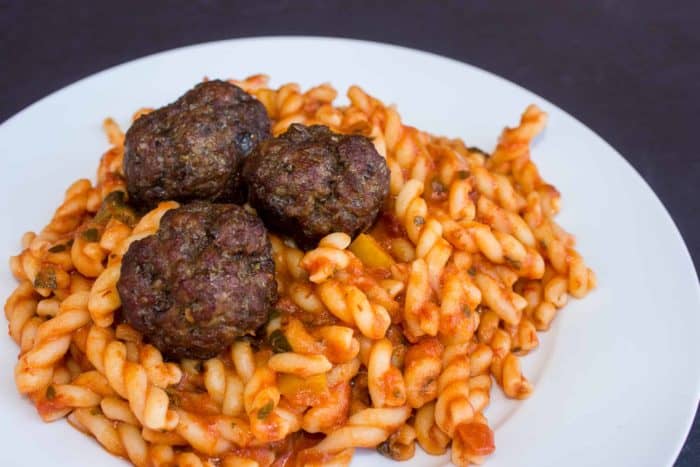 We love spaghetti and meatballs and it is on a regular rotation at our home. With three kids in the house, pasta is always popular with spaghetti and meatballs being the top choice. But the one thing that my kids have to deal with is that I love changing up a recipe. Rarely do they get the same meal twice, instead I am always attempting to get creative with a new take on a classic dish – even with spaghetti and meatballs!
I love smoking ground beef and recipes like the Smoked Meatloaf and Bacon Cheeseburger Fatty are hugely popular, whenever I make them. So to try something different, I smoked the meatballs and wow, did it ever add a nice new depth of flavour! The smokiness did not overpower the meatballs but gave a greater complexity to the flavour profile. These meatballs were complimented very well with the bright fresh taste of the marinara sauce.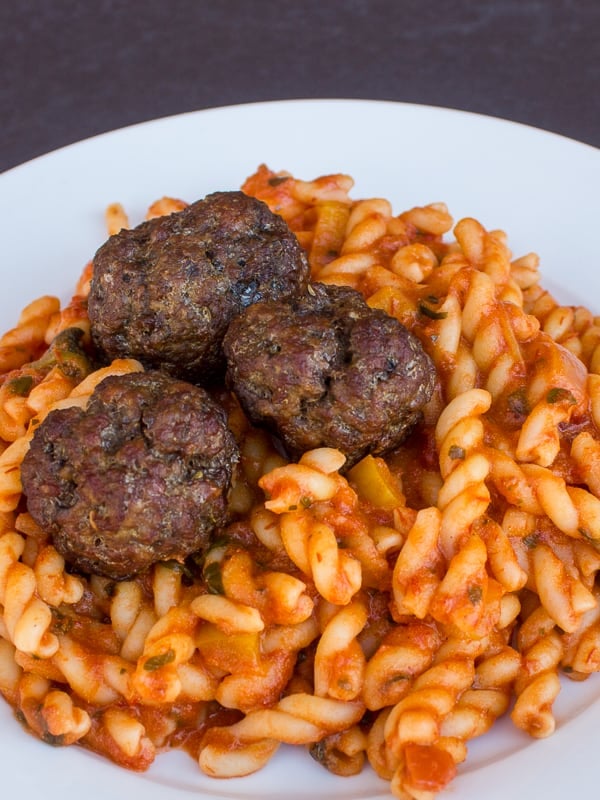 For meatballs, I usually use only ground beef, while I know some people like a combination of ground beef and ground pork. If you want to add some ground pork, I find that 1/2 pound ground pork to 1 1/2 ground beef is a good ratio.
Once you have kneaded together the meatball mixture, shape a small handful of meat into small ball. I aim for meatballs that are about 1 1/2 inch in size. Try as best you can to keep all the meatballs the same size so that they will cook evenly.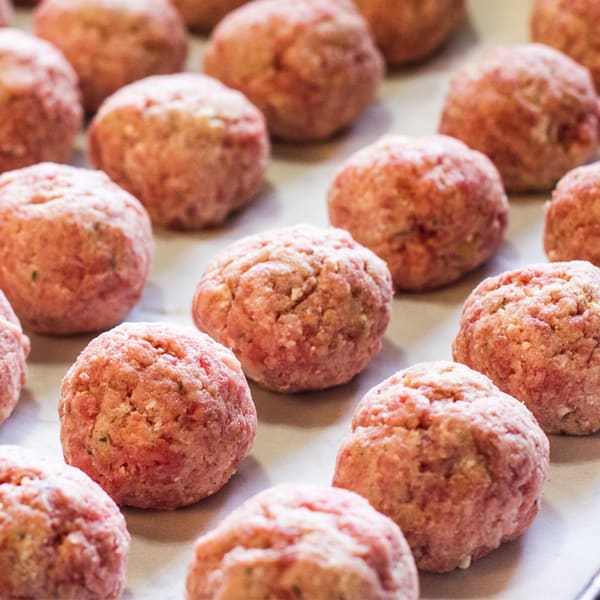 Get your smoker up to 275F using wood chips of choice. For meatballs, I quite like hickory or pecan. Place the meatballs on a smoker rack and put them in the smoker. The meatballs are done once fully cooked and reach an internal temperature of 165F.
While the meatballs are in the smoker, you can make the marinara sauce and cook the fusilli pasta. Once the meatballs are finished, toss the pasta in the marinara sauce, spoon on a plate and top with smoked meatballs. If desired, spoon a little more marinara on top of the meatballs.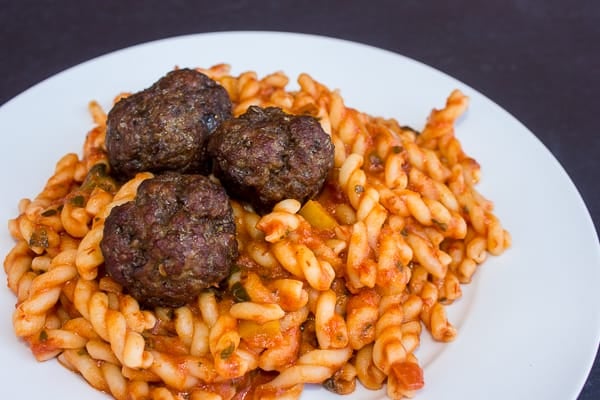 Over the years I have made a number of different pasta dishes with a tomato based marinara sauce. Here are a bunch of the recipes:
Smoked Meatballs with Fusilli Marinara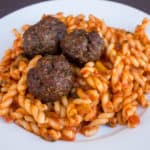 Print
How to smoke meatballs with a simple ground beef meatball recipe and a smoker. Served with fusilli pasta and tomato marinara sauce.
Servings: 4 people
Ingredients
1 1/2 pound ground beef
1 tablespoon oregano
1/4 teaspoon thyme
1/2 teaspoon garlic powder
1 teaspoon salt
1/2 teaspoon ground black pepper
1 egg
3/4 cup bread crumbs
1/3 cup milk
2 tablespoons oil
3 shallots , minced
1 yellow pepper , cored and diced
28 oz canned diced tomatoes
1 cup heavy cream
2/3 cup parmesan cheese
1 tablespoon basil
salt and pepper , to taste
500 g dry fusilli pasta
Instructions
Set the smoker to 275F using wood chips of choice.

In a small bowl, mix together the ground beef, oregano, basil, thyme, garlic powder, salt, black pepper, egg, bread crumbs and milk until thoroughly combined.

Grab a small handful of the meat mixture and form a meatball that is about 1 1/2 inches in size. Place the meatball on the smoking rack. Do this with the remaining beef mixture.

Place the smoking rack in the smoker and smoke the meatballs until they reach an internal temperature of 165F, about 2 1/2 hours.

In a saucepan, heat the oil on medium heat. Add the shallots and yellow pepper. Cook, stirring often for a few minutes.

Stir in the can of diced tomatoes. Bring to a boil and then lower heat to a simmer.

Let the sauce simmer for 10 minutes.

Stir in the cream and parmesan cheese. Simmer for another 3-5 minutes. Remove from heat and stir in the basil, salt and pepper.

Cook pasta according to package directions. Strain the pasta and toss with the sauce.

Serve pasta topped with a few smoked meatballs.
Nutrition
Per serving:
Calories: 1397kcalCarbohydrates: 125gProtein: 59gFat: 72gSaturated Fat: 31gCholesterol: 256mgSodium: 1452mgFiber: 8gSugar: 12g