Orecchiette in a Marinara Sauce with Smoked Pork Tenderloin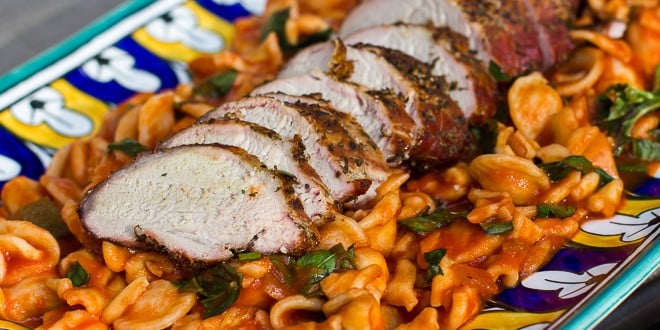 The other day, I mentioned how much I love smoked pork tenderloin. It is one of the quicker meat cuts to smoke and is great added to a dish. The smokey flavor can add a whole new dimension to the taste of a meal. This pasta recipe is a great example. The simple marinara sauce and orecchiette pasta have a bright flavor. The smokiness of the tenderloin counterbalances the bright fresh flavors incredibly well. I used an Italian herb blend for the rub on the pork tenderloin, which was the perfect choice for this Italian inspired dish.
I smoked the tenderloin in my Bradley Digital 4-Rack Smoker
and used hickory wood. Full details on how to smoke a pork tenderloin can be found here.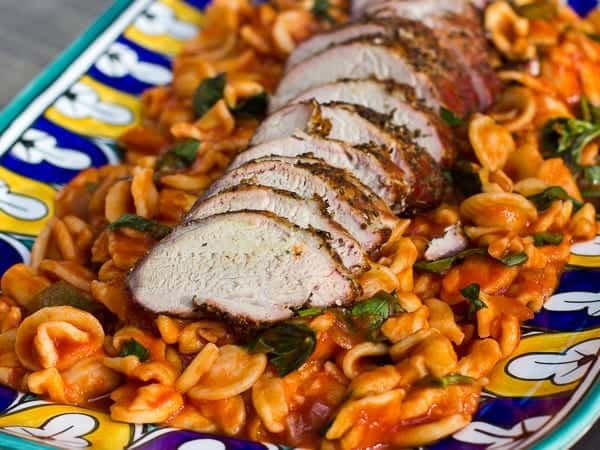 Orecchiette in a Marinara Sauce with Smoked Pork Tenderloin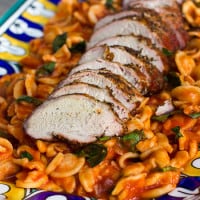 Print
Servings: 4
Ingredients
1 pork tenderloin
1 tsp garlic powder
1 tsp salt
1 tsp sugar
1 tsp dried oregano
1 tsp dried basil
1/2 tsp dried thyme
2 tbsp olive oil
1 onion , diced
1 pepper (green or other color), diced
2 garlic cloves , minced
2/3 cup red wine
3 cups or 1 (720ml) jar passata sauce or crushed tomatoes
1/2 tsp salt
1/4 cup fresh basil , sliced
500 g (1 pound) orecchiette pasta (or any other pasta)
Instructions
Make the rub for the tenderloin by mixing together the garlic powder, 1 tsp salt, sugar, dried oregano, dried basil and dried thyme. Rub all over the meat.

Smoke the pork tenderloin at 225F for 2 1/2 to 3 hours. Full details for smoking pork tenderloin can be found

here

.

In a saucepan, heat the oil on medium heat. Add the onion, pepper and garlic. Cook, stirring often for a few minutes.

Add in the red wine. It will bubble and the alcohol will evaporate. Cook for another 3-4 minutes.

Stir in the passata sauce (or crushed tomatoes). Bring to a boil and then lower heat to a simmer.

Let the sauce simmer for 10-15 minutes and add salt.

Cook pasta according to package directions. Strain.

Stir the sauce and fresh sliced basil in with the pasta.

Serve with smoked pork tenderloin sliced and on top of the pasta.