How to Smoke Pork Tenderloin in a Smoker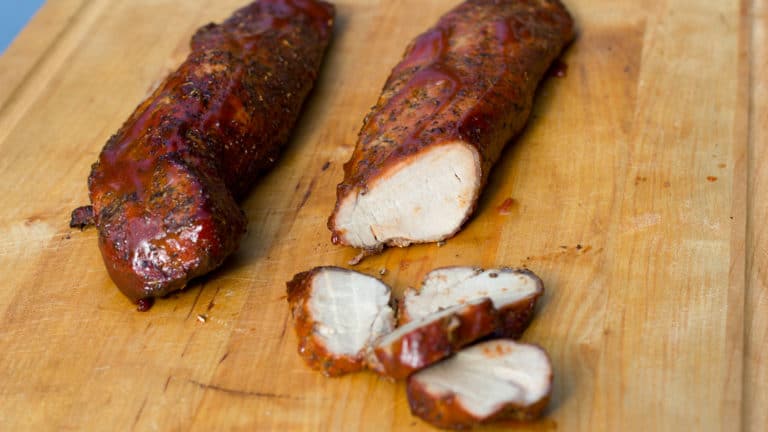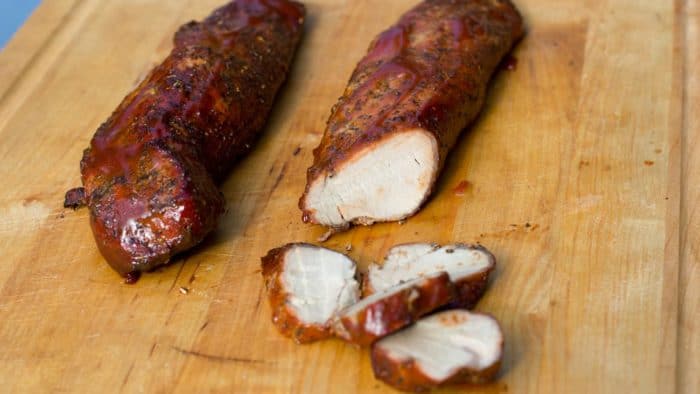 One of the most common meat that I smoke (aside from ribs of course!) are pork tenderloins. I love the smoke flavor and the meat of the tenderloin is incredibly tender. I often get asked how to smoke a pork tenderloin in a smoker. It could not be easier!
One of the reasons I like to smoke tenderloins so much is that, once sliced, they are great to add to many other dishes from appetizers, pasta, wraps, beans, sandwiches and more. The smokiness of the meat can add a wonderful flavor dimension to a dish. It is so tasty that I love pork tenderloin on its own as well.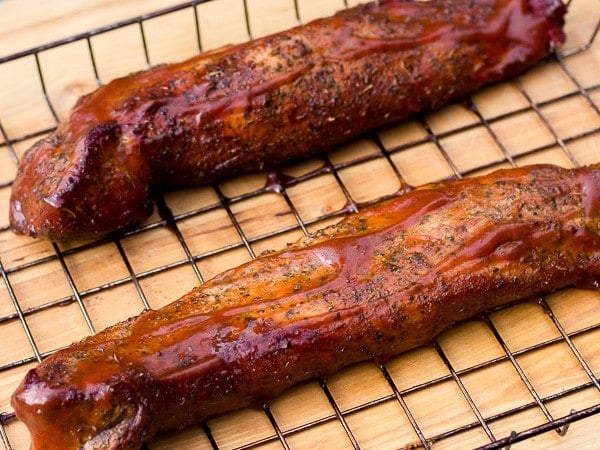 These come out perfect in my Bradley Digital 4-Rack Smoker
and I even tried them in my newly acquired Bradley 2 Rack Compact Smoker and they were awesome! There are many different rubs and sauces that work well with pork tenderloin.
Pork tenderloin is a very lean cut of meat, but there is sometimes some chunks of fat along the outside of the meat. I like to trim it of any excess fat, and it is quite simple to do, usually almost coming off with a bit of a tug.
Along one section of the tenderloin there is a thin layer of silverskin. If desired, you can remove this. I often take it off with a sharp knife and I find that its removal makes slicing the meat after the smoking easier.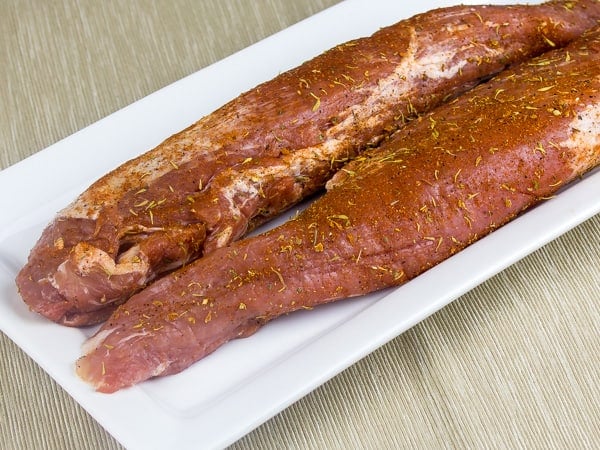 Before you smoke the pork tenderloin, you want to rub it down with a your choice of seasoning. Normally, I use my basic bbq rub, but there are so many different options depending on the flavour profile you are going for.
Here are some great rub recipes that work really well with pork tenderloin!
If I am smoking a pork tenderloin with some rub or sauce, I like to smoke it more low and slow, so I will have the smoker temperature set at 225F. Smoke it until the internal temperature is at least 145F. Then let it rest for 5 minutes before slicing.
I usually brush the tenderloin with BBQ sauce right when it comes out of the smoker. If desired, you could brush the meat midway through the smoking session. That allows the sauce to caramelize itself on the meat.
Here are some of my BBQ sauce recipes:
Sometimes, I will stuff a pork tenderloin and wrap it in bacon. The bacon adds a wonderful flavour to the pork tenderloin. In this case, I smoke at a higher temperature – usually around 275F. This is a better temperature for crisping up the bacon.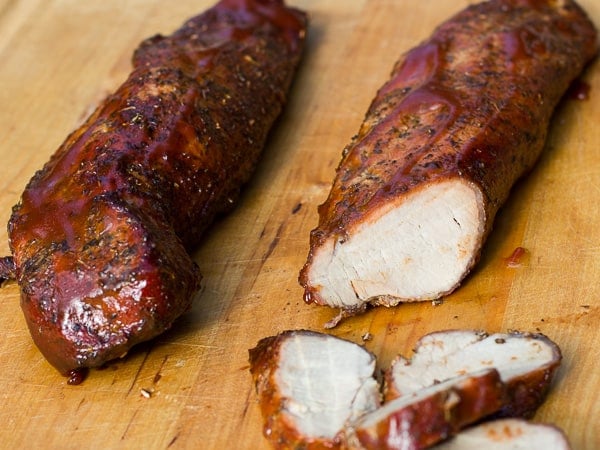 If you are wanting to smoke a pork loin, like a centre cut loin roast, check out this recipe!
Here are a number of different recipes for smoking pork tenderloins.
How to Smoke Pork Tenderloin in a Smoker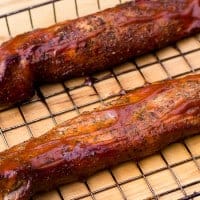 Print
How to smoke a pork tenderloin using an electric smoker like a Bradley Smoker, Masterbuilt or a Kamado Grill like a Big Green Egg. Use rub of choice and wood like hickory.
Servings: 2 people
Ingredients
1 pork tenderloin
3 tbsp rub of choice
1/4 cup BBQ sauce
Instructions
Start smoker, using wood of choice (I usually use hickory or maple) setting the temperature of the smoker for 225F.

Trim pork tenderloin of any fat or silver skin.

Generously rub the spice mix all over the meat.

Place meat in the smoker and smoke till the internal temperature is 145F, about 2 1/2 to 3 hours.

Brush the meat with BBQ sauce when there is about 30 minutes left to go in the smoker.
Nutrition
Per serving:
Calories: 404kcalCarbohydrates: 29gProtein: 55gFat: 7gSaturated Fat: 2gCholesterol: 163mgSodium: 506mgFiber: 2gSugar: 12g