Smoked Pork Loin with Apples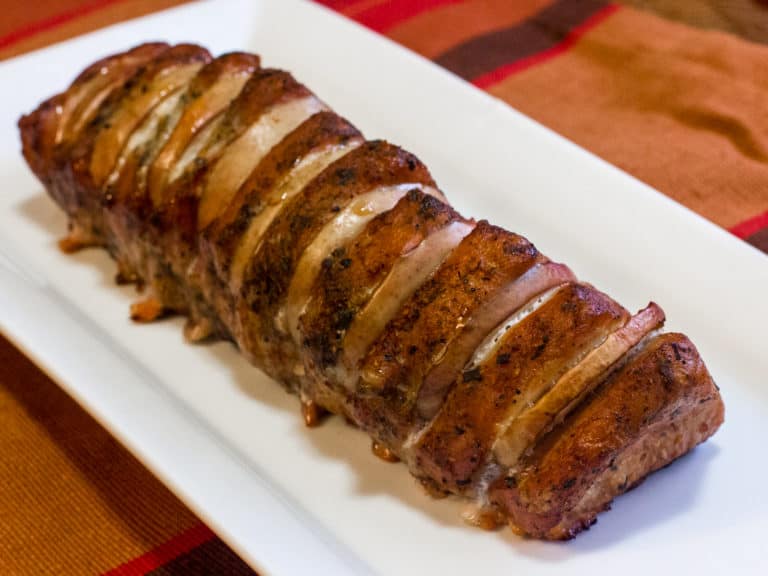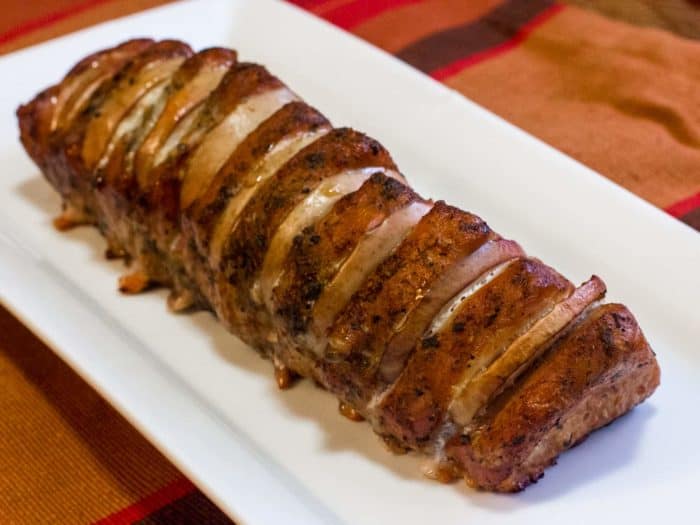 Smoked pork is wonderful and I enjoy smoking so many different cuts of pork. Tenderloin, ribs, shoulder, and butt are all common cuts of pork to smoke..
Here are a few recipes links for smoking different cuts of pork:
A pork loin is another great cut of pork to smoke. Since it is a lean cut of pork, there is a chance is can come out tough and dry. But, if smoked properly is one more cut of pork that is great for the smoker!
A centre cut pork loin roast, once trimmed is about 3 pounds in size. This is the perfect sized roast to feed our family.
Smoke and pork go perfectly together and adding the flavour of apples just put this meat over the edge. Everyone loves some apple sauce with their pork roast, right?!? Well, sticking some apple slices in the pork loin is a great way to infuse a fruity sweetness into the pork.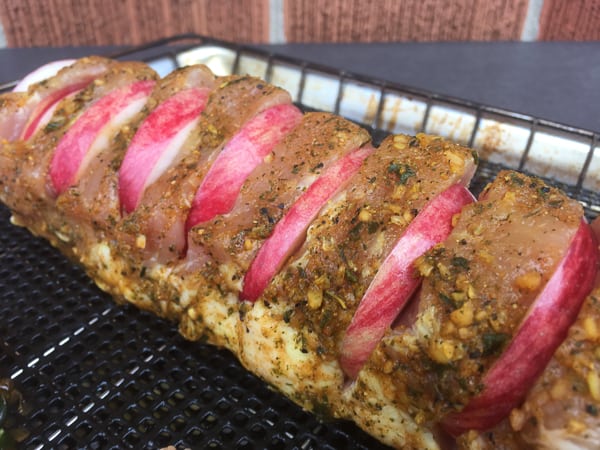 To make slits for the pork loin, cut slices into the pork ensuring that you do not go all the way through to the bottom of the loin. I cut the slits to go down a little more than halfway, maybe two thirds through.
Rub the pork loin generously with the seasoning. The rub for this recipe is a mixture of garlic and herbs with some brown sugar for added sweetness. Feel free to use a different seasoning rub if you are looking for another flavour profile for the pork.
Stick apple slices into each of the slits of the pork loin. It's ready to go to the smoker!
I smoke the pork loin at 275F which is a fair bit hotter temperature than I usually use for smoking pork. Since pork loin is a much leaner cut of pork, I prefer to not go the low and slow route, like I would with a pork butt which has far more marbling.
Smoke the loin at 275F until the internal temperature of the meat reaches 145F. This should take around 3 hours of smoking. Monitor the temperature, because every smoker is different and pork loins vary in shape. You might find that your loin reaches the target temperature earlier. So instead of smoking based on time, monitor the temp and remove from the smoker once 145F is reached at the internal part of the meat.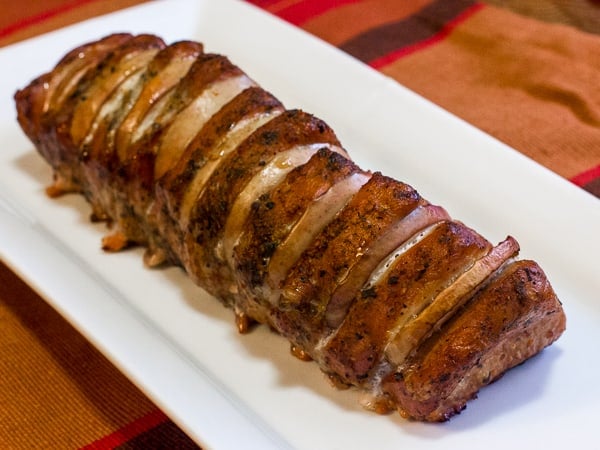 Once finished smoking, let the pork rest for 5-10 minutes. Carve into slices and serve!
Smoked Pork Loin with Apples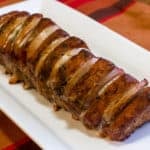 Print
How to smoke a centre cut pork loin roast in an electric, propane or charcoal smoker with a nice herb and garlic rub and apple slices inserted into slots in the roast.
Servings: 4 people
Ingredients
1 centre cut pork loin roast about 3 pounds
2 apples cored, halved and sliced
2 tbsp oil
1 tsp salt
1 tsp black pepper
1 tbsp oregano
1 tsp thyme
3 garlic cloves minced
2 tbsp brown sugar
Instructions
Trim the pork loin of any excess fat. Every 1/2 inch, cut slits into the pork loin from the top halfway down into the roast. These slits are to wedge the apple slices into the pork loin.

In a small bowl mix together the oil, salt, black pepper, oregano, thyme, garlic cloves and brown sugar. Rub all over the pork loin so that it is evenly coated.

Stick an apple slice into each of the slits in the pork loin.

Set the smoker to 275F using wood of choice (hickory, apple or cherry work great).

Smoke the pork until it reaches an internal temperature of 145F, approximately 3 hours.

Carve and serve.