How to Smoke a Pork Shoulder Roast – Picnic or Butt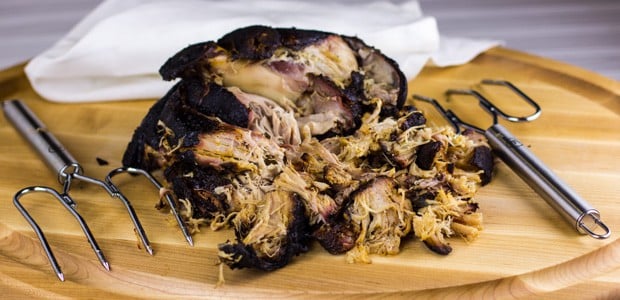 A classic for any good BBQ is pulled pork. Pulled pork comes from roast pork. It is important to pick a roast that has a lot of marbling. Any roast that comes from the shoulder of the pig will work great. Some terms and cuts of these roasts are: butt, shoulder, picnic, shoulder blade. A pork roast with any of these names will work great for pulled pork. A pork loin roast is far too lean and would not produce good pulled pork. These roasts from the shoulder of the pig need to be done low and slow. This allows the connective tissues to break down and it produces tender meat that is full of flavor!
Smoking a pork roast is a staple for anyone owning a smoker. Pulled pork tastes amazing on its own or thrown into something.
Here are some recipes that use pulled pork:
Here are detailed instructions for smoking a picnic roast in a Bradley smoker.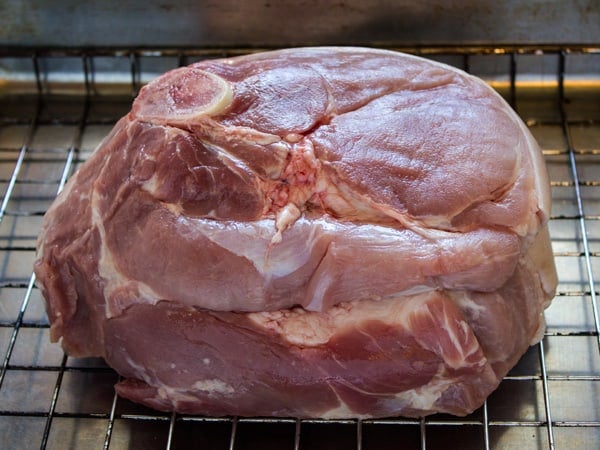 Here is the picnic roast. It is typically 5-7 pounds and perfect for low and slow smoking. Give it a rinse under cold water and pat it dry with a paper towel.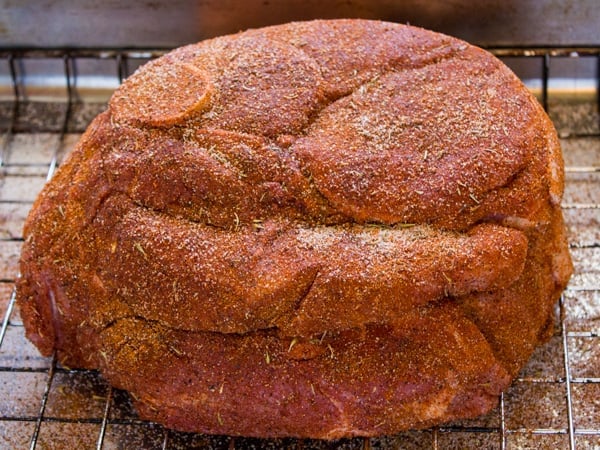 Generously coat the picnic roast with your rub of choice.
I use about 3/4 cup of my own rub recipe found:
One of the best parts about smoking is trying different rubs to see what you like best. Experiment with your own as well. Just make sure there is enough sugar because there is nothing nicer than the sweet, rub coated, burnt edges of a smoked pork roast.
Optional: Some people like to coat the roast with a thin layer of mustard before applying the rub. I have tried this and it does have some nice results. I used yellow mustard, but I am sure any mustard would work as well.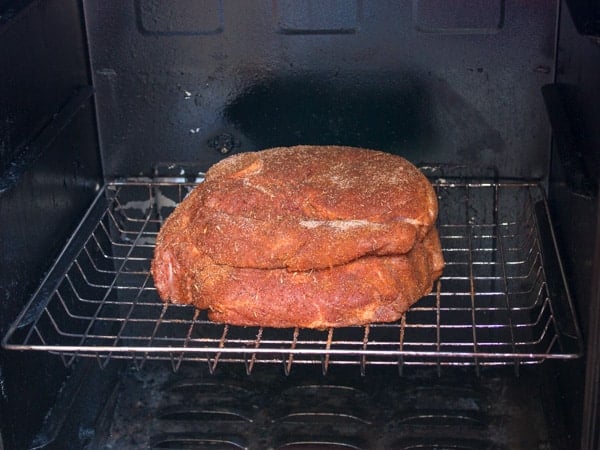 Set the smoker to 225F.
Regarding what type of wood to use, there are many kinds that work great for smoked pork roast.
Here are the kinds I have used:
Hickory (my wood of choice for pork)
Pecan
Apple
Cherry
Mesquite
Maple
Mixing wood is an option as well. Hickory and mesquite provide a stronger smoke flavor while the others are more subdued. I have mixed hickory with apple or cherry and have had great results.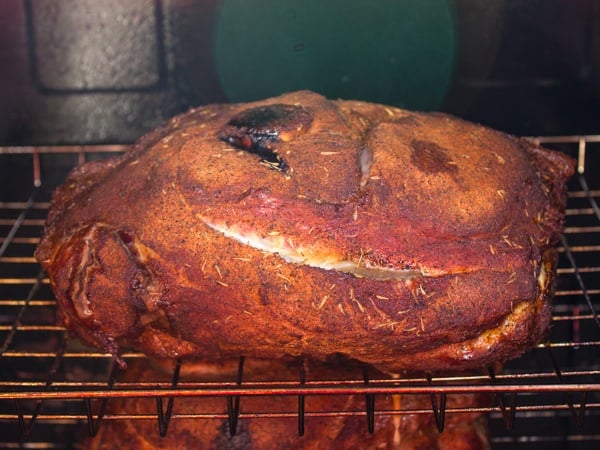 Smoke the roast for 18 hours.
Above is the roast after about 5 hours of smoking. It was night time so I had to use the flash (as seen from the glare). You can see that the rub is crisping and browning up nicely.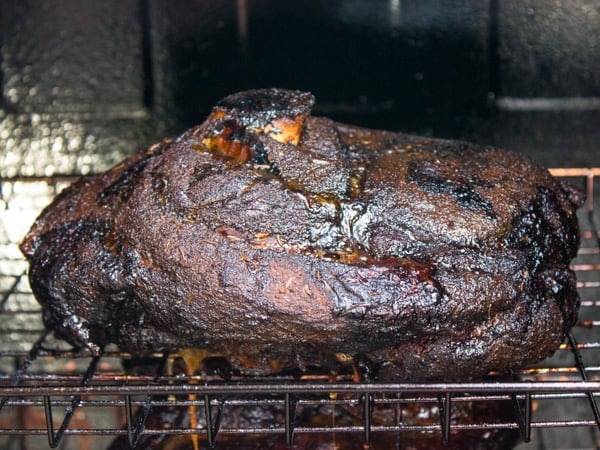 This is after 18 hours. The outer crust has beautifully blackish coating. There is SO much flavor in there!
The internal temperature of the pork should be 195F.
This is an important number because at this point the meat inside is tender and will pull apart easily. The cooking time is not as important as the internal temperature. Since different roasts can vary in weight, a roast that is 5 pounds would take less time to smoke than one that is 7 or more pounds.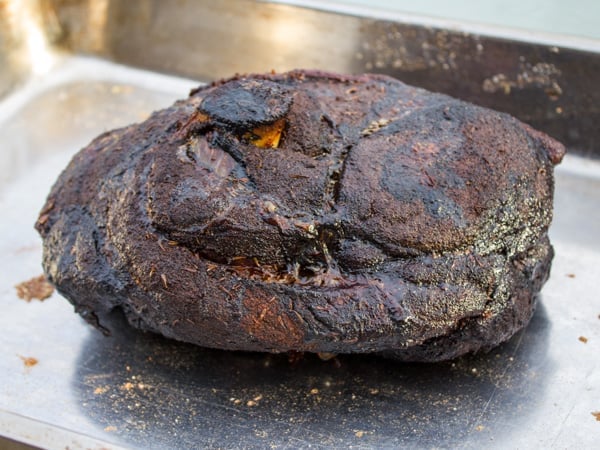 Let is rest for 10 minutes.
Take the pork out of the smoker and let it rest for about 10 minutes. This lets some of the heat release and steam out.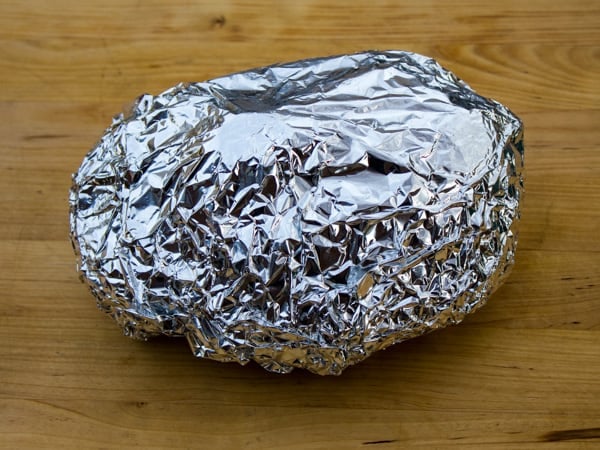 FTC Method
The next step is called FTC which stands for: Foil – Towel – Cooler
The FTC method helps to produce a more moist and tender finished product. On top of that, FTCing the meat allows you to keep the smoked meat hot for a while. Sometimes on a long smoke, the meat goes in the smoker the day before. It can be difficult to be precise in the timing and it may be finished an hour or more before mealtime. You can put the meat in the FTC and it can stay warm for 4 (or even more) hours.
F – Foil
Wrap the pork roast in aluminum foil. I double wrap it and make sure there are no open spots.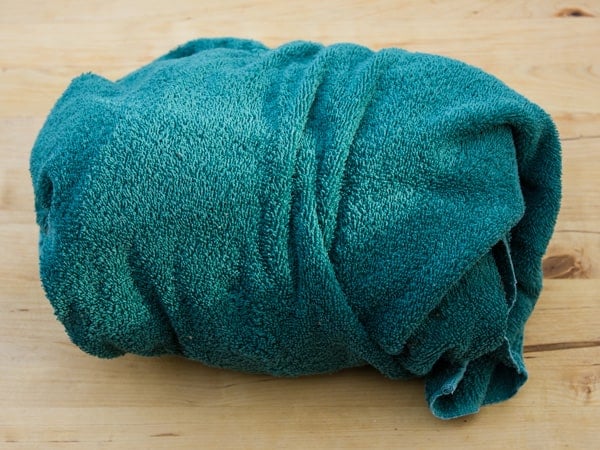 T – Towel
Wrap the foiled roast in a bath towel.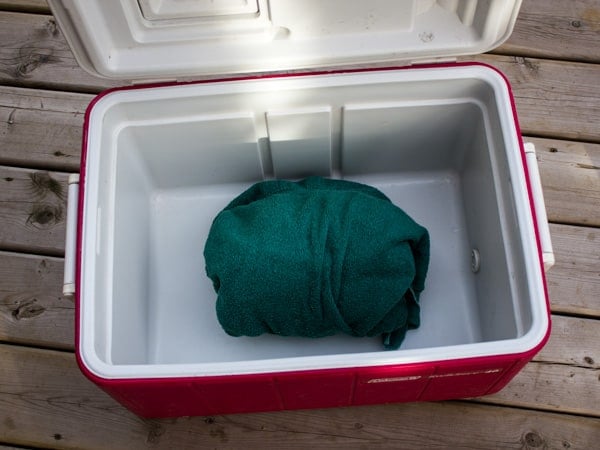 C – Cooler
Place the wrapped roast in a cooler. Just before I FTC the roast, I often pour a kettle full of boiling water in the cooler and close the lid. After about 5 minutes, I dump the water and add the foiled and toweled roast. This heats up the cooler ahead of time and slows down the cooling of the roast significantly. This is a great option when you need to keep the roast in the cooler for multiple hours.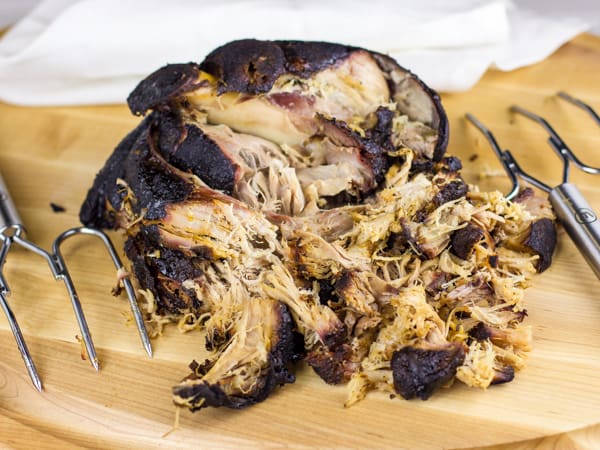 After the roast has been FTC'd for at least an hour or two, it is ready for pulling. Do not pull the meat until just before mealtime. Once pulled, the meat loses moisture quickly and it is best eaten right after being pulled. You can use two forks to pull the meat. Just stick them both near each other in the meat and pull the forks away from each other. Continue to do this and you will see long strands of meat. This is gold for a smoker. Be careful because as you pull the met, you may find yourself popping some in your mouth. I have eaten my fair share of pulled pork while I am pulling!!
I used to use forks for pulling, but lately I have been using two turkey lifters and they work great as well. There are also plenty of tools specifically designed for pulling pork as you can see in the links to the right.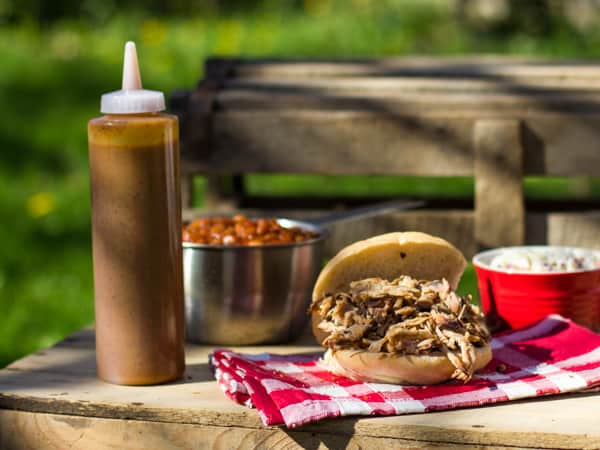 To go with any pulled pork, there is also the need for a finishing sauce. People's preference for what kind of finishing sauce can vary dramatically. Some people prefer a sweet bbq sauce, while others prefer a mustard based sauce. Some people feel that the best finishing sauce is something thin and vinegar based. I like to provide a few options which allows people to pick what they like and try different kinds of sauces.
Here are some links to some of my favorite sauces for pulled pork
Sweet BBQ Sauce options:
Mustard BBQ type sauce