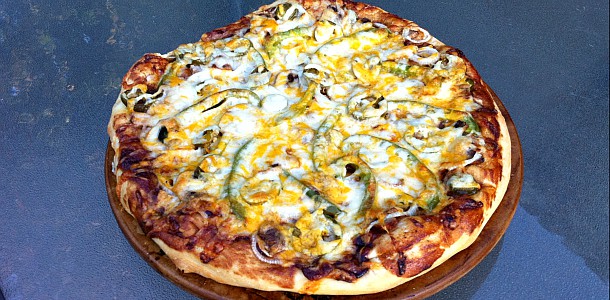 I love watching food shows. I could keep the tv on the food network all the time and I would be more than happy. I like all kinds of food shows as well. I love the shows that try to teach you how to cook – I love love love Chef at Home (a Canadian cooking show), America's Test Kitchen, Mexican Made Easy, Grill it with Bobby Flay.
I also like some of the reality/challenge food shows like Masterchef, Next Food Network Star and Iron Chef. I also like the shows that take you around great eating establishments all over the place. Man Vs Food is insane (have you seen this show – CRAZY). One other show that is a classic for me is DDD. I gotta get my fix of Diners, Drive Ins and Dives. Guy Fieri is awesome.
Anyway, there was one day that I was watching DDD and Guy was at a pizza joint. At this restaurant, they made a Pulled Pork Pizza. It looked incredible and I vowed that the day I bought myself a Bradley smoker, I would make a pulled pork pizza.
Well, the day has arrived. I smoked a pork shoulder and reserved some of the meat for this pizza. Now if you don't have a smoker, you could use roasted pork, bbq'ed pork, or pork done in a slow cooker.
I love pulled pork and here are a bunch of other recipes using some of this delicious shredded pork!
Here are some other great pizza recipes
Pulled Pork Pizza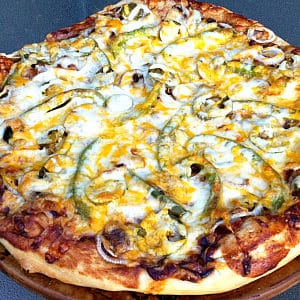 Print
A pizza with a smokey flavour. Topped with BBQ sauce, pulled pork (done in the Bradley Smoker), onions, peppers, cheddar and swiss cheese, this pizza rocks
Servings: 4 people
Ingredients
pizza dough
1/3 cup cup BBQ sauce
1 1/2 cups pulled pork
1 onion , sliced
1/2 pepper , sliced
1/4 cup sliced jalapeno pepper
1 1/2 cups grated cheddar cheese
1 cup grated swiss cheese
Instructions
Spread pizza dough on an oiled baking tray/pizza tray

Spread BBQ sauce on the pizza dough followed by the pork, onion, pepper, jalapeno and cheese.

Bake in a 425F preheated oven for about 25 minutes or until the crust is risen and golden brown.

Let rest for 5 minutes before serving