Pulled Pork Shepherd's Pie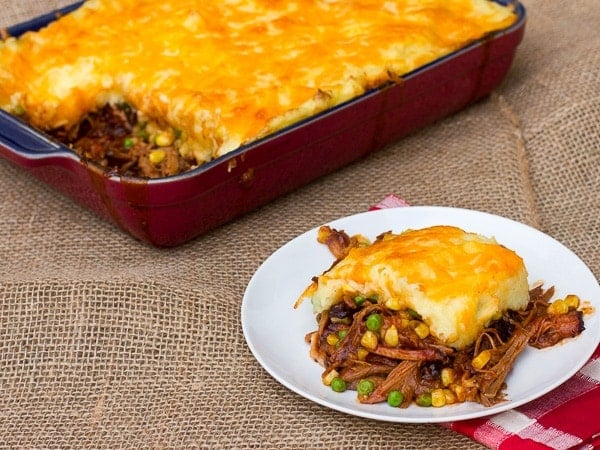 I make pulled pork a lot. Whether it is using my smoker, grill or even just using the slow cooker, I love the tender taste of a slow cooked pork butt or shoulder. I tend to make a lot and the other day, I made a massive amount. My oldest son had a football playoff game and some family came by to watch it.
Since people were travelling, I needed to make sure that I fed them well and that there was enough pork to go around. So, I smoked 28 pounds of pork butts, which was way more than necessary. But, we always love to have leftover pork, because it is good in so many different dishes.
For instructions on how to make pulled pork check out these recipe posts.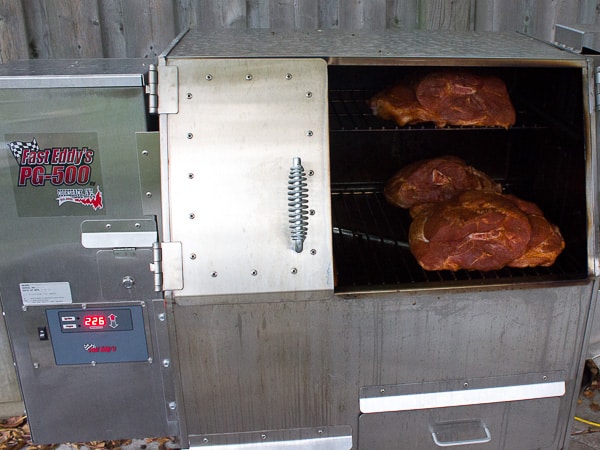 I smoked the pork butts in my PG500 Pellet Grill from Cookshack. I love the grill because you can set the temperature and it will add wood pellets, as needed, to maintain the temperature. That is perfect for these long cooks. For pork butt, I start them in the evening and let it cook all night. I set it for 225F and used pecan wood pellets.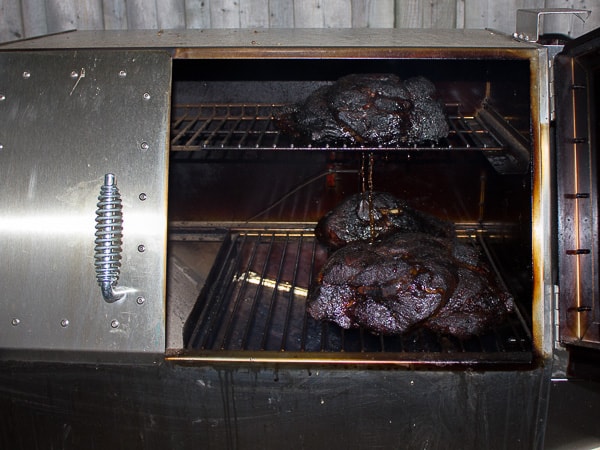 You never know exactly how long the pork butts are going to take to reach the target temperature. It is important to not remove them too early or they will not pull well. I aim for 190-200F. For this smoke, it took about 14 hours, which is about standard.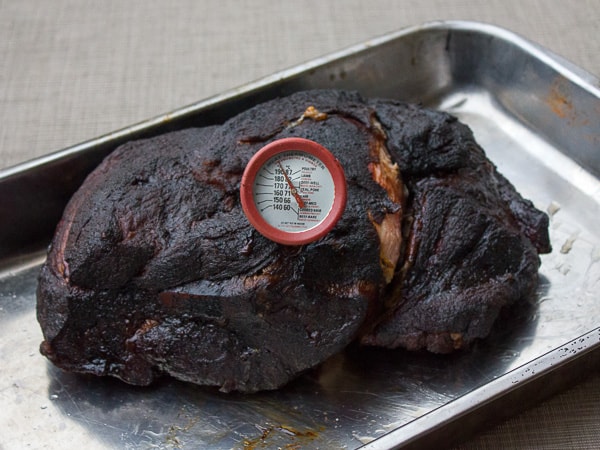 Once I took them off the grill, I wrapped them in foil, then a towel, and placed them in a cooler. That would keep them hot while we were at the football game. I love that method because it allows us to come home to a nice hot meal!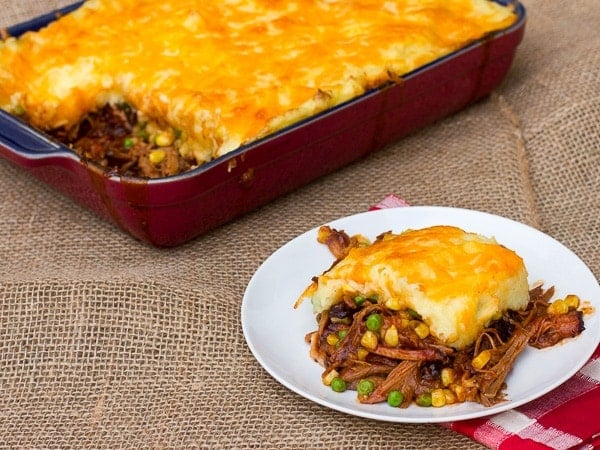 As I said earlier, there was a lot of leftovers. So, I decided to try making pulled pork shepherd's pie. We love comfort food and with the cold weather, I knew that a hot baked casserole would be great. Shepherd's pie is normally made with ground beef, but I figured that pulled pork would work well and give the dish a nice BBQ flavor.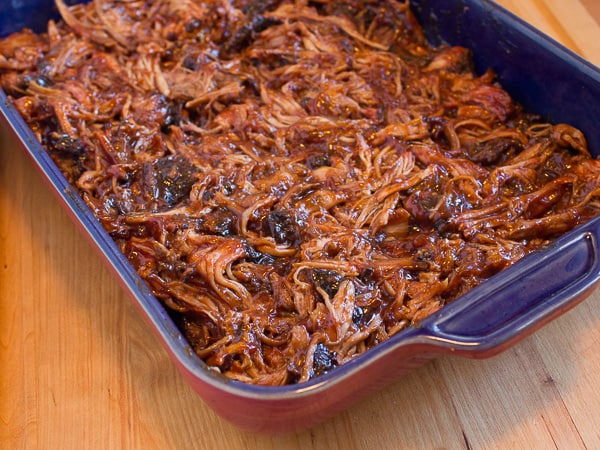 Toss the pork in your favorite BBQ sauce. I used Sweet Baby Rays. Make sure that there is enough sauce, because you do not want the dish to be dry. It is best when it is sweet and saucy!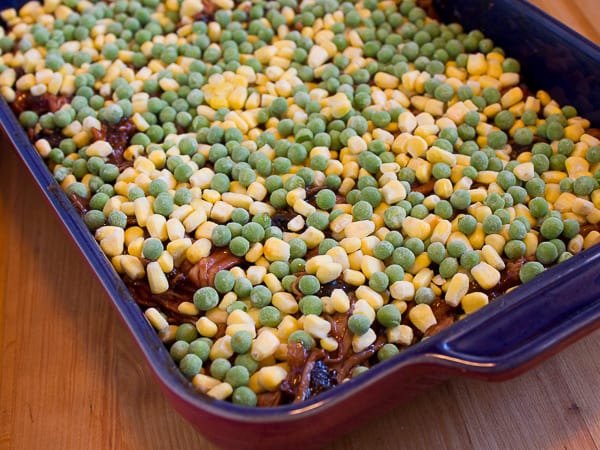 I added the peas and corn while they were still frozen. They will heat up while baking in the oven.
Top with mashed potatoes and grated cheese. Bake in a 350F oven for 45-60 minutes. This meal is total comfort food with the taste of BBQ. What is not to love?!?!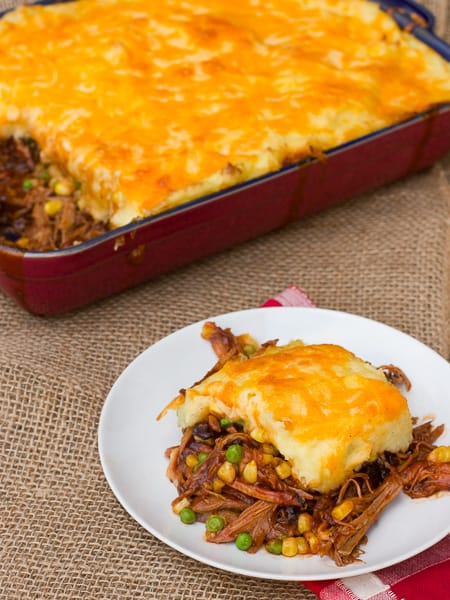 Pulled Pork Shepherd's Pie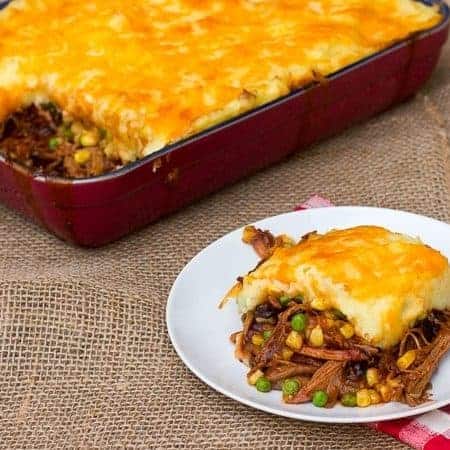 Print
Use leftover pulled pork in this classic comfort food recipe. Mashed potatoes, corn, peas, cheese. Whether the pork is smoked or made in a slow cooker, this recipe works great.
Servings: 8 people
Ingredients
5-6 cups pulled pork
2 cups bbq sauce
1 cup frozen peas
1 cup frozen corn
3-4 pounds potatoes
2 tbsp butter
1/4 cup milk
1 1/2 cups grated cheddar cheese
Instructions
Preheat oven to 350F.

Peel potatoes and, if they are large, cut in half. Place in a pot and fill with water. Boil until tender. Drain the water. Add the butter and milk to the potatoes. Mash until the potatoes are creamy.

Toss pulled pork with bbq sauce until evenly coated. Spread on the bottom of a 13x9 baking dish (lasagna pan).

Sprinkle frozen peas and corn on top of the pork.

Spread the mashed potatoes on top of the frozen veggies.

Top with the grated cheese.

Bake in the oven for 45-60 minutes. The cheese should be starting to brown and some bbq sauce should be bubbling up the sides.