Pulled Pork Shepherd's Pie
If you have some leftover pulled pork, this shepherd's pie is the perfect dish to prepare. I have made some pulled pork specifically to make this recipe. It's THAT good!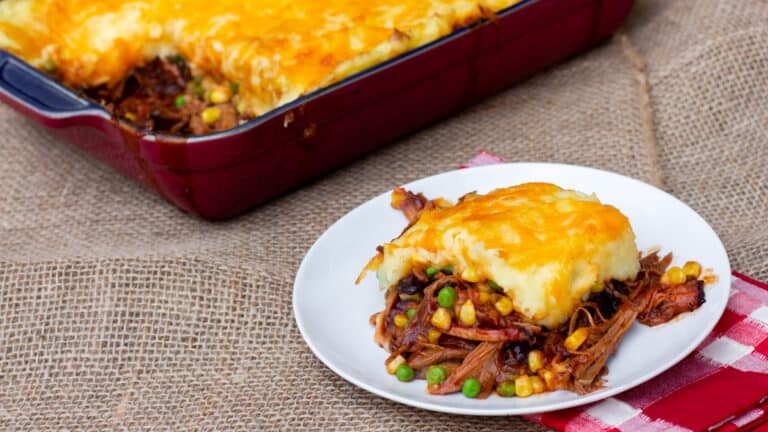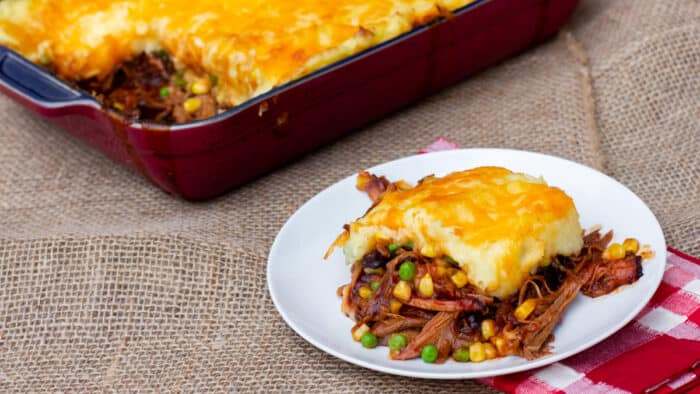 I make pulled pork a lot. Whether it is using my smoker, grill or even just using the slow cooker, I love the tender taste of a slow cooked pork butt or shoulder. I tend to make a lot and often have some leftovers. This pulled pork shepherd's pie is one amazing way to use some leftover pork.
We love comfort food, especially during the cold weather months. One of out favourite types of comfort foods are oven baked casseroles. Shepherd's pie is normally made with ground beef, but I figured that pulled pork would work well and give the dish a nice BBQ flavour.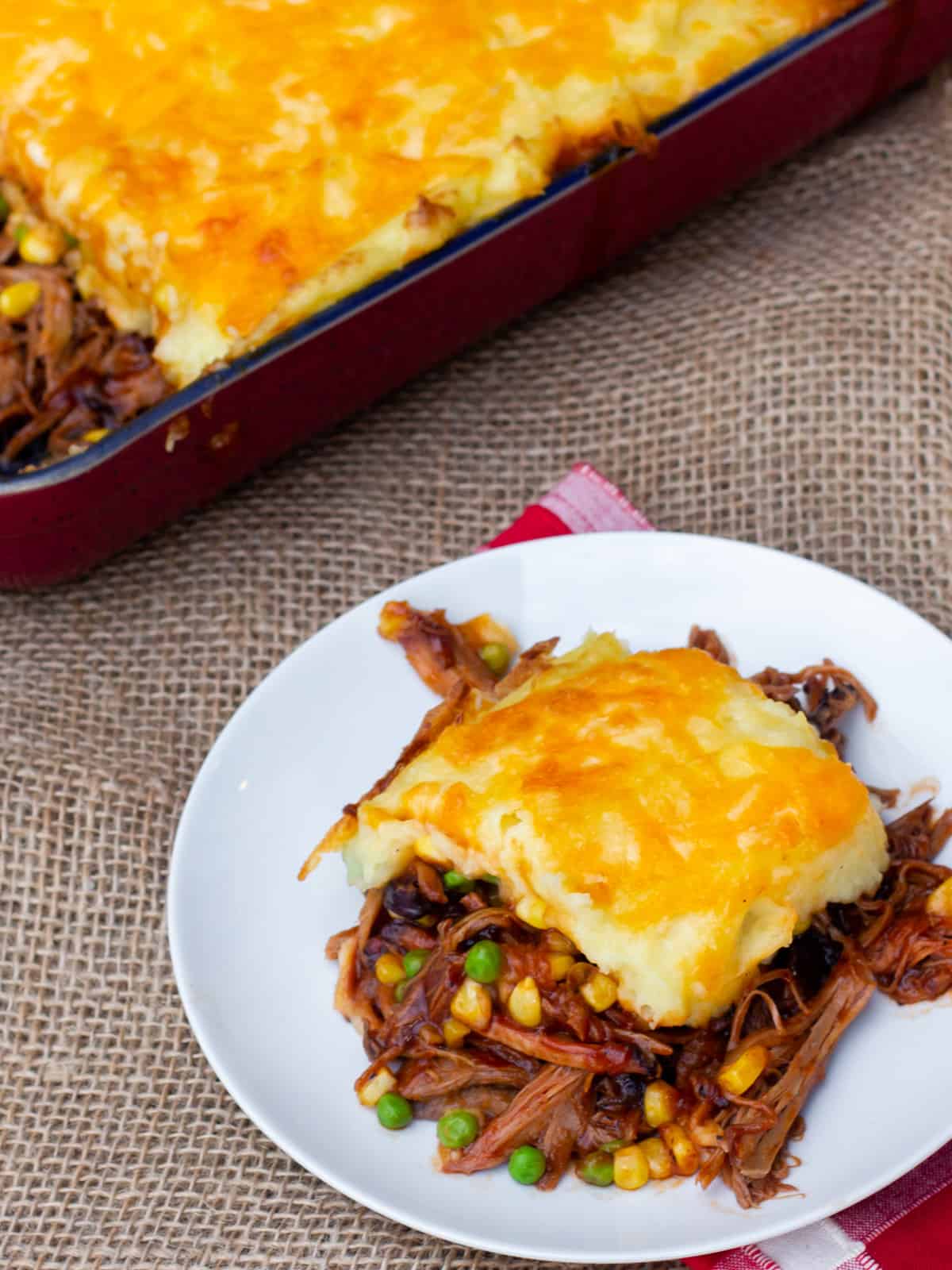 What Makes This Pulled Pork Shepherd's Pie So Good?
Ultimate way to use leftovers! Sometimes leftovers seems boring. Not so, with this dish. I have gotten so many rave reviews for this recipe over the years
Make it ahead. This dish can be assembled and then placed in the fridge. Then, later that day or even the next day, it can be thrown in the oven and cooked. This makes it ideal for a weeknight meal or a time if you have guests.
Smokey! Saucy! Cheesy! Enough said.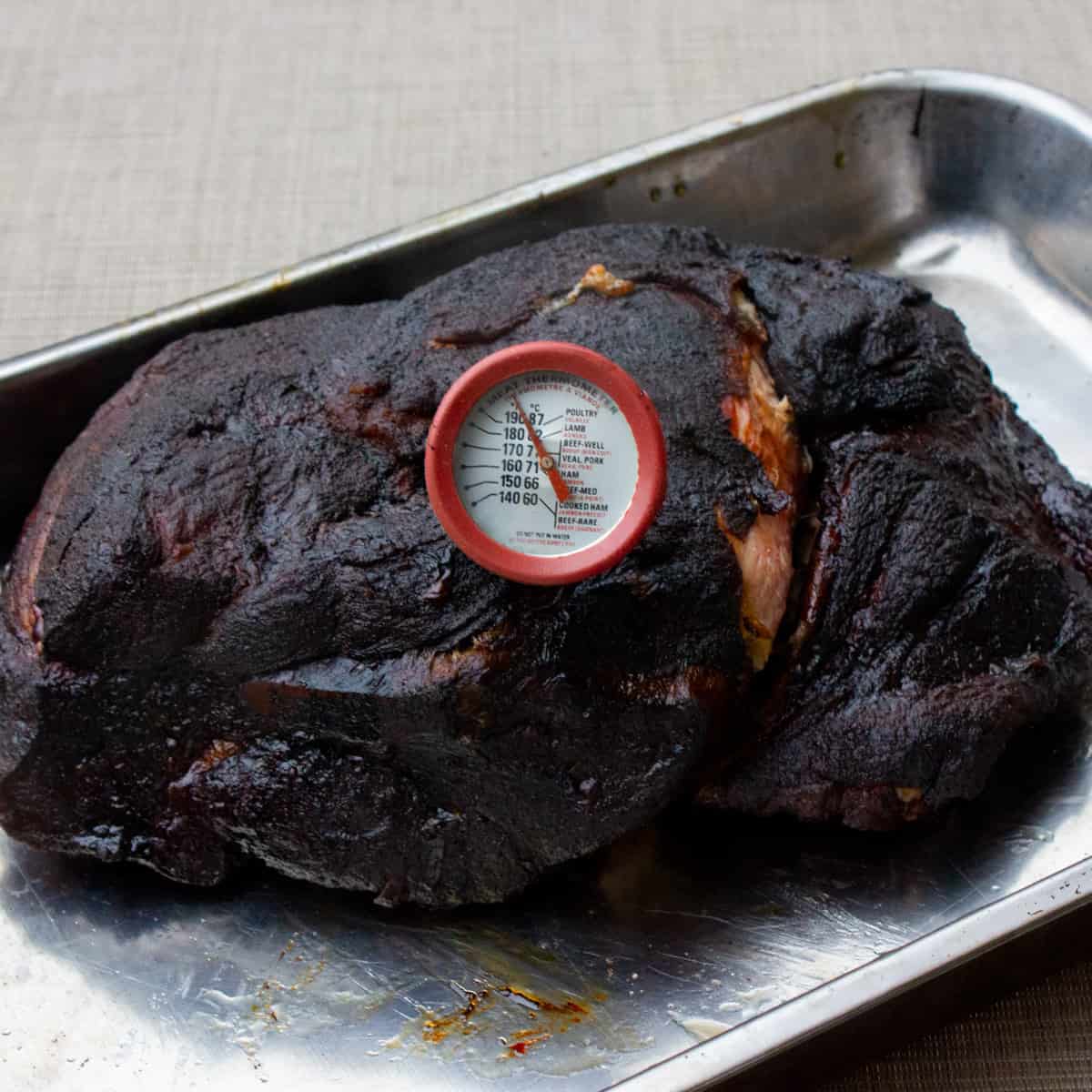 How To Make Pulled Pork
If you are reading this recipe and want to make some pulled pork then check out these various methods to cooke the pork for pulling.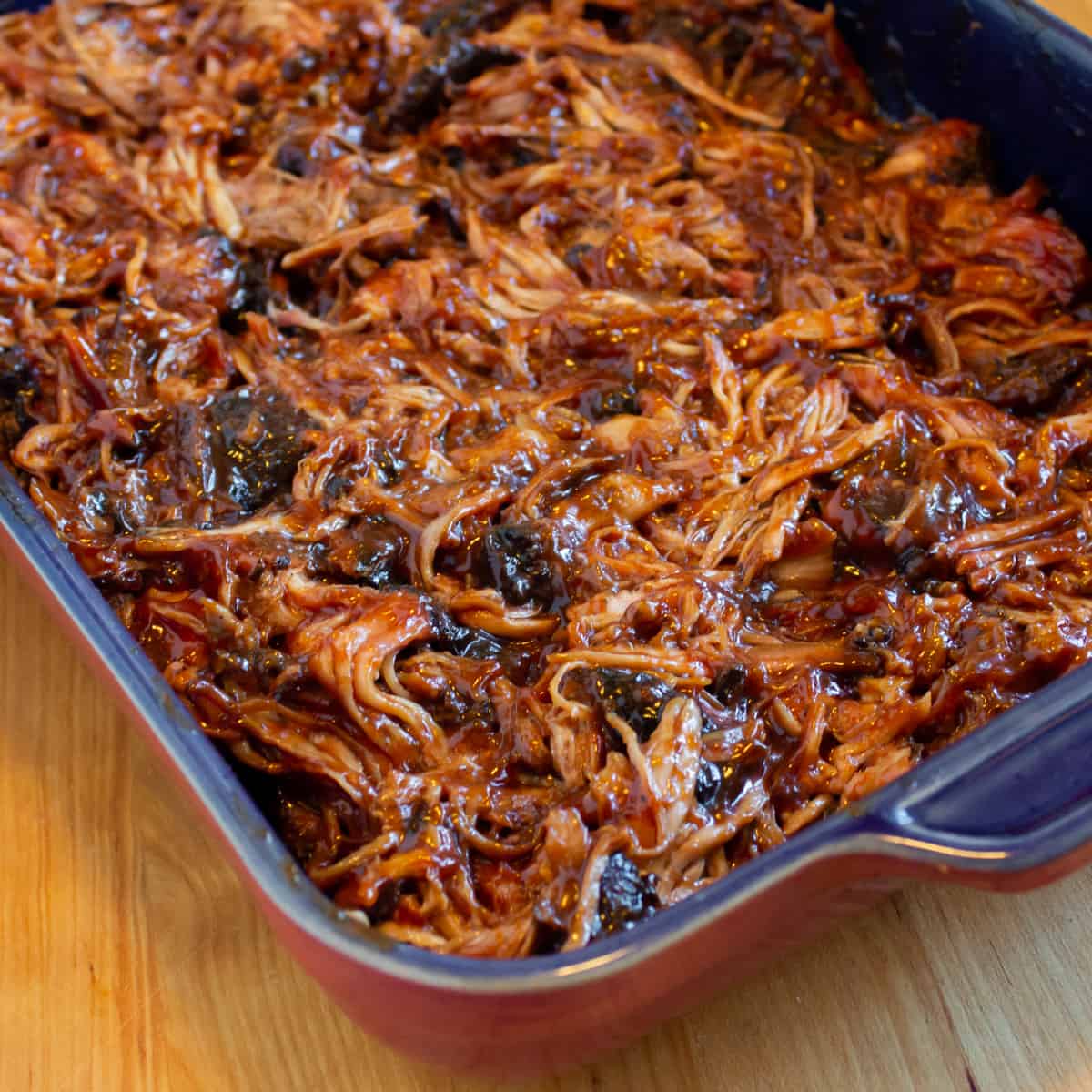 How To Assemble A Shepherd's Pie
The first layer of the shepherd's pie is the meat. Toss the pork in your favourite BBQ sauce. Make sure that there is enough sauce, because you do not want the dish to be dry. It is best when it is sweet and saucy!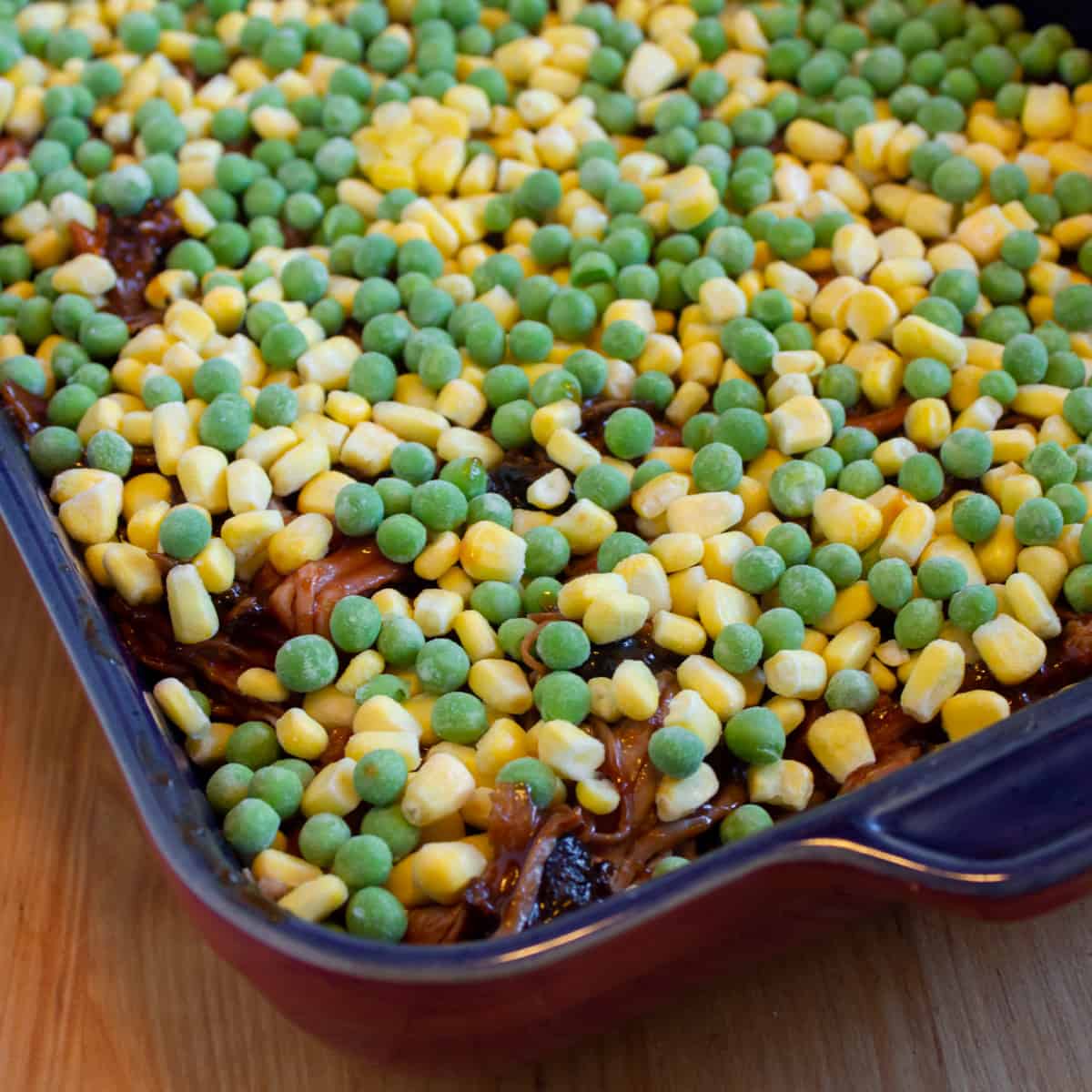 The second layer is the mixed vegetables. Spread the peas and corn over the pork. I add them while they were still frozen. They will heat up while baking in the oven. There are many different types of vegetables that you could use. I have tried frozen mixed vegetables of carrots, peas, corn and green beans and it was also excellent.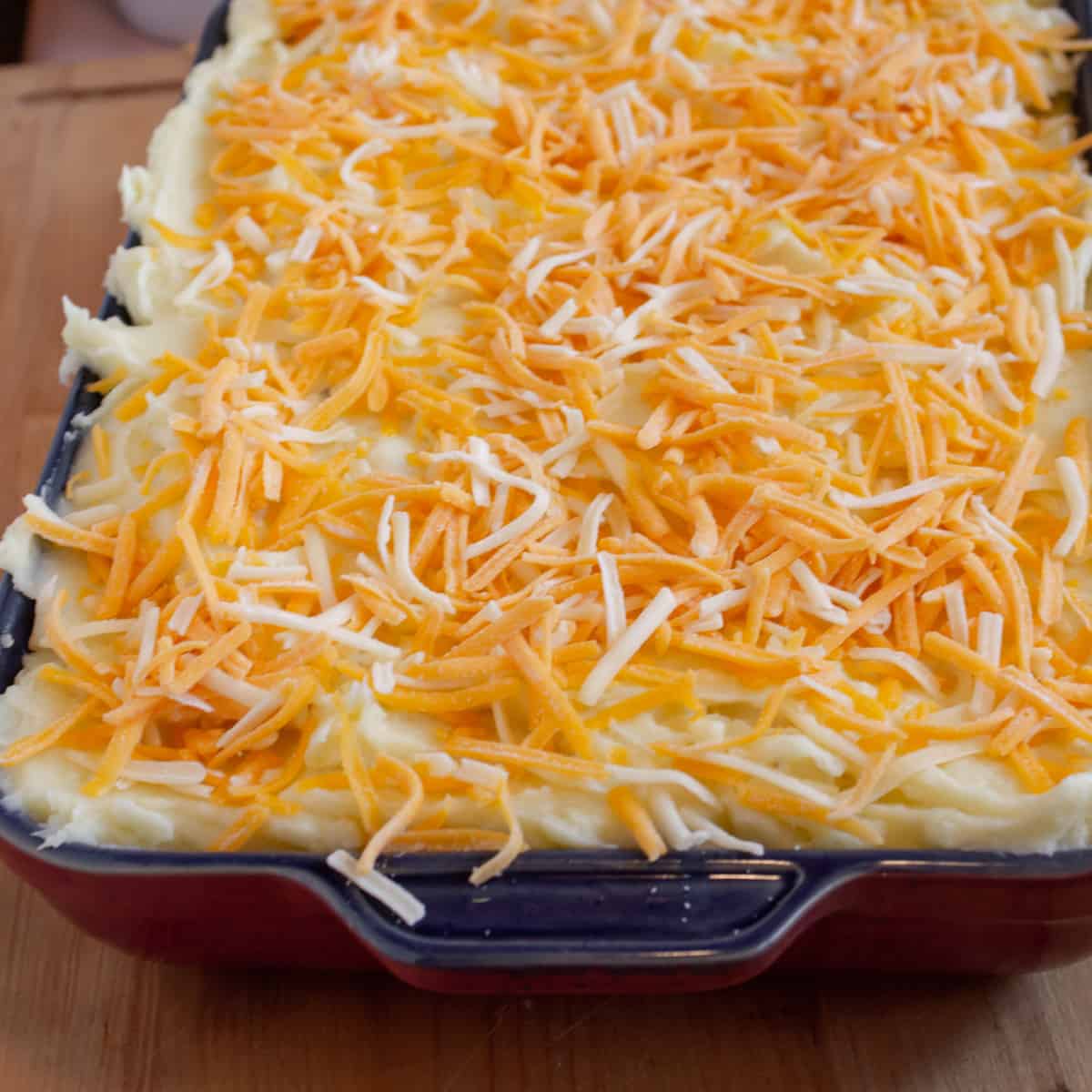 The top layer is potatoes and cheese. Mash the potatoes ahead and spread them over the vegetables. Then, sprinkle the grated cheese on top.
How Long To Bake Shepherd's Pie
Once assembled, the pulled pork shepherd's pie is ready to go in the oven. Bake in a 350F oven for 45-60 minutes. The cheese should be melted and the you may even see a little BBQ sauce bubbling around the edges. This meal is total comfort food with the taste of BBQ. What is not to love?!?!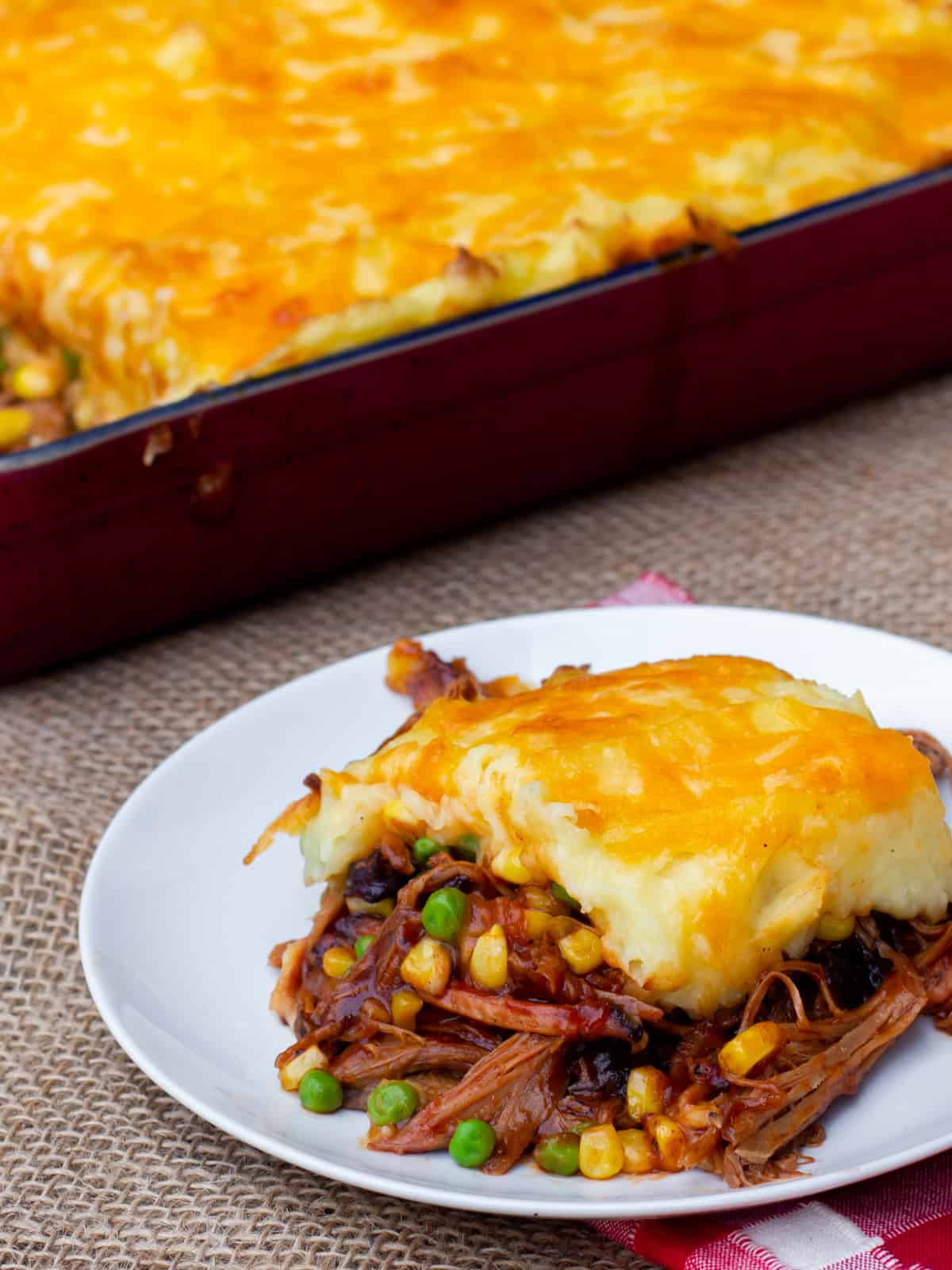 This dish is smokey, saucy and sweet. There is so much flavour and the pulled pork goes so well with the potatoes, cheese and veggies.
Every time we make pulled pork shepherd's pie we all say it is our favourite find. Sure we love ground beef shepherd's pie, or skillet shepherd's pie, but this version is a huge hit in our home.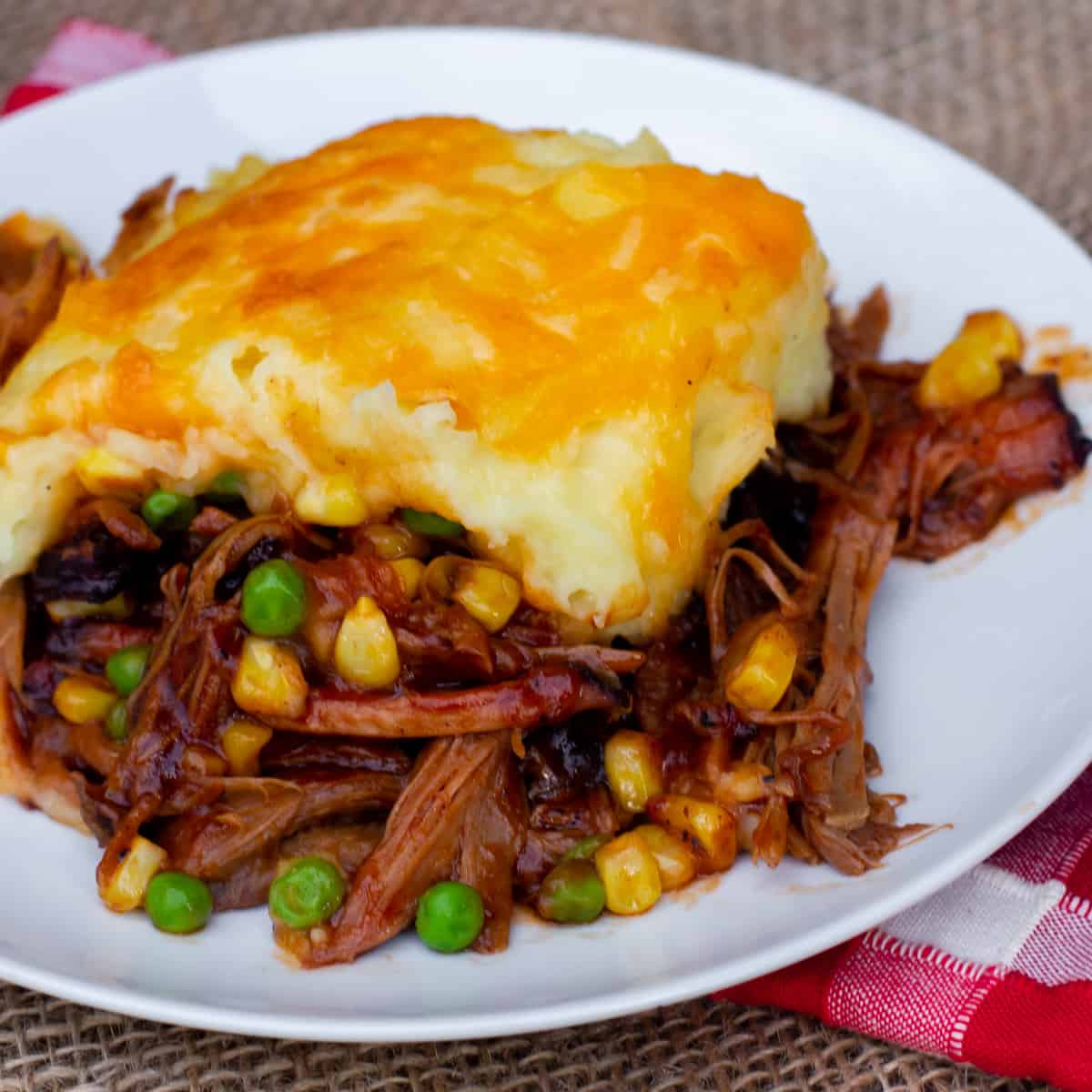 Other Pulled Pork Recipes!
Pulled Pork Shepherd's Pie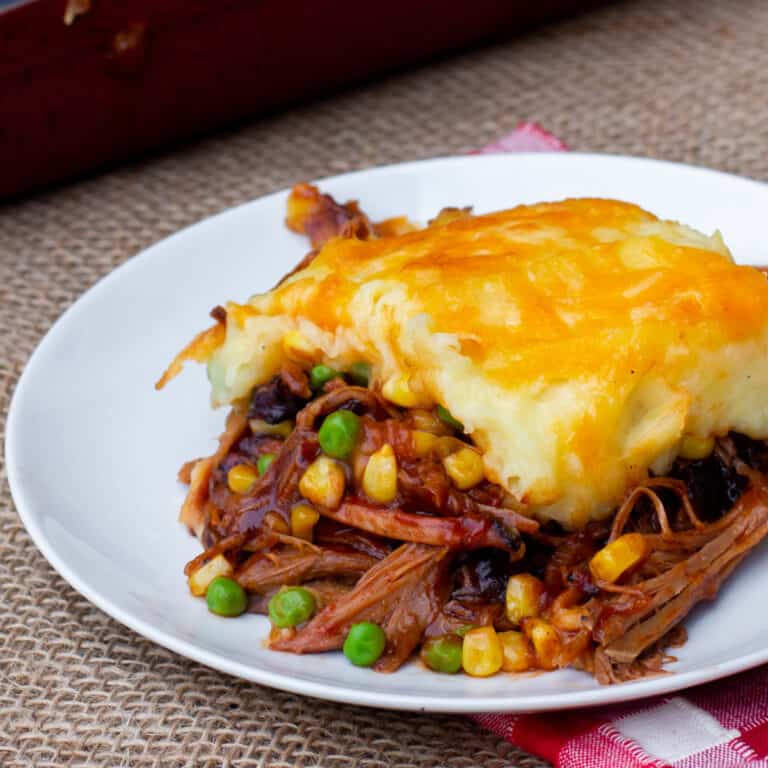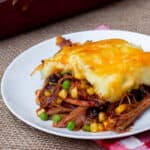 Print
Use leftover pulled pork in this classic comfort food recipe. Mashed potatoes, corn, peas, cheese. Whether the pork is smoked or made in a slow cooker, this recipe works great.
Servings: 8 people
Ingredients
5-6 cups pulled pork
2 cups bbq sauce
1 cup frozen peas
1 cup frozen corn
3-4 pounds potatoes
2 tbsp butter
1/4 cup milk
1 1/2 cups grated cheddar cheese
Instructions
Preheat oven to 350F.

Peel potatoes and, if they are large, cut in half. Place in a pot and fill with water. Boil until tender. Drain the water. Add the butter and milk to the potatoes. Mash until the potatoes are creamy.

Toss pulled pork with bbq sauce until evenly coated. Spread on the bottom of a 13x9 baking dish (lasagna pan).

Sprinkle frozen peas and corn on top of the pork.

Spread the mashed potatoes on top of the frozen veggies.

Top with the grated cheese.

Bake in the oven for 45-60 minutes. The cheese should be starting to brown and some bbq sauce should be bubbling up the sides.
Nutrition
Per serving:
Calories: 548kcalCarbohydrates: 64gProtein: 26gFat: 22gSaturated Fat: 10gCholesterol: 93mgSodium: 1784mgFiber: 2gSugar: 47g
This recipe was originally published in November 2013.