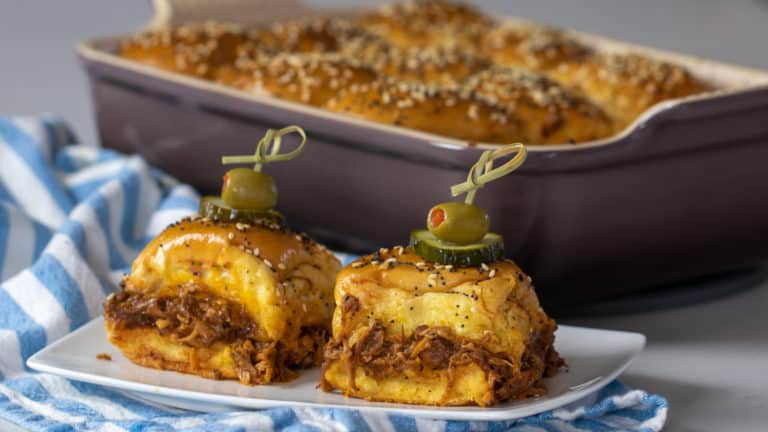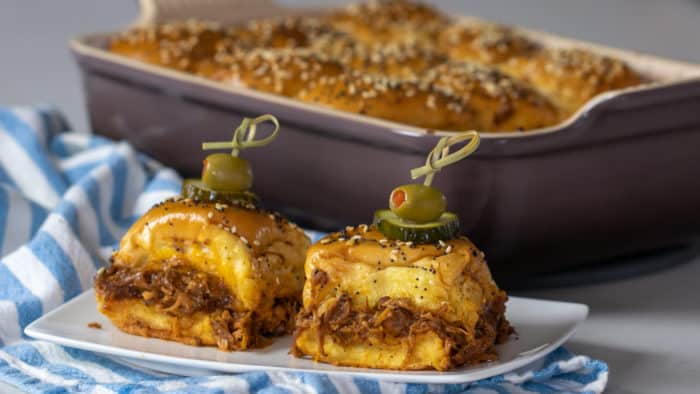 Over the years I have made many different kinds of sliders, but these pulled pork BBQ sliders might just be my favourite. Since I am such a massive fan of pulled pork, it is not that much of a surprise.
I look for any opportunity to add pulled pork to whatever I am cooking. The meat is so tasty and I have used some to make nachos, pizza, poutine, shepherd's pie, and much more.
Making these sliders with some pulled pork was so good. I love good BBQ and that is what I taste with every bite. The buns are topped with some sesame seeds, poppy seeds and dried onion flakes as well. It reminds me of an everything bagel and these seasonings really add to the flavour of the sliders.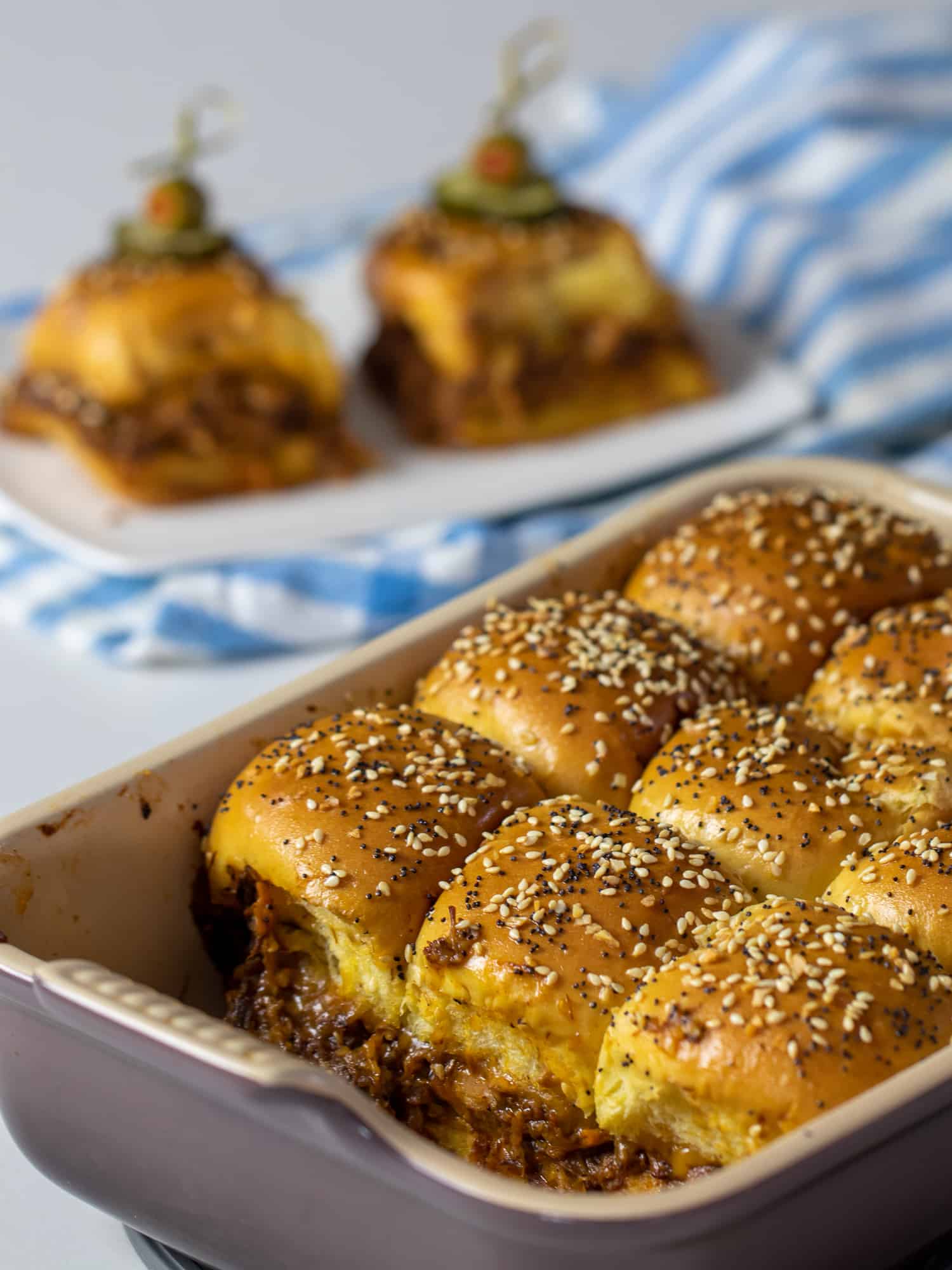 There are many different ways to make pulled pork. You can use a slow cooker (Crock Pot), pressure cooker (Instant Pot) or a smoker. The best cut of pork is either a pork butt or picnic roast.
Here are some different links for instructions on how to make pulled pork.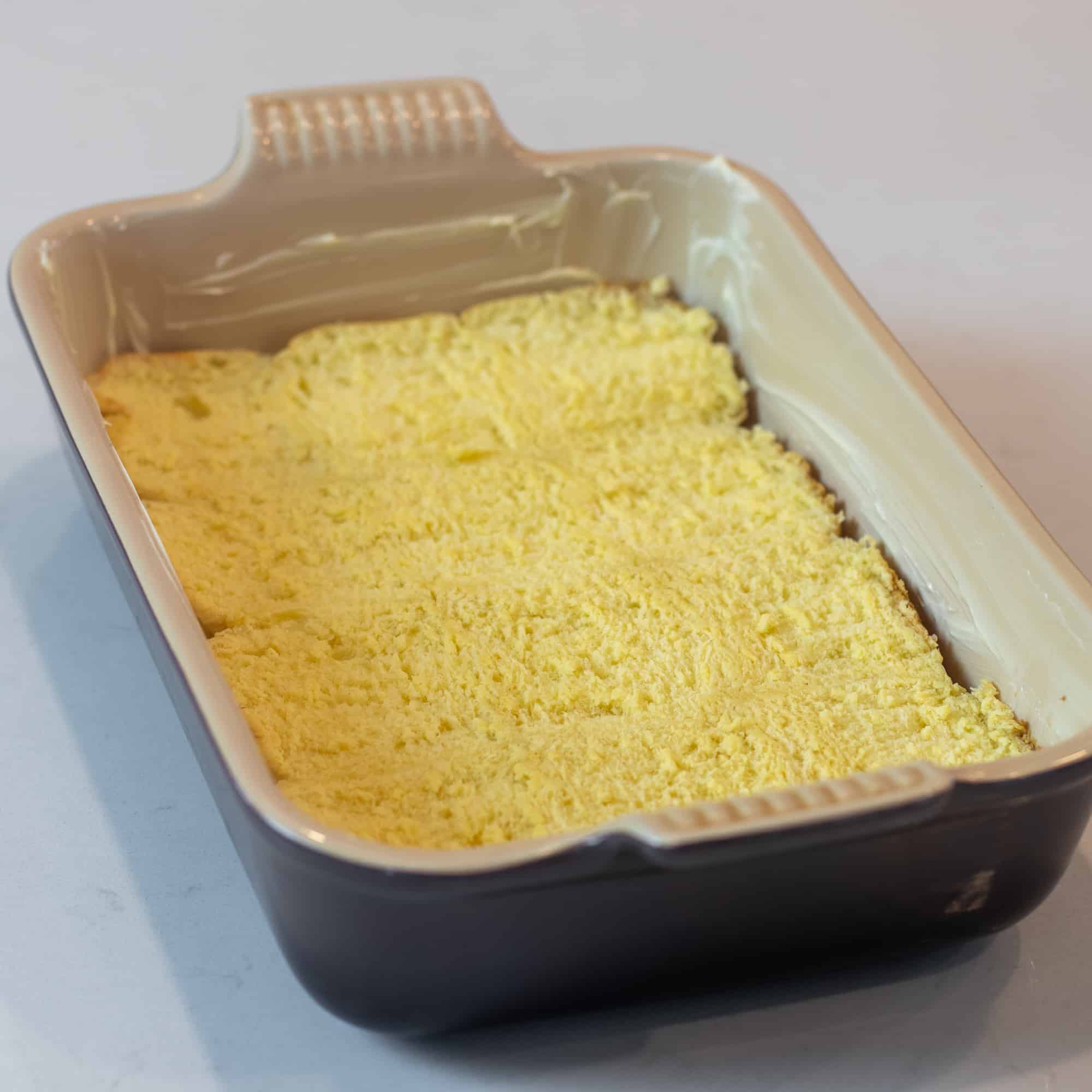 Keep the dinner rolls together and slice them all in half lengthwise. Place the bottom half in a greased baking pan.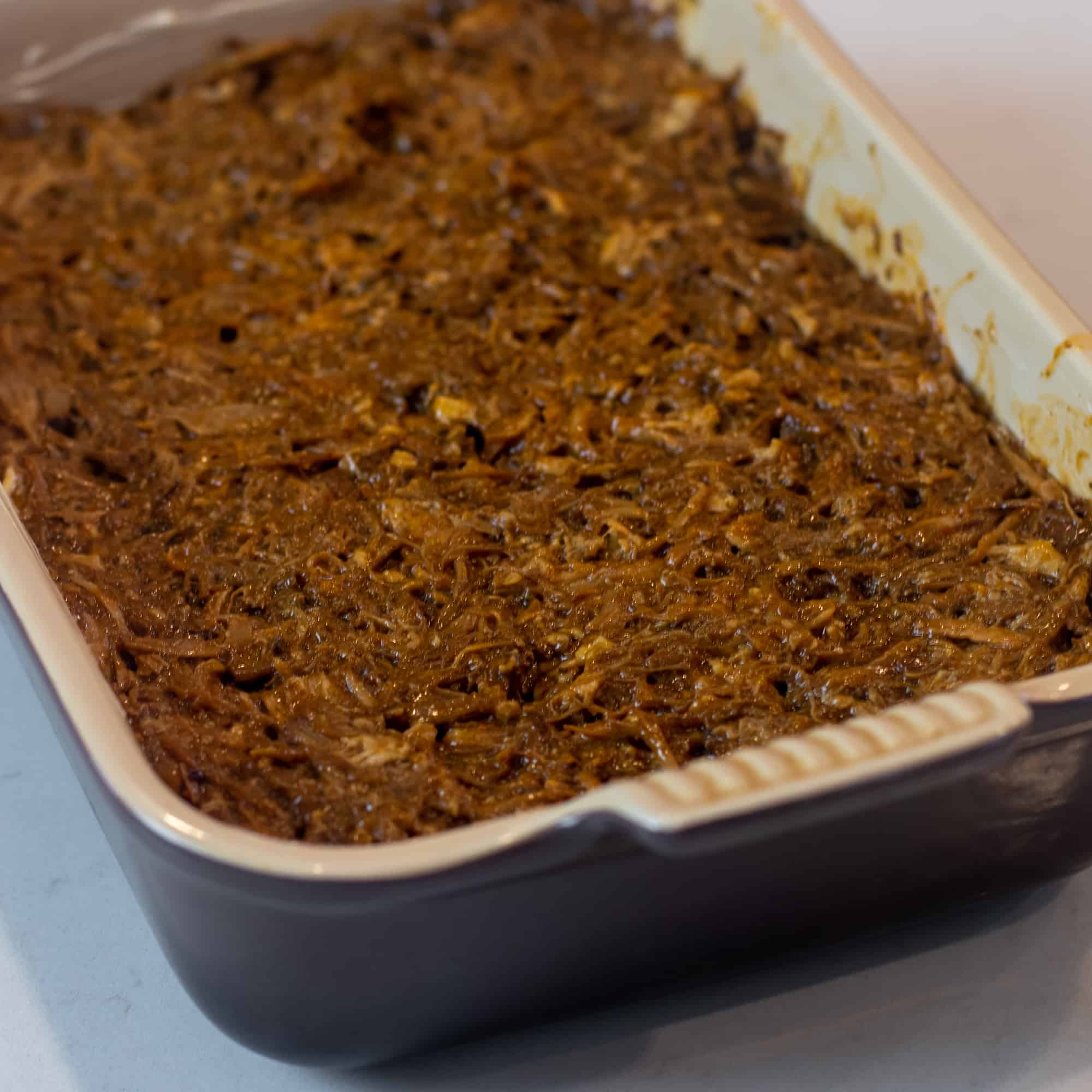 Mix the pulled pork meat with the BBQ sauce and then spread the mixture evenly across the sliced dinner rolls.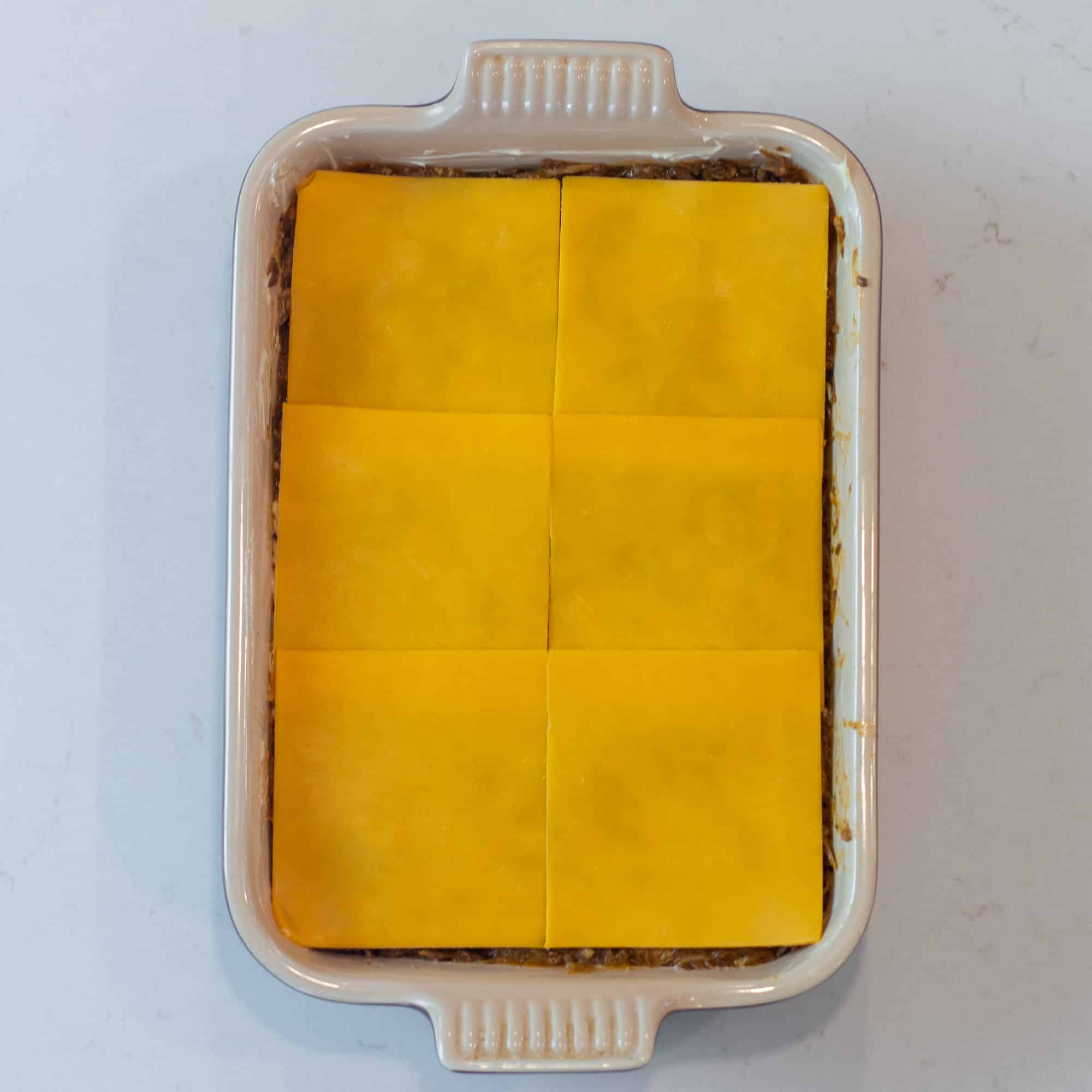 Place the slices of cheese on top of the pulled pork. While I use cheese slices, you can also use grated cheese as well. I used cheddar cheese, but there are many other types of cheese that can also work including mozzarella, gouda, Moneterey jack and provolone.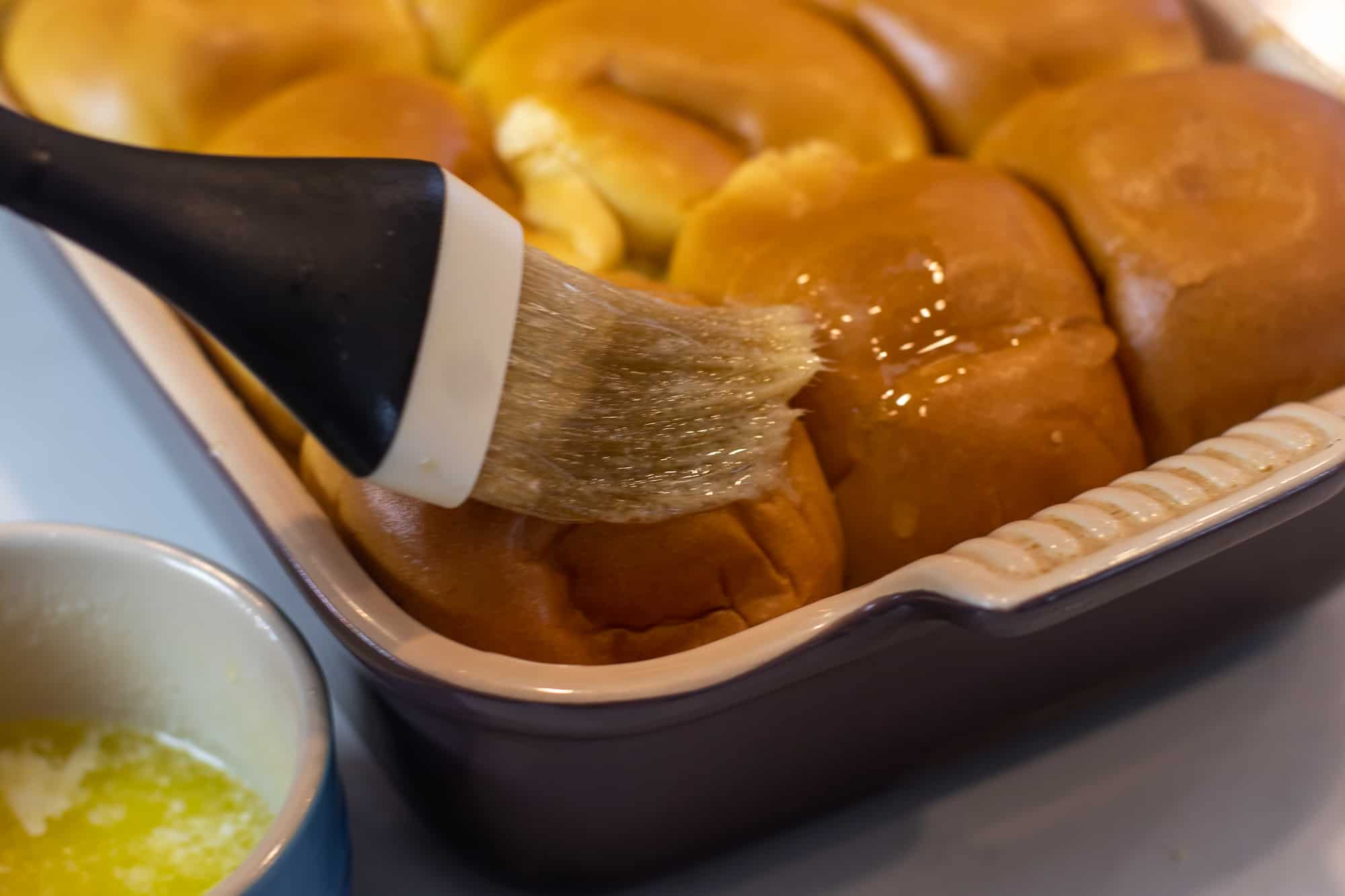 Place the upper half of the dinner rolls on top and brush them with some melted butter. Sprinkle sesame seeds, poppy seeds and dried parsley flakes on top of the rolls.
These look absolutely amazing and are ready to be baked! Could eat them just like this.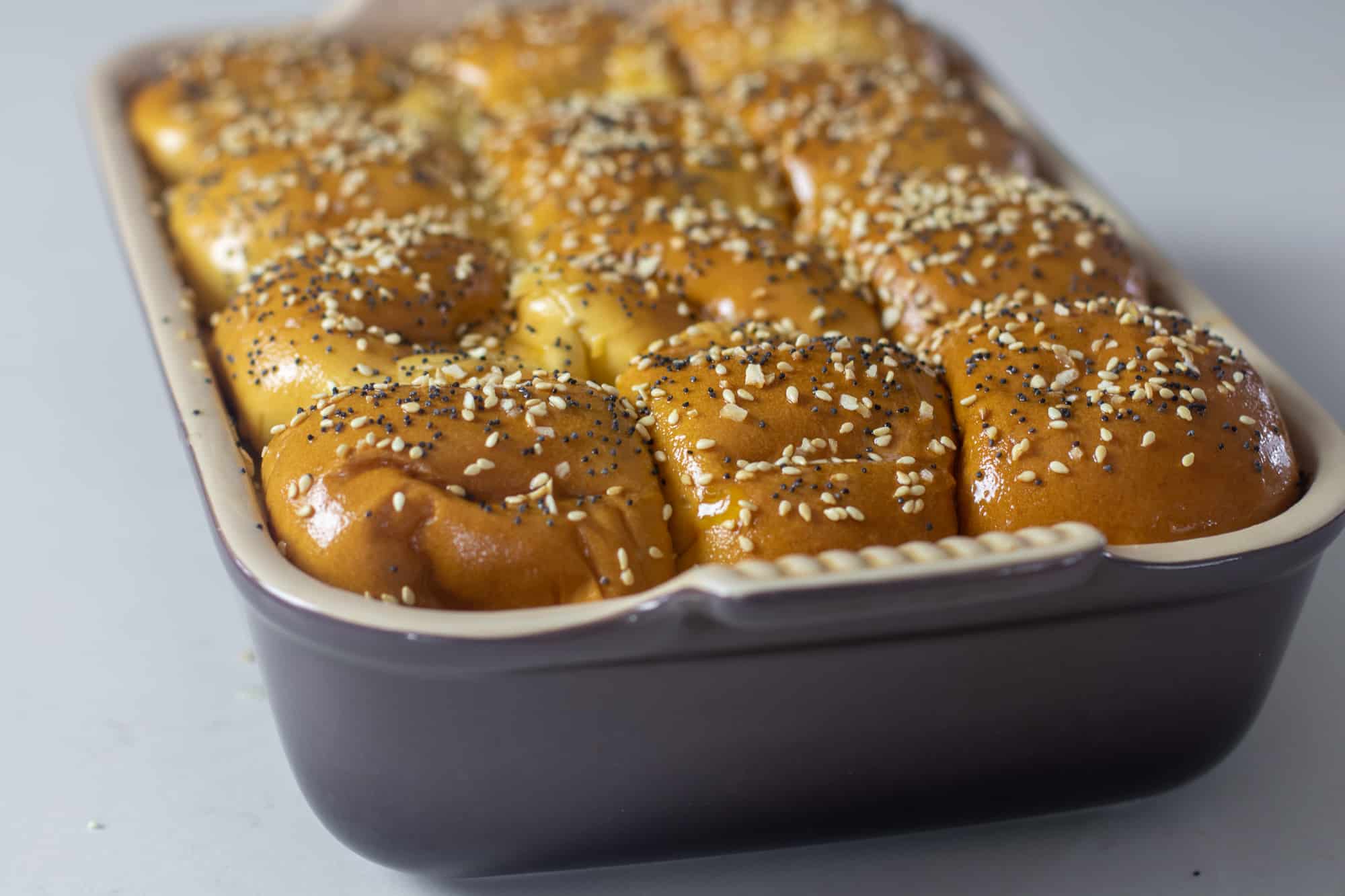 How long to bake
Place some foil over the baking dish and bake the sliders in a 325F oven for 15 minutes. Remove the foil from the dish and bake another 10-15 minutes.
Cut them into sliders and top with an olive and slice of pickle. These sliders are best served warm and right when they come out of the oven.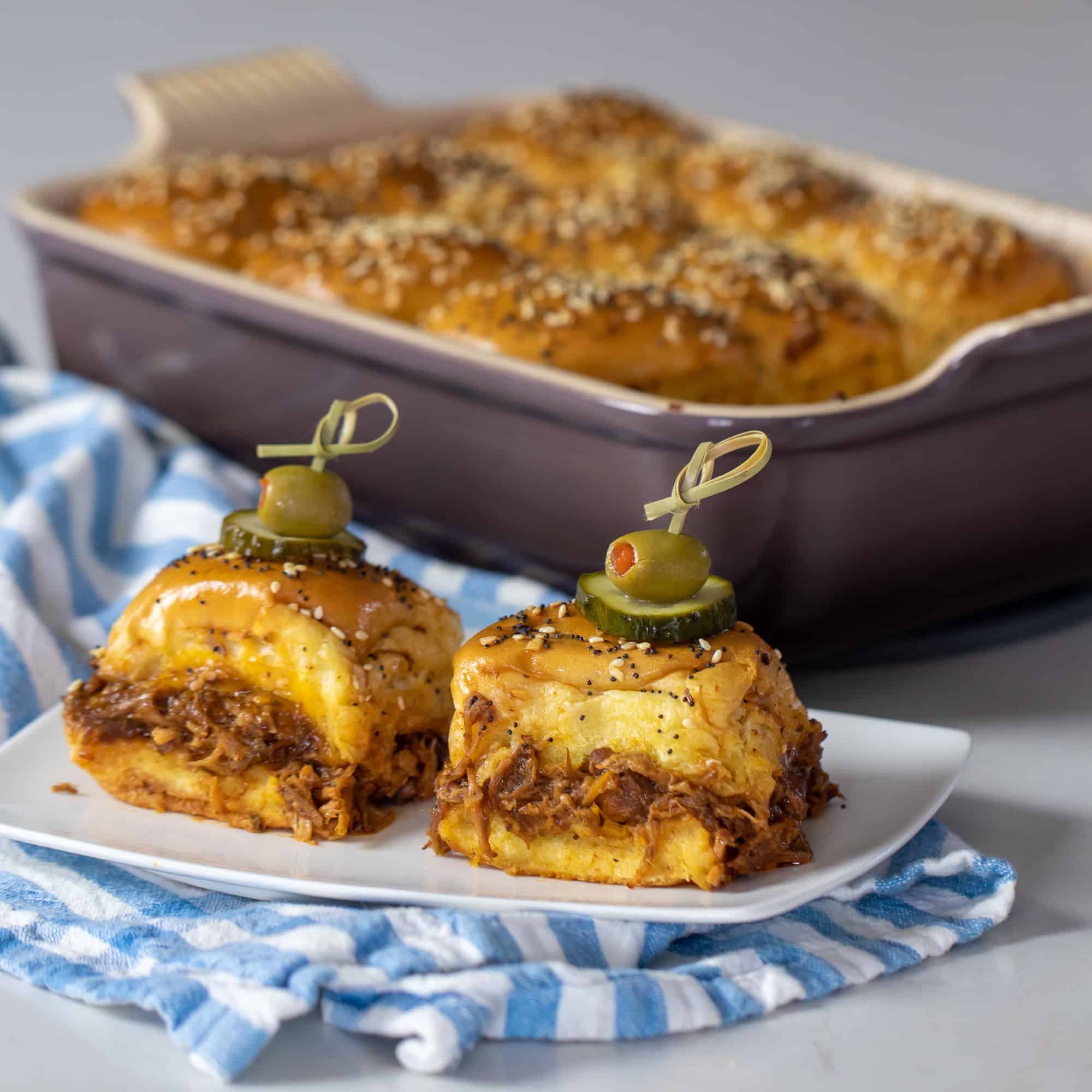 These pulled pork BBQ sliders are amazing. They will get gobbled up very quickly and depending on how many people you are planning to serve, you may need to make a second batch!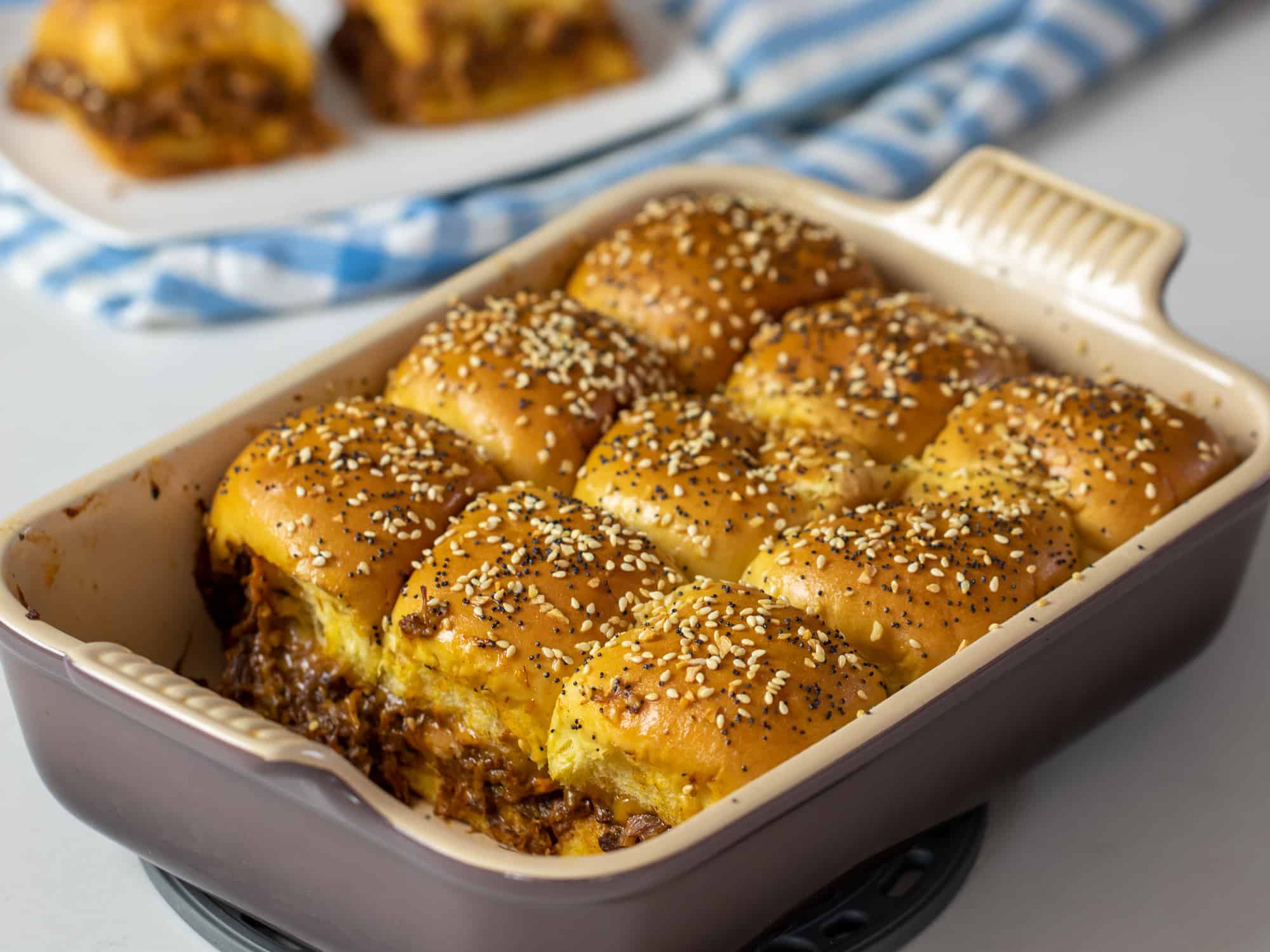 Other Recipes
I love making sliders, using 12 pack dinner rolls. I have a number other recipes using these dinner rolls. You can check them out here!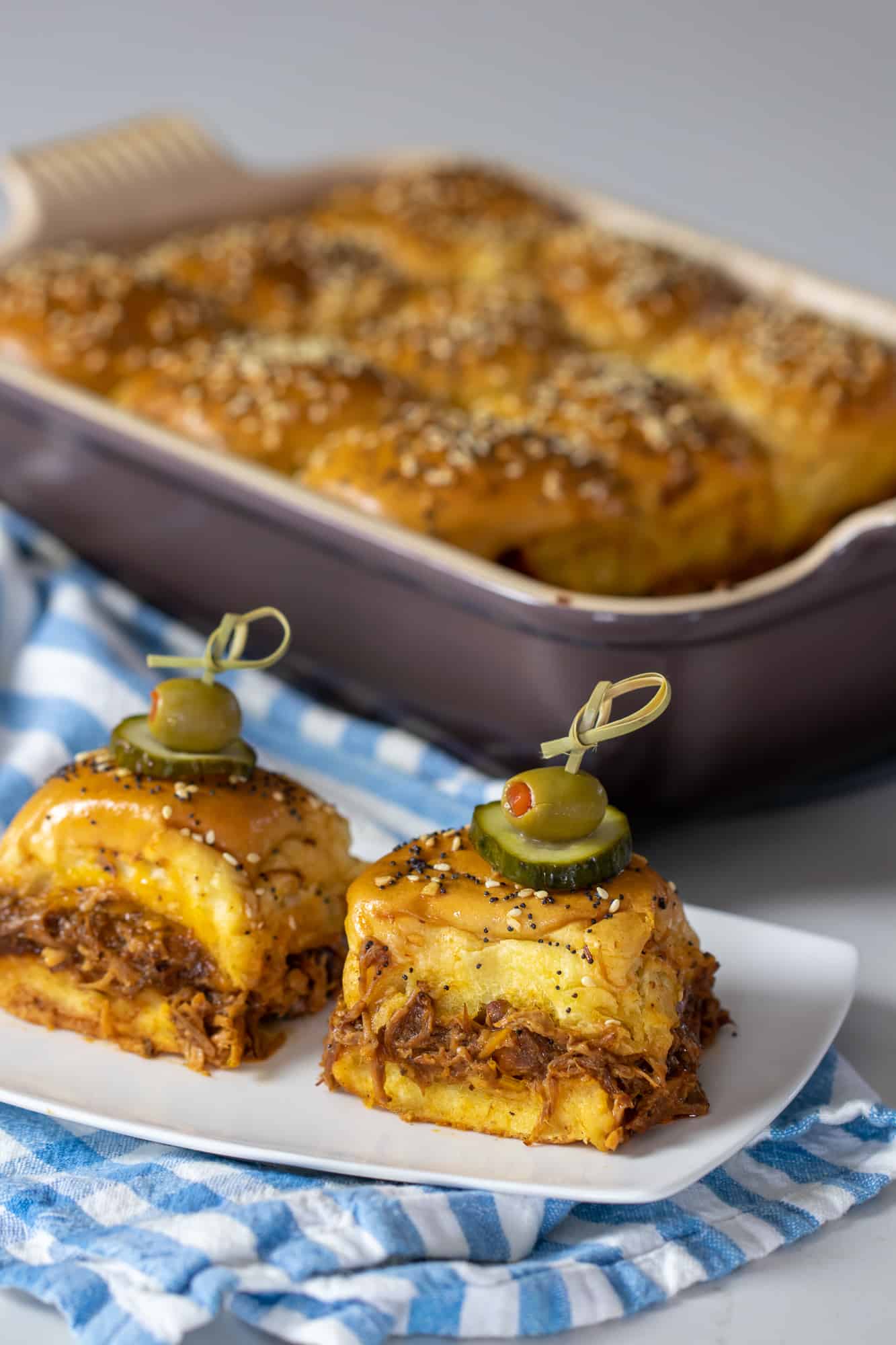 Pulled Pork BBQ Sliders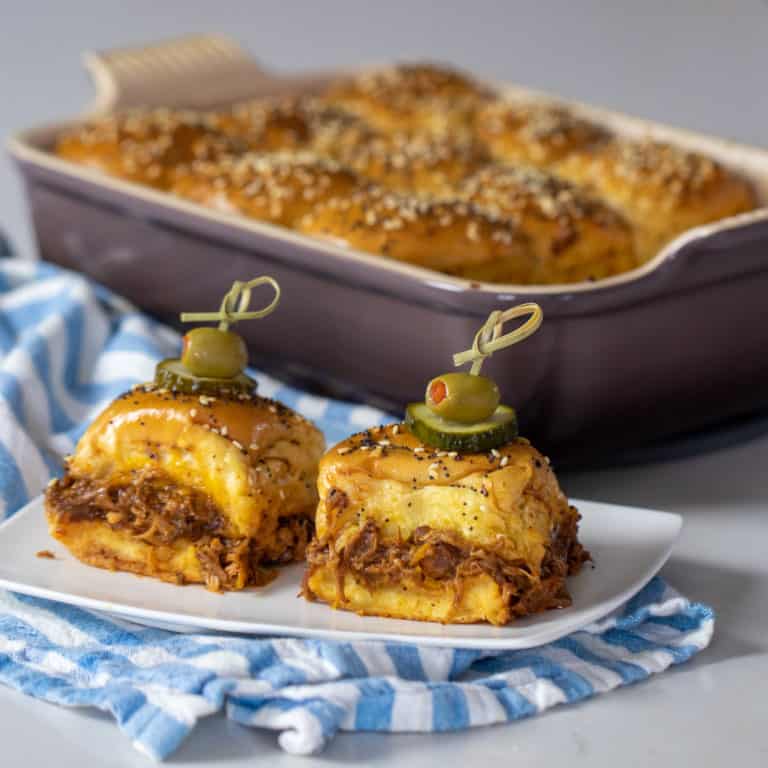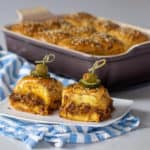 Print
Easy recipe for how to make pulled pork sliders on hawaiian rolls. Make the pulled pork in a crock pot or BBQ smoker. Bake in the oven with cheese.
Servings: 12 sliders
Ingredients
1 package 12 pack dinner rolls ex. Kings Hawaiian
3 cups pulled pork meat
1 1/2 cups BBQ sauce
6-8 cheese slices
1/3 cup butter melted
2 tsp sesame seeds
1 1/2 tsp poppy seeds
1 tsp dry onion flakes
12 slices bread and butter pickles
12 olives
Instructions
In a bowl, stir together the pulled pork with the BBQ sauce.

Preheat oven to 325F.

Keeping the 12 dinner rolls together, cut them lengthwise. Place bottom half in a greased 13x9 inch baking pan.

Evenly spread the pulled pork mixture all over the bottom half of the dinner rolls. Lay cheese slices on top of the pulled pork.

Place the top half of the dinner rolls on top. Brush melted butter on the top of the dinner rolls. Sprinkle rolls with toasted sesame seeds, poppy seeds dried onion flakes.

Cover the baking pan with foil and bake for 15 minutes.

Remove foil and bake of another 10-15 minutes. The buns should be starting to brown and the cheese melted and bubbling on the sides.

Cut into sliders, top each with an olive and slice of pickle. Serve warm.