Shredded Chicken Parmesan Sliders
These sliders are delicious and perfect for game day, an after school treat or anytime that you are in the mood for some shredded chicken goodness!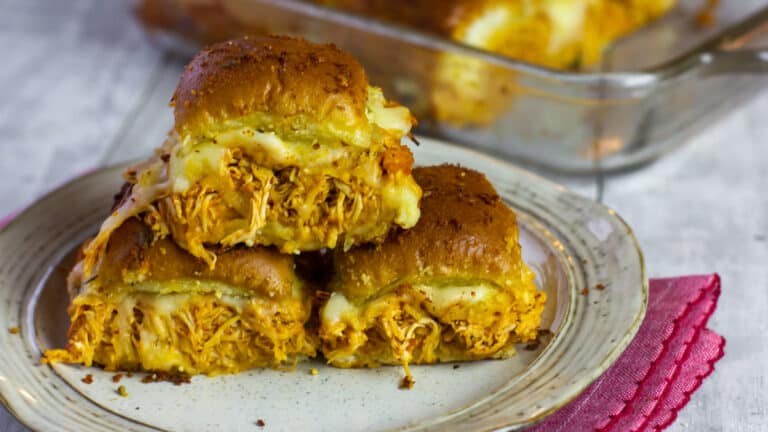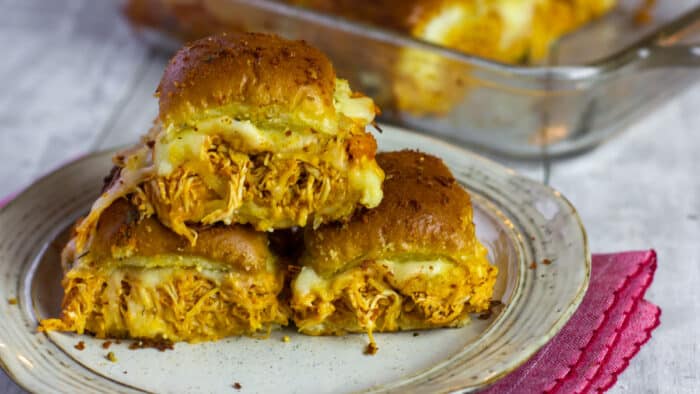 I am totally hooked on making a tray of baked sliders. My new favourite are these shredded chicken parmesan sliders. These are warm gooey filled goodness inside toasted dinner rolls. Baked sliders are great for after school snacks, game day parties, holidays and so much more.
The sliders are built together, baked in a glass or stoneware baking dish, and then cut into the sliders afterwards. These warm, cheesy sliders are so delicious and will be gobbled up really quickly.
I have made many different kinds of sliders and enjoy trying to make a new type. These chicken sliders have an Italian flavour to them. The chicken is made ahead in a slow cooker with some pasta sauce and then shredded. Once assembled and baked, these sliders are completely addictive!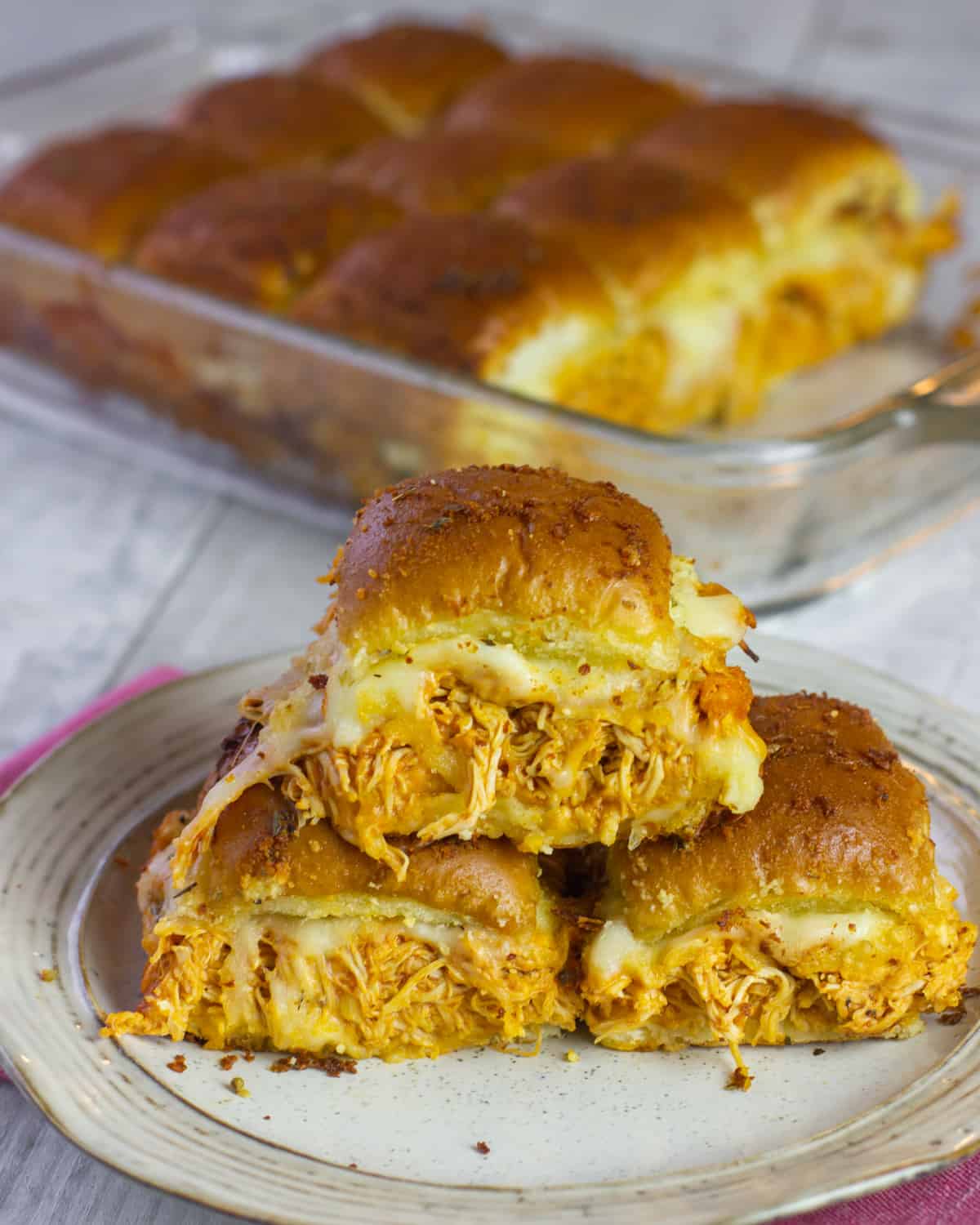 Ingredients You Need
12 pack dinner rolls
chicken breasts – boneless and skinless
Italian tomato pasta sauce
butter
mozzarella cheese
parmesan cheese
garlic powder
parsley flakes
Expert Tip! There are so many brands and varieties of 12 pack dinner rolls, with the King Hawaiian brand being very popular. Most of the time I purchase the pack of rolls sold at Walmart or Costco.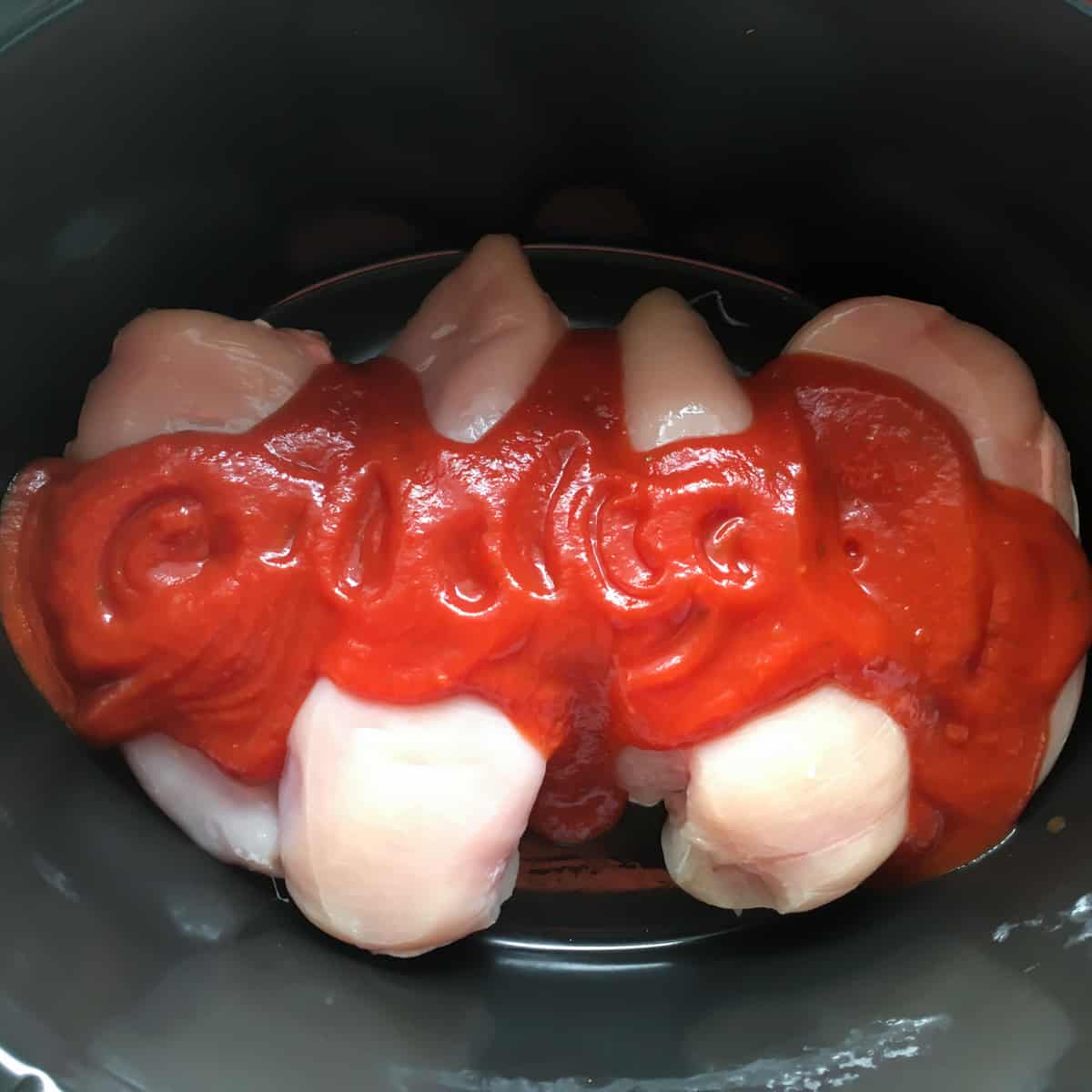 To make the shredded chicken parmesan, place the boneless and skinless chicken breasts in a crock pot and pour a can of tomato pasta sauce on the chicken. Cover with the lid and cook on low for 8 hours.
Expert Tip! There are many ways to vary this recipe. Instead of tomato sauce, you could use BBQ sauce for shredded BBQ sliders. Another options could be to add chipotle peppers with crushed tomatoes instead of Italian pasta sauce for more of a southwest flavour.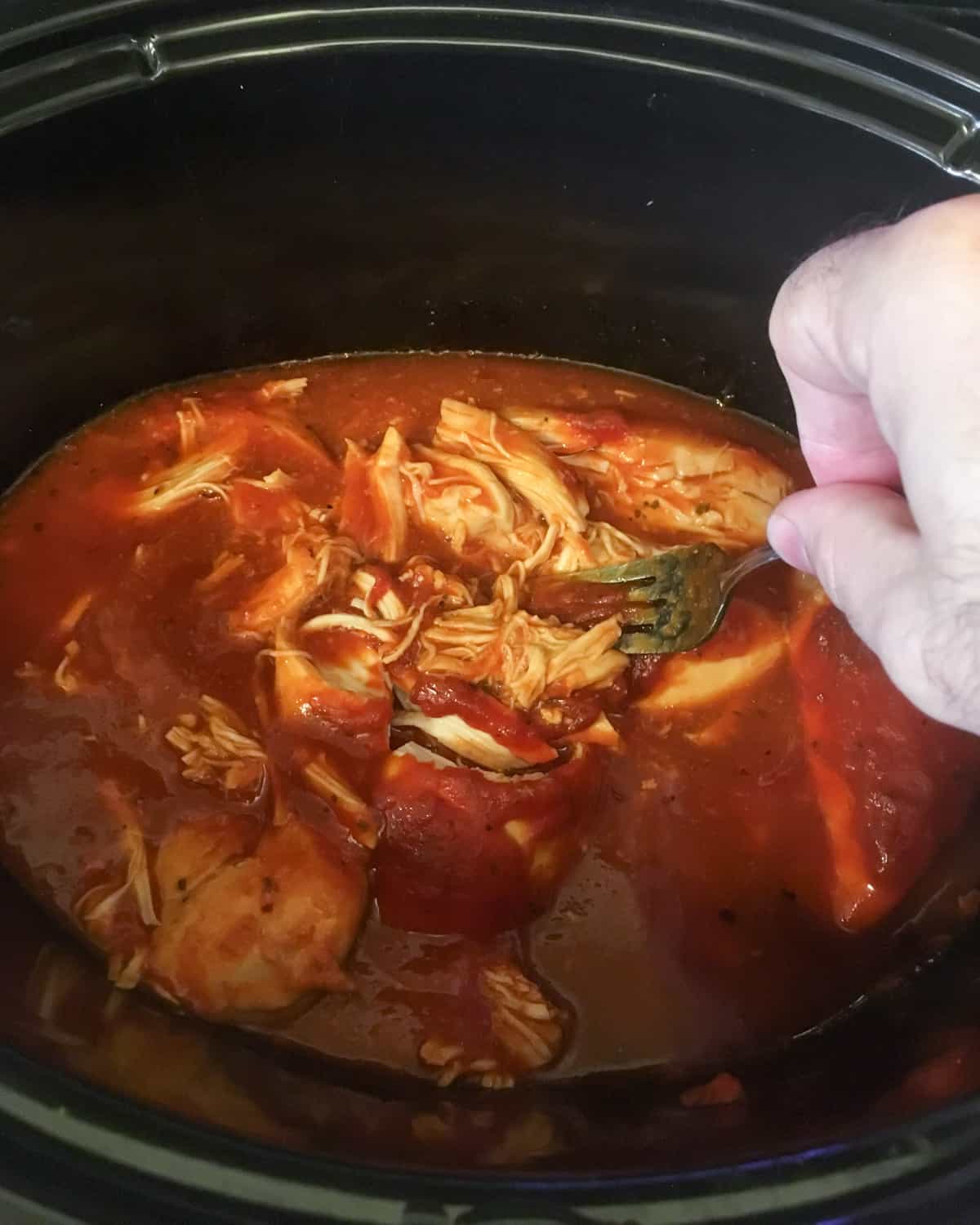 Once done cooking, the chicken should be easily able to shred. Use a fork to break the chicken apart and shred into small strips.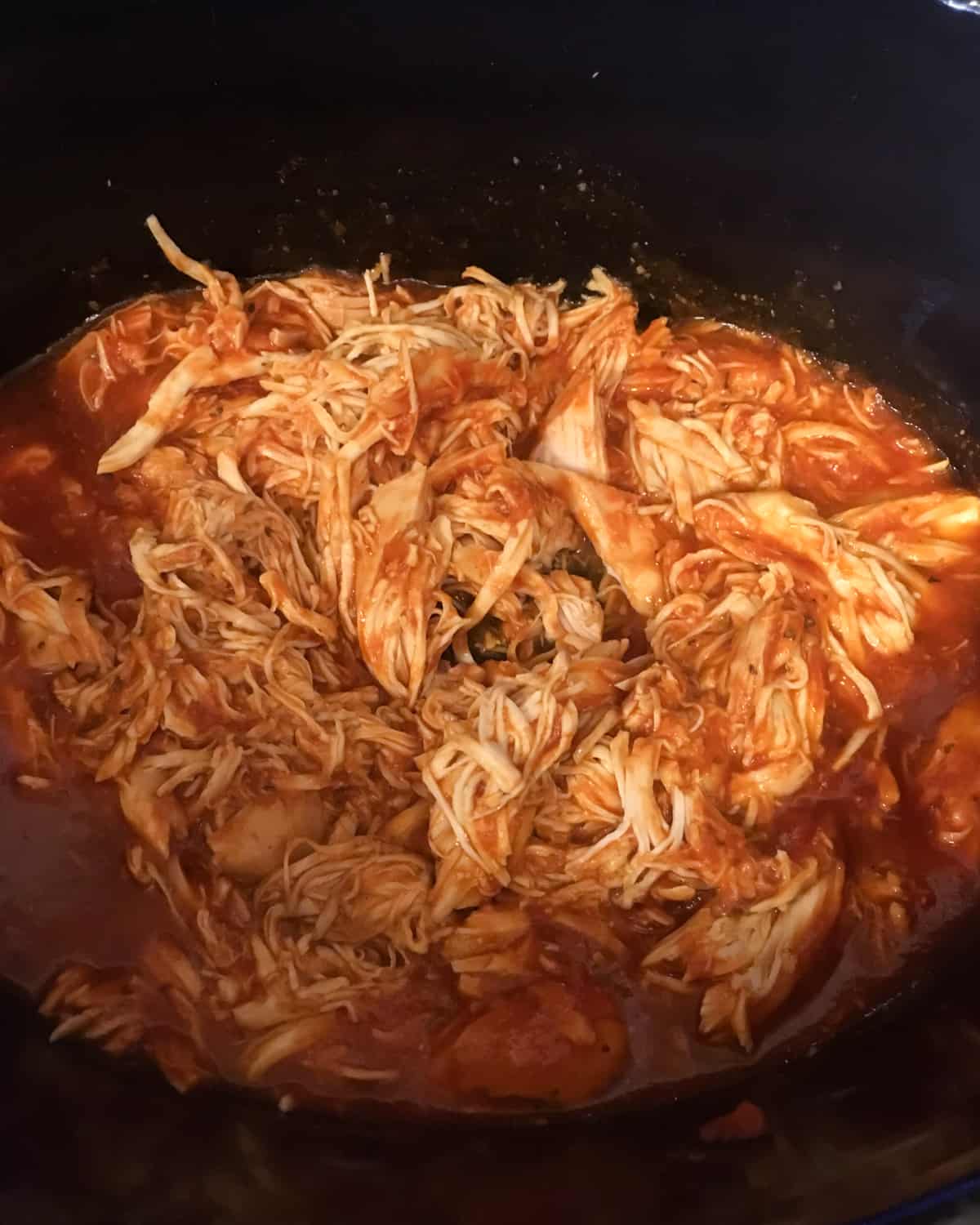 Once shredded, stir it to ensure the chicken is evenly coated in the sauce.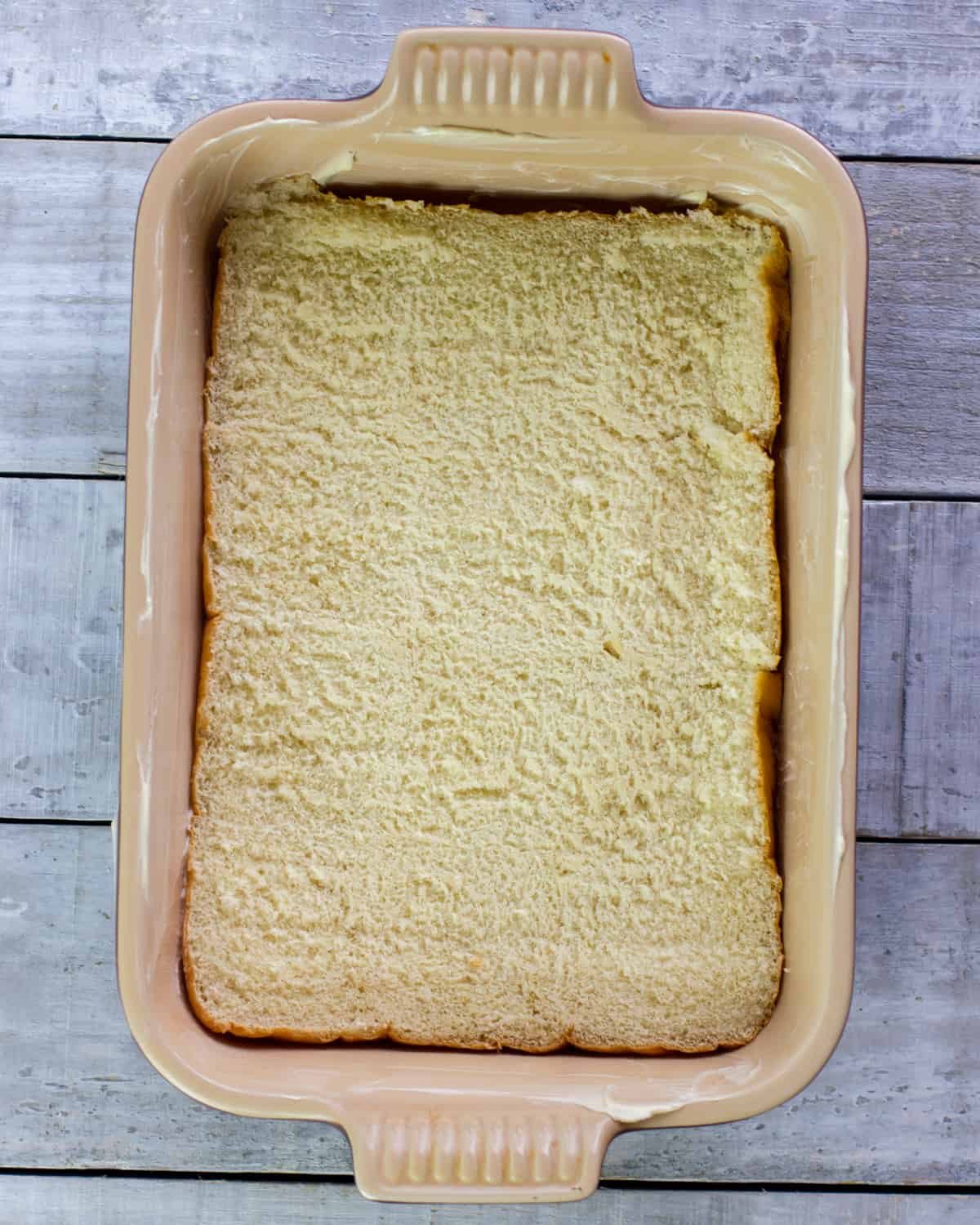 Keep the dinner rolls together and slice them all in half lengthwise. Place the bottom half in a greased baking pan.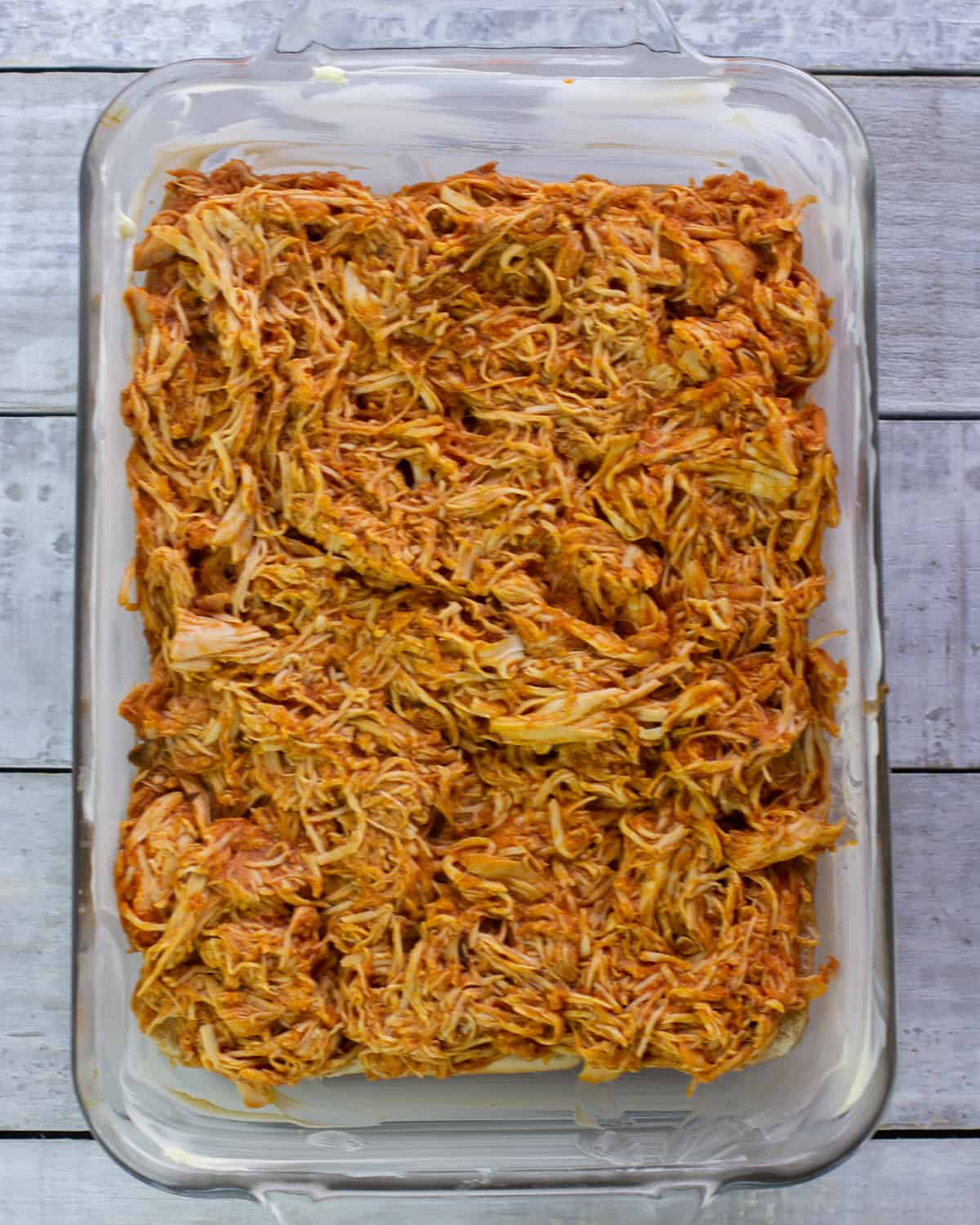 Evenly spread the shredded chicken on top of the dinner roll bottoms.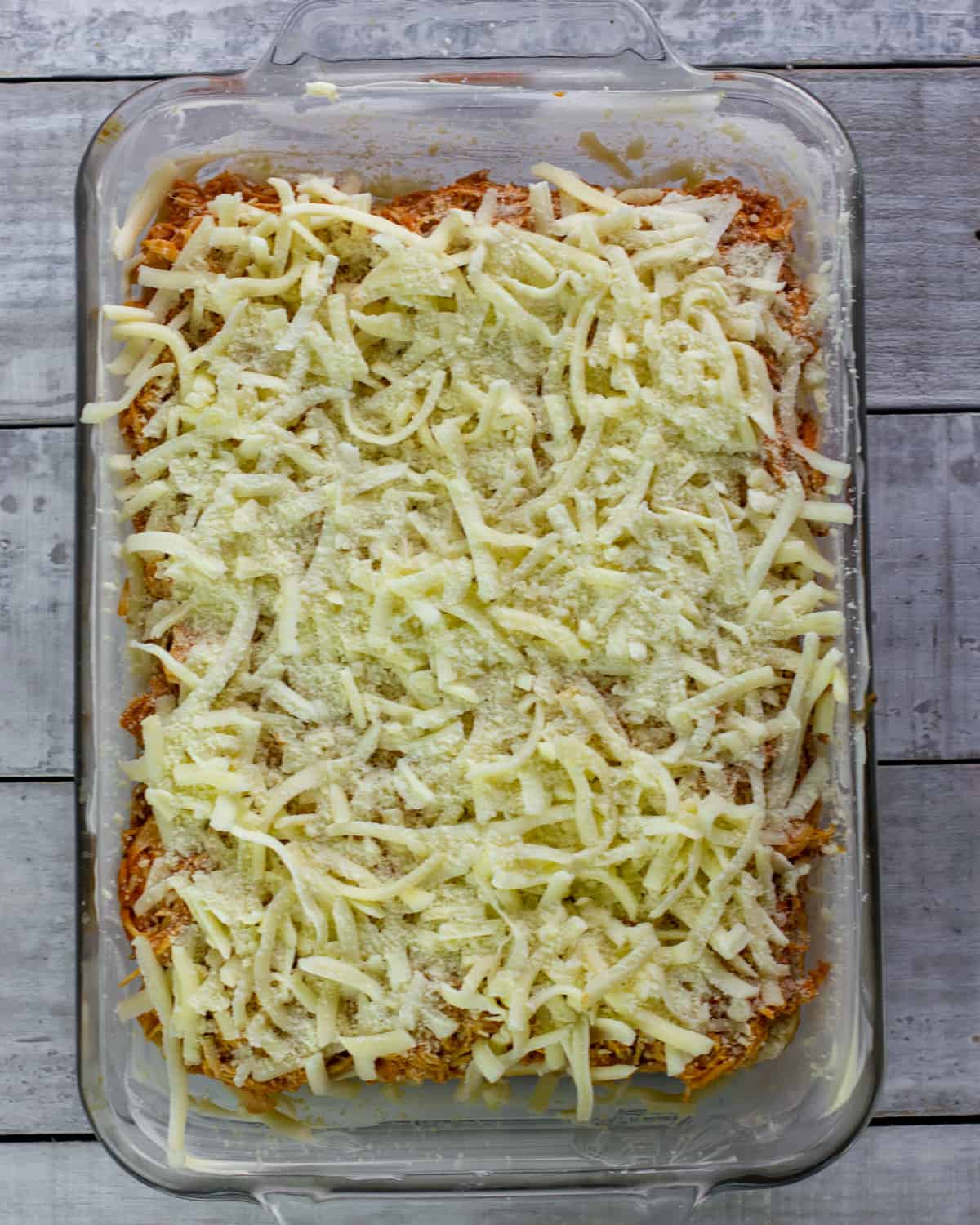 Top with grated mozzarella and parmesan cheese.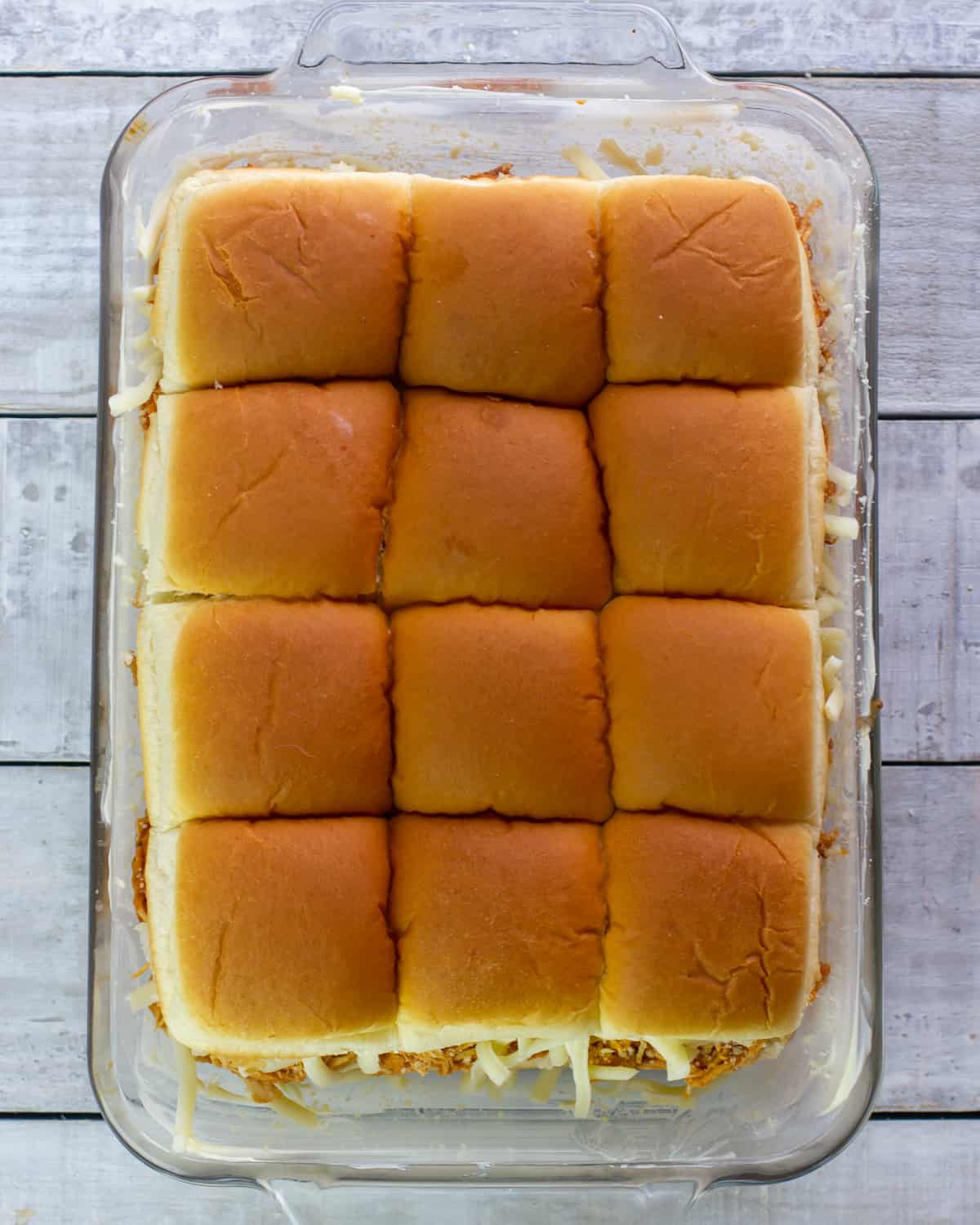 Lay the top of the dinner rolls on top.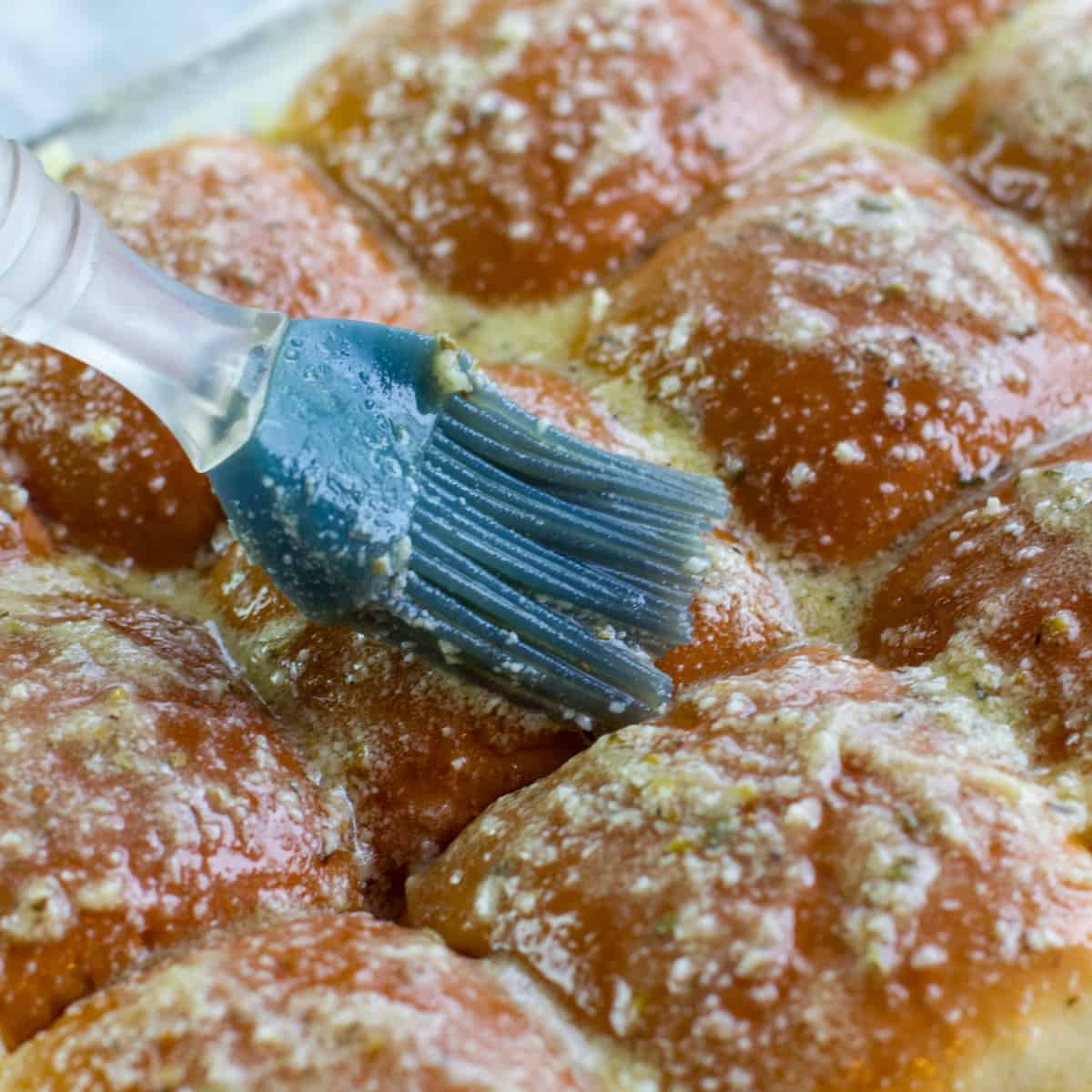 Brush the rolls with the melted garlic butter mixture.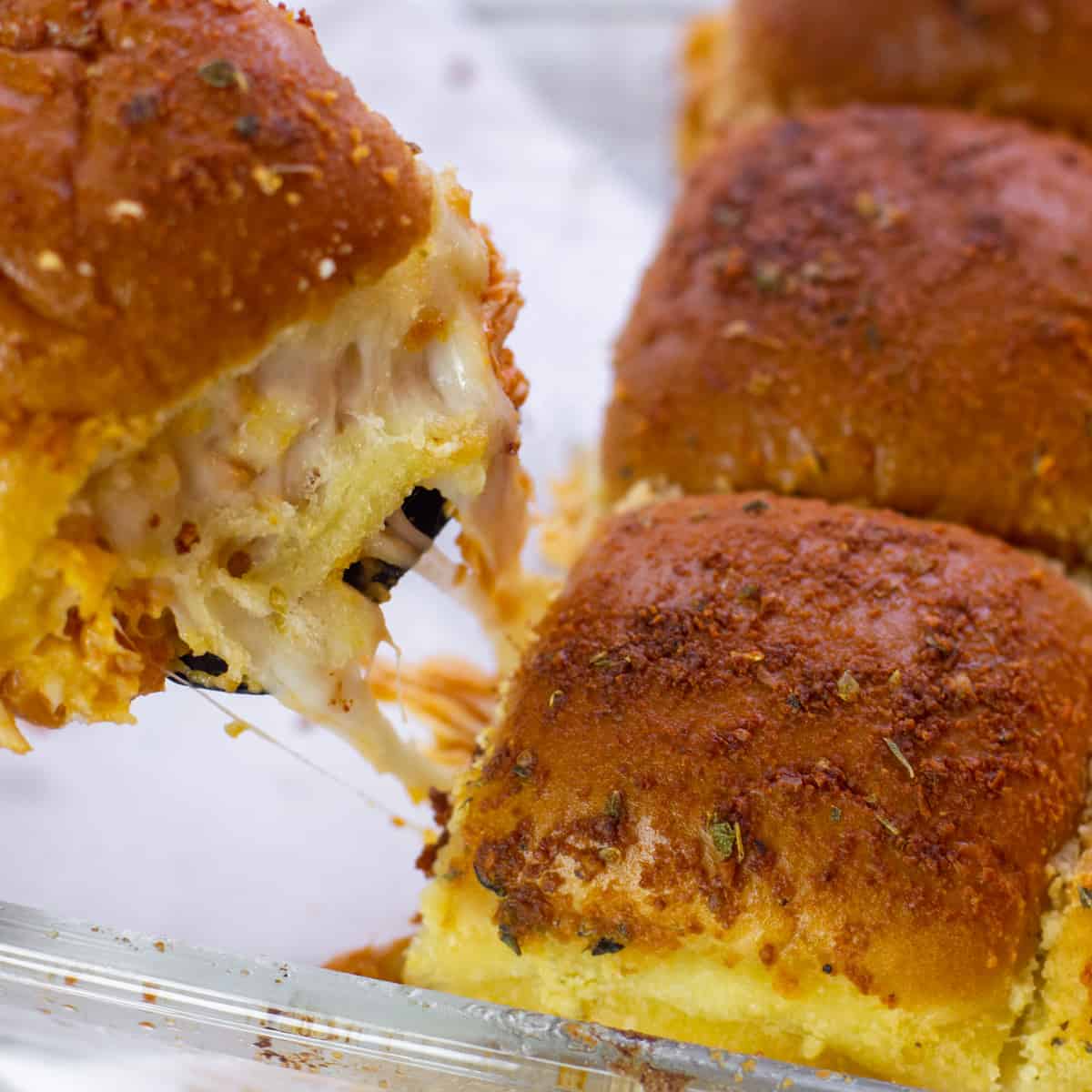 How Long To Bake Sliders
Preheat the oven for 325F.
Cover the baking dish with foil. Bake in the oven for 15 minutes. The foil keeps the top of the buns from getting to browned and crisp.
Once they have baked for the first 15 minutes, remove the foil and bake another 10-15 minutes. Take out of the oven and let them rest for 5 minutes before cutting into sliders.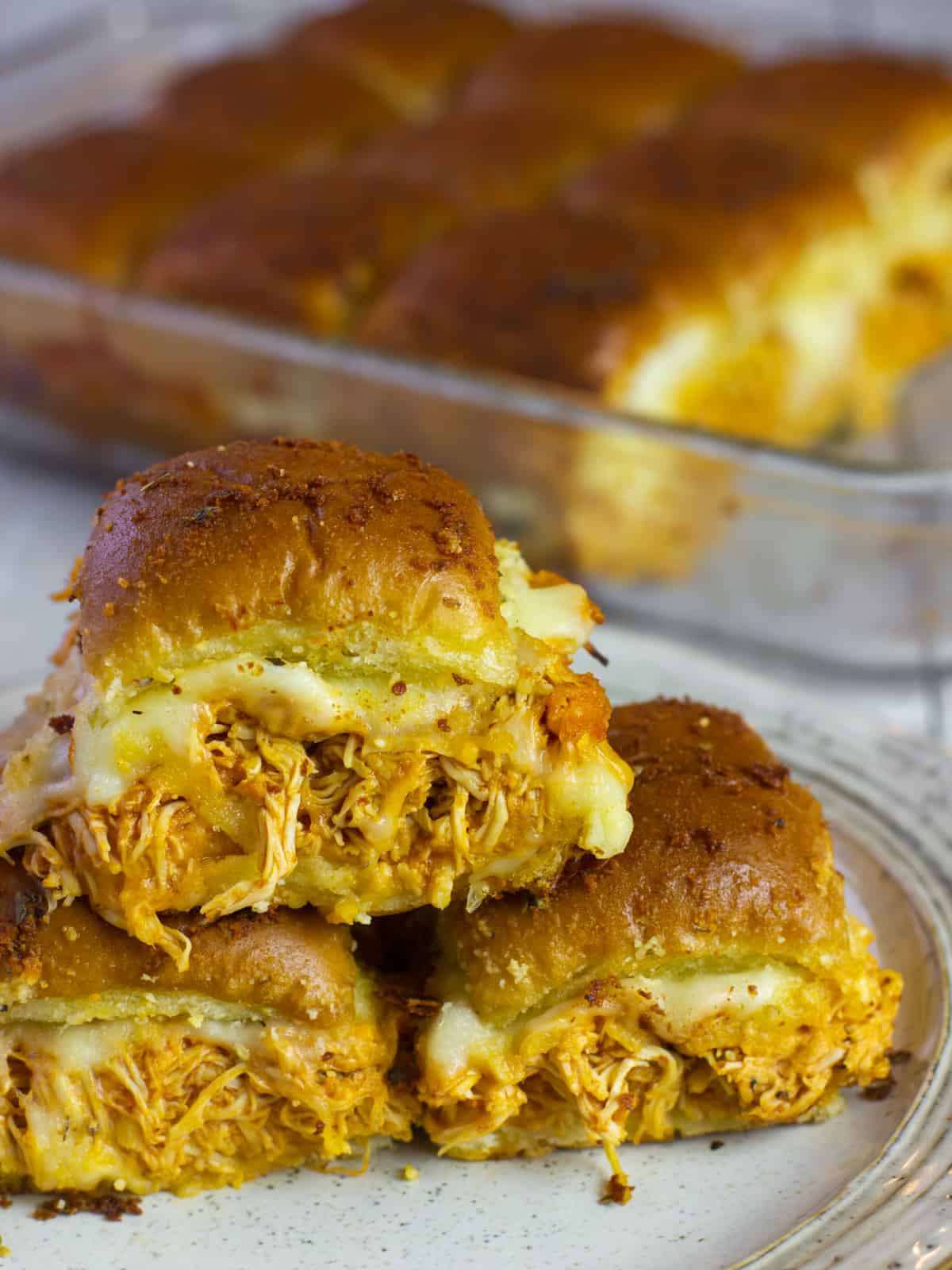 These sliders are addictive and best served warm.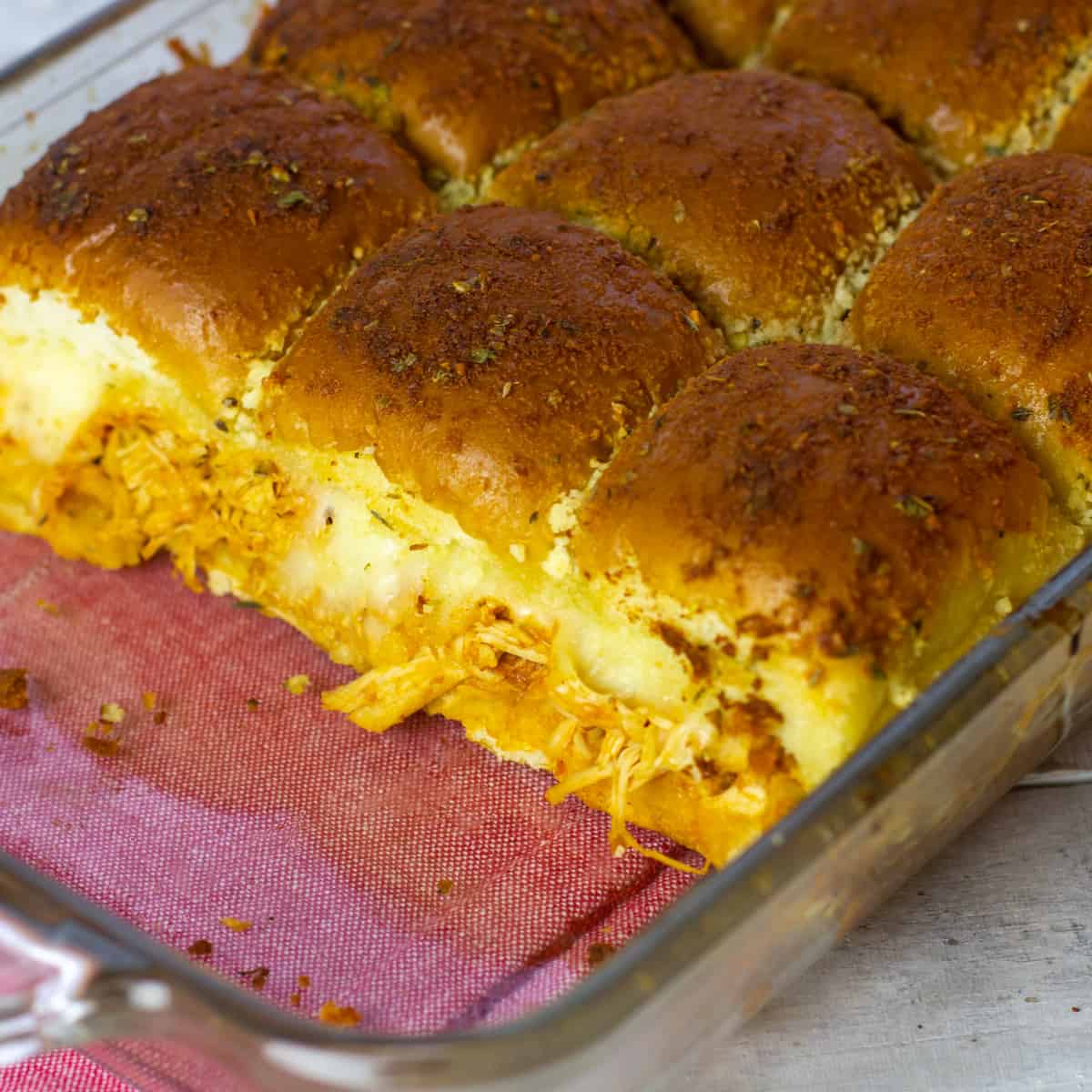 This recipe makes a tray of 12 sliders, but trust me when I say that they will get gobbled up very quickly.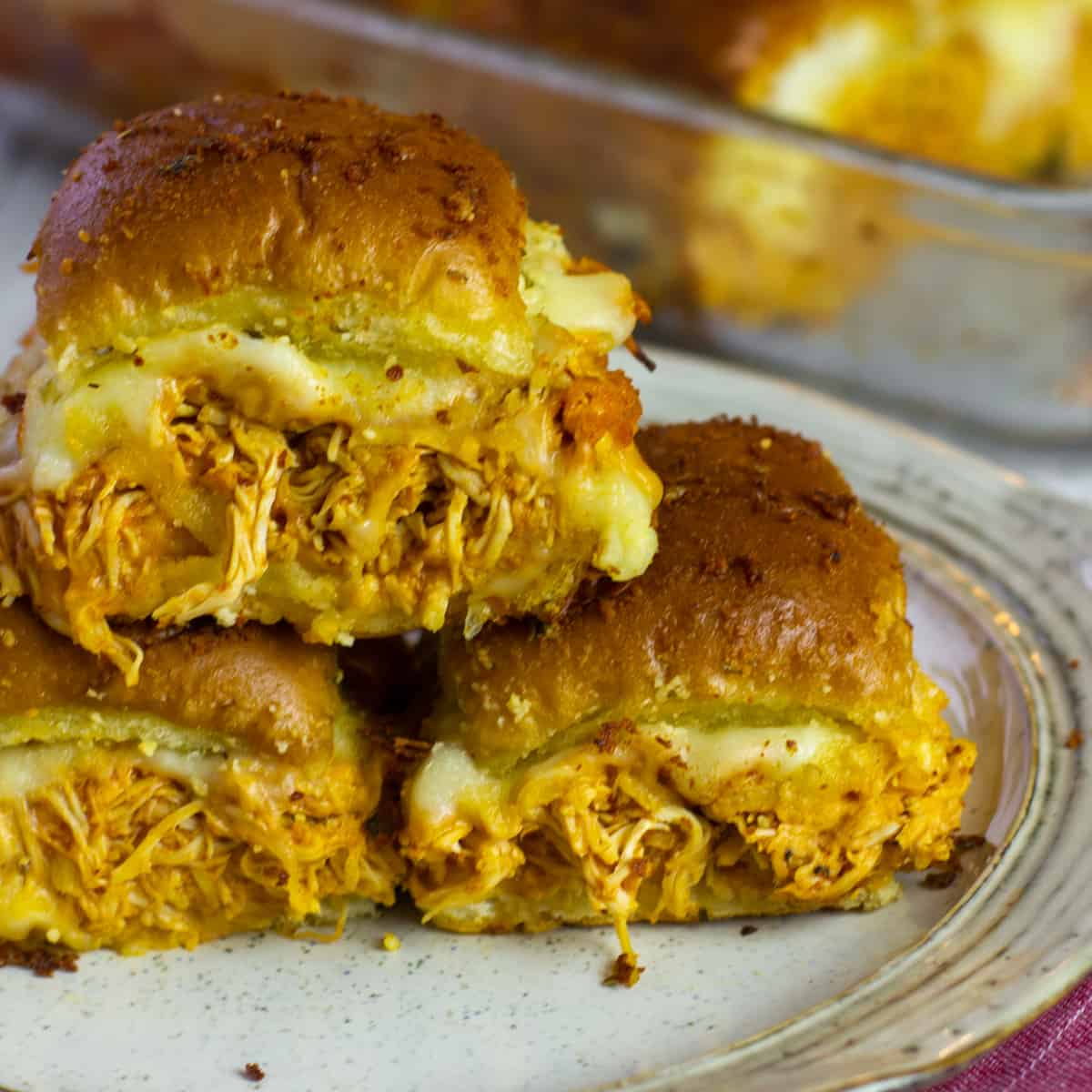 More Slider Recipes!
I also have a some other recipes using these dinner rolls. If you like these shredded chicken parmesan sliders, then check out these other ideas!
Shredded Chicken Parmesan Sliders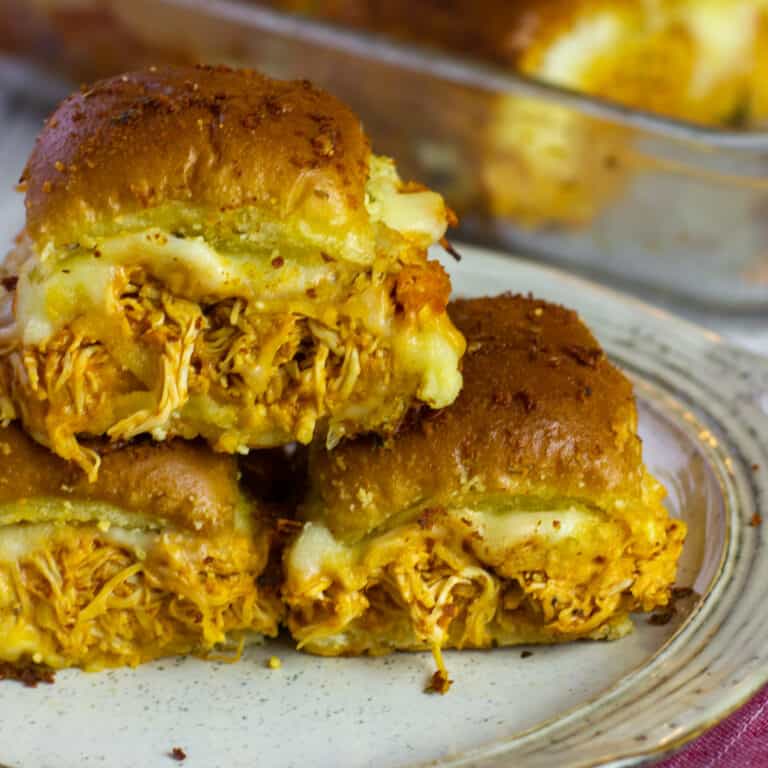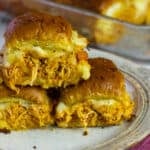 Print
Shredded chicken parmesan and mozzarella cheese sliders recipe that is easy to make with King's Hawaiian rolls brushed with melted garlic butter.
Servings: 12 sliders
Ingredients
4 chicken breasts, boneless and skinless
1 can tomato pasta sauce
1 tbsp butter
1 package 12 pack dinner rolls ex. Kings Hawaiian
2 cups grated mozzarella cheese
1/4 cup grated parmesan
Butter Topping
1/3 cup butter melted
2 tbsp grated parmesan
1/2 tsp garlic powder
1/2 tsp dry parsley flakes
Instructions
Place chicken breasts in a crock pot and pour tomato pasta sauce over the chicken.

Cook on low for 8 hours.

Use a fork to shred the chicken and make sure it is evenly coated in the sauce.

Preheat oven to 325F.

Keeping the 12 dinner rolls together, cut them lengthwise. Place bottom half in a greased 13×9 inch baking pan.


Spread the shredded chicken on the bottom half of dinner rolls. Top with grated mozzarella cheese and parmesan on top of the shredded chicken. Place the top half of the dinner rolls on top.

Whisk together the melted butter, parmesan, garlic powder and parsley. Brush this butter mixture on the top of the dinner rolls.

Cover the baking pan with foil and bake for 15 minutes.

Remove foil and bake of another 10-15 minutes. The buns should be starting to brown and the cheese melted and bubbling on the sides.

Cut into sliders and serve warm.
Nutrition
Per serving:
Calories: 267kcalCarbohydrates: 20gProtein: 17gFat: 13gSaturated Fat: 7gCholesterol: 58mgSodium: 556mgFiber: 2gSugar: 5g
This recipe was originally posted in August 2018.