The Best Grilled Pork Chops
Grilling pork chops has never been easier! Perfect for a weeknight meal or for a summer BBQ dinner with friends and family.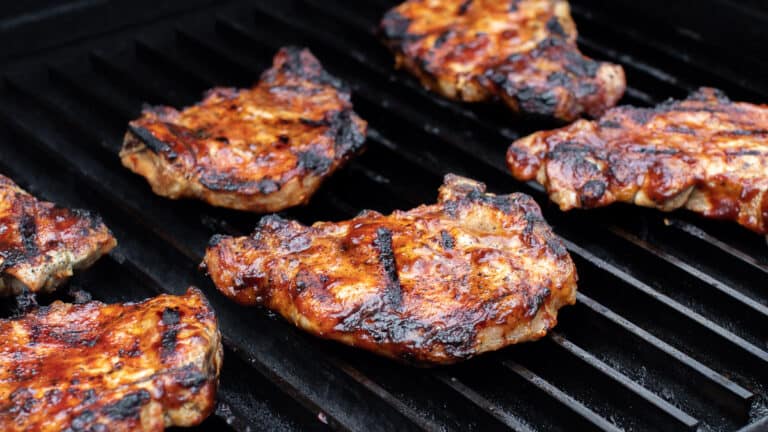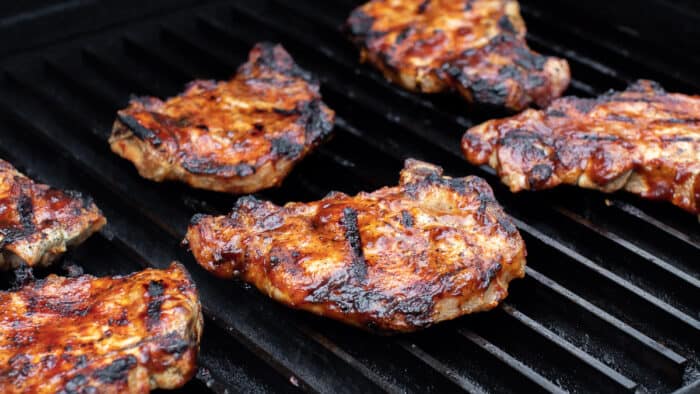 There is not much that screams summer more to me than grilled pork chops. Once the weather gets warm, I look for any excuse to fire up the grill and there is no better reason than these BBQ glazed chops.
We cook pork chops all the time. They are one of the more economical cuts of meat and a great way to feed a big family. Even in the winter months, when I don't fire up the grill, we love to have Oven Baked Pork Chops.
If you have ever wondered how to grill pork chops, then this recipe is for you.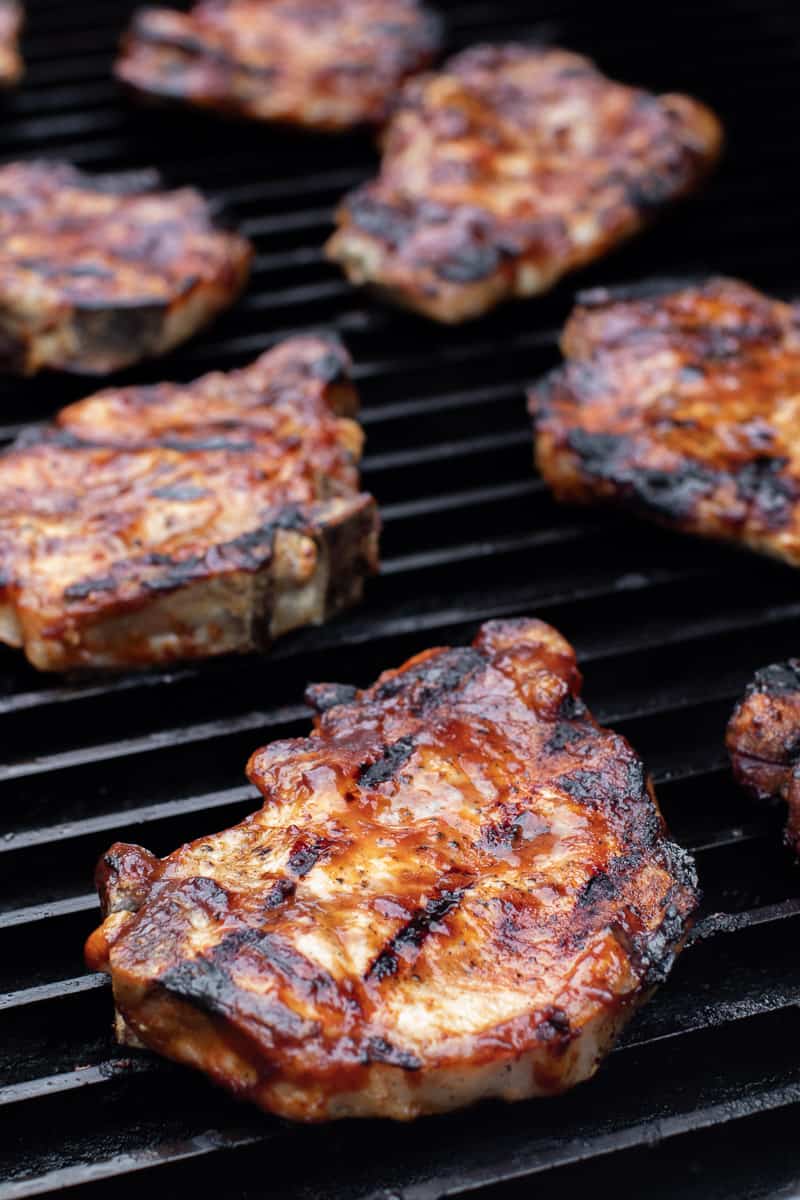 Why are these Grilled Pork Chops the Best?
I love these pork chops because of the simplicity of this recipe. Lightly seasoned with just salt and pepper makes the preparation very easy.
The grilled pork chops are cooked perfectly. The outside has a nice sear while the inside is still tender and juicy. On top of that, these are lathered in BBQ sauce to give the pork chops that classic summer BBQ flavour.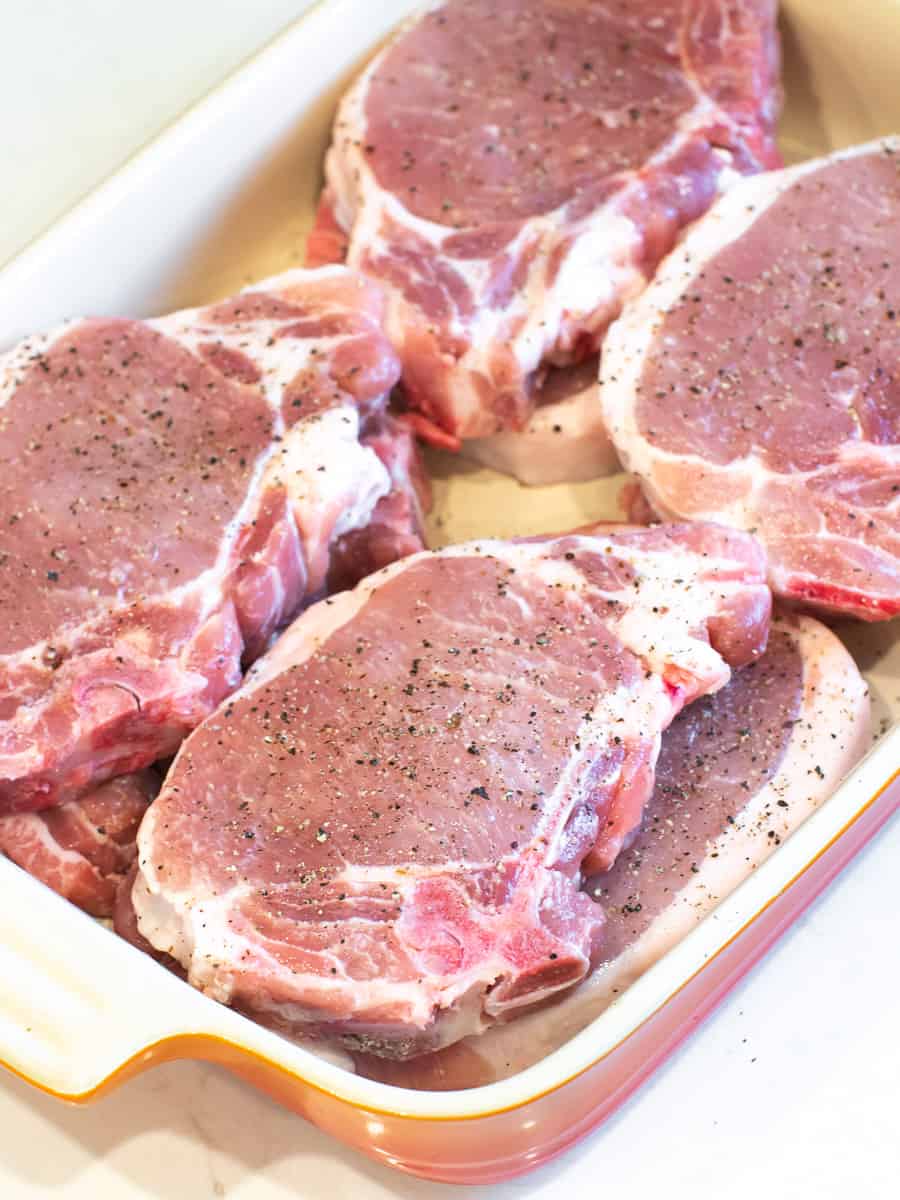 What Cut of Chops are Ideal for Grilling?
A quick trip the local supermarket and you will quickly discover that there are many different cuts of pork chops. But…. which is best for grilling?
Any kind of pork chop will work just fine on the grill. I have grilled all these different cuts of chops:
boneless loin chops
centre cut or porterhouse style pork chops
rib chops
loin chops
sirloin chops
Quick Tip: even though each kind of chop is great for grilling, they will take different lengths of time to cook through. Bone-in pork chops will take longer than boneless.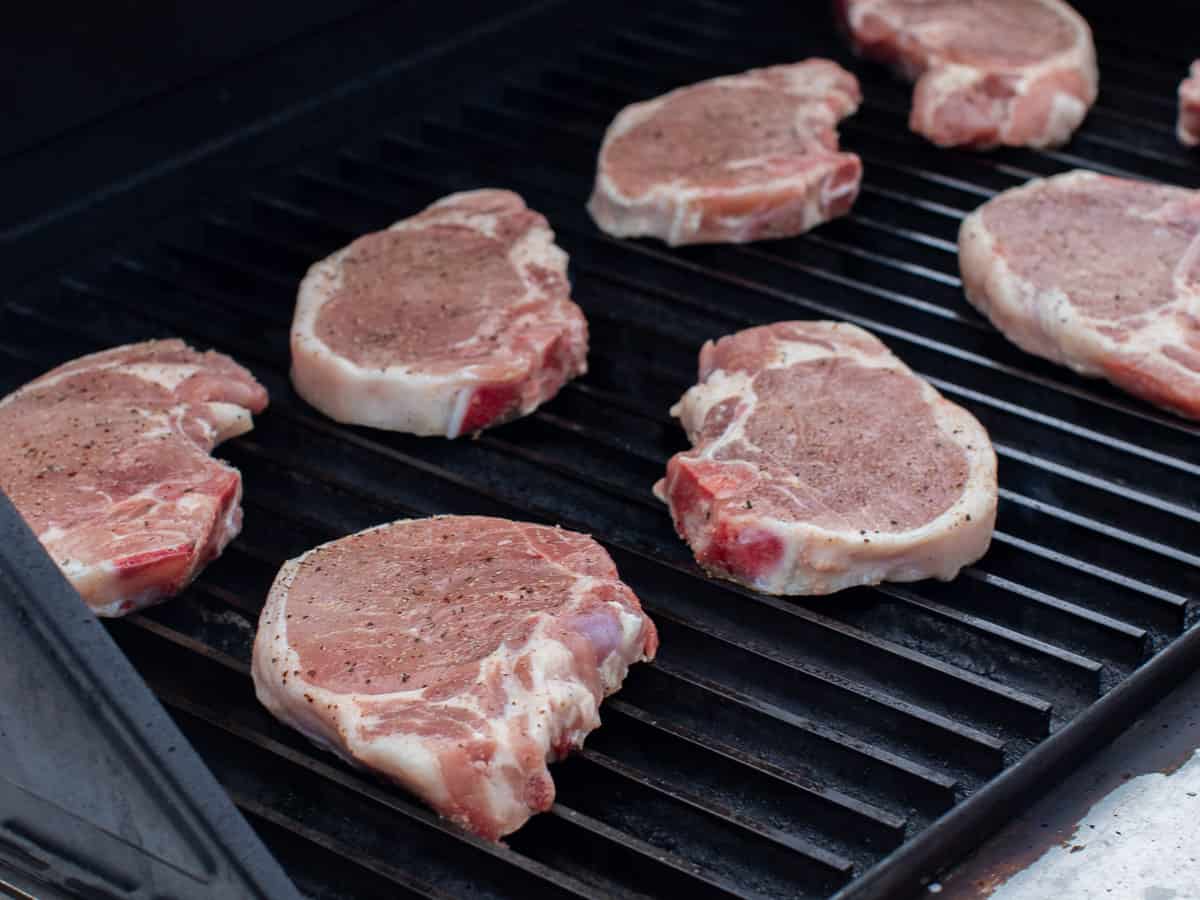 Fire up the Grill!
Make sure that the grill is nice and hot – about 450-500F. Brush the grill grates with oil. This will season the grill grates and help prevent the pork chops from sticking. I oil the grates by folding a paper tower many times and use long tongs to hold the folded paper towel. Dip the end of the paper towel in a little bit of oil and rub that all over the tops of the hot grill grates.
Place the seasoned pork chops on the hot grill and cook for 4-5 minutes.
Quick tip: for pork chops that are 3/4 inch thick, I do not find that it is necessary to close the lid while they are on the grill. Leaving the lid open will produce a perfectly seared chop while the inside is not over-cooked. Thicker pork chops may require you to close the lid to allow the meat to cook through evenly.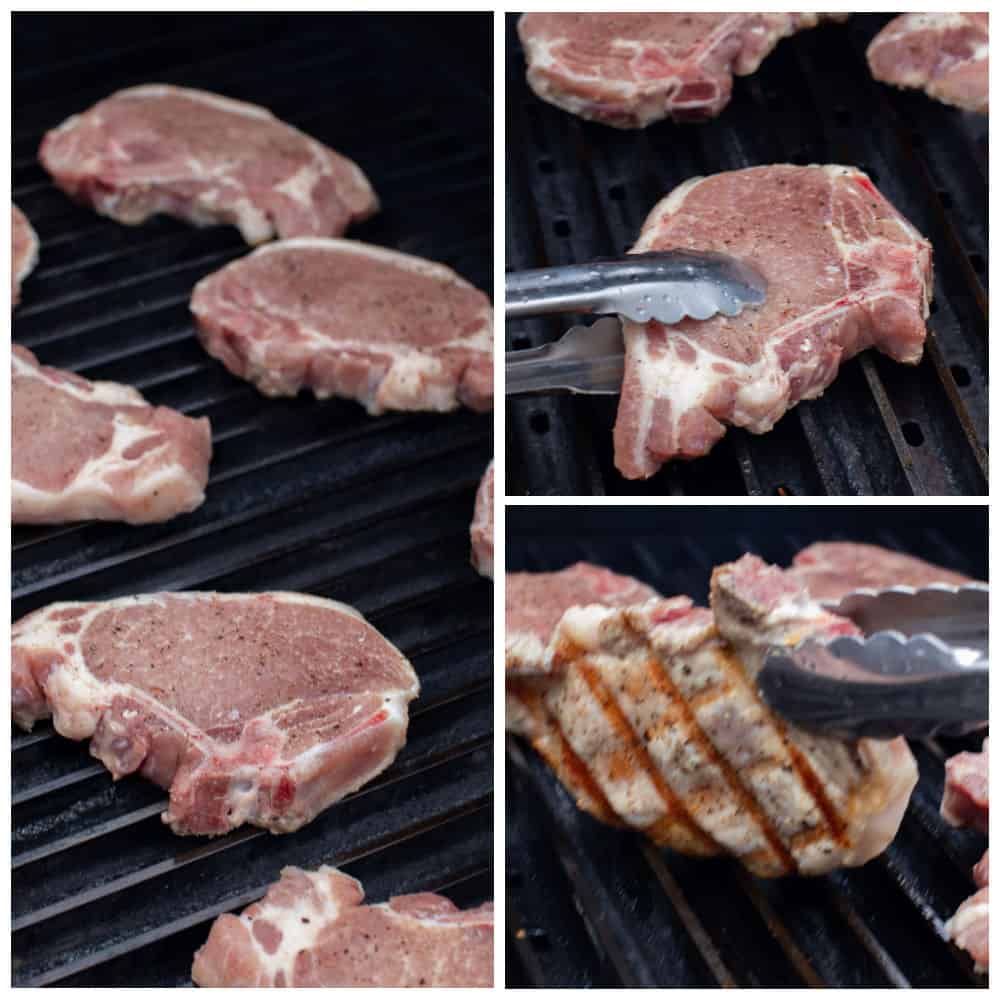 Once the pork chops have been on the grill for about 4-5 minutes, flip them over.
Quick tip: If you want to get that criss cross sear marks on the pork chops, give them a quarter turn about halfway through the grilling time on each side.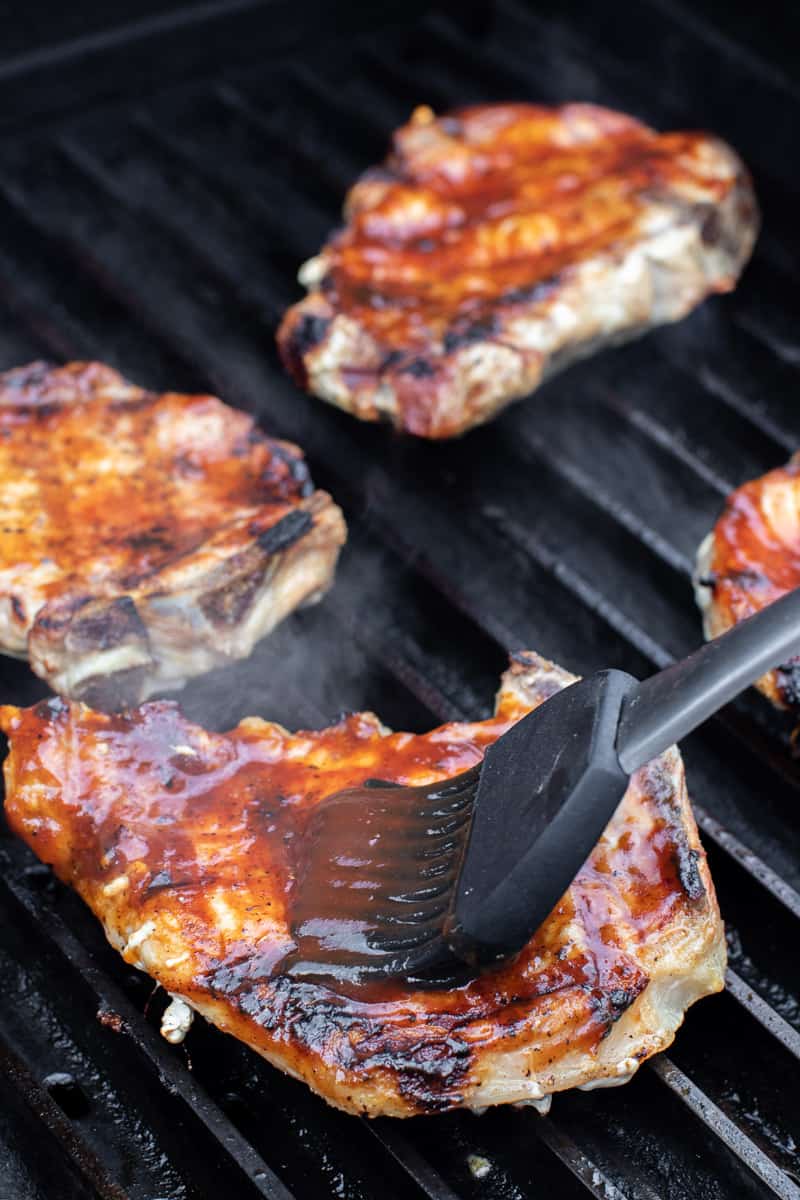 Brush the Chops with Lots of Sauce!
Once the pork chops have been flipped over, brush them with your favourite BBQ sauce. Store-bought BBQ sauce is great to use, but I also love to make my own sauce.
There are many different homemade BBQ sauce recipes on the site, including Guinness BBQ Sauce, Corona Lime BBQ Sauce and Dr. Pepper BBQ Sauce.
Let the chops cook on the grill for 4 more minutes. Flip one more time and brush the second side with BBQ sauce.
Quick tip:Sometimes the BBQ sauce falls off the pork chops when you flip them. I find that this happens because the chops release some juices while grilling. Brushing some extra BBQ sauce, mid-way through the grilling, will help coat and glaze the meat.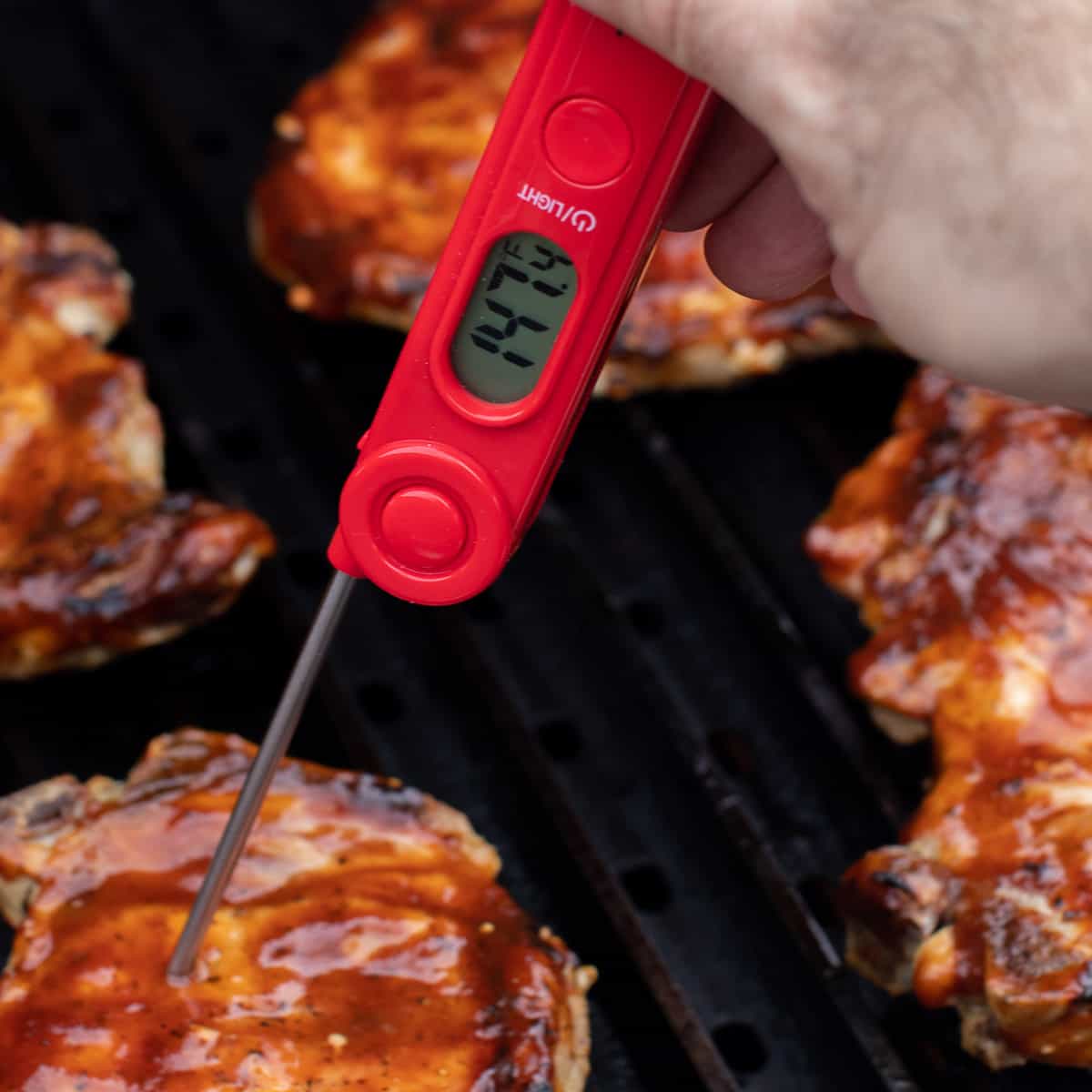 The pork chops are done when they reach an internal temperature of 145F.
Every grill is different, so the cooking time will vary. A digital thermometer is a much better way to know when the meat is cooked through and ready to come off the grill.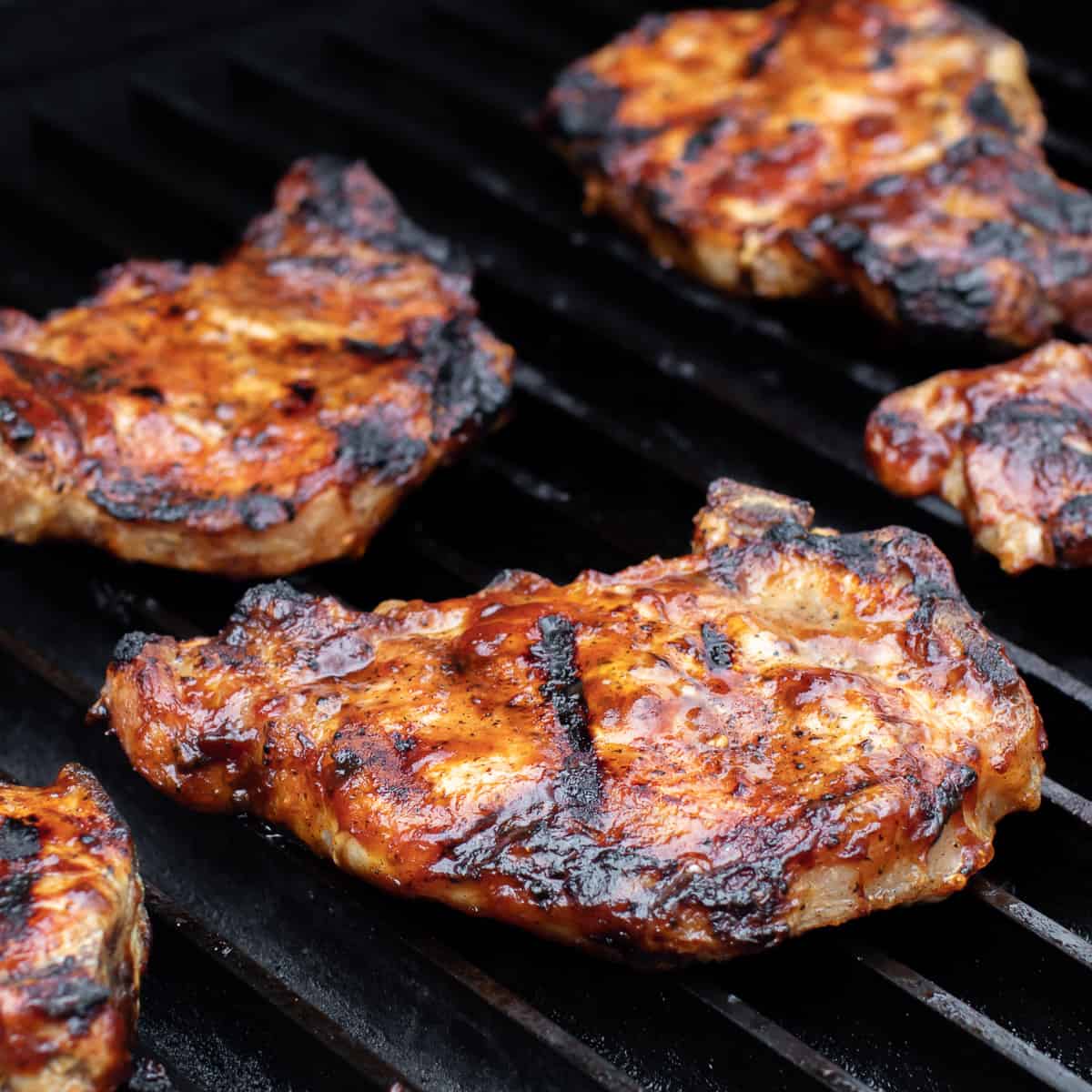 Once the pork chops are done, take them off the grill and let them rest for a couple minutes before serving.
These are the best grilled pork chops and are ideal for a summer BBQ. Serve these with a big bowl of Classic Macaroni Salad, Bean Salad, or homemade Baked Beans.
Grilled pork chops is so simple and this recipe is ideal for a weeknight meal.
If you have tried this recipe, I would love to hear from you! Leave a comment below, or share a picture on social media.
The Best Grilled Pork Chops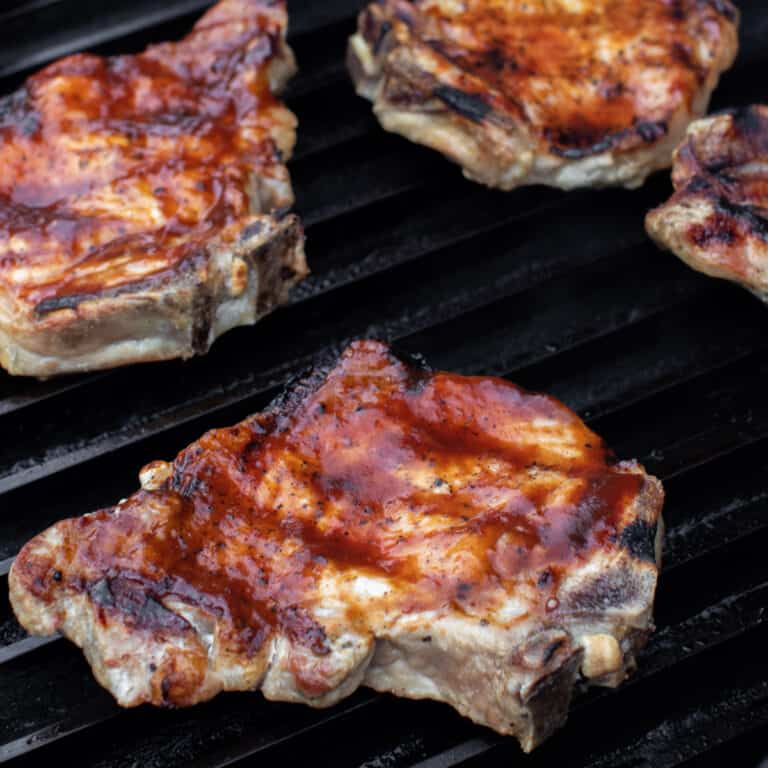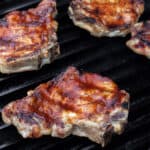 Print
Easy recipe for how to cook pork chops on a gas grill. Instructions for how long to grill the pork chops with a simple seasoning and brushed with BBQ sauce.
Servings: 4
Ingredients
4 pork chops , 3/4 inch thick
1 tsp salt
1/2 tsp fresh ground black pepper
3/4 cup BBQ sauce
Instructions
Trim the pork chops of any excess fat. Season both sides with salt and pepper.

Heat the grill to high heat, around 450-500F.

Place the pork chops on the grill and cook for about 4-5 minutes.

Flip the pork chops and brush the grilled side with BBQ sauce. Cook for another 4 minutes.

Flip the pork chops again and brush this second side with your favourite BBQ sauce.

Grill for 1 more minute or until the internal temperature reaches 145F.

Remove from the grill and let the pork chops rest for about 1-2 mintues before serving.
Notes
Any type of pork chops work great on the grill. Bone-in chops will take longer to cook through than ones that are boneless.
It is not necessary to close the lid during grilling for pork chops that are only 3/4 inch thick.
If you want to get that classic criss cross sear marks, make sure to give the pork chops a quarter turn, or about 45 degrees mid way through grilling each side.
If the BBQ sauce falls off during flipping, brush on some extra. Gotta love all that sauce!
Use a digital thermometer to check doneness of the meat.
Nutrition
Per serving:
Calories: 301kcalCarbohydrates: 22gProtein: 29gFat: 10gSaturated Fat: 3gCholesterol: 90mgSodium: 1196mgFiber: 1gSugar: 18g