This classic bean salad is easy to make and perfect for picnics, family gatherings and pot luck meals. It is even better the second day because the beans marinated longer in the fridge.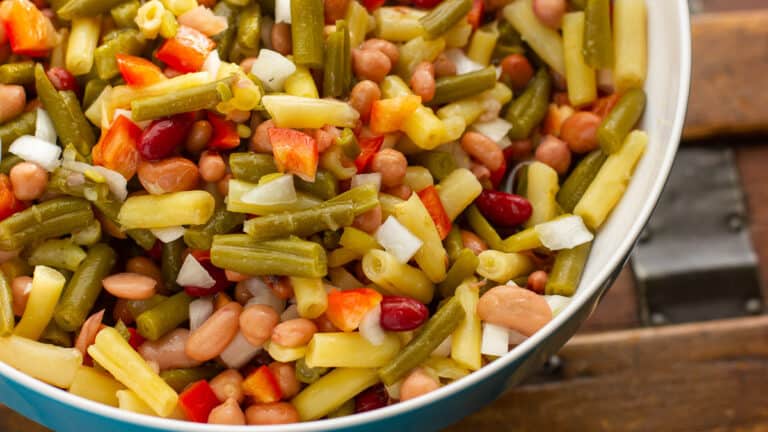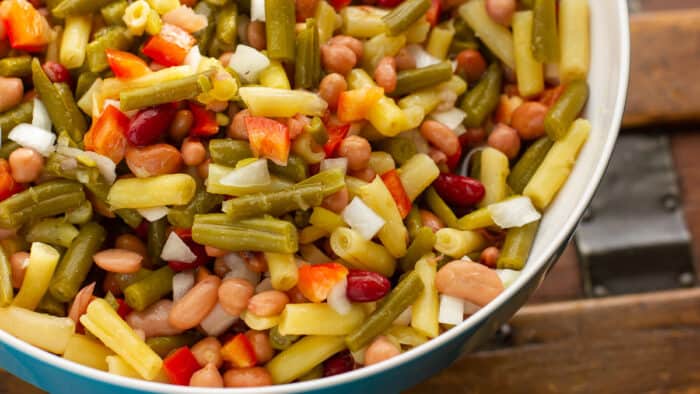 Three bean salad is one of those dishes that is quick to make and popular to bring to picnics or pot lucks. We always have cans of the beans in the pantry available for any time we need to make the salad.
Typically this mixed bean salad has canned green beans, yellow wax beans and kidney beans. Instead of kidney beans, I often prefer to use a can of mixed beans which includes a bunch of different kinds like kidney, chick peas, black eyed peas, romano beans and others. Diced onion and red bell pepper adds a fresh crunch which perfectly compliments the beans in the salad.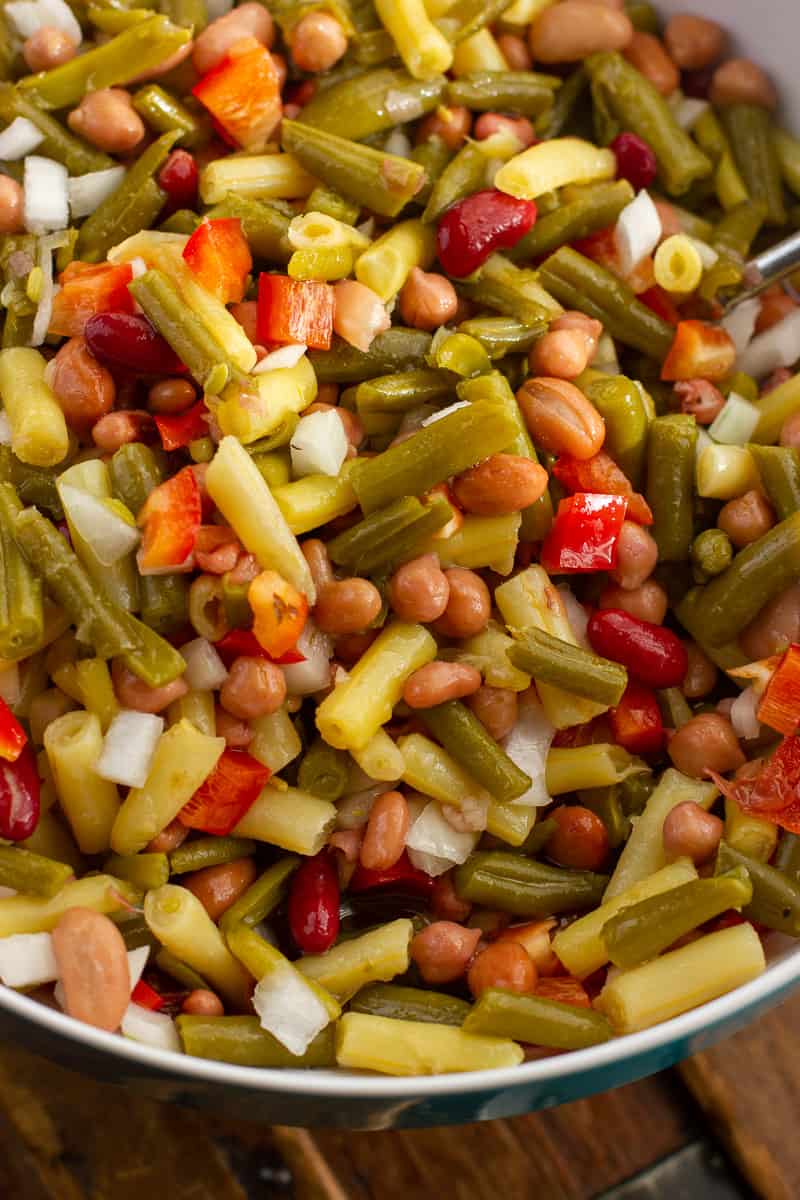 The dressing for this salad is very simple and uses equal parts oil, white vinegar and white sugar as well as a little salt and pepper.
Making the salad could not be easier. Simply drain the cans of green and yellow wax beans and dump in a bowl. The mixed or kidney beans need to be drained and then rinsed and then put in the bowl. Add the diced onion and red pepper to the bowl and then pour in the dressing.
Cover the bow and place in the fridge to marinate. I let it marinate for at least one hour before serving and if I have time, I find that around 3 hours is perfect to allow the beans to soak up the flavour of the dressing. Serve this salad cold.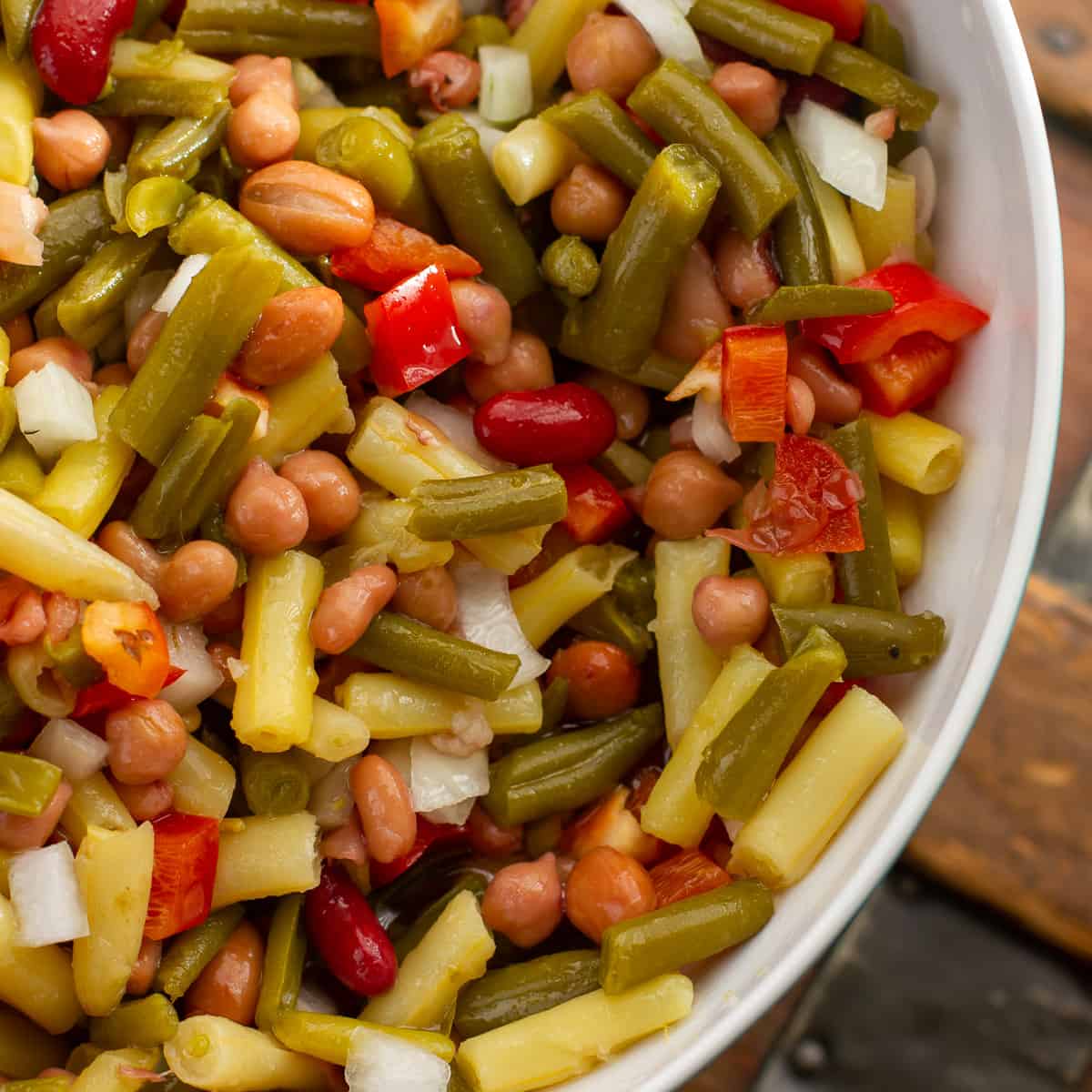 Other Salad Recipes!
Bean Salad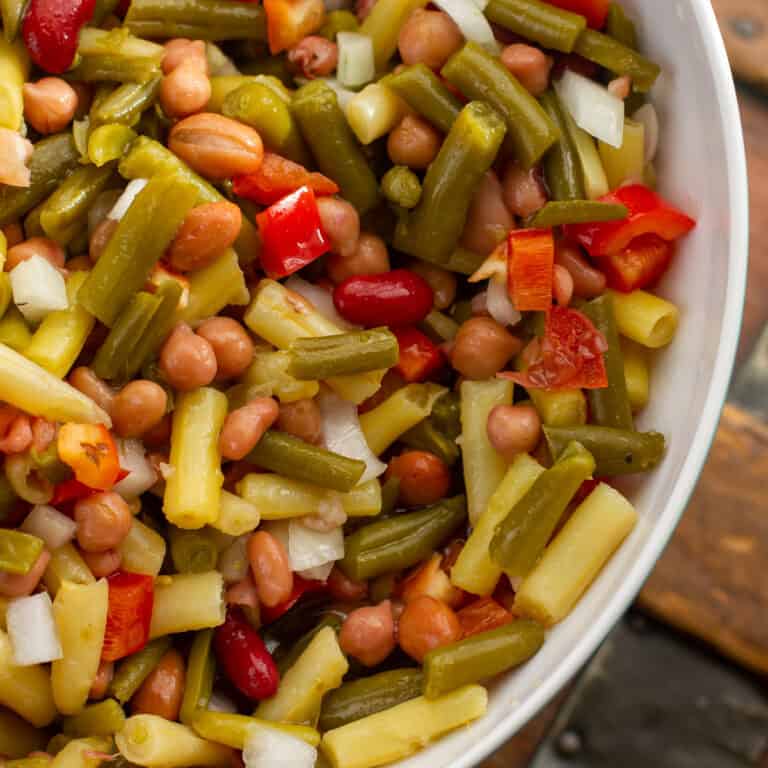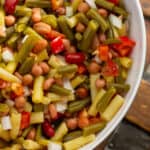 Print
Easy salad made with canned green, yellow wax, kidney beans and other mixed beans. Sometimes called three bean salad or green bean salad
Servings: 8
Ingredients
1 can green beans , drained
1 can yellow wax beans , drained
1 can kidney or mixed beans , rinsed and drained
1 sweet onion , diced
1 red pepper , diced
1/3 cup oil
1/3 cup white vinegar
1/3 cup white sugar
1 tsp salt
1/2 tsp ground black pepper
Instructions
Dump the green, yellow, kindey/mixed beans, onion and red pepper in a large serving bowl.

In a separate bowl, whisk together the oil, vinegar, sugar, salt and pepper until the sugar is dissolved.

Pour the dressing over the bean salad and toss so they are all coated in the dressing.

Cover and place in the fridge for at least an hour to marinate.

Serve cold.
Nutrition
Per serving:
Calories: 201kcalCarbohydrates: 25gProtein: 5gFat: 10gSaturated Fat: 1gSodium: 443mgFiber: 5gSugar: 13g