Homemade Greek Salad with Dressing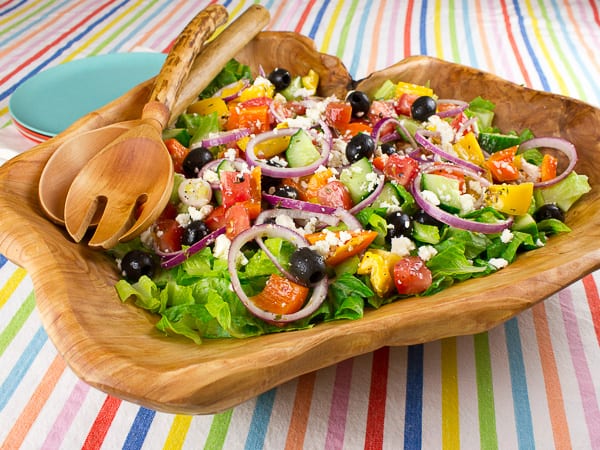 We are salad people in our home, and there is a list of salads that I regularly make and rotate through. Lettuce salads, pasta salads, bean salads, quinoa salads and even wheat berry salads: they are all on the list! If there was one salad that was made more than any other though, it might just be this homemade Greek salad.
Greek salad is jam packed with flavors and every bite is an experience. Fresh chopped veggies, black olives and feta cheese go so well together, but my favorite part of the salad has to be the dressing.
This salad dressing is best made ahead so that the aromatics can blend together in the oil and red wine vinegar. Then, I toss the chopped veggies and black olives in the dressing and let them marinate for at least an hour in the fridge. Do not include the lettuce in this because the leaves would get too soggy. I toss the lettuce and feta cheese with the marinated veggies and dressing, just before bringing the salad to the table.
I love Greek cuisine and here are a few other recipes I have made that have a Greek influence: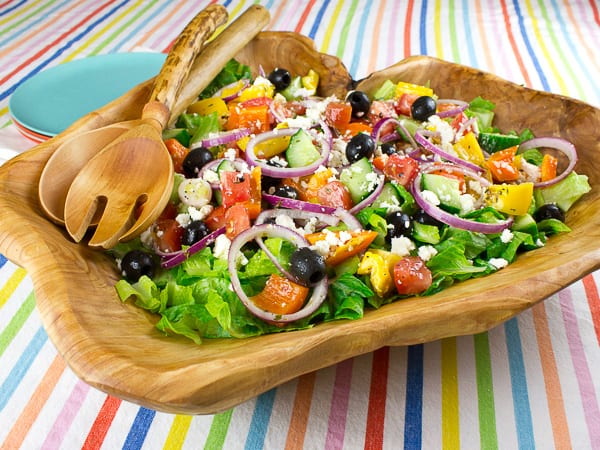 As excited as I am about this homemade Greek Salad, I am equally excited about the bowl holding the salad. This salad bowl and the serving spoons are both hand carved and the bowl is actually from the root of a tree. It is so incredibly cool looking and this is sure to be a talking point with anyone we have over for dinner. Since these are hand carved, every bowl is unique.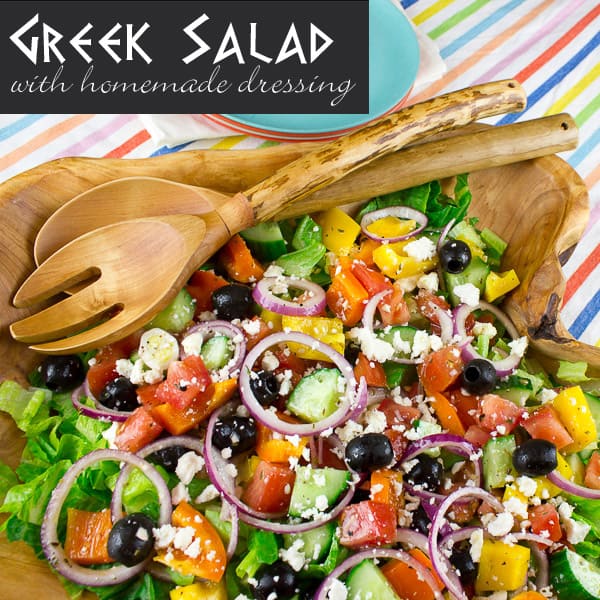 I got this salad bowl from a website called – Bambeco
Here is a little bit of info about this online store:
Born of life-changing inspiration, bambeco is passionate about products with purpose. Co-Founded by Susan Aplin and Carolyn Wapnick, bambeco is the premier retailer for sustainable home furnishings and décor, delivering a collection of exquisite, high quality products and artisan creations—ALL reclaimed, repurposed, renewable, recycled, natural or organic. Made with the highest respect for the earth and its people.
If you have never hear about Bambeco, you seriously need to check them out. There are some awesome products that are recycled and repurposed.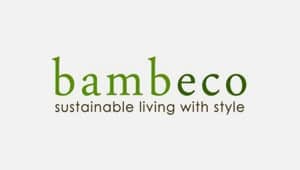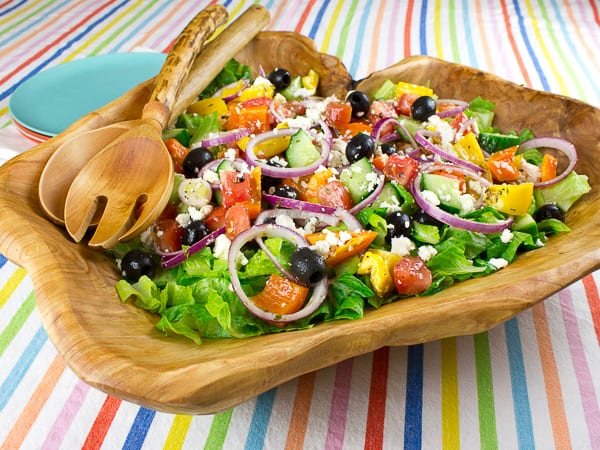 Homemade Greek Salad with Dressing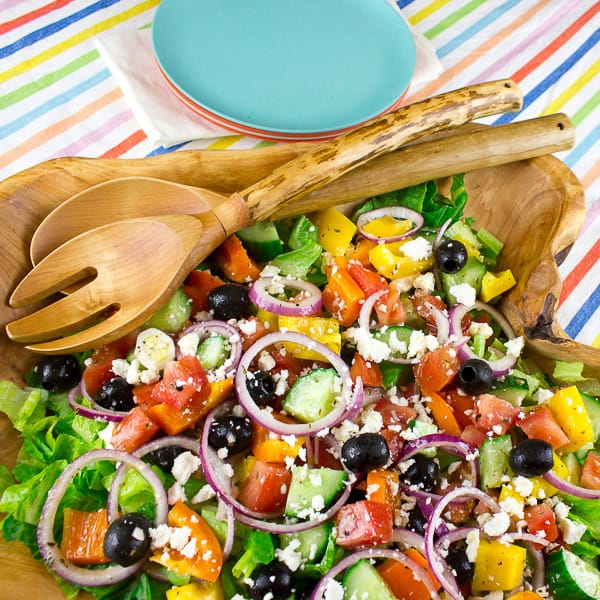 Print
Easy to make Greek salad with simple dressing.
Servings: 8 people
Ingredients
1/2 cup olive oil
1/2 cup red wine vinegar
juice of one lemon
4 cloves garlic , minced
1 tbsp dried oregano leaves
1 tsp salt
1/2 tsp black pepper
1 tsp sugar
3 tomatoes
1 english cucumber
2 sweet peppers (red, yellow or orange)
1 red onion
1 cup feta cheese , crumbled
1 1/2 cups black olives
1 large romaine lettuce
Instructions
Make the dressing by mixing the oil, vinegar, lemon juice, garlic, oregano, salt, pepper and sugar. Let the dressing marinate for at least 30 minutes.

Chop up vegetables into large pieces.

Stir the salad dressing in a large bowl with the chopped vegetables (minus the romaine lettuce) and olives.

Let the salad marinate at least 1 hour before serving.

Just prior to serving, toss in the chopped romaine lettuce leaves.

Sprinkle feta cheese on top.
This post is sponsored by Bambeco. All opinions are my own.