Homemade Greek Salad with Dressing
This Greek salad is so good, packed with fresh ingredients, and especially delicious with a homemade vinaigrette. Serve with souvlaki, grilled chicken and so much more!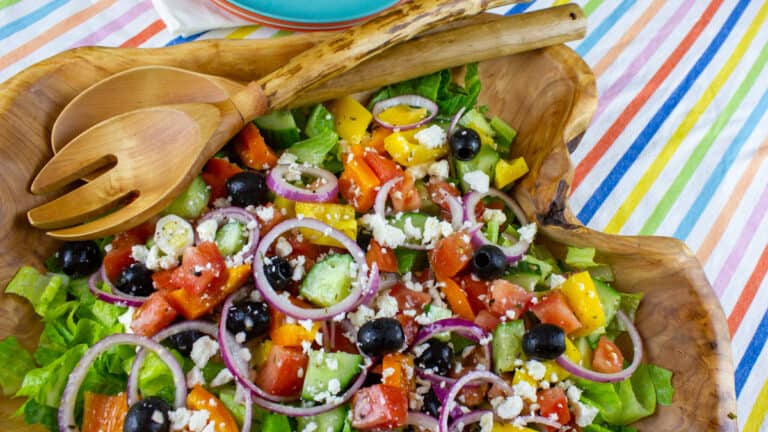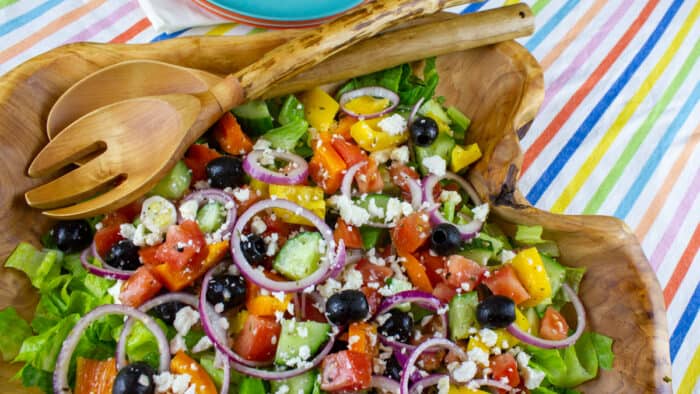 Of all the salads that I make, this homemade Greek salad might just be the most popular. It is so fresh, full of colour and goes with almost anything! Every bite is different and has so much flavour. There are so many ingredients that make up the salad and each are big, chunky and create a forkful of taste explosions.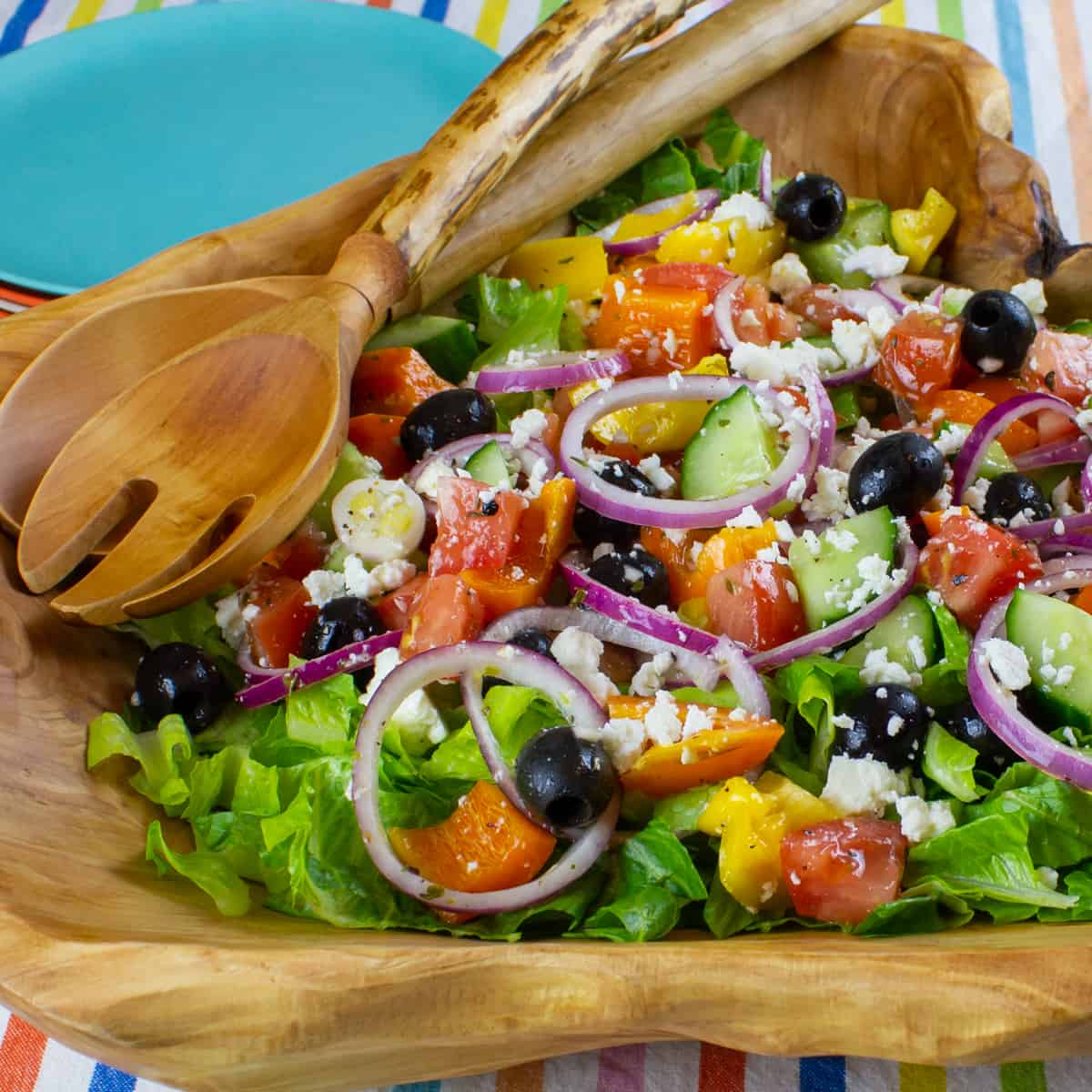 Fresh chopped veggies, black olives and feta cheese are all classic ingredients in a Greek salad. As much as I love them all, I think I have to say, my favourite part of the salad has to be the dressing. I especially love it with souvlaki, tzatziki and a toasted Greek pita. So good!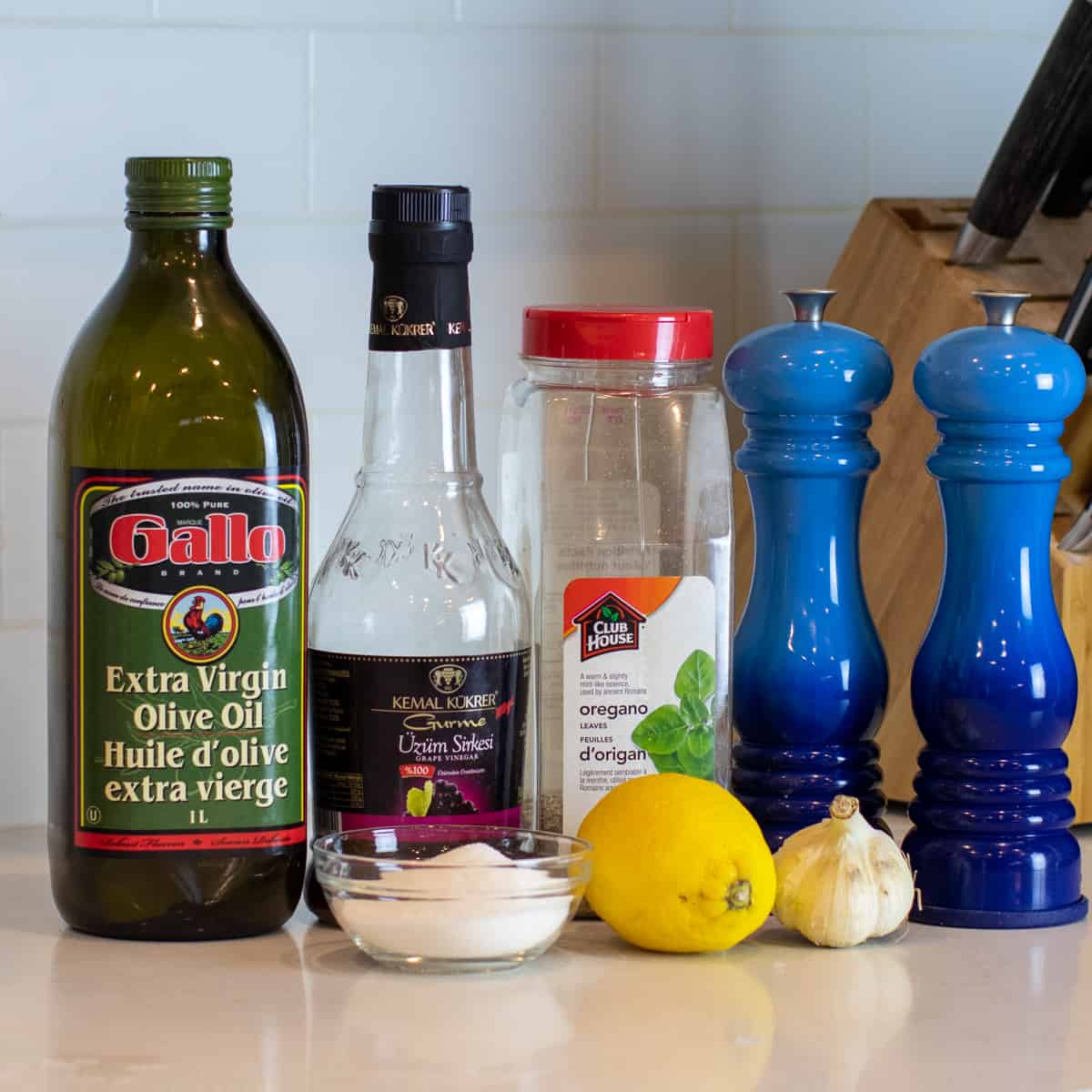 Ingredients For Greek Vinaigrette
The Greek salad dressing is an important part of this salad and I love to make it myself. There are some good store-bought versions, but home-made Greek vinaigrette is just amazing. I love zing from the red wine vinegar and lemon juice. Also, I always make sure there is plenty of garlic and enough oregano to pack this salad dressing with flavour.
olive oil
red wine vinegar
lemon juice
minced garlic
dry oregano
white sugar
salt
pepper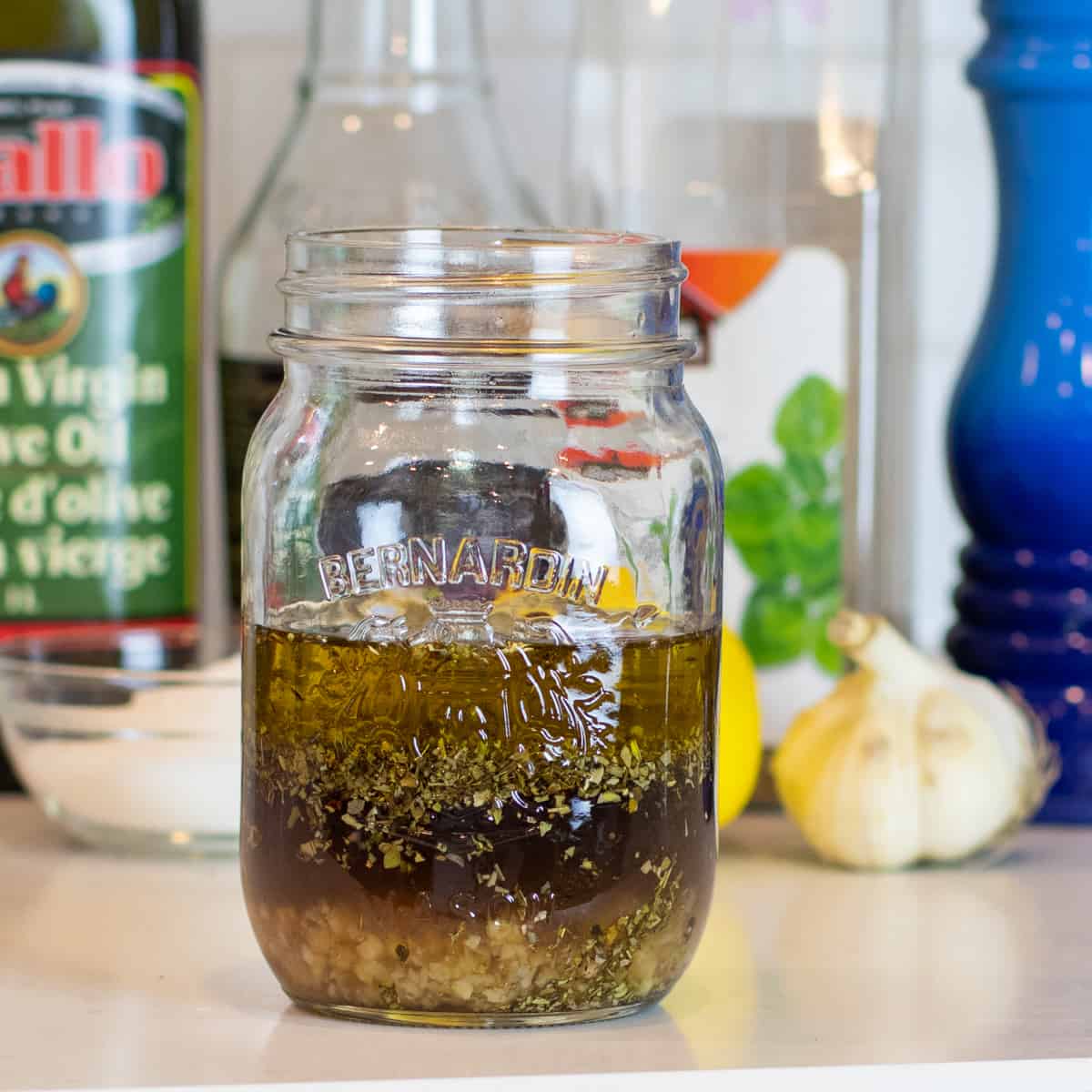 This salad dressing is best made ahead so that the aromatics can blend together in the oil and red wine vinegar. Then, I toss the chopped veggies and black olives in the dressing and let them marinate for at least an hour in the fridge. Do not include the lettuce in this because the leaves would get too soggy. I toss the lettuce and feta cheese with the marinated veggies and dressing, just before bringing the salad to the table.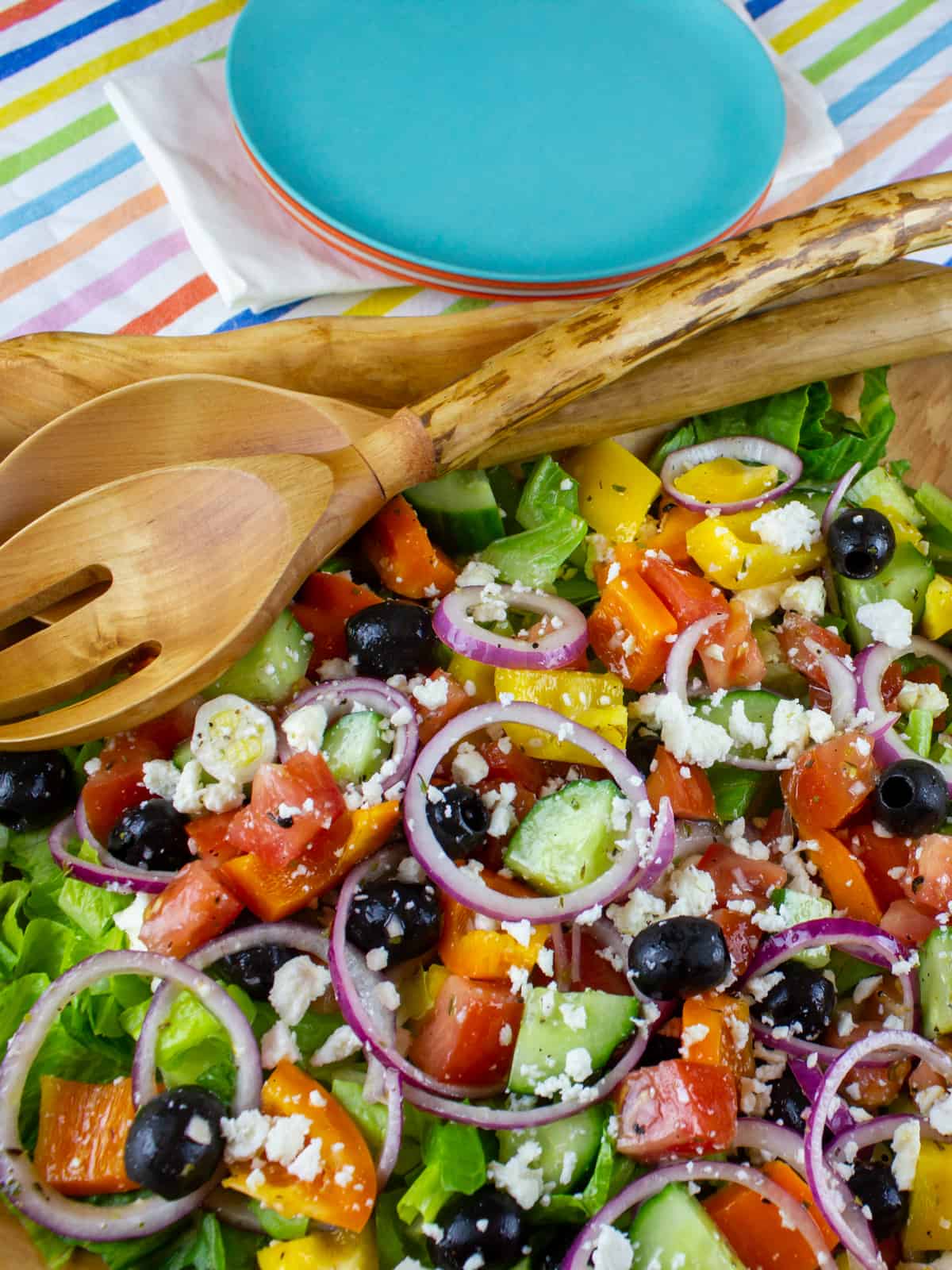 IHere are some other recipes that go very well with this homemade Greek salad:
Homemade Greek Salad with Dressing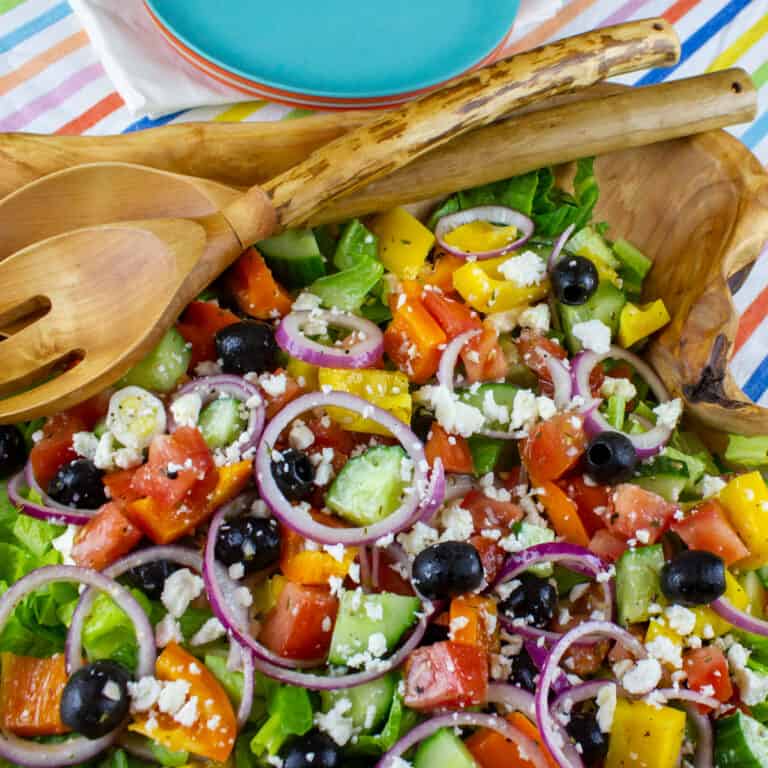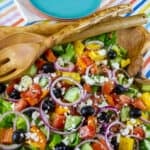 Print
This Greek salad is so good, packed with fresh ingredients, and especially delicious with a homemade vinaigrette.
Servings: 8
Ingredients
Greek Vinaigrette
1/2 cup olive oil
1/2 cup red wine vinegar
2 tbsp lemon juice
4 cloves garlic , minced
1 tbsp dry oregano
1 tsp salt
1/2 tsp black pepper
1 tsp sugar
Salad
3 tomatoes
1 english cucumber
2 sweet peppers (red, yellow or orange)
1 red onion
1 cup feta cheese , crumbled
1 1/2 cups black olives
1 large romaine lettuce
Instructions
Make the vinaigrette by mixing the oil, vinegar, lemon juice, garlic, oregano, salt, pepper and sugar. Let the dressing marinate for at least 30 minutes.

Chop up vegetables into large pieces.

Stir the salad vinaigrette in a large bowl with the chopped vegetables (minus the romaine lettuce) and olives.

Let the salad marinate at least 1 hour before serving.

Just prior to serving, toss in the chopped romaine lettuce leaves.

Sprinkle feta cheese on top.
Nutrition
Per serving:
Calories: 243kcalCarbohydrates: 10gProtein: 4gFat: 22gSaturated Fat: 5gCholesterol: 17mgSodium: 906mgFiber: 3gSugar: 4g