Hidden Valley Greek Tzatziki Roasted Vegetables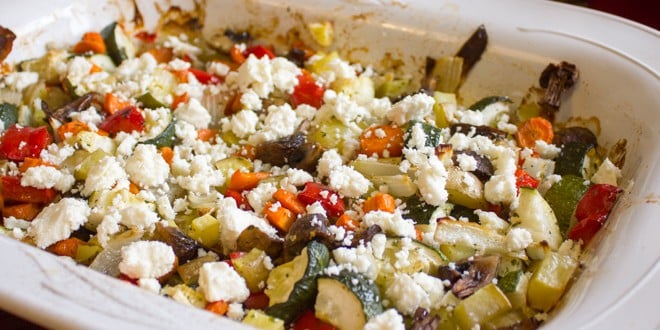 With the holidays approaching I am always on the lookout for a new side dish. It seems I never have a problem planning what meat will be served, but having a creative and tasty side dish proves to be a greater challenge. Also, I am regularly asked to bring side dishes to holiday parties and having a food blog can cause people to expect something different or unique. Well, today I have a fun twist on roasted vegetables.
Hidden Valley has gone Greek and they sent me some of their new products. They have a Greek Tzatziki Dressing and a Greek Tzatziki Dips mix. They challenged me to come up with an original recipe using one of their new Greek products. This is exciting for me because I love the flavours of Greek cuisine.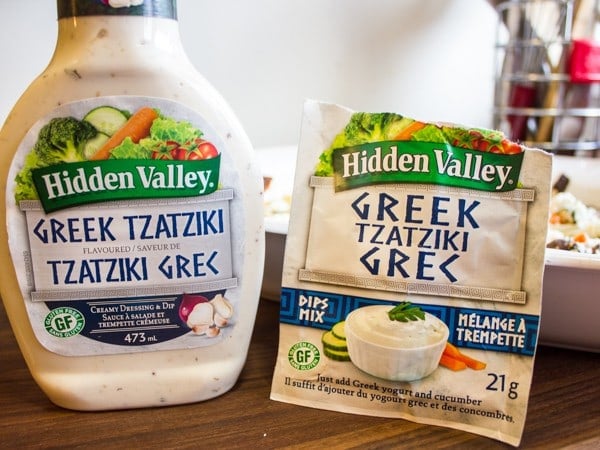 At first I was going to make something with the dressing as there are so many options with it. But, then I decided to get creating with the Greek Tzatziki Dip. I use the Hidden Valley Ranch Mix all the time to make roasted potatoes, so I figured I could use that idea but mix it up. Instead of just roasting potatoes, I roasted a whole bunch of mixed vegetables. Potatoes, zucchini, carrots, mushrooms, onions and peppers were all tossed with the Greek Tzatziki Dip mix and some olive oil. Then I spread them out in a roasting dish and put them in the oven for a good hour. Once the veggies were tender, I took them out and sprinkled some crumbled feta on top. OH YA! Gotta love crumbled feta.
The result was delicious.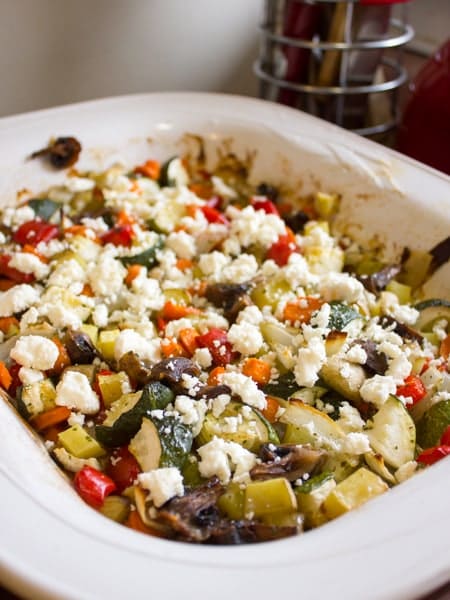 Hidden Valley Greek Tzatziki Roasted Vegetables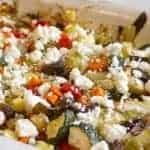 Print
Ingredients
1/2 onion , thinly sliced
1/2 red pepper , thinly sliced
1 zucchini , cut into small chunks (1 1/2 inch in size)
3 carrots , peeled and cut into very small chunks (1 inch in size)
3 potatoes , cut into very small chunks (1 inch in size)
10 mushrooms , quartered
1/4 cup olive oil
1 package Hidden Valley Greek Tzatziki Dip mix
1/2 cup crumbled feta cheese (optional)
Instructions
Preheat oven to 350F.

Place all ingredients in large roasting dish.

In a cup, whisk together the oil and Hidden Valley Greek Ranch Dip mix until dissolved. Pour over the vegetables and tons until evenly coated. Spread the vegetables so they are an even level in the roasting dish.

Place in the oven and roast until the vegetables are tender, about one hour.

If desired, sprinkle the crumbled feta over the vegetables. Serve.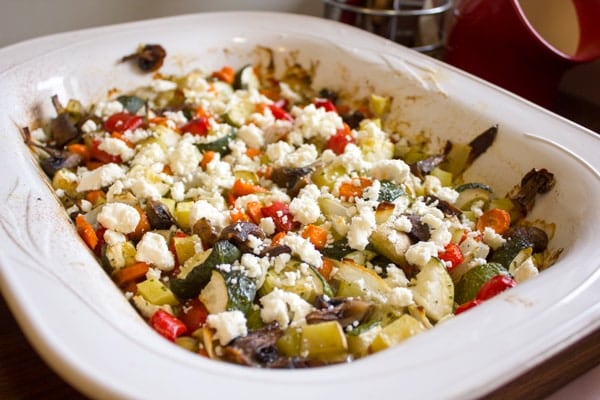 Disclosure: Hidden Valley provided me with the Greek Tzatziki Dressing and Dip mix along with a gift card, to purchase the ingredients for this recipe post. The thoughts and content of this post are all mine.