This homemade tzatziki is so easy to make and is perfect for Greek souvlaki, or grilled chicken, steak, pork chops and so much more.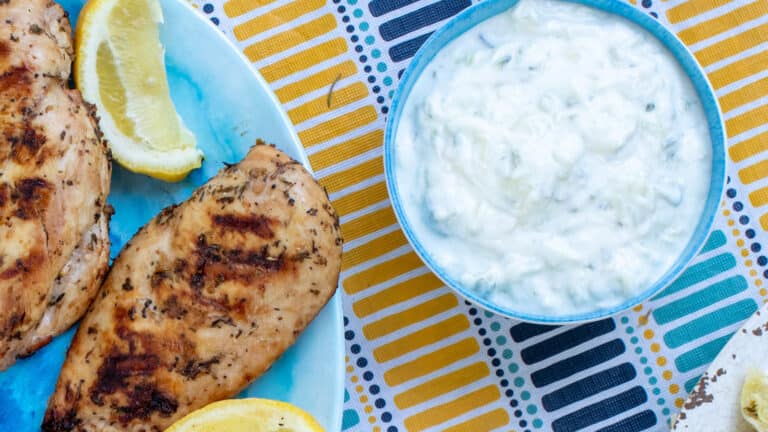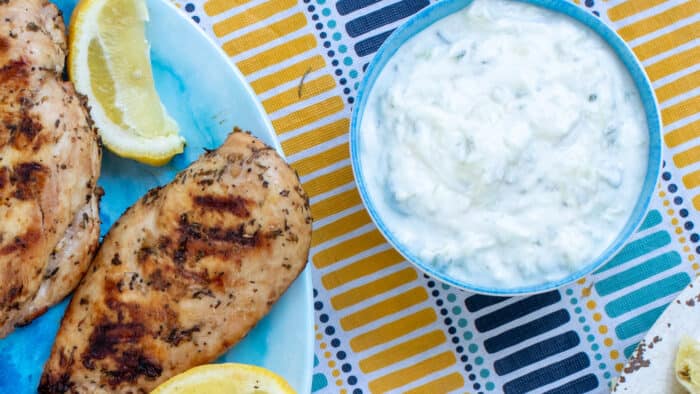 I love Greek food. My favourite greek meal is souvlaki, greek salad, pita bread and tzatziki. So delicious and the flavours are bright, fresh and great any time of year. We enjoy going out to some local Greek restaurants, but I often make these dishes at home. I especially love this homemade tzatziki and find myself making it all the time.
Tzatziki is a yogurt and cucumber based dip popular as an appetizer with bread or pitas. Tzatziki also is great as an accompaniment to souvlaki or other grilled meat. This dip is creamy and full of flavour. Along with the Greek yogurt, and grated cucumber, there is also lemon juice, minced garlic and fresh dill. Fresh mint or parsley can be used instead of the dill.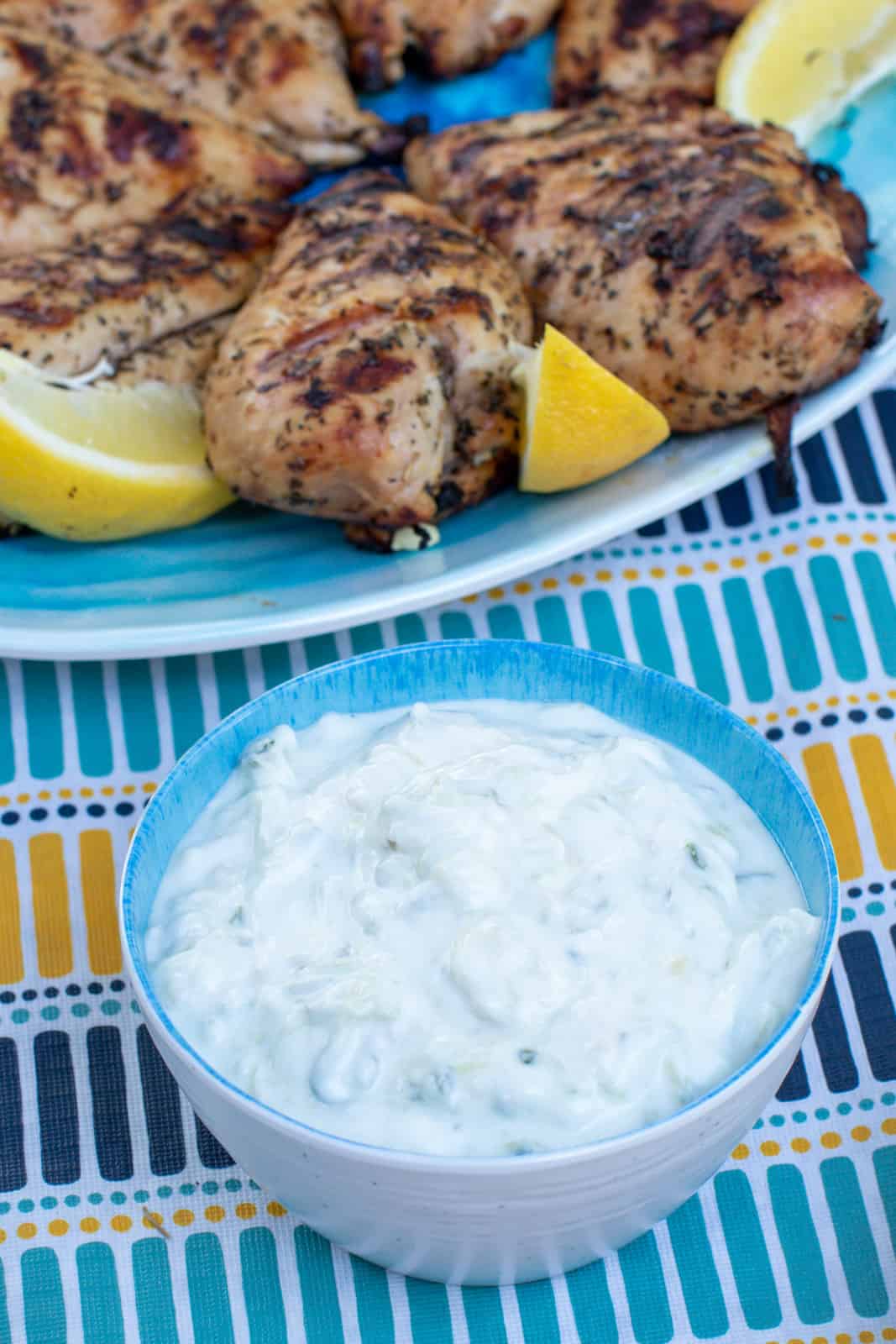 How to Make Tzatziki
The first step to making homemade tzatziki is by preparing the cucumber. I use an English cucumber, but any type of cucumber should work fine. If desired, you can peel the cucumber. I don't generally peel English cucumbers, but some other types have a thicker peel, so removing it might be better for the tzatziki.
Grate the cucumber and then, using your hands, squeeze out as much of the juice/liquid from the grated cucumber as you can. Discard the cucumber juice and place the grated cucumber in a medium sized bowl. Add the remaining ingredients and stir until everything is mixed together and the tzatziki has a smooth consistency.
Cover the bowl with either a lid or some plastic wrap and place in the fridge. I like to let it stay in the fridge for around an hour to allow the flavours to combine.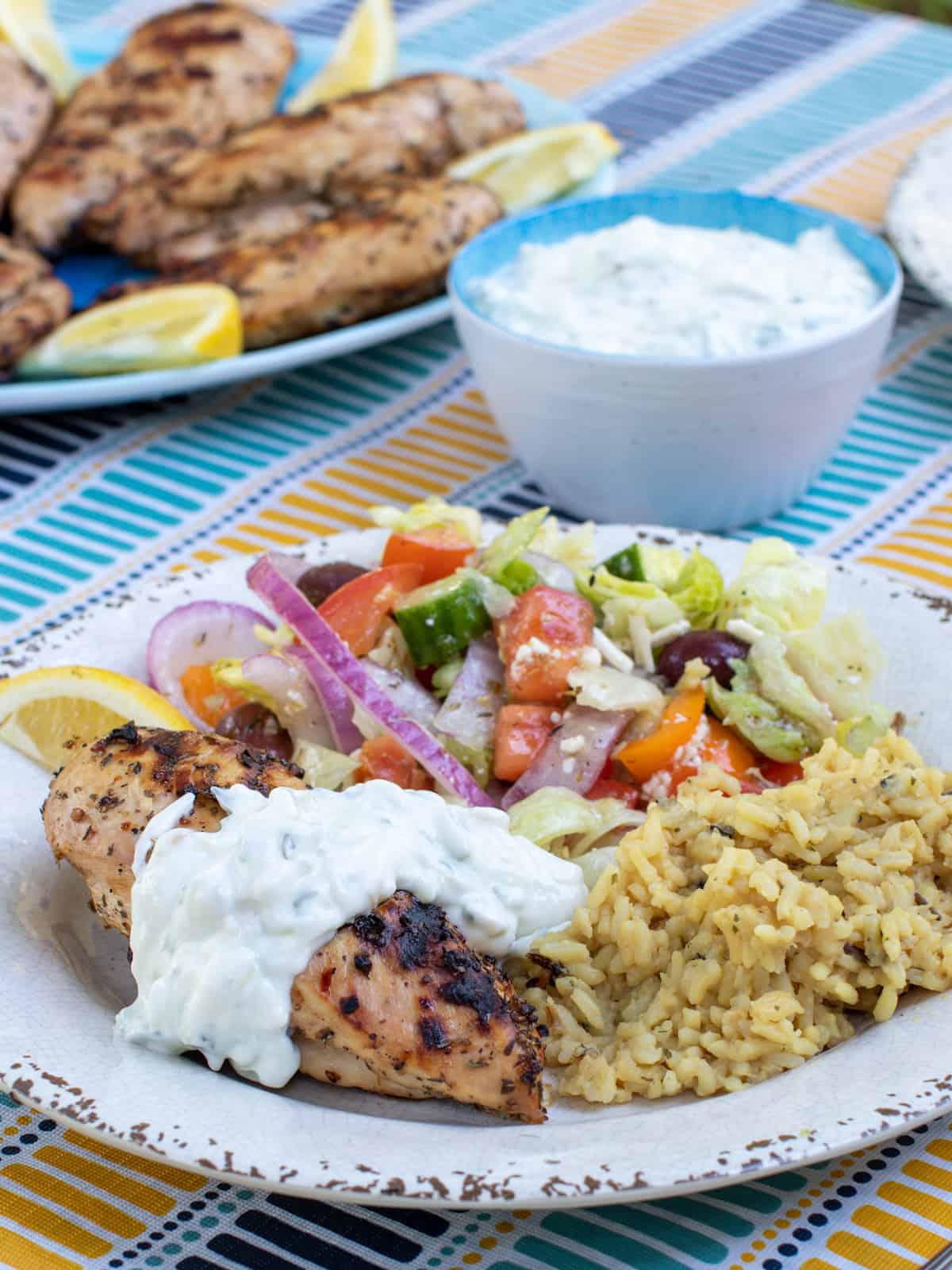 A Greek Dinner!
Here are a few other Greek recipes that would go very well with this homemade tzatziki.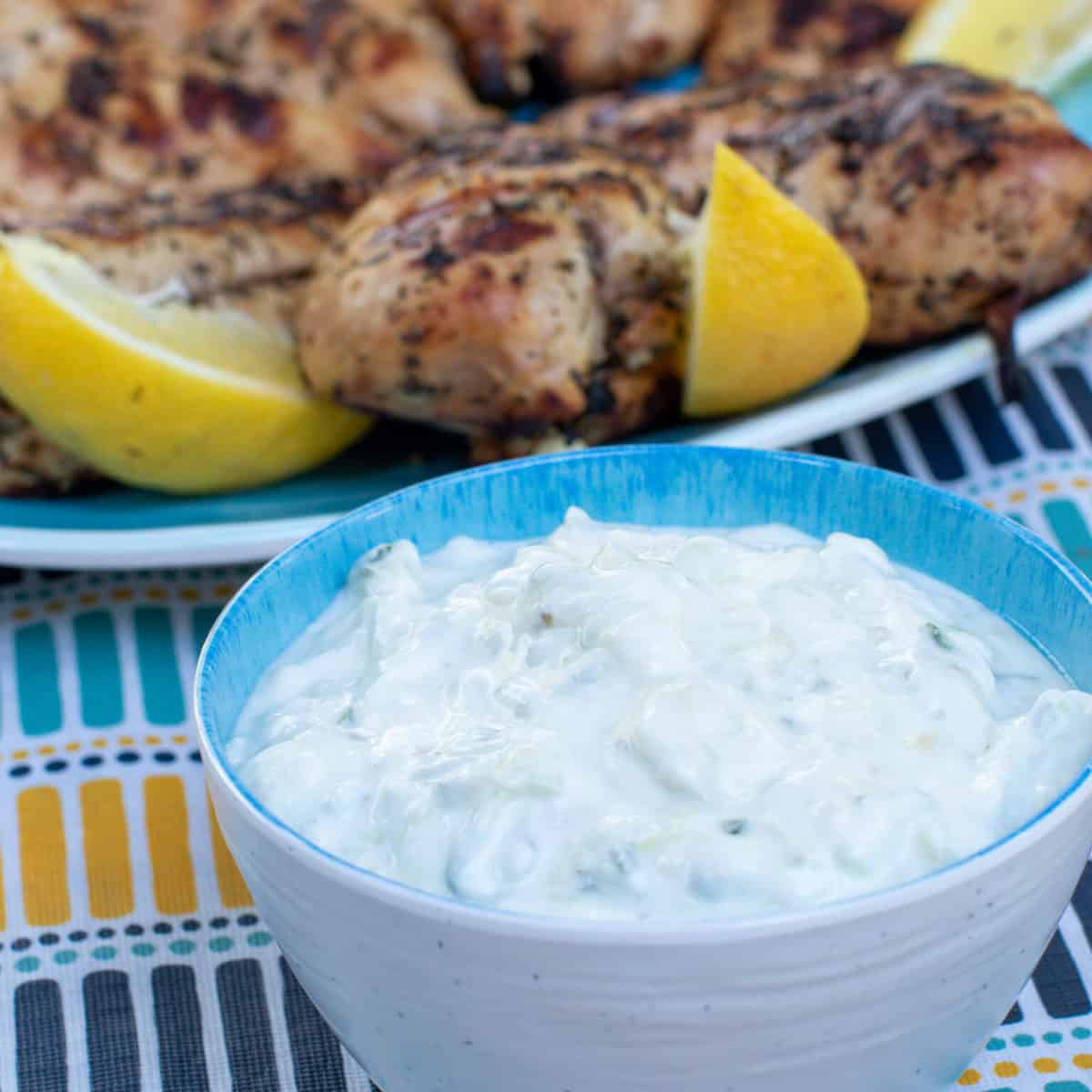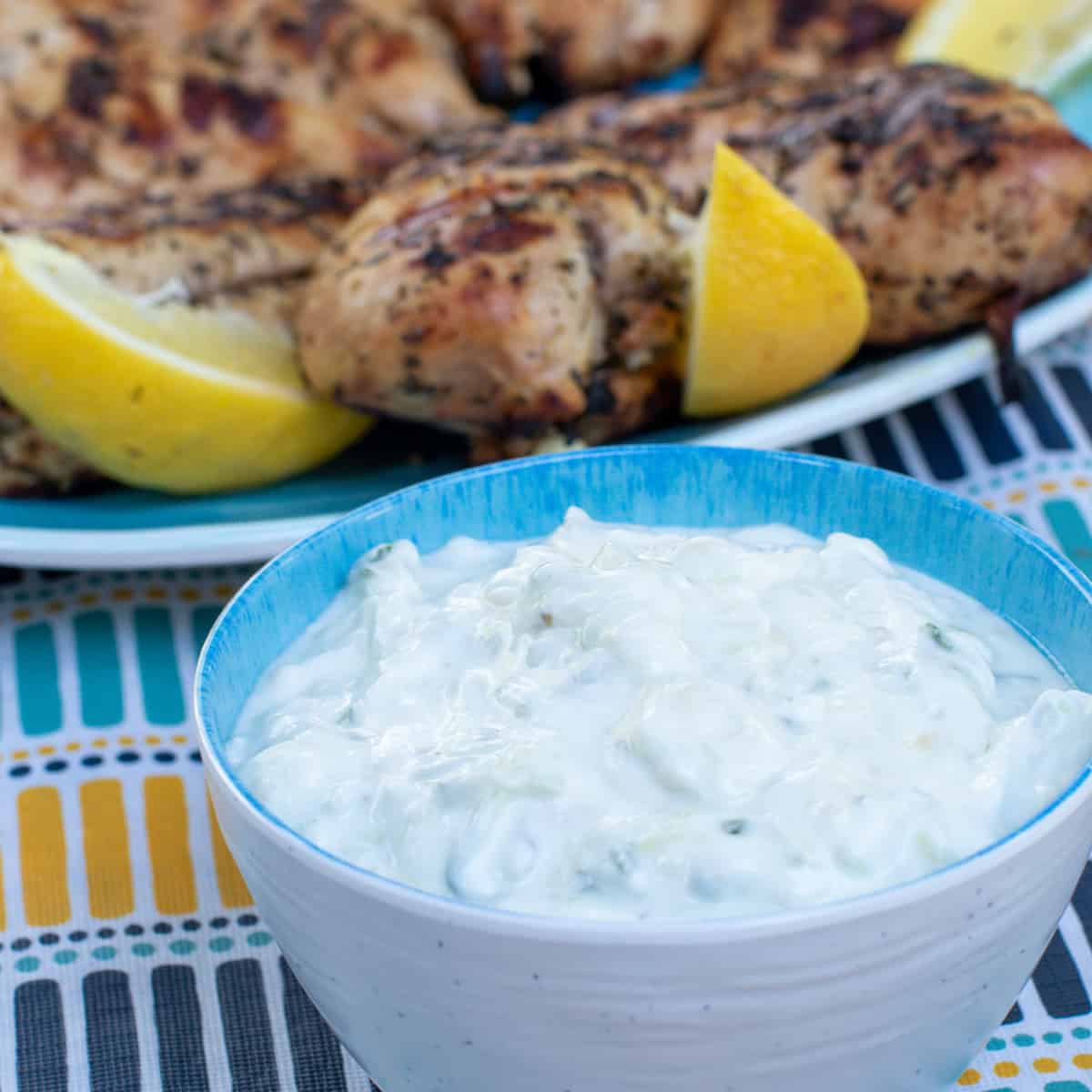 Greek Tzatziki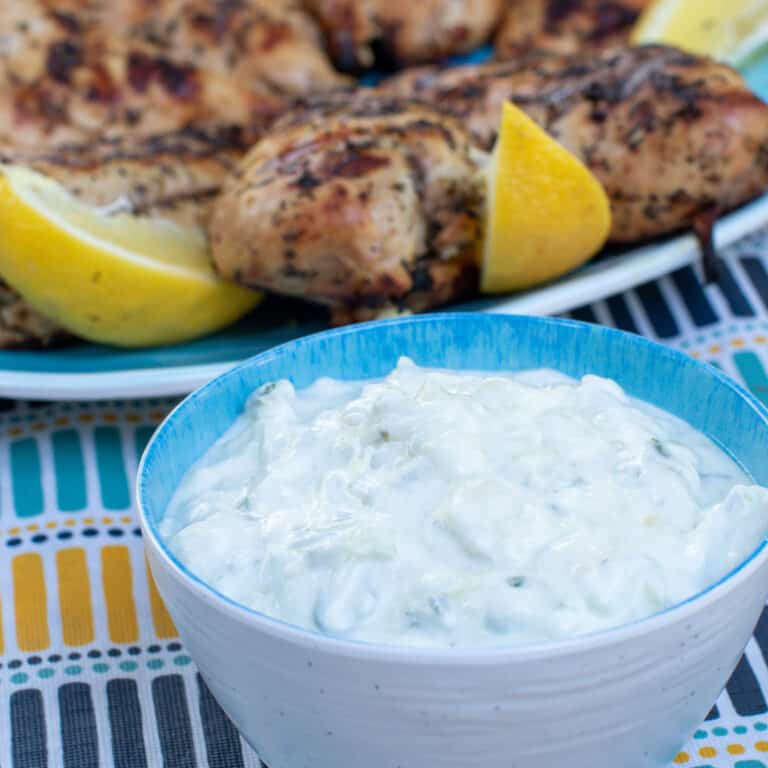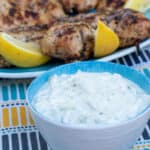 Print
Simple recipe for how to make tzatziki with Greek yogurt, cucumber, fresh dill and more. Perfect for souvlaki, chicken, pork, lamb and beef.
Servings: 8
Ingredients
2 cups Greek yogurt , plain
1/2 english cucumber
1 tbsp lemon juice
3 tbsp olive oil
2 garlic cloves , minced
2 tbsp fresh dill , finely chopped
1/2 tsp salt
Instructions
Grate the cucumber and, using your hands, squeeze as much of the juice from the grated cucumber as possible. Discard the juice.

Mix the grated cucumber with the remaining ingredients, in a bowl, until smooth and creamy.

Cover bowl with lid or plastic wrap and place the tzatziki in the fridge for 30-60 minutes to allow the flavours to blend.

Serve as an appetizer with pita or as an accompaniment with souvlaki, grilled chicken, steak and more.
Nutrition
Per serving:
Calories: 80kcalCarbohydrates: 3gProtein: 5gFat: 5gSaturated Fat: 1gCholesterol: 3mgSodium: 164mgFiber: 1gSugar: 2g