These drumsticks are packed with flavour. They are great as part of an Indian meal, BBQ picnic and more. Excellent served with a bed of rice, or naan bread.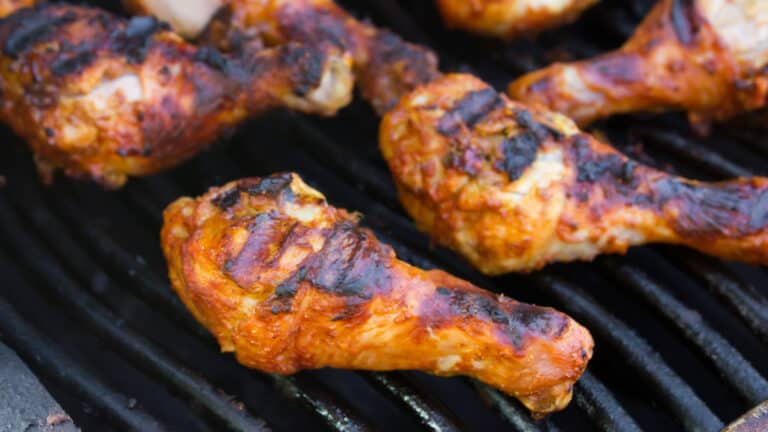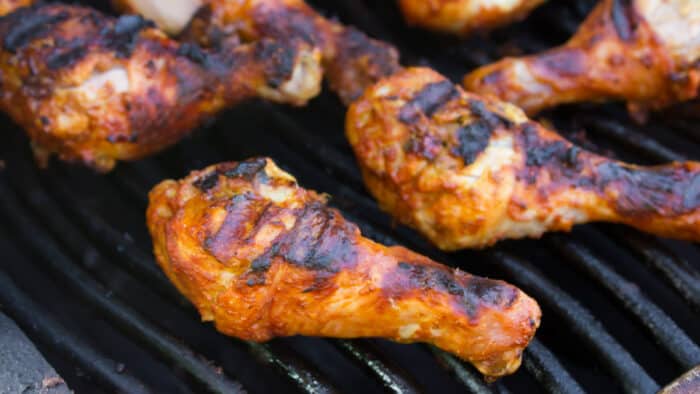 Sometimes the best meat is the cheapest meat and these grilled tandoori chicken drumsticks prove that statement correct. There is an Indian buffet near my house and I love their tandoori chicken. Every time I go up with my plate, I make sure to throw on a couple of drumsticks.
Tandoori chicken is so delicious and it is surprisingly easy to make at home on your grill. This recipe will work great on a gas grill, charcoal grill and even a wood fired pellet grill!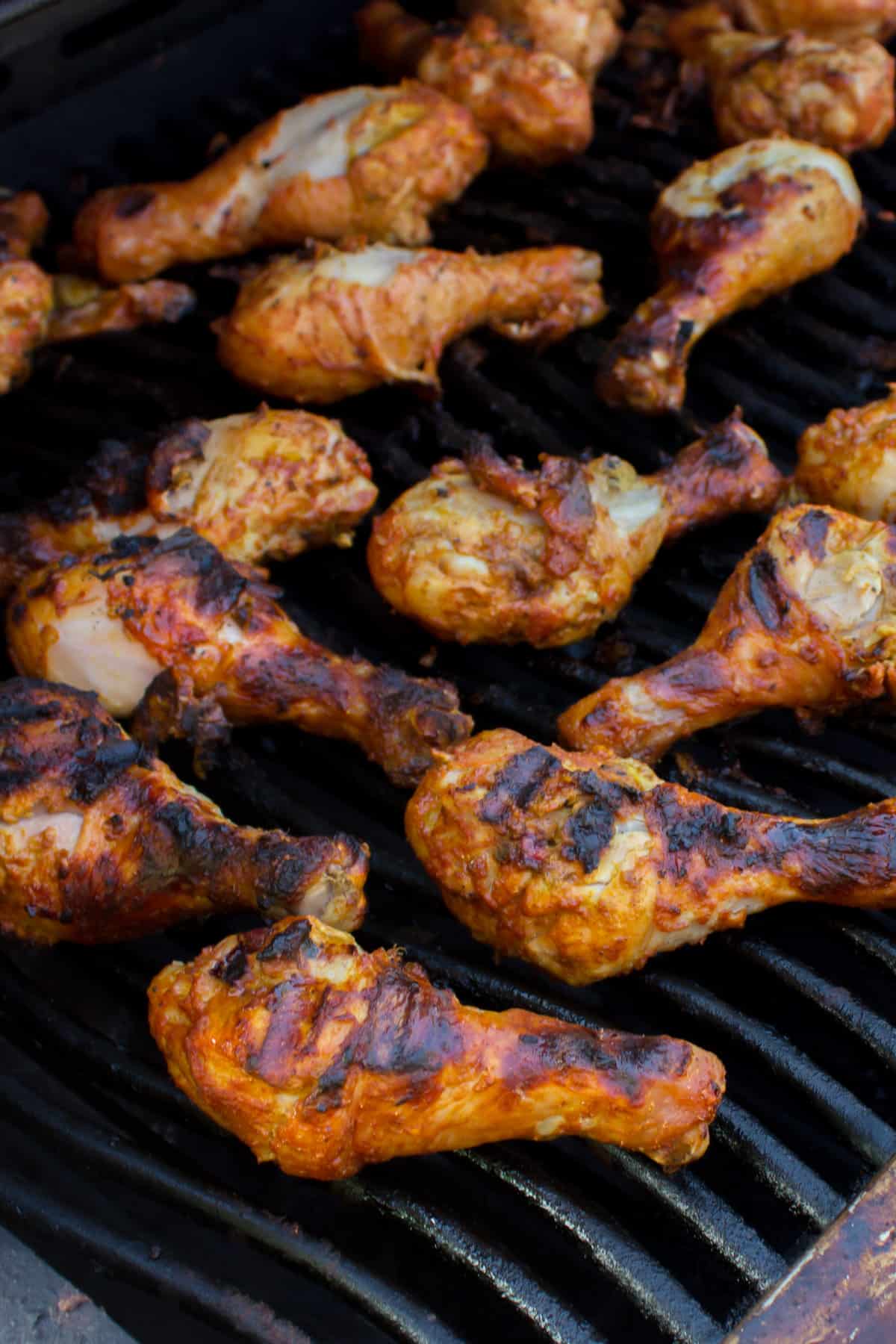 Ingredient Notes
Chicken Drumsticks
Yogurt – Make sure to use plain unsweetened and unflavoured yogurt. I also like to use 2% or 3% fat yogurt, but lower and even non fat yogurt will work fine.
Garlic – whole garlic cloves are best, but garlic paste or minced garlic in a jar will also work.
Ginger – I use a whole ginger piece and peel the skin off.
Garam Masala – a blend of spices that is commonplace in Indian cuisine.
Cumin – ground cumin is best for tandoori chicken
Paprika
Turmeric – I use ground dry turmeric
Cayenne pepper – or ground hot chili pepper
Ground coriander
Ground cardamom
Salt
Pepper
Lemon juice – this adds a nice tang to the seasoning on the chicken
Red Food Colouring? If you purchase a jar of tandoori paste, or order tandoori chicken at a restaurant, you will notice a red colour on the chicken. Some recipes use annatto seed, red chili pepper or paprika to give the red colour, but that deep red seen on a lot of tandoori chicken is, many times, food colouring. If you do not care whether it is red or not then simply omit it from the recipe.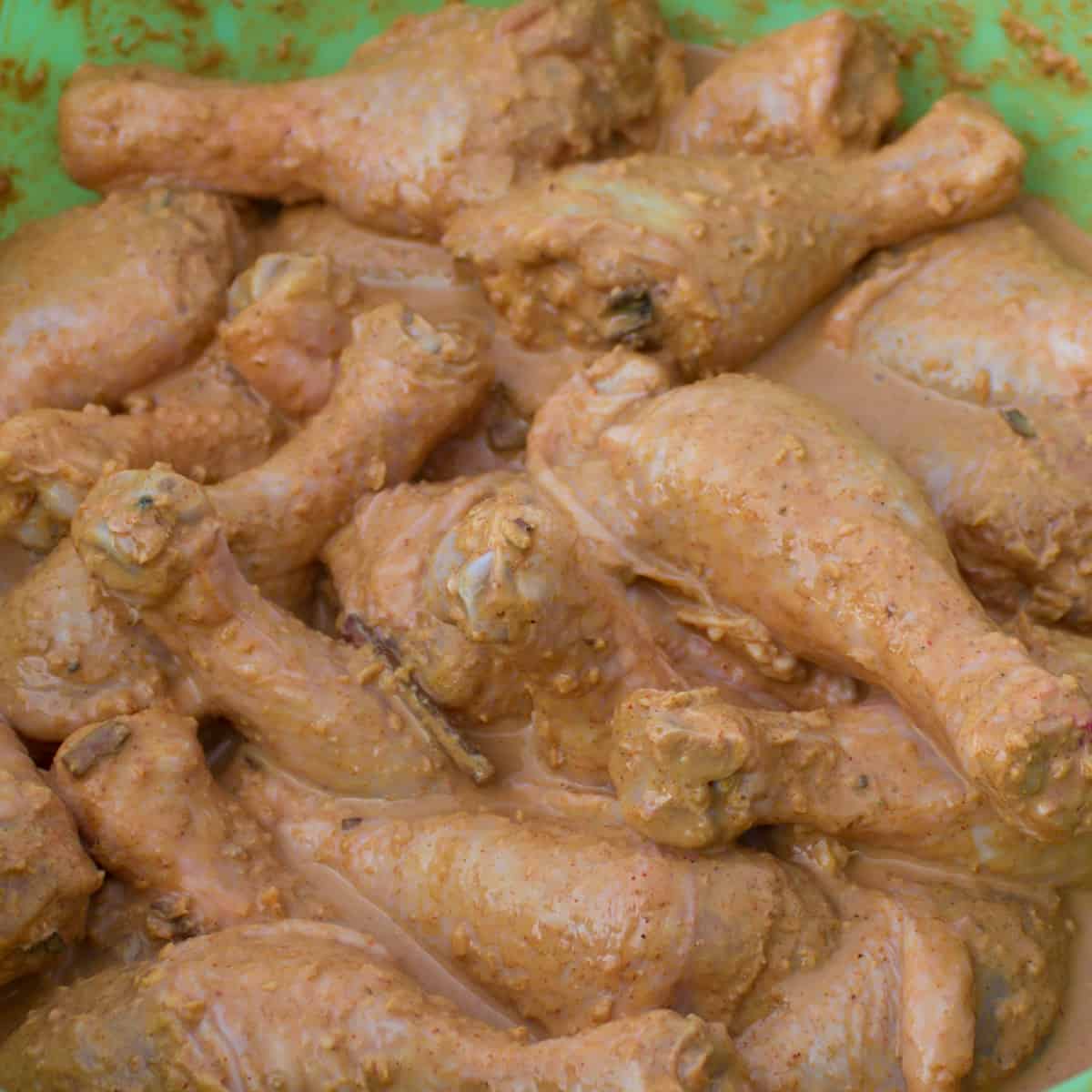 How To Make Tandoori Paste
Tandoori chicken is an amazingly simple way to make grilled chicken drumsticks. All that is required is about 5 minutes to make the marinade and a couple hours to let the chicken marinate. Add all the garlic, ginger and spices to a food processor and pulse until a smooth paste is formed. Then add in the yogurt, lemon juice and optional red food colouring and blend until smooth.
Can We Use Whole Spices? Some spices like cumin, coriander and cardamom have whole seeds or pods that can be purchased and used in cooking. While I use them in some Indian cuisine, I find that using the spices already ground to be better in this recipe for grilled tandoori chicken because the food processor will not blend the spices smooth enough and the paste could end up gritty.
Once the tandoori paste is formed, it is time to marinate the chicken! Toss the chicken in the marinade and cover the bowl with lid or plastic wrap. Place in the fridge for 2 hours to marinate.
Can The Chicken Marinate Overnight? Yes – I often prepare the marinade the day before and let the chicken marinate in the fridge overnight and it works great.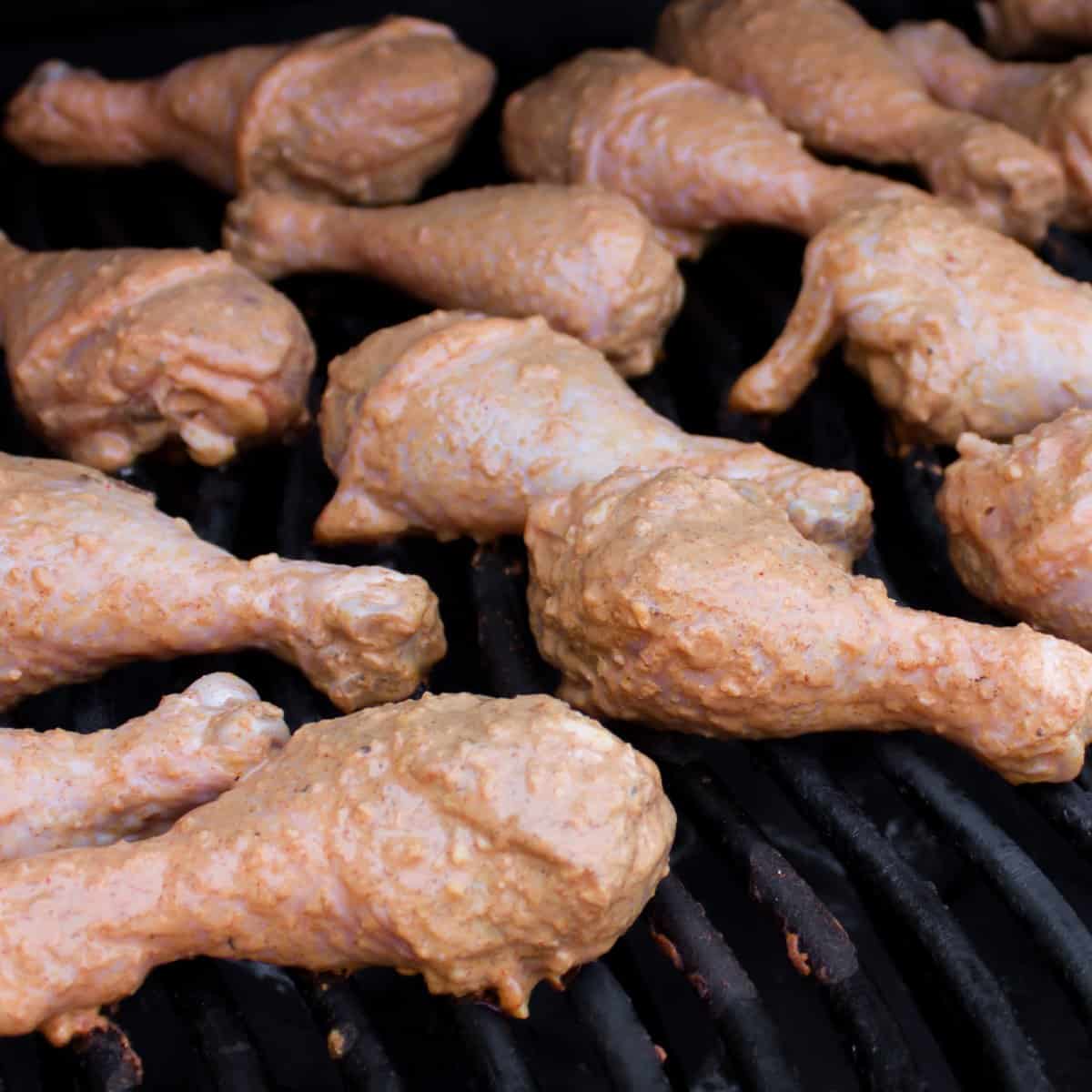 How To Grill Chicken Drumsticks
Grilling chicken drumsticks is best done using the indirect grill method. To do this, only turn on the burners on one side of the grill. Preheat the grill to 350F. Place the chicken drumsticks on the side of the grill with the burners turned off.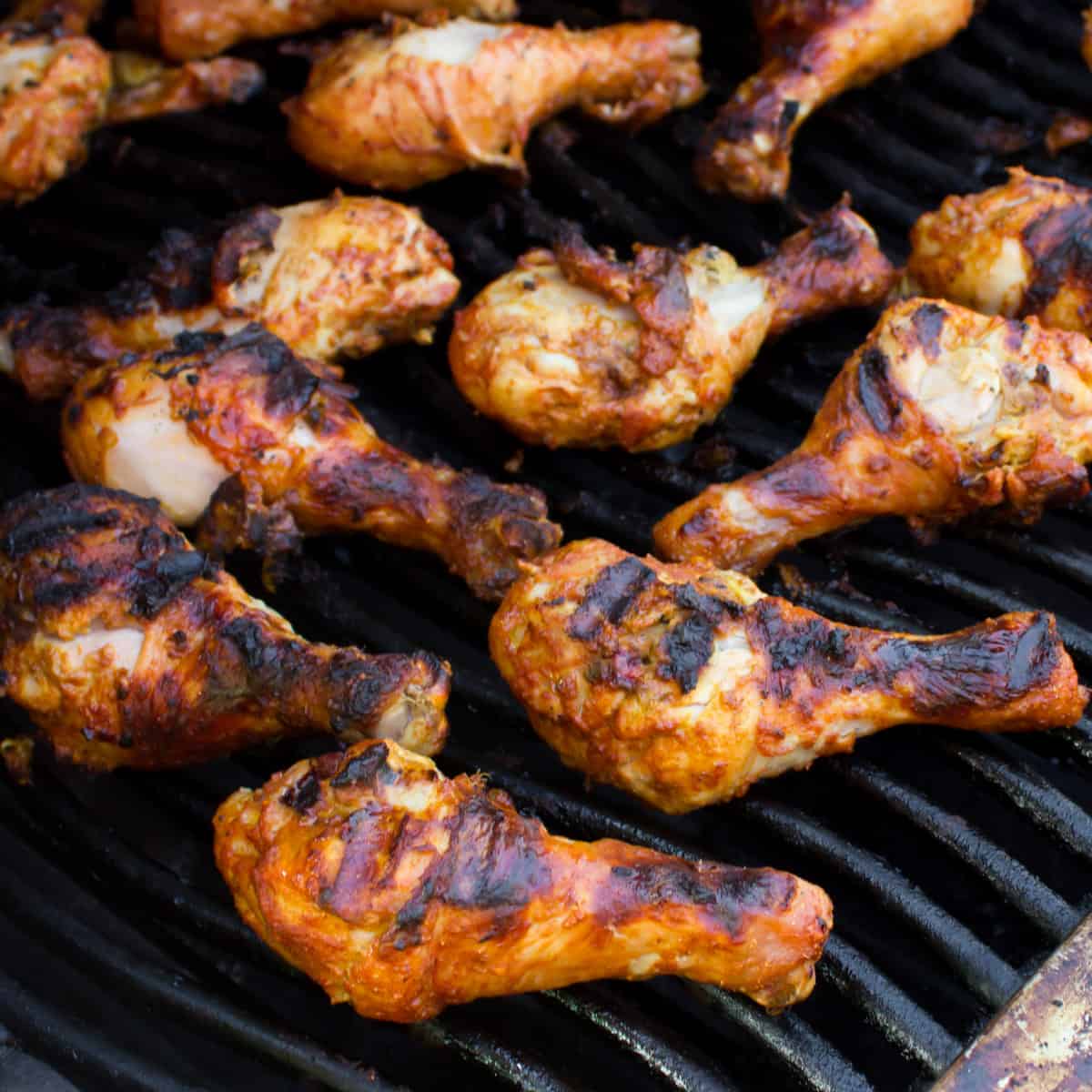 Close the lid and cook until the chicken reads 175-180F in the centre of the meat, when checked with a digital thermometer. During the grilling, turn the drumsticks over every once in a while to ensure an even cooking.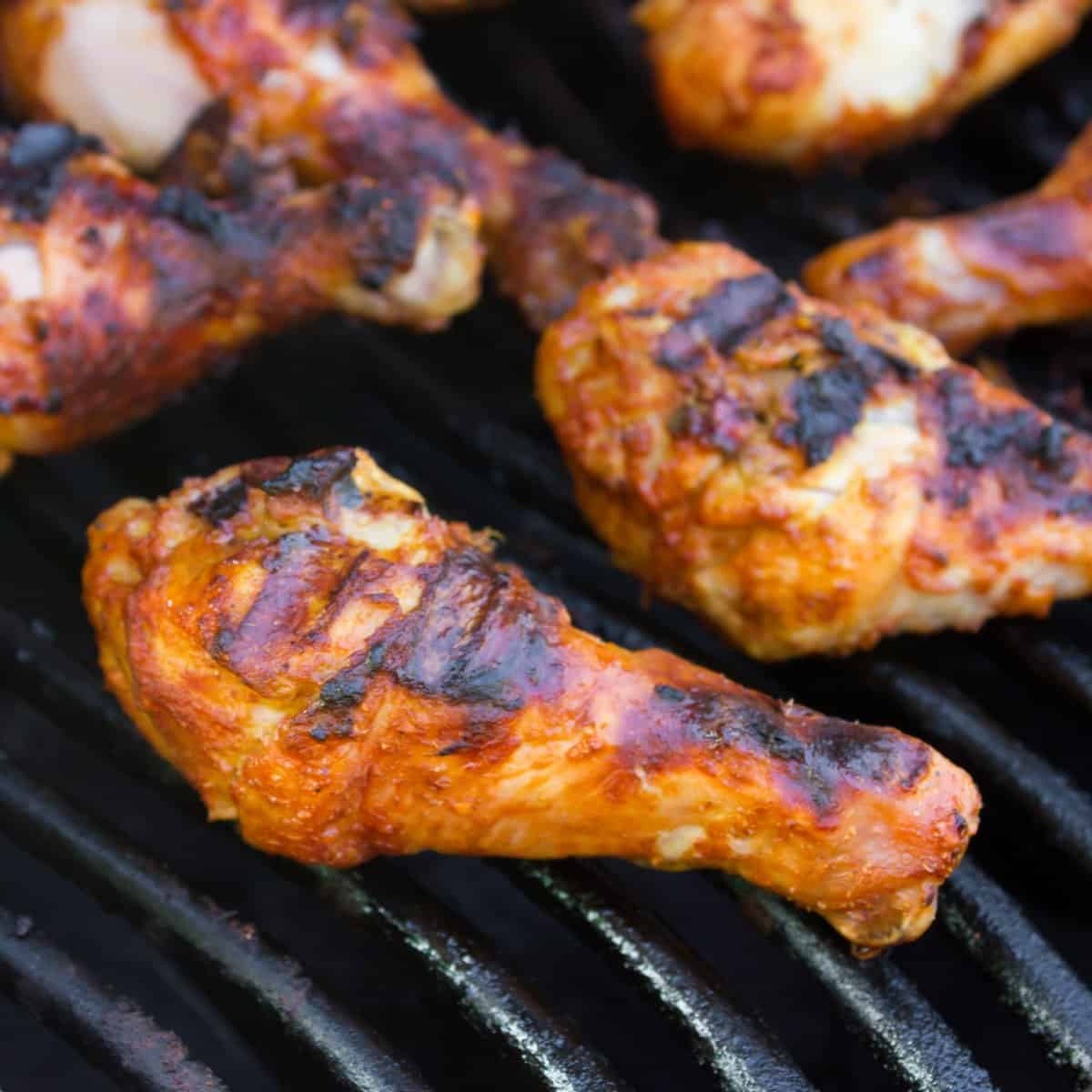 More Chicken Drumstick Recipes!
While these grilled tandoori chicken is likely my favourite way to prepare drumsticks, here are a number of other recipes using this piece of chicken.
Grilled Tandoori Chicken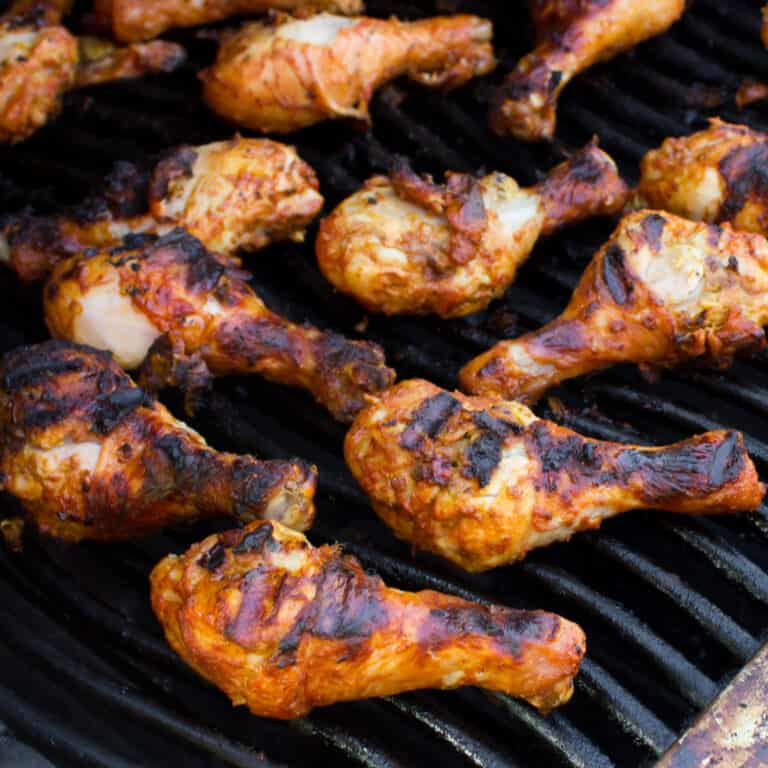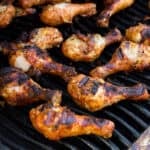 Print
Tandoori chicken is easy to make with only 5-10 minutes of prep. Tandoori chicken is typically deep red in colour and full of Indian spice and flavour! Easy instructions for how to grill chicken drumsticks.
Servings: 16 drumsticks
Ingredients
16 chicken drumsticks
2 cups yogurt
6 cloves garlic
2 inch ginger peeled
2 tbsp garam masala
2 tsp cumin
1 1/2 tsp turmeric
1 1/2 tsp paprika
1 1/2 tsp coriander powder
1/2 tsp ground cardamom
1 tsp cayenne pepper
2 tsp salt
1 tsp pepper
1/4 cup lemon juice
red food colouring (optional)
Instructions
Prepare the tandoori marinade by blending everything except the yogurt, food colouring and chicken in a food processor. Process until a smooth paste is formed. Blend in the yogurt and, if desired, a few drops of red food colouring.

Mix the marinade in with the chicken drumsticks and marinate in the fridge for a minimum of 2 hours.

Cook using indirect grilling on grill set to medium heat for 30 minutes or until the internal temperature reads 175-180F.

Move the chicken to be over the heat and use direct grilling for a couple minutes per side to crisp up the skin.
Nutrition
Per serving:
Calories: 148kcalCarbohydrates: 3gProtein: 15gFat: 8gSaturated Fat: 3gCholesterol: 74mgSodium: 385mgFiber: 0.5gSugar: 2g
This recipe was originally posted in March 2012.