Smoked Chicken Drumsticks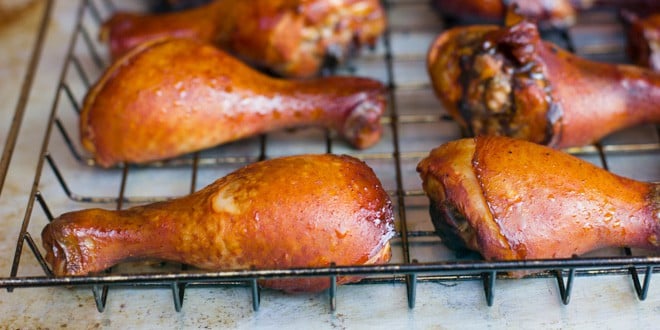 Smoked chicken drumsticks are one of the most popular things I cook in the smoker. My family goes nuts over them and they get gobbled up so quickly. Smoking chicken drumsticks could not be easier and almost any smoker can hold lots of drumsticks so it is easy to feed a crowd.
I used to wonder how long to smoke chicken drumsticks and I have found that it is good to give plenty of time because you do want to make sure that the drumsticks are tender, and you do not need to worry about the meat drying out like chicken breasts.
If you ever want to do a whole chicken you can check out my post here: How to Smoke a Whole Chicken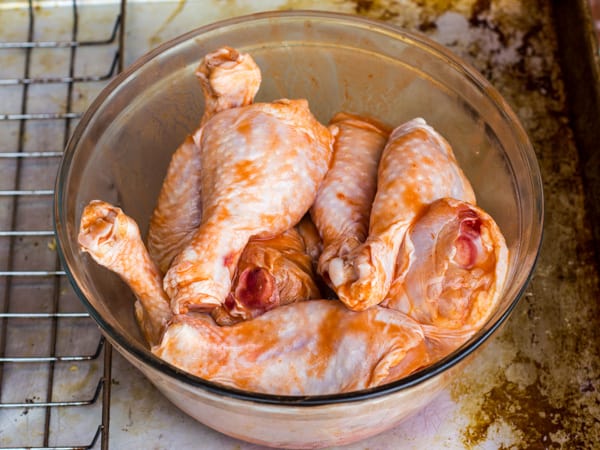 Smoked chicken drumsticks have so much flavour on their own, but it is nice to also put some seasoning on them. There are so many different marinades and rubs that you can use on the chicken drumsticks. The options are endless really.
Here are a few different spice rub recipes that work great on chicken drumsticks: Steve's Basic BBQ Rub, Curry in a Hurry Rub, Island Spice Rub.
All of these spice rubs above work great, but you can also go on the more simple end and just season with salt and pepper.
For these, all I did was tossed the drumsticks in hot sauce and placed them in the fridge to marinate for an hour or so.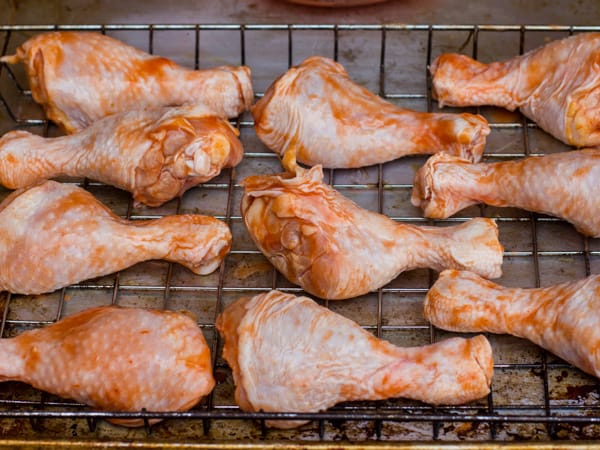 Take the chicken drumsticks out of the fridge and place them on the smoker rack. If you want you could add more seasoning or sauce on the chicken.
Preheat the smoker to 250F.
For wood, the nice thing about chicken is that almost any wood works to provide a nice flavoured chicken. Hickory, oak, maple and pecan all are excellent choices of wood, but my favourite wood for chicken are the fruit woods. Apple, cherry and peach are all excellent for smoking chicken and give the meat an awesome sweet smoky taste.
Once the smoker is at 250F place the chicken drumsticks in the smoker.
I smoke the drumsticks for a good 2 1/2 hours. Chicken is fully cooked at 165F, but I find that drumsticks need to be cooked to a higher temperature. Usually, I smoke them until they reach at least 180F.
While the chicken drumsticks are delicious with a perfectly smoky flavour and tender and juicy meat, the one downside of smoking chicken is that the skin does not really crisp up. This is due to the fact that the lower temperature of the smoker does not allow the skin to be crispy.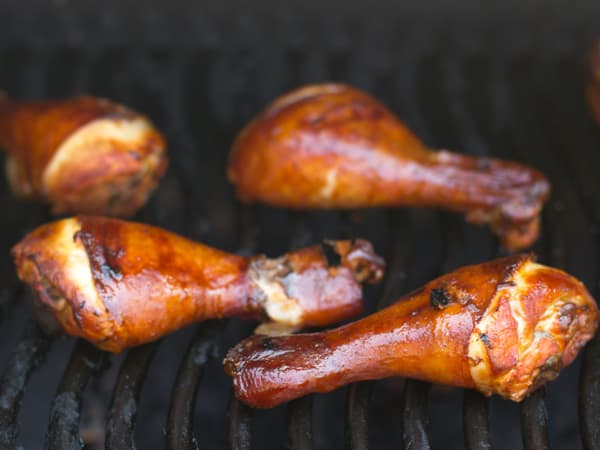 If you do really want the skin to be crispy, you can finish the chicken drumsticks on the grill. Heat the grill to high and then throw on the drumsticks. Watch them closely, and after a couple minutes turn them to crisp the other side.
If you want, you can also brush them with BBQ sauce or other sauce while they are grilling. Here are a couple of BBQ sauces that work well with smoked chicken: Dr. Pepper BBQ Sauce, Guinness BBQ Sauce.
Smoked Chicken Drumsticks Recipe - How long to smoke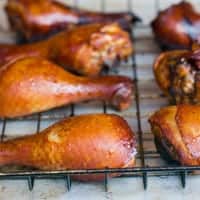 Print
Smoked chicken drumsticks could not be easier with these simple instructions. for how long to smoke chicken drumsticks. This recipe works for traditional smokers, Bradley electric smokers and even kamado styles like the Big Green Egg.
Servings: 4 people
Ingredients
10 chicken drumsticks
1/3 cup hot sauce (Franks or some other brand)
2 tsp garlic powder
1 tsp salt
Instructions
Mix hot sauce with the garlic powder and salt.

In a bowl, pour the mixture over the chicken drumsticks and toss until evenly coated. Cover with plastic wrap and place in the fridge for one hour.

Fire up the smoker using wood of choice (I use apple usually). Get the temperature to 250F.

Place chicken drumsticks on a rack and place in the smoker. Smoke for about 2 1/2 hours. Smoke until the internal temperature of the chicken is 180F.

If desired, sear on a gas grill at high heat to crisp the skin.