Make Your Own Bean Soup Mix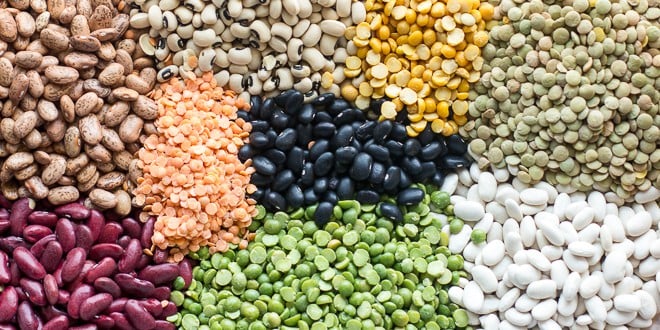 Bean soup mix is so tasty and healthy. It is such a hearty soup with all the different beans that make it colourful and every bite different. While there are specific packages of mixed dry beans for soup, I actually like to make my own mix. I buy beans either from the bulk store or buy bagged beans of each kind that I want in the mix.
15 bean soup mix by Hurst Beans is quite popular and you can make your own, whether it has 10 beans like this recipe, or more. This dry bean soup mix is excellent for making soup in a large pot on the stovetop, slow cooker or pressure cooker (yay Instant Pot).
Now, be prepared, if making soup with these beans in a slow cooker or on the stovetop, it is necessary to soak the beans overnight in water. The great things about making soup in an electric pressure cooker is that it is not necessary to soak the beans ahead. They can go right into the pot with the rest of the ingredients.
Normally, I make bean soup with a ham bone, but it is also great with bacon or even as a vegetarian soup!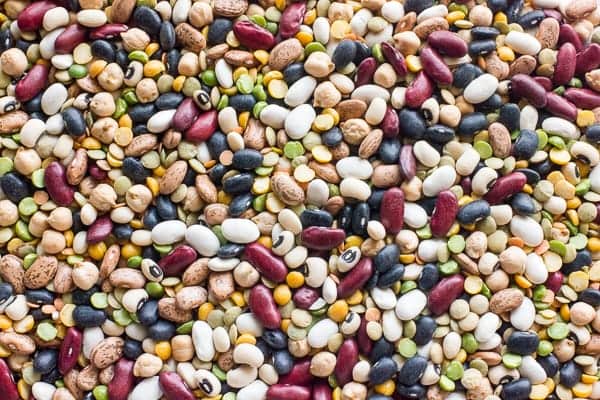 There are so many different types of beans that you can use and there are options beyond what is even in this recipe. Here are a bunch of beans/peas that work great. Feel free to mix any blend or your favourite dry beans – use just a few or throw in lots.
red kidney
white kidney
black eyed pea
garbanzo bean / chick pea
pinto beans
lentils (brown, green, red, etc.)
split peas (green or yellow)
great northern beans
lima beans (large or small)
romano beans
navy beans
and so many more!
Some people also like to add rice and/or barley to their soup mix. I prefer to keep it separate from the bean mix that I store in the pantry. If I desire to add rice or barley to a soup that I am making, I will add some then to the pot with the bean mix.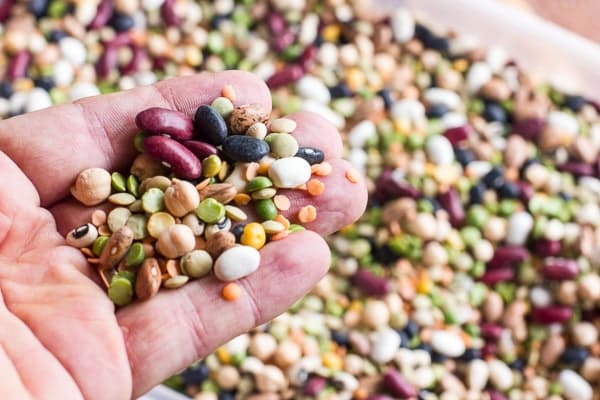 I measure out equal amounts of each type of bean. I like to store a large amount in my pantry so I usually double this recipe and that amount fits perfectly in the airtight container I store the beans in. Then, they are ready anytime I want to make some soup.
This bean mix is also great as a gift. Measure out equal amounts into mason jars or other gift container. It is also nice to include a recipe that works with the exact amount of beans you have in the jar for them.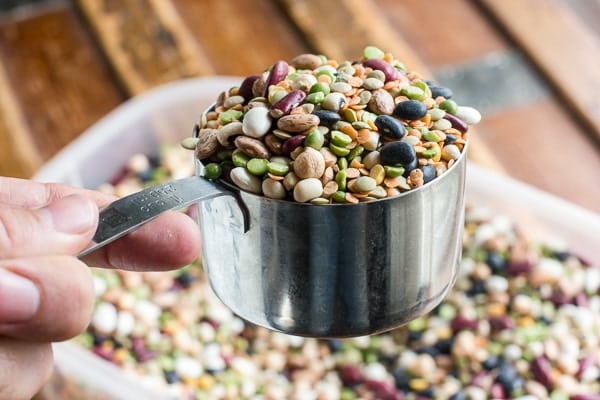 For a recipe using these beans, check out: Bean Soup with Bacon – Pressure Cooker Recipe
Bean Soup Mix - make your own dry mix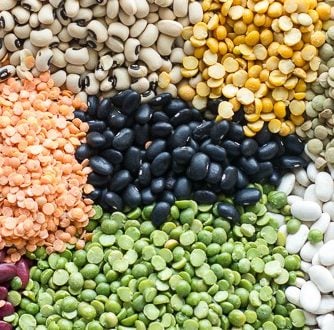 Print
15 bean soup mix is so popular, here is a recipe for 10 bean mix. Buy the beans in bulk and keep this mix stored in your pantry for the next time you want to make soup. Great for stovetop, slow cooker and pressure cooker soup recipes!
Servings: 10 cups
Ingredients
1 cup red kidney beans
1 cup great northern beans
1 cup black turtle beans
1 cup pinto beans
1 cup garbanzo beans (chick peas)
1 cup brown lentils
1 cup red split lentils
1 cup green split peas
1 cup yellow split peas
1 cup black eyed peas
Instructions
Pour all the beans in a large bowl. Mix all the beans together.

Store in a dry air tight container
Notes
This bean soup mix makes a great gift! Pour them in mason jars or other gift container. I would recommend 2 or 3 cups or beans for each gift.