Bean Soup with Bacon – Pressure Cooker Recipe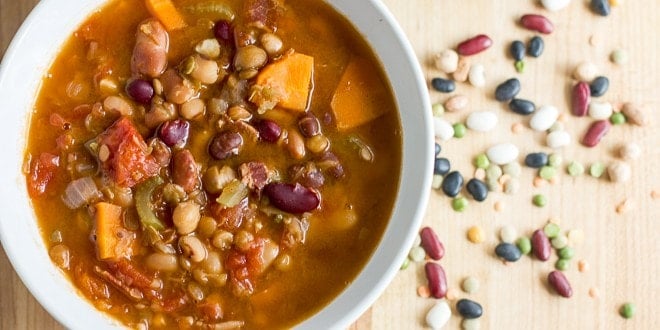 Sometimes I don't plan ahead with my meals. Either I didn't go to the store or did not take some meat out of the freezer to thaw. It is in those times that I love my pressure cooker. Electric pressure cookers, like the Instant Pot, allows you to make a meal much faster than than it would take using the stove or slow cooker.
Here is a recipe for pressure cooker bean soup with bacon. This is great because it is all stuff that you probably have on hand and can be made pretty fast for soup. There is very little prep that is needed for this soup, just cutting up the bacon and dicing a few vegetables.
After that, you let the pressure cooker take care of the rest.
The recipe calls for 3 cups of mixed dry beans. You can use prepackaged beans or make your own mix of dry beans. If you want a recipe for making your own mixture, check out my recipe – Make Your Own Bean Soup Mix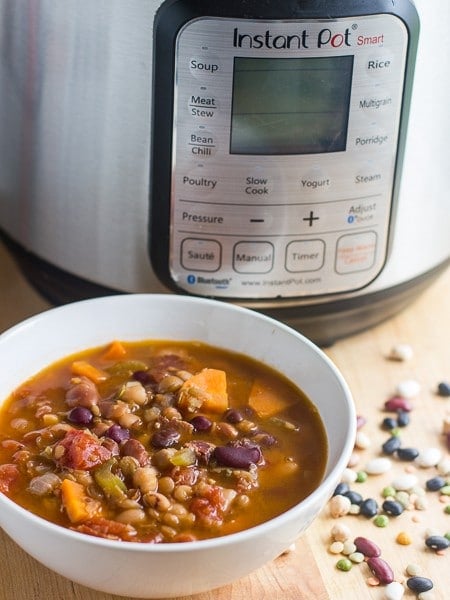 The great thing about using a pressure cooker is that you do not need to soak the beans before you make the soup. Normally for a stovetop or slow cooker bean soup you need to soak the beans overnight. Not with an electric pressure cooker!
It doesn't matter if you are using an Instant Pot or other brand electric pressure cooker, you can add the beans dry right along with the rest of the ingredients!
It is just amazing how fast you can make this soup. From start to finish it takes less than 2 hours, which is outstanding considering that includes just taking the dry beans right from the shelf of the pantry.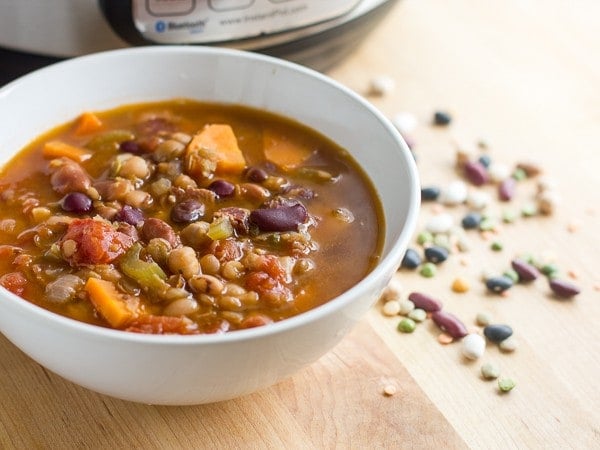 One of the great things about making soup in the pressure cooker is for those times when you need to make a meal fairly quick. Whether it is a weeknight meal or you suddenly have guests coming over for dinner, This soup uses ingredients that you likely have in your pantry and fridge and requires very little prep. The pressure cooker does most of the work, so you can do other things which the soup is cooking.
Plus it is hearty and absolutely delicious!
Bean Soup Pressure Cooker Recipe with Bacon!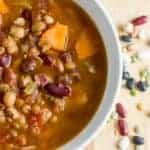 Print
Pressure cooker bean soup is hearty and healthy made in an electric pressure cooker. Great for the Instant Pot. Can also be adapted for slow cooker
Servings: 8 people
Ingredients
10 slices bacon
1 onion, diced
2 celery stalks, diced
2 carrots, peeled and diced
2 garlic cloves, minced
1 can diced tomatoes (28 oz)
3 cups dry bean soup mix
8 cups water or broth
2 bay leaves
1 tsp salt
1 1/2 tsp black pepper
2 tbsp fresh parsley, minced
Instructions
Slice bacon into small pieces. Set electric pressure cooker to saute and fry bacon until it is starting to brown, about 5-7 minutes. Lift the metal bowl/pot out of the pressure cooker with oven mitts and drain most of the bacon grease. Place pot back into the pressure cooker.

Stir in the diced onion, celery, carrots and garlic. Saute until onions are transparent, about 5 minutes.

Stir in the remaining ingredients. Close the lid and make sure the valve is set to seal. Set the pressure cooker on high for 60 minutes.

Once the pressure cooker has cooked for the 60 minutes and beeped, manually release the pressure by turning the valve to vent. Once the air pressure is released, remove the lid and stir.

Serve.
Notes
For a recipe of how to make your own dry bean mix check out my recipe here: https://www.theblackpeppercorn.com/make-your-own-bean-soup-mix/