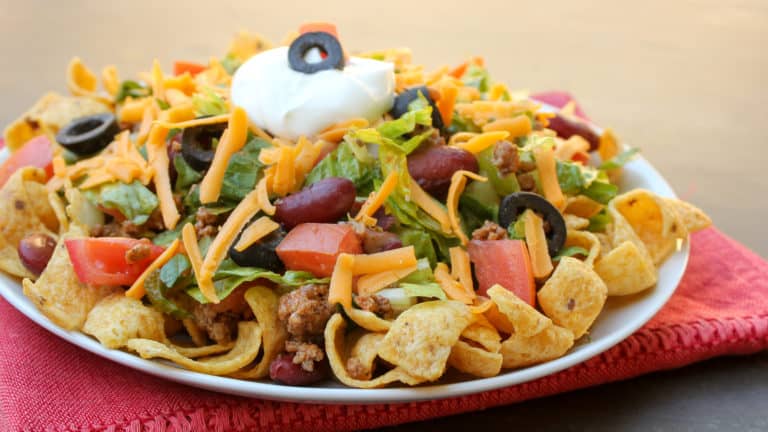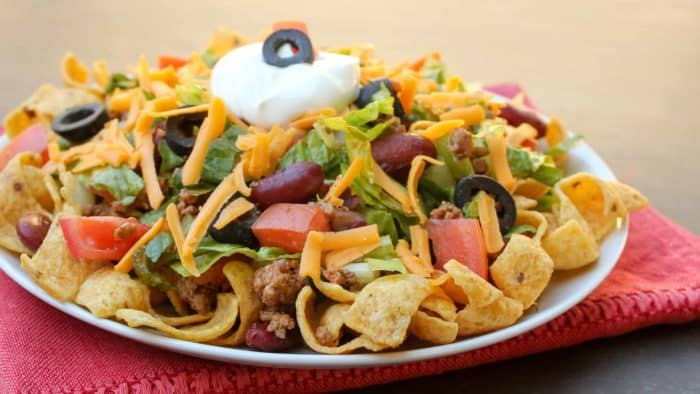 My wife loves pot lucks. She loves variety and a pot luck is the mother load of different dishes. Each time she approaches a pot luck spread, she goes straight to the salads. Any good pot luck has quite the mix of salads:
lettuce salads – like Caesar Salad
jello salads – and by the way, when did jello ever get accepted as a type of salad. To me it is always a dessert.
weird salads – there are always a couple salads at any good pot luck that make you wonder what the person making it was thinking. Some salads have a bizarre group of ingredients. Now this does not mean it will not taste good, I am just saying it may be odd!
taco salad
Taco salad is not new and has made appearances at pot lucks and other events for years. But, just because it is old, does not mean it is not tasty. In my mind, this salad is a classic. My kids absolutely LOVE it. They love anything Mexican, so this salad was a winner for them even before they took a bite.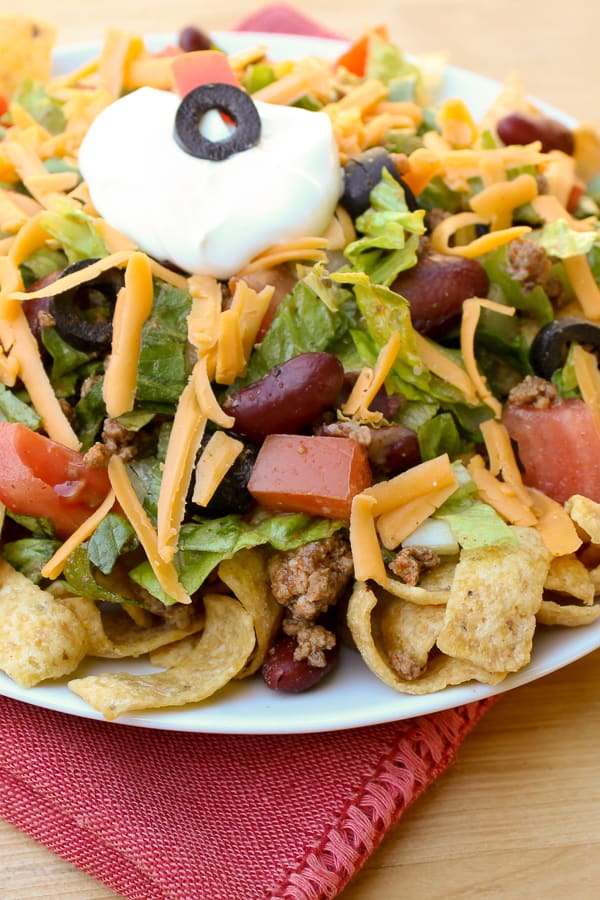 Here are a few tips to make the perfect taco salad:
Make sure that you cool the beef completely prior to mixing it with the lettuce.
While I like using romaine lettuce, iceberg lettuce is also a great choice!
Instead of kidney beans, try using black beans.
If you are planning to make the salad ahead, toss in the catalina salad dressing just before you serve the salad.
Also, make sure that you only add the corn chips right before serving. One of the most important parts of this salad is the crunch from the chips and having them in for too long will cause them to get soggy.
I make taco salad all the time and I find that I switch back and forth between using corn chips or using Nacho flavour Doritos. The Doritos definitely gives the salad a more cheesy flavour. Both are great and you can use either depending on your personal preference.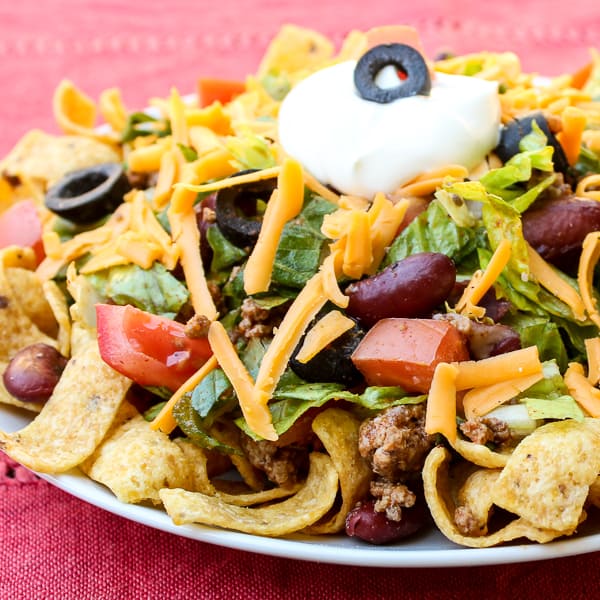 If this taco salad is part of a going to be part of a Mexican themed dinner or party, check out these recipes!
Other Mexican recipes:
Taco Salad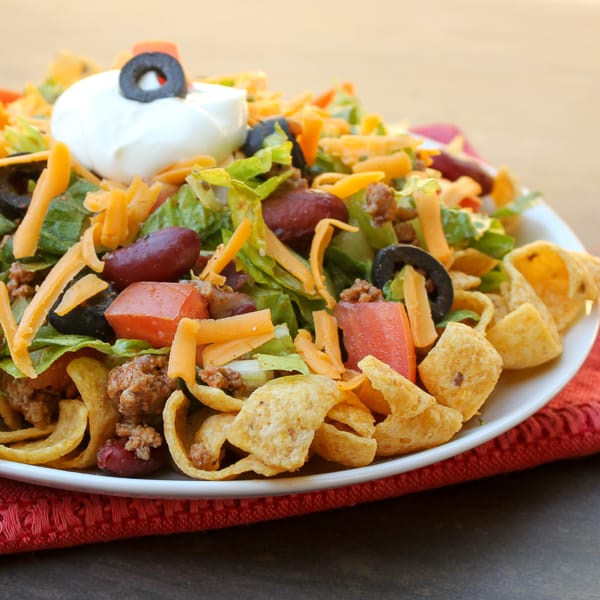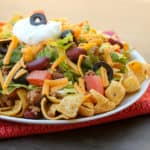 Print
Taco salad recipe with romaine lettuce, ground beef, tomatoes, kidney beans, black olives, cheddar cheese, sour cream and Frito corn chips or nacho chips.
Servings: 4
Ingredients
1 pound ground beef
2 tbsp chili powder
1/2 tsp salt
1 tbsp hot sauce
1 head romaine lettuce , finely chopped
2 tomatoes , diced
1 can red kidney beans , drained
1 can sliced black olives , drained
1 1/2 cups grated cheddar cheese
1 1/3 cups catalina salad dressing
1 bag of corn chips
sour cream (optional)
pickled jalapenos (optional)
Instructions
Brown the ground beef in a skillet. Drain the grease and then stir the chili powder, salt and hot sauce in with the beef. Remove from the heat and let cool.

In a large salad bowl, add the romaine lettuce, tomatoes, beans, olives, cheese and ground beef. Toss until well mixed. (If desired, the salad can be placed in the fridge at this point for a couple of hours until serving time).

Stir in the catalina salad dressing

Crunch the corn chips they are well broken, but not as fine as a powder. Mix in with the salad.

Serve immediately so the corn chips stay crispy.