Zucchini and Yellow Squash Salad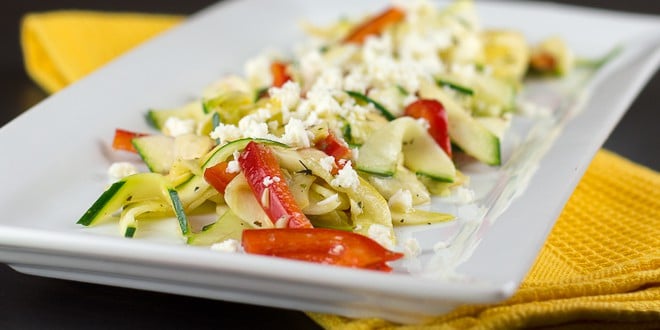 Always on the lookout for a new salad, I got an idea while I was in the grocery store the other day. I saw some nice zucchini and yellow summer squash on sale and thought they would be great in a fresh salad. I thinly sliced the zucchini and yellow squash to make the salad almost like a slaw. For the dressing, I used a bunch of Mediterranean flavors, including olive oil, white wine vinegar, lemon juice, oregano and garlic.
This salad tastes best if the veggies are able to marinate in the dressing for a while – overnight is best. Just before serving, I sprinkled some crumbled feta on top which added a nice texture and saltiness to the salad. This is great for the summer and perfect alongside grilled steak, chicken, burgers and more!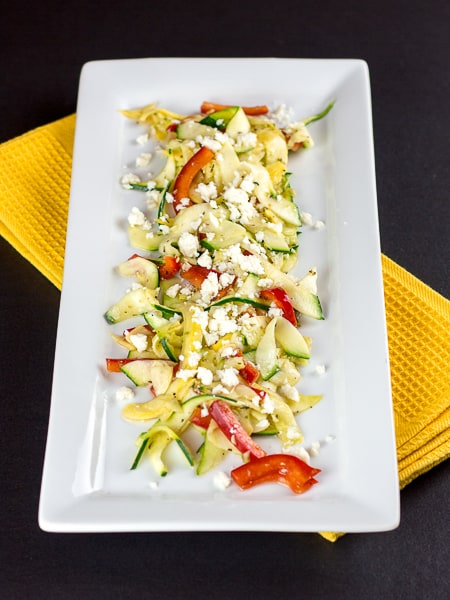 Zucchini and Yellow Squash Salad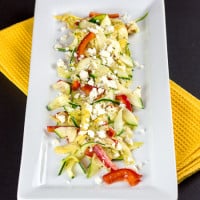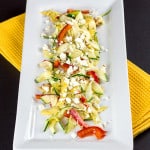 Print
Servings: 4
Ingredients
1 zucchini
1 yellow squash
1 red pepper
2/3 cup crumbled feta
1/3 cup olive oil
1/4 cup white wine vinegar
2 tbsp lemon juice
3 tbsp sugar
1 garlic clove , minced
1 tsp oregano
1 tsp salt
1 tsp fresh ground pepper
Instructions
Thinly slice the zucchini, yellow squash and red pepper with a knife, a mandolin, or a food processor slicing disk.

Make the dressing, by mixing together the oil, vinegar, lemon juice, sugar, garlic,oregano, salt and pepper.

Toss the sliced vegetables with the dressing and let them marinate for at least 2 hours, preferably overnight.

Just prior to serving, stir in the crumbled feta.