Zucchini and Yellow Squash Salad
This salad is perfect for a summer BBQ or picnic. So good with the crumbled feta!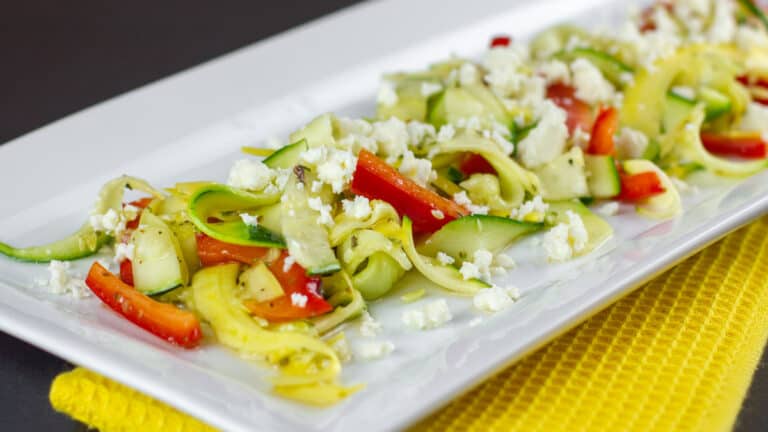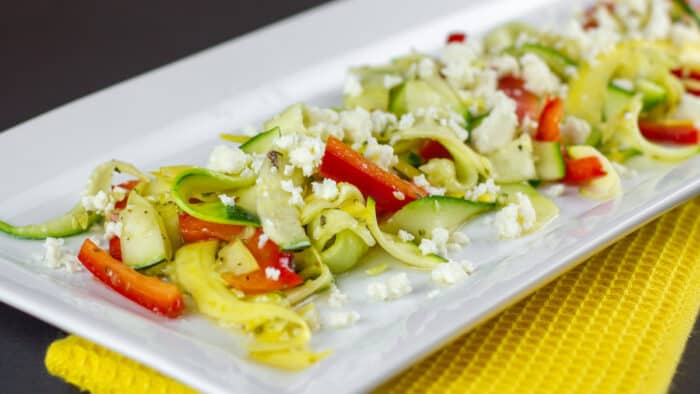 Always on the lookout for a new salad, I got an idea while I was in the grocery store the other day. I saw some nice zucchini and yellow summer squash on sale and thought they would be great in a fresh salad.
This zucchini and yellow squash salad is ideal for those days when you want to eat out on the deck. I love this salad alongside a grilled burger, steak or chicken.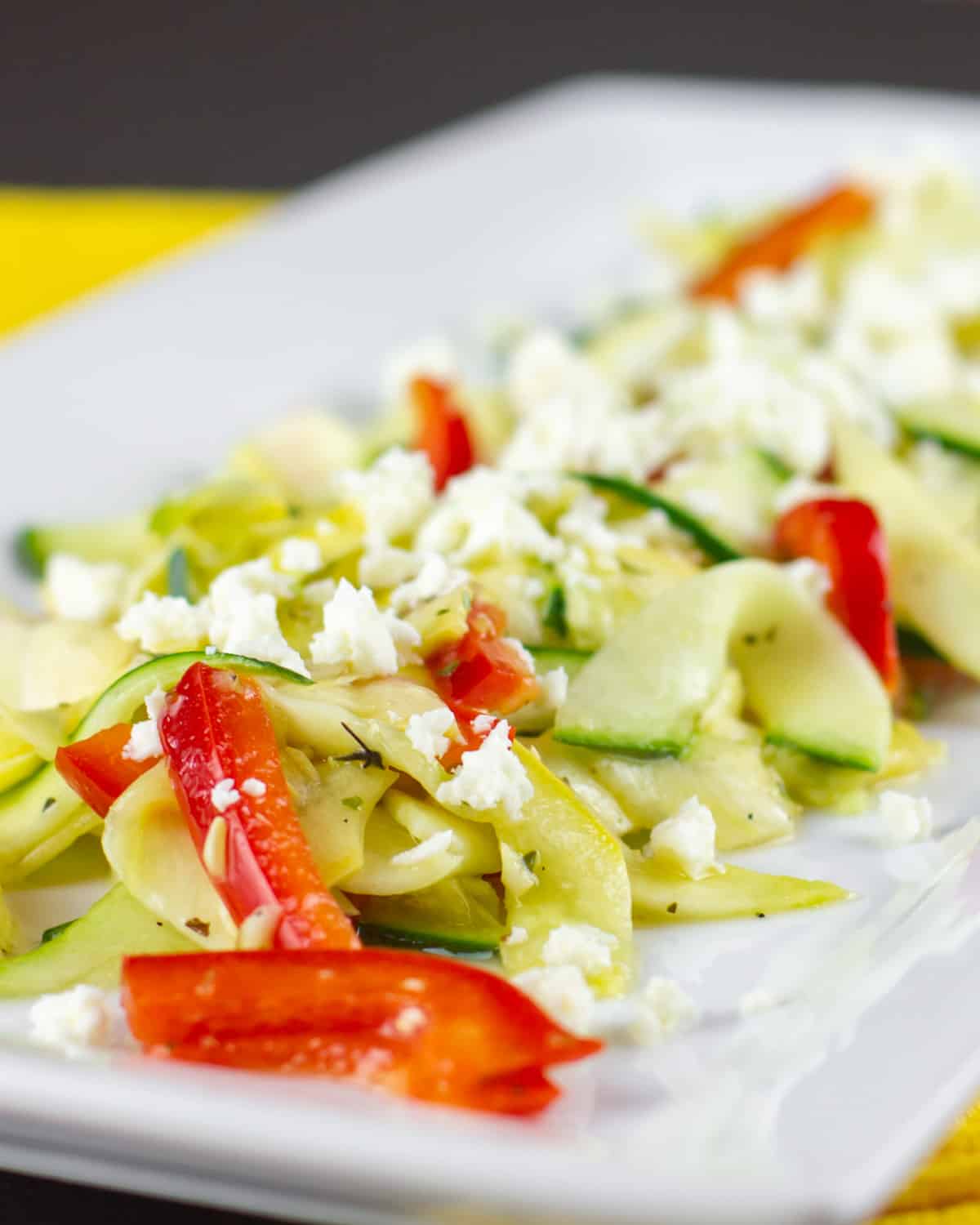 Ingredient Notes
Green zucchini
Yellow squash – either crookneck or standard yellow summer squash
Red pepper – or other sweet pepper (the red colour makes it pop in this salad)
Feta cheese
Olive oil
White wine vinegar
Lemon juice
Sugar
Garlic Clove
Oregano
Salt
Black Pepper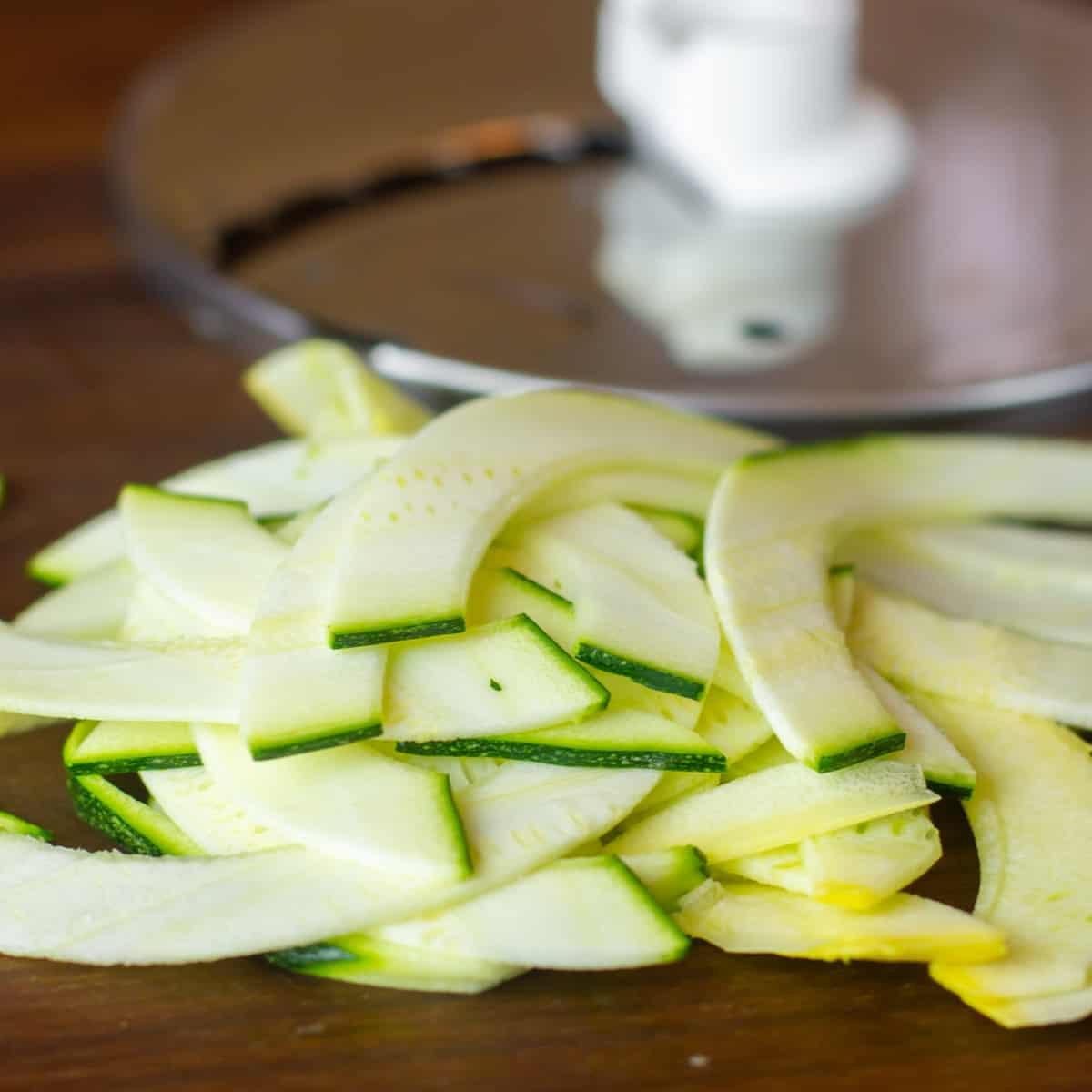 Slice The Veggies
The first step in making this delicious summer salad it to cut the vegetables into thin strips. You can either use a food processor with the slicing attachment or a mandolin slicer. Make sure to cut the strips nice and thin, as this allows the marinate to penetrate right through. I sliced the zucchini and yellow squash this way, but used a standard knife to cut the red pepper into strips.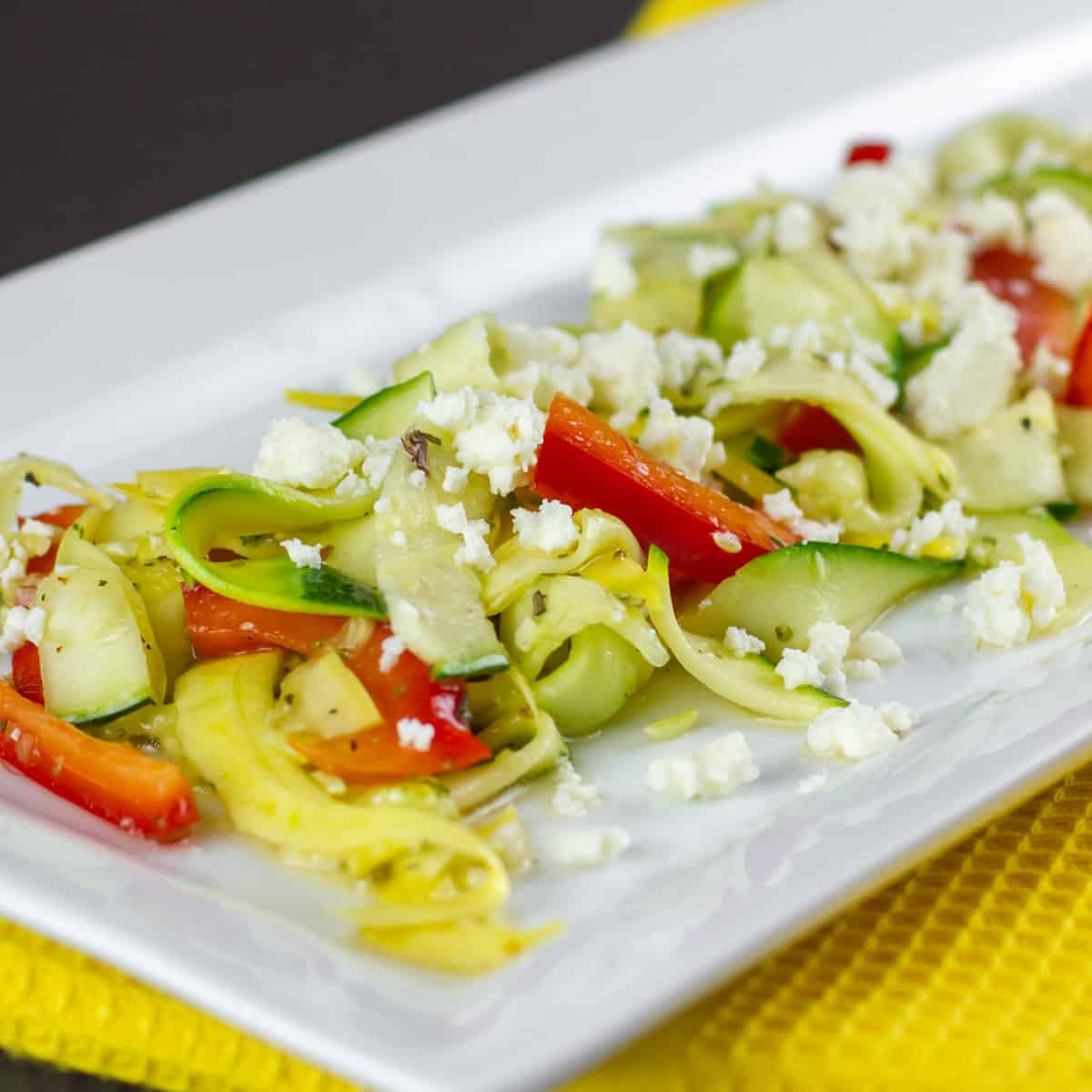 Time to Marinate!
Once the vegetables are sliced, it is time to mix the ingredients for the marinade. Do this in also a measuring cup or even a drinking glass. While I made a marinade from scratch, it is also possible to purchase store bought Greek or Italian salad dressing.
Toss the vegetables in the dressing and cover the bowl with lid or plastic wrap and place in the fridge to marinate. This salad tastes best if the veggies are able to marinate in the dressing for a while. Overnight is best, but at a minimum, let the salad marinate for at least a couple hours.
Just before serving, I crumbled a some feta across the salad. This small addition really does elevate the salad. I loved the creaminess the feta brings to each bite.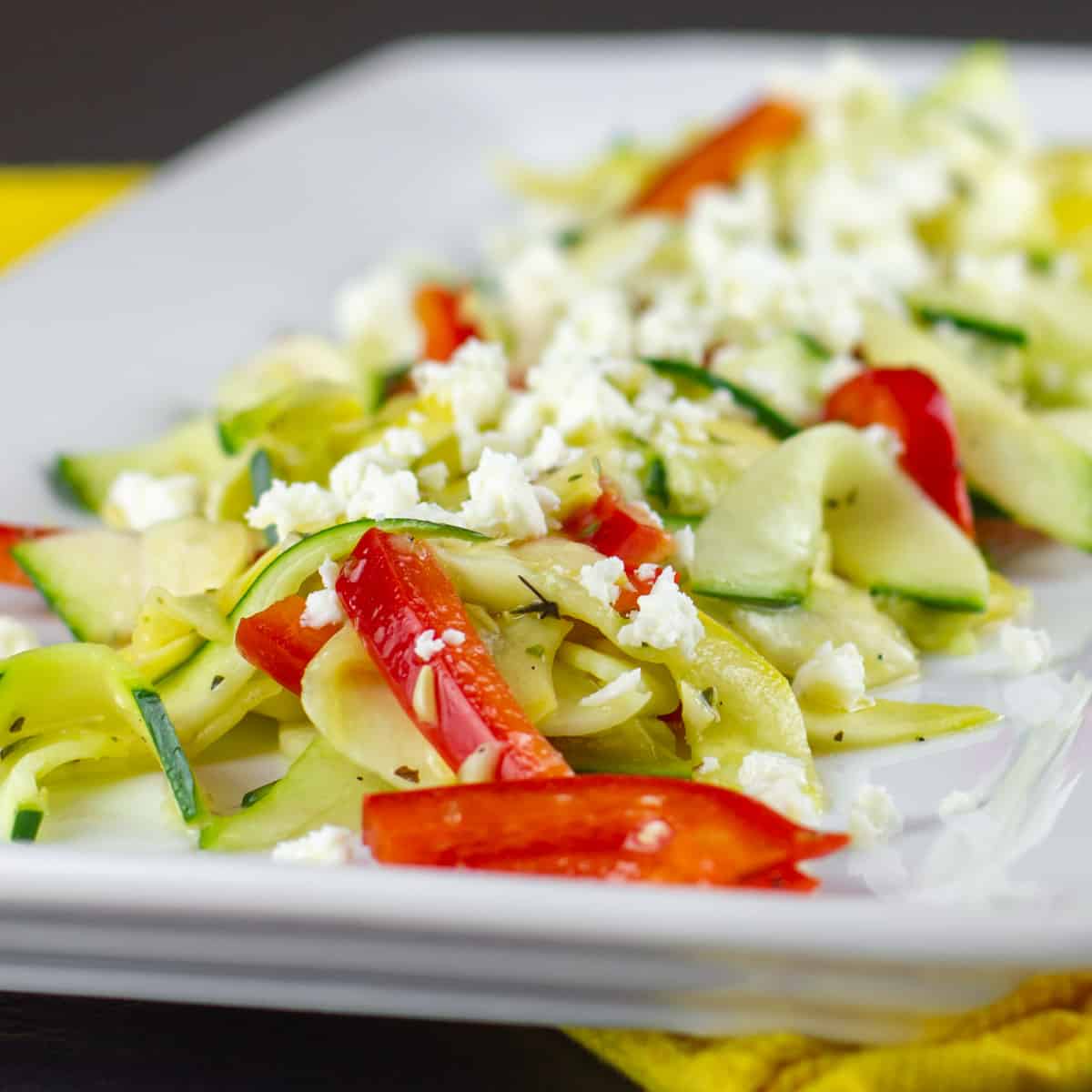 More Salad Recipes
Summer is perfect for salads. Here are more salads that are ideal for your next BBQ, picnic or pot luck.
Zucchini and Yellow Squash Salad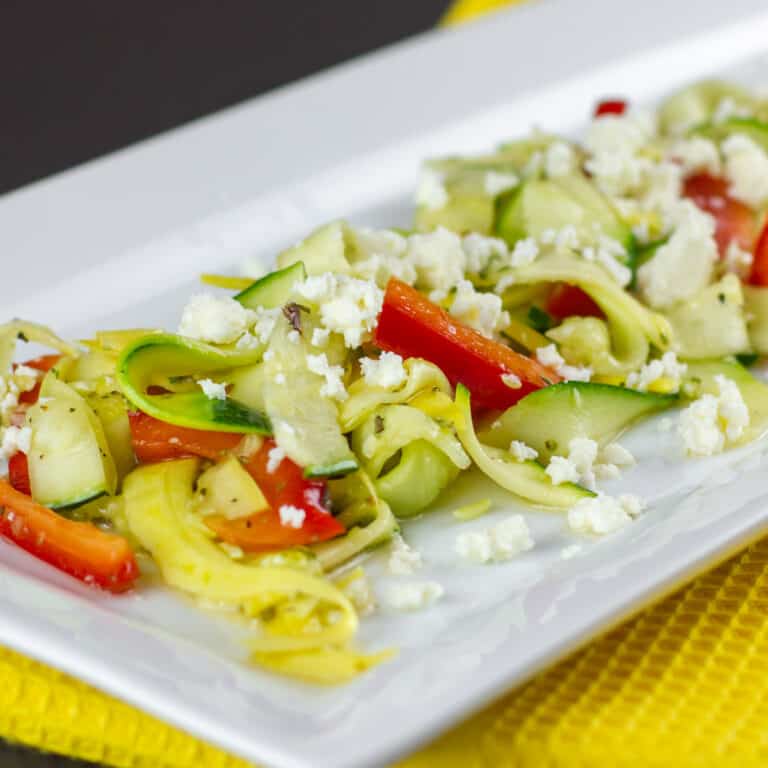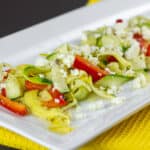 Print
A bright salad made with summer squash, red pepper and feta cheese. This recipe uses a greek style dressing to marinate the vegetables.
Servings: 8
Ingredients
1 zucchini
1 yellow squash
1 red pepper
2/3 cup crumbled feta
Dressing Ingredients
1/3 cup olive oil
1/4 cup white wine vinegar
2 tbsp lemon juice
3 tbsp sugar
1 garlic clove , minced
1 tsp oregano
1 tsp salt
1 tsp pepper
Instructions
Thinly slice the zucchini, yellow squash and red pepper with a knife, a mandolin, or a food processor slicing disk.

Make the dressing, by mixing together the oil, vinegar, lemon juice, sugar, garlic,oregano, salt and pepper.

Toss the sliced vegetables with the dressing. Cover the bowl with lid or plastic wrap. Place in the fridge to let marinate for at least 2 hours, preferably overnight.

Just prior to serving, stir in the crumbled feta.
Nutrition
Per serving:
Calories: 146kcalCarbohydrates: 8gProtein: 3gFat: 12gSaturated Fat: 3gCholesterol: 11mgSodium: 437mgFiber: 1gSugar: 6g