This simple salad can be made in minutes and is filled with bright flavours. It is perfect for a summer BBQ and great alongside salmon, chicken and so much more!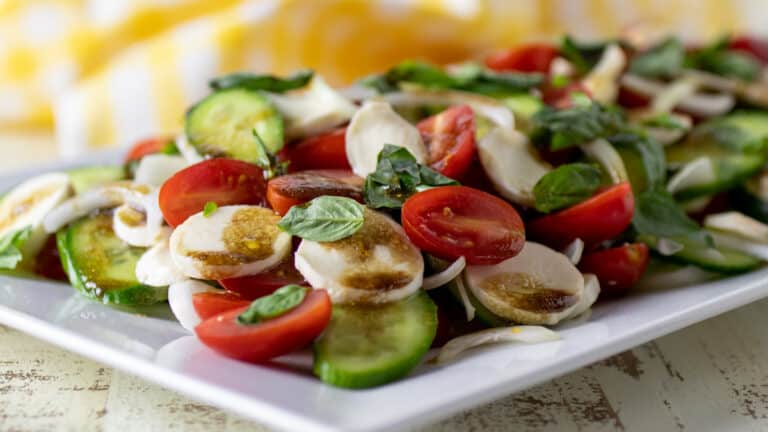 One of my favourite salads is actually one of the easiest to make. This cucumber caprese salad is a variation of the standard caprese salad, adding a few more ingredients. I often find myself making this in the spring once the warm weather comes around and we are in the mood for bright fresh salads.
Every single time make this salad, my family wonders why it is not in the rotation more frequently. We all love it. Cucumber caprese salad is great served alongside almost any meat. It is great with fish, poultry, pork and beef.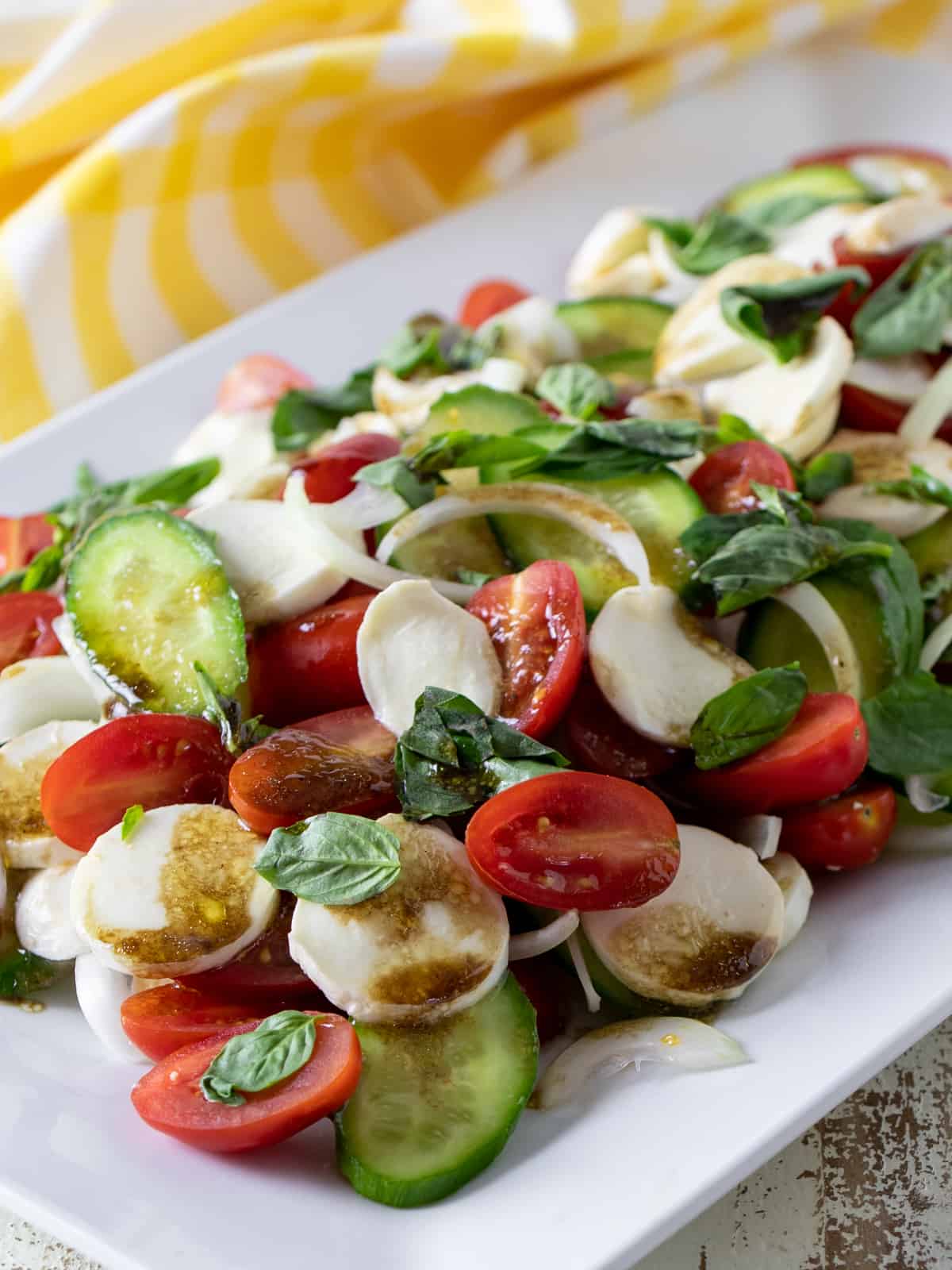 A caprese salad is a very simple salad with just a handful of ingredients. Typically made with sliced ripe tomatoes, bocconcini cheese, fresh basil and drizzled with some olive oil, salt and occasionally balsamic vinegar. I love this salad, and there are times I like to add a couple more vegetables to the mix. Sweet onions and mini cucumbers add a bright crunchy texture to the salad and even give it a bit of sweetness.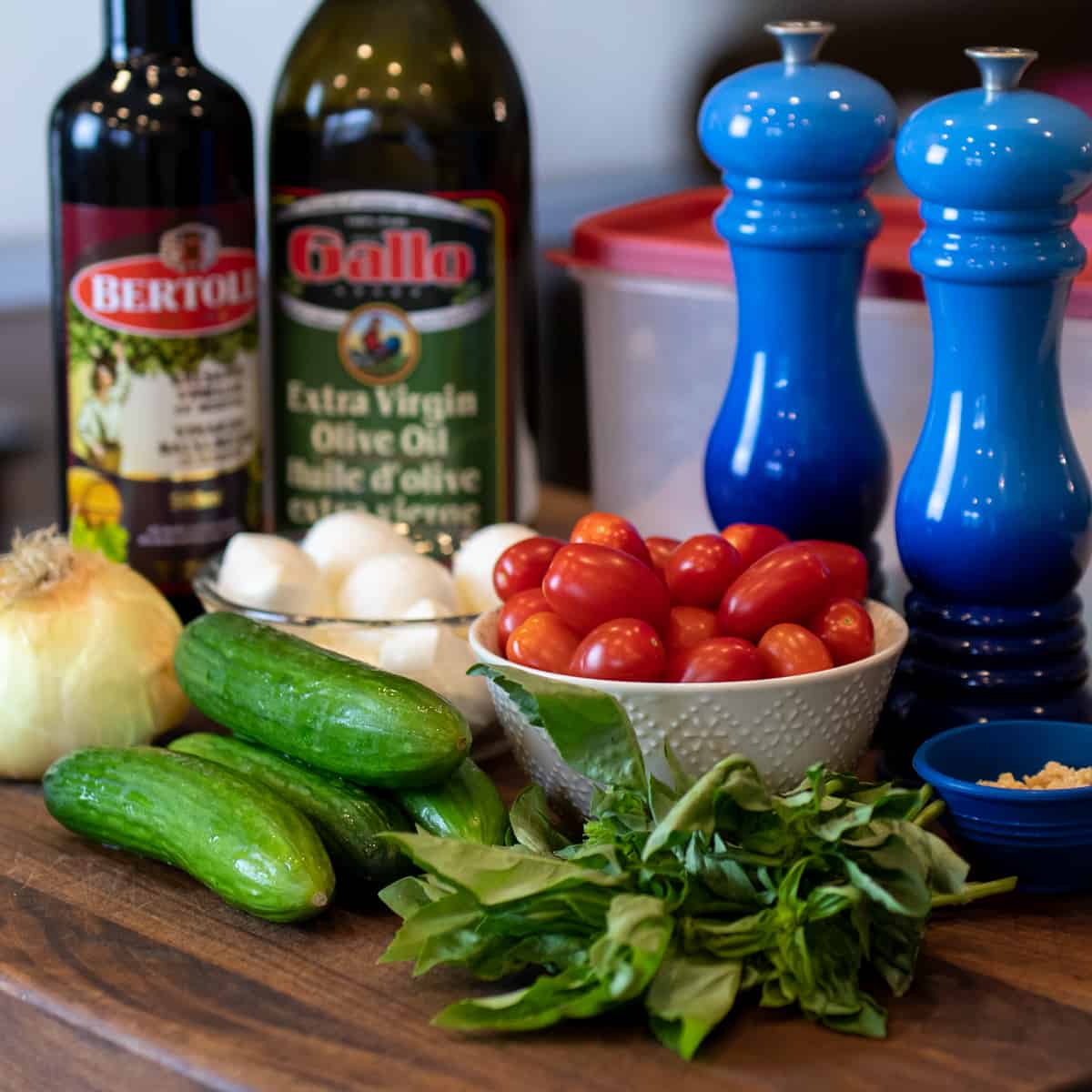 Ingredients You Will Need
Grape tomatoes
Bocconcini cheese
Mini cucumbers
Sweet onion
Fresh basil leaves
Olive oil
Balsamic vinegar
Minced garlic
White sugar
Dijon mustard
Salt
Pepper
Ever since these mini cucumbers have become a regular item at our local supermarket, a number of years ago, I tend to buy them all the time. They are juicy, crunchy and packed with so much summery cucumber flavour.
For this cucumber caprese salad, slice them thinly and on an angle. I use 4 mini cucumbers which works out to approximately 2 1/2 – 3 cups of sliced cucumber. Instead of the mini cucumbers you could also use English cucumbers or any other cucumber if you prefer.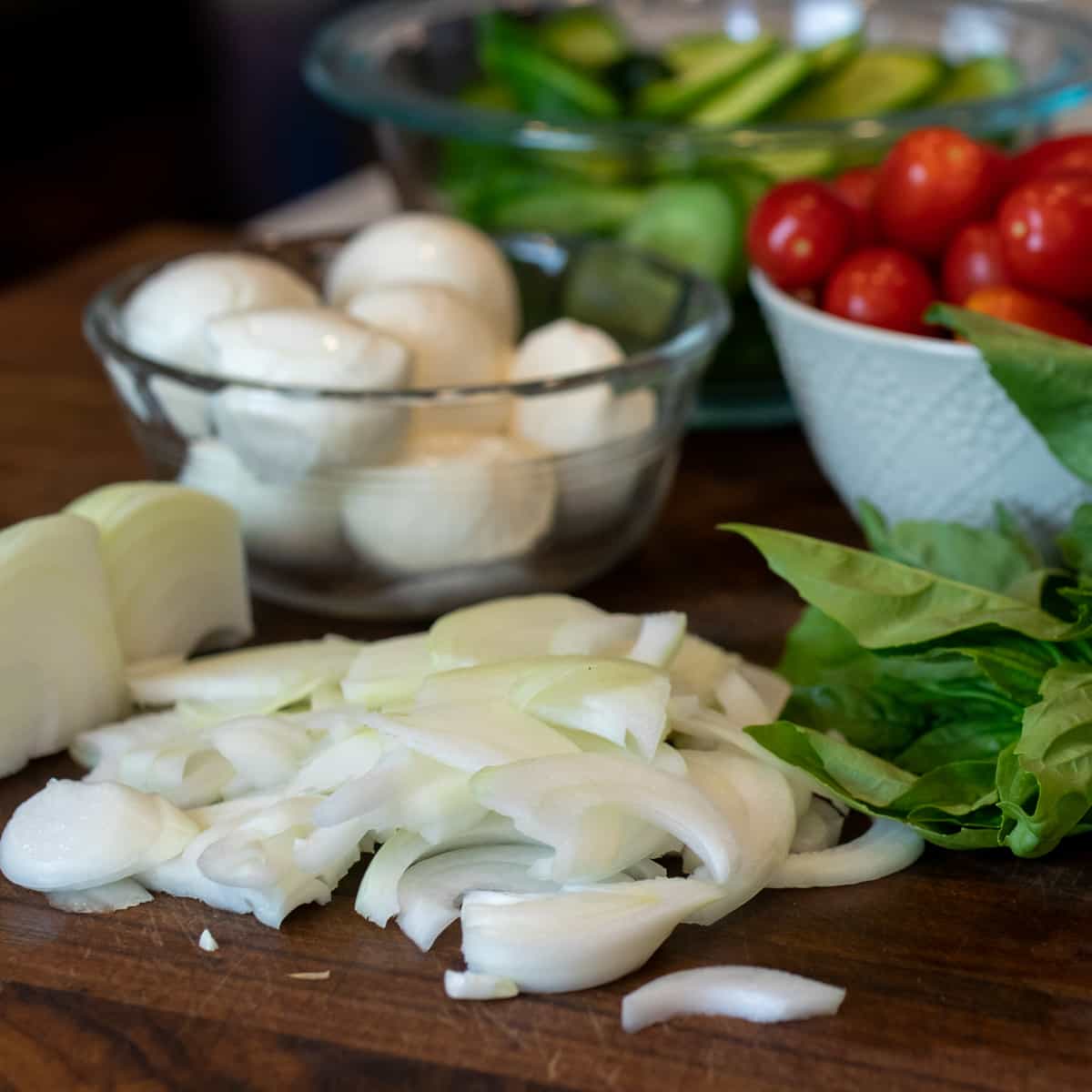 We always have sweet onions on hand. They are amazing sliced on a sandwich, burger or added to a salad. If Vidalia onions are in season, I pick those up, but there are other types of sweet onions available in our grocery stores year round. They are perfect for this caprese salad. I find one medium sized sweet onion should be enough. Chop it up into thin strips.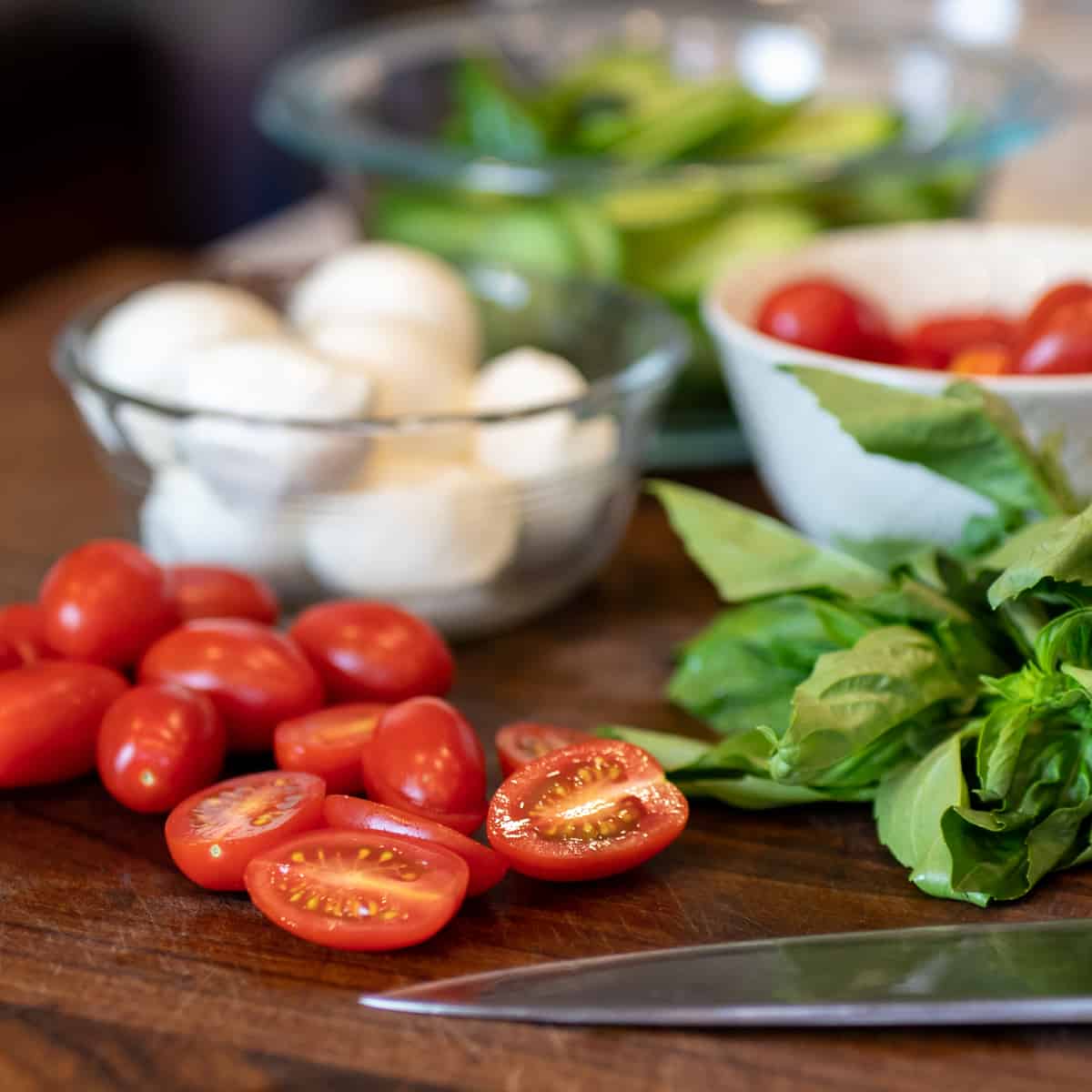 While typical caprese salad uses larger tomatoes, I will often use grape tomatoes. They are sweet and they flavour is bright and punchy. Simply cut them in half. If you want to use another kind of tomato, make sure they are fully ripe and cut them into bite sized pieces.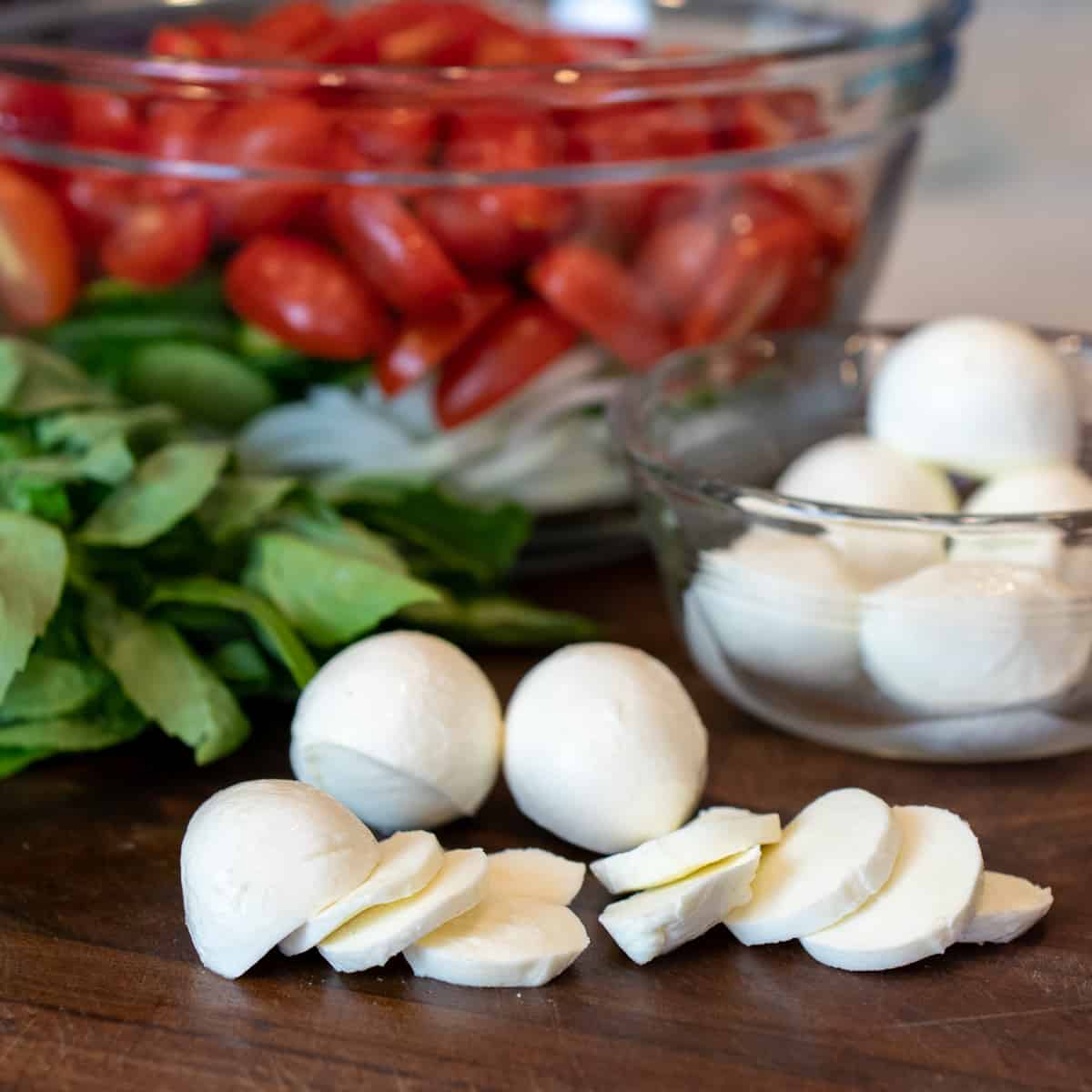 Bocconcini cheese is a fresh mozzarella that is soft and very light in flavour. Since they need to be in water, this cheese is typically sold in a container similar to ricotta cheese or sour cream. Bocconcini is a small ball, about the size of an apricot. For this caprese salad, slice them into 1/4 inch medallions.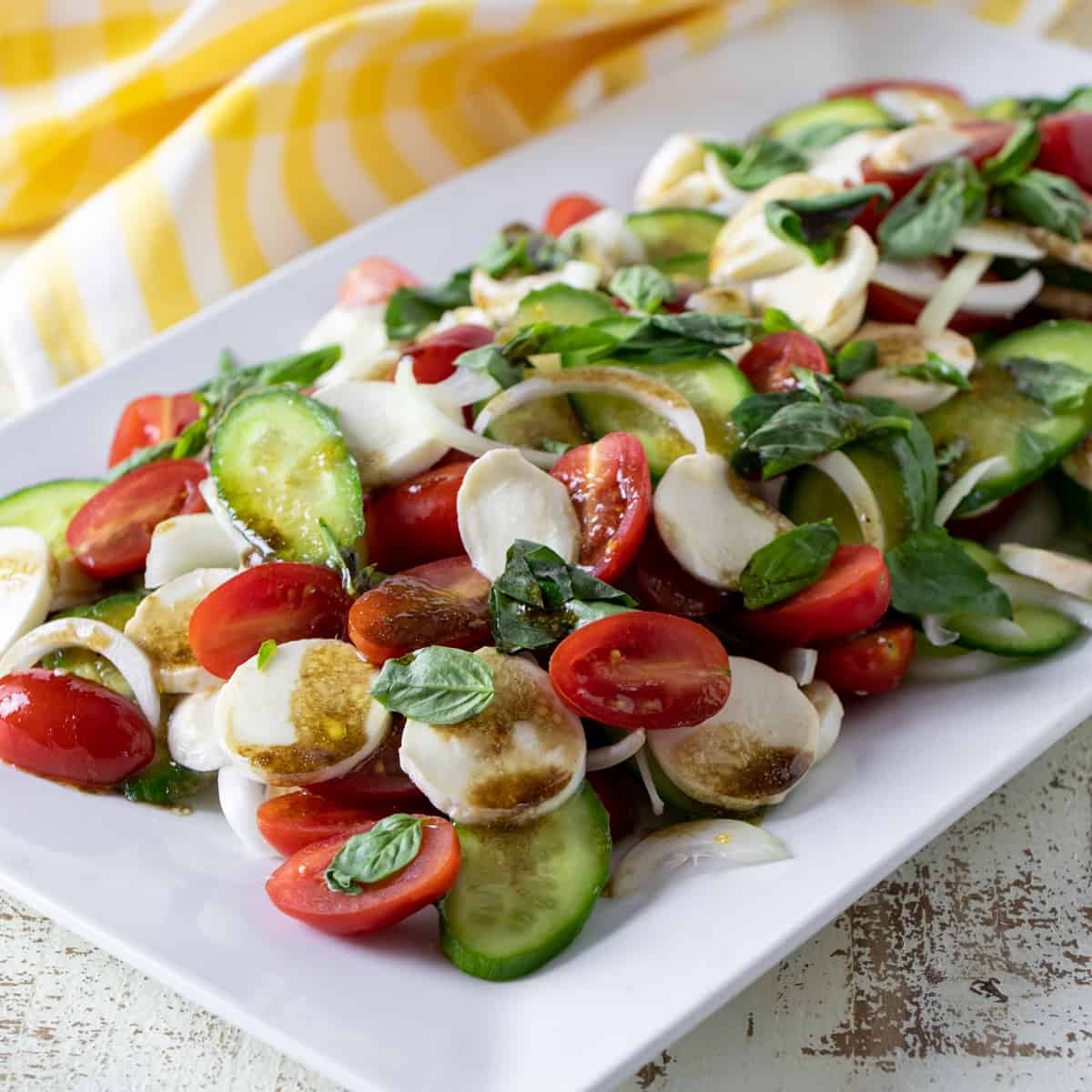 Making the Vinaigrette
While standard caprese salad uses just olive oil and sometimes adds balsamic vinegar, I prefer to use a homemade balsamic vinaigrette. I like the taste that this full flavoured dressing adds to the salad.
To make this balsamic vinaigrette, add the olive oil, balsamic vinegar, minced garlic, dijon mustard, sugar, salt and pepper to a bowl. Use a whisk or fork to quickly stir/whisk this dressing until the oil and vinegar are no longer separate but have emulsified with all the other ingredients.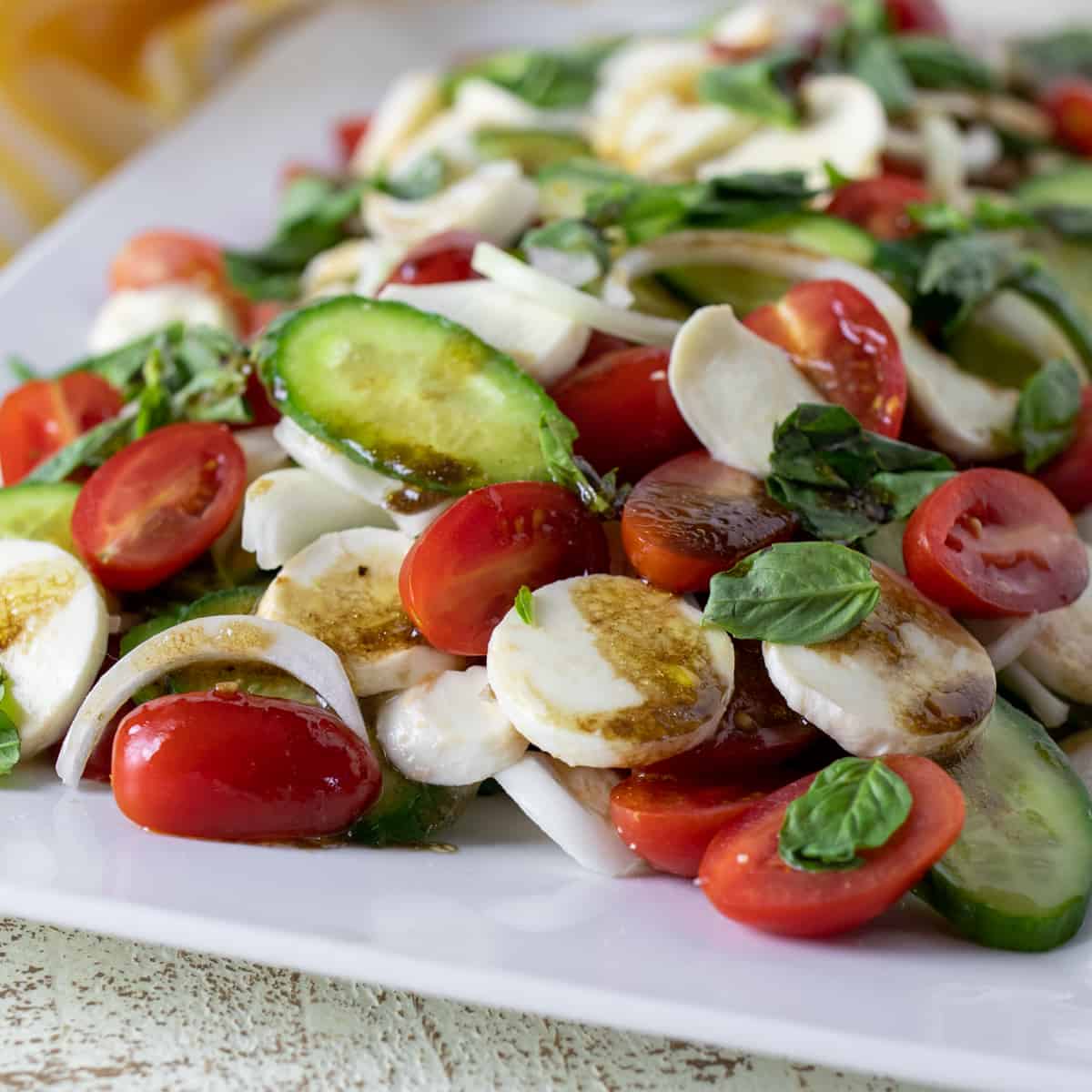 How to Serve Cucumber Caprese Salad
Caprese salad is very simple. Normally the tomatoes, bocconcini and fresh basil are served on a plate drizzled with oil, salt and sometimes balsamic vinegar.
This cucumber caprese salad could be served the same way. Simply toss the vegetables with the bocconcini medallions and spread on a platter. Then drizzle with the vinaigrette and top with torn fresh basil leaves. It is ready to serve.
While that is a delicious way to serve this salad, I actually prefer to have the vegetables marinate a little bit in the balsamic vinaigrette. Toss the salad with the basil and vinaigrette in a large bowl. Cover with plastic wrap and place in the fridge for 30-60 minutes to marinate.
Other Summer Salads
If you are looking for a salad for your next BBQ, picnic, or family reunion, then check out some of these salad recipes.
Cucumber Caprese Salad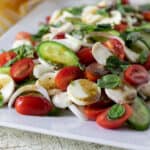 Print
A fresh summer salad with grape tomatoes, mini cucumbers, sweet onions and bocconcini cheese with fresh basil and a balsamic vinaigrette.
Servings: 8
Ingredients
3 cups grape tomatoes
4 mini cucumbers
1 medium sweet onion
2 cups bocconcini cheese
1/2 cup fresh basil leaves
Balsamic Vinaigrette
1/4 cup balsamic vinegar
1/4 cup olive oil
2 garlic cloves , minced
1 tbsp dijon mustard
1 1/2 tbsp sugar
1/2 tsp salt
1/4 tsp black pepper
Instructions
Prepare the vegetables by halving the grape tomatoes, thinly slicing the cucumbers on an angle and peeling and thinly slicing the sweet onion.

Slice the bocconcini cheese into 1/4 inch medallions.

Make the vinaigrette by adding the balsamic vinegar, olive oil, garlic, mustard, sugar, salt and pepper to a bowl. Whisk until smooth and emulsified.

Toss the vegetables and sliced bocconcini together and pour the vinaigrette all over the salad. Garnish with torn fresh basil leaves.

Serve immediately, or if desired, toss the salad to completely coat everything in the vinaigrette. Then you can cover with plastic wrap and place in the fridge to marinate for 30-60 minutes.
Nutrition
Per serving:
Calories: 186kcalCarbohydrates: 15gProtein: 6gFat: 12gSaturated Fat: 3gCholesterol: 9mgSodium: 195mgFiber: 2gSugar: 10g