Roasted Butternut Squash Salad
This salad is packed with flavours. Sweet caramelized butternut squash, smoky bacon, creamy goat cheese and delicious pine nuts! All tossed in a lemon vinaigrette.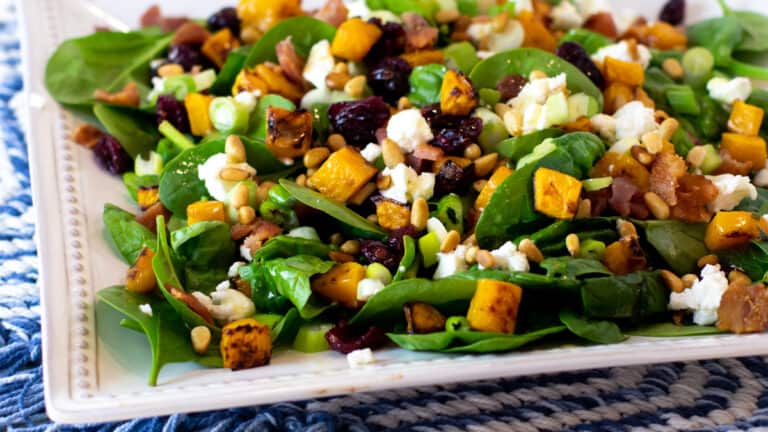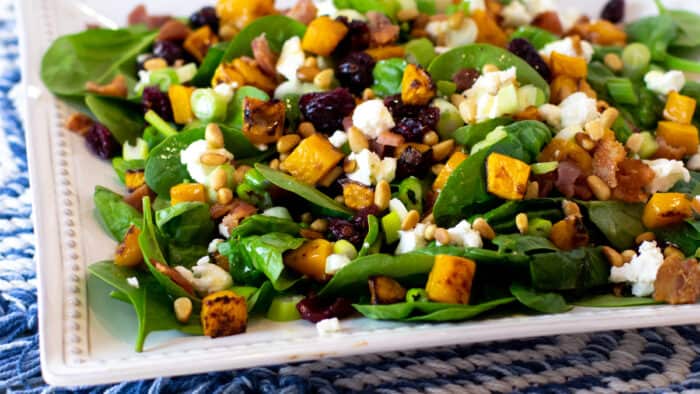 It seems that almost every salad I make is different. But the first time I made this roasted butternut squash salad I knew that it was a keeper. Since then, I have made this a number of times and it is now a family favourite.
Butternut squash is such an awesome vegetable and quite versatile. I absolutely love making a creamy fall soup with it, but I have really come to appreciate throwing some roasted cubes of the squash into other dishes like this salad.
Every single bite of this salad has so much going on. From the squash, to the creamy goat cheese, no bite will be the same. There is also the incredible nuttiness of pine nuts (oh how I love these!), cried cranberries and bacon. Yes – bacon makes everything better!!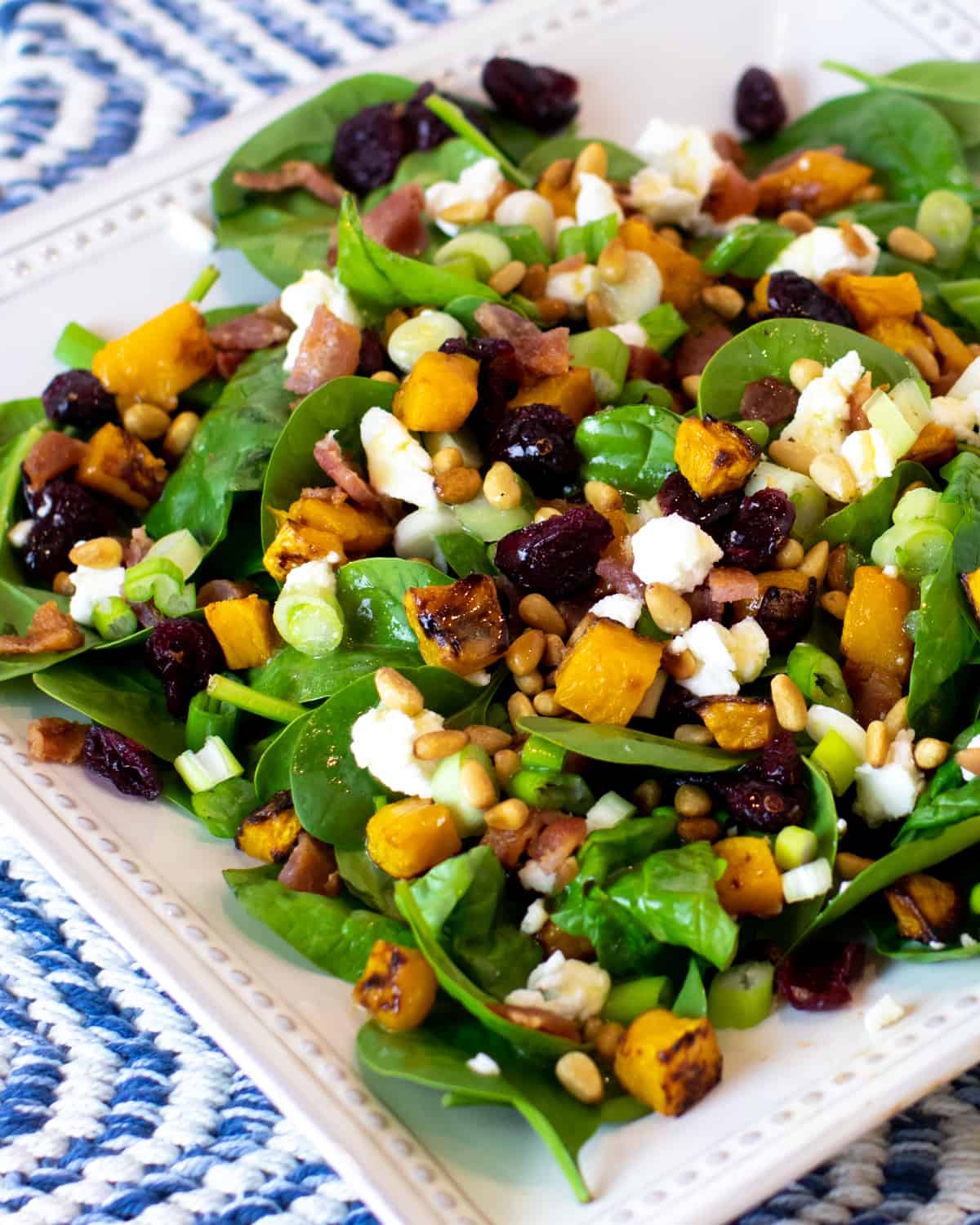 Ingredients You Will Need
Baby Spinach – or any type of mixed greens.
Roasted Butternut Squash – this is the star of the salad and so very delicious.
Bacon – cooked and crumbled.
Pine Nuts – these are toasted first, before they are added to the salad.
Dried Cranberries – I love dried fruit in my salad as they add a chewy sweetness to eat bite!
Goat Cheese – this creamy cheese is crumbled into the salad.
Green Onions – I love the crisp and zest that these add to the salad.
Lemon Vinaigrette – other dressings like Balsamic Vinaigrette, Italian and even Honey Mustard Salad Dressing will work great!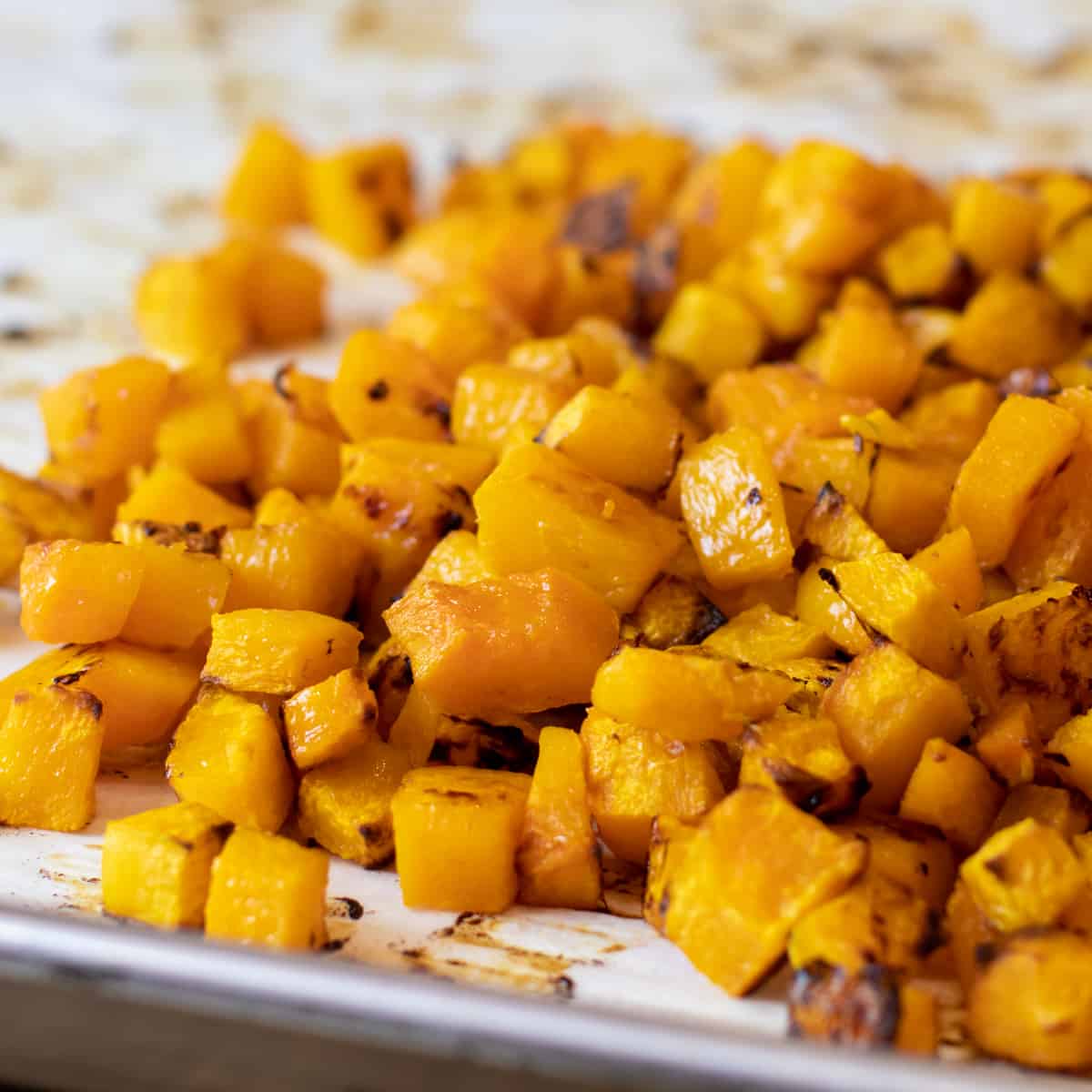 What Is Roasted Butternut Squash?
Butternut squash is a winter squash that is delicious in soup, pasta, on its own and in salads like this one. Roasting a butternut squash is very easy and gives each bite a caramelized sweetness.
To roast the squash it first needs to be cored and peeled. Then cut the butternut squash into one inch cubes. Toss in a little bit of oil and spread on a baking sheet lined with parchment paper. Bake in a 400F oven for 30-40 minutes, or until the squash is cooked through and starting to brown on the top and sides.
Let the squash cool completely before adding to the salad.
For more detailed instructions, check out this article for How to Roast a Butternut Squash.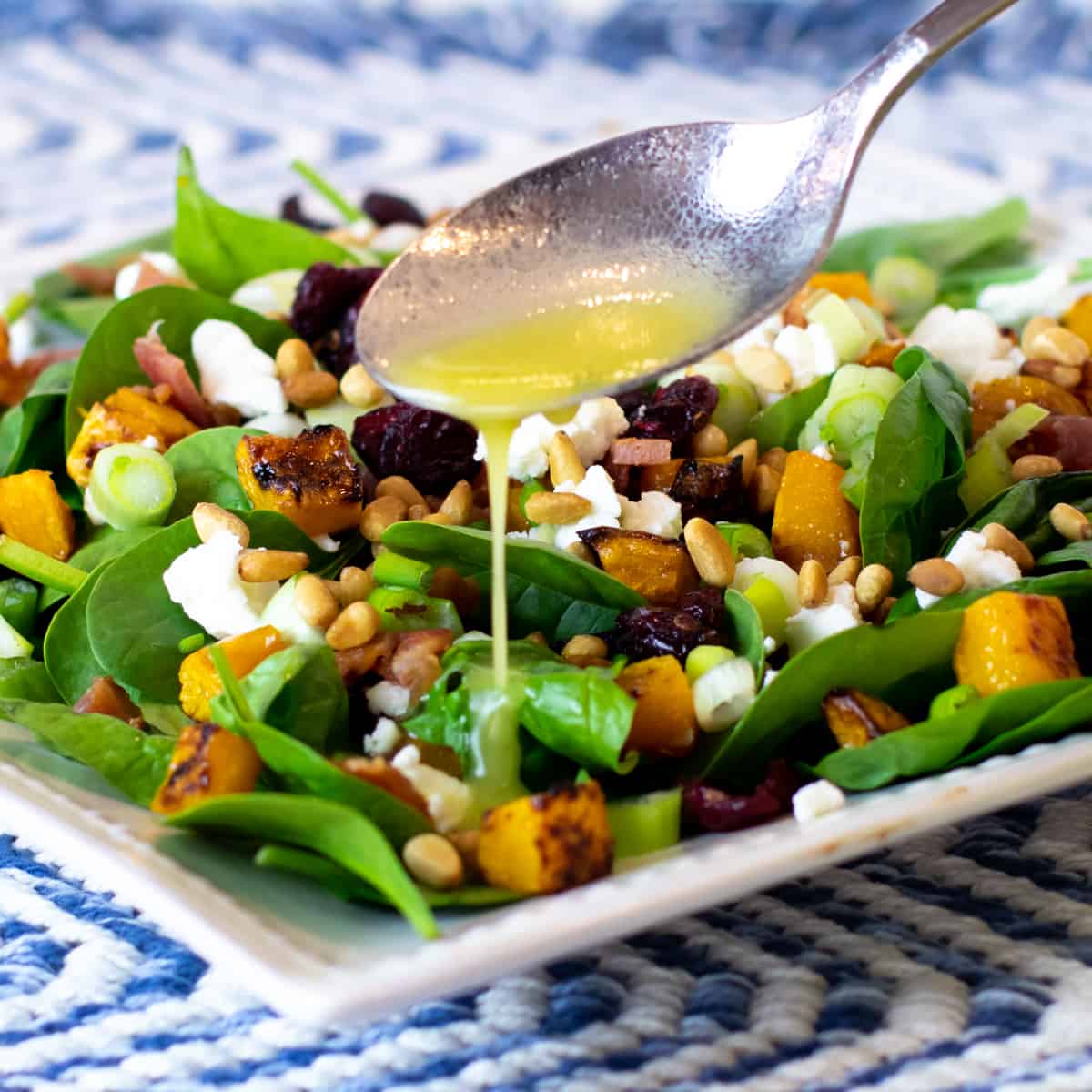 Some salads I will toss together in a large salad bowl and serve it that way on the table. For this salad, I prefer to assemble it on the plate. There are so many different ingredients in this salad and I like to ensure that they are evenly distributed on each plate.
Start with the bed of baby spinach and then spread out all the other toppings of the roasted squash, crumbled bacon, toasted pine nuts, dried cranberries, crumbled goat cheese and sliced green onions.
Then, once you have added all the ingredients onto the salad plate, drizzle the lemon vinaigrette all over the salad. Here is the recipe for Homemade Lemon Vinaigrette. It is easy to make and ideal for this salad.
Serve this salad immediately! This roasted butternut squash salad has lots of colour and it looks amazing. I have served this for dinner parties and people just love it. This is the perfect way to start a meal!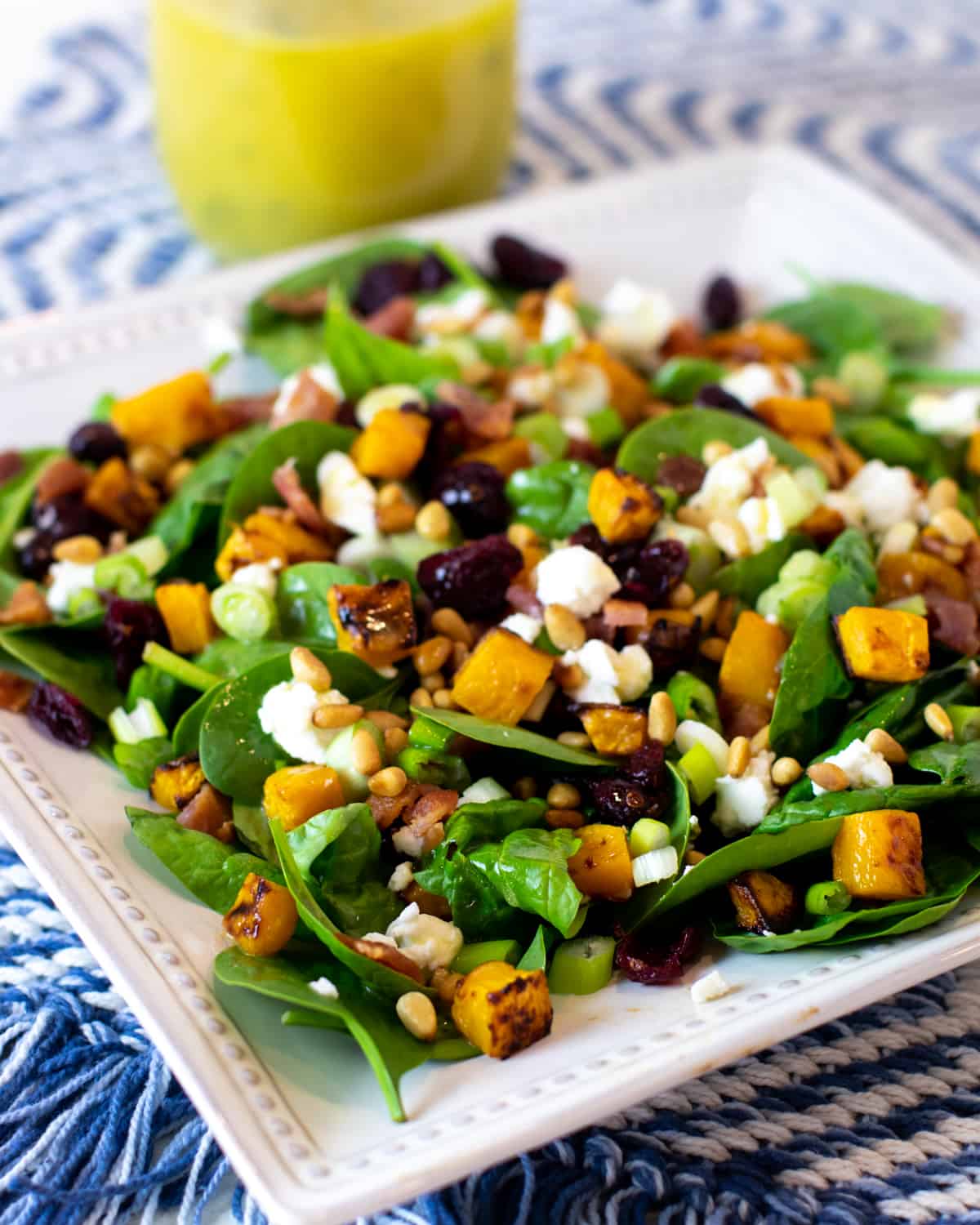 Other Delicious Salads!
If you like this roasted butternut squash salad, then check out these other recipes.
Butternut Squash Salad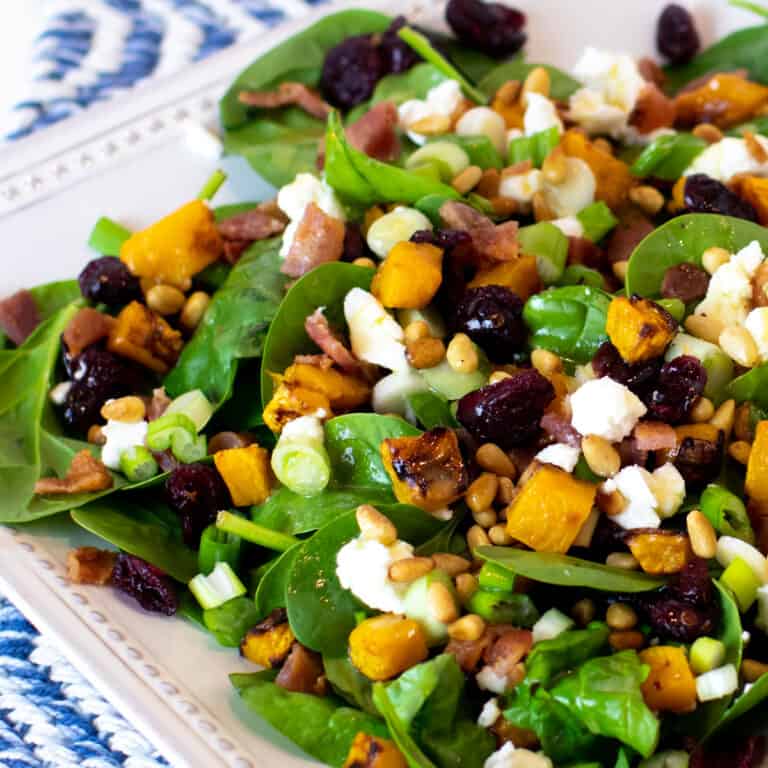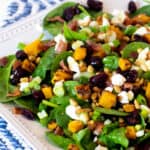 Print
A fresh salad made with baby spinach, roasted butternut squash, bacon, dried cranberries, goat cheese, pine nuts and lemon vinaigrette.
Servings: 4
Ingredients
6 cups baby spinach
1 cup roasted butternut squash
8 strips cooked bacon , crumbled
3/4 cup dried cranberries
3/4 cup toasted pine nuts
3/4 cup goat cheese , crumbled
2 medium green onions , sliced thinly
4 tbsp lemon vinaigrette
Instructions
Assemble on salad plates and drizzle with lemon vinaigrette. If desired, you could also toss everything in a large salad bowl and serve.
Nutrition
Per serving:
Calories: 511kcalCarbohydrates: 30gProtein: 19gFat: 38gSaturated Fat: 10gCholesterol: 35mgSodium: 600mgFiber: 4gSugar: 19g