Apricot Cashew and Coconut Spring Mix Salad
A fresh and healthy salad packed with ingredients! It is easy to make and perfect for lunches or dinner.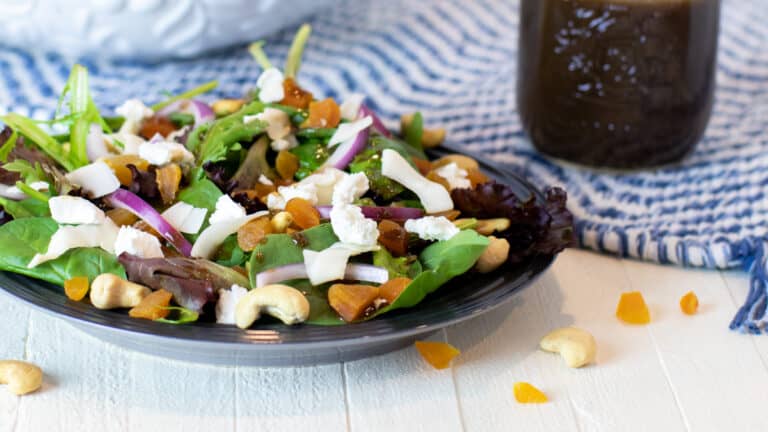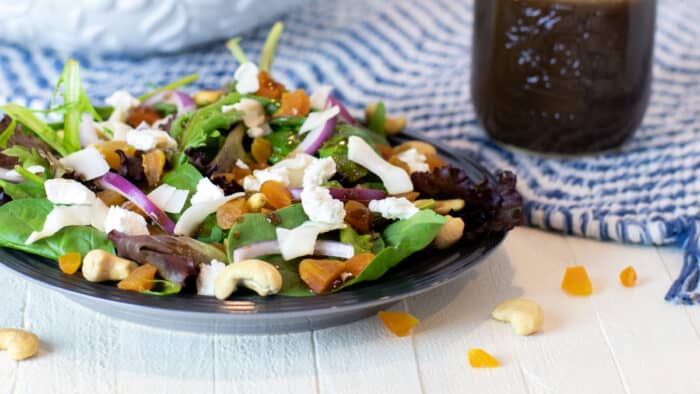 We have salad all the time and I am always looking for ways to combine different ingredients into a new medley of greens, veggies, nuts and more! This salad is made with young spring mix greens and packed with dried apricots, roasted cashews, crisp coconut chips and creamy goat cheese. Every bite is unique and it is all brought together with a tangy balsamic vinaigrette.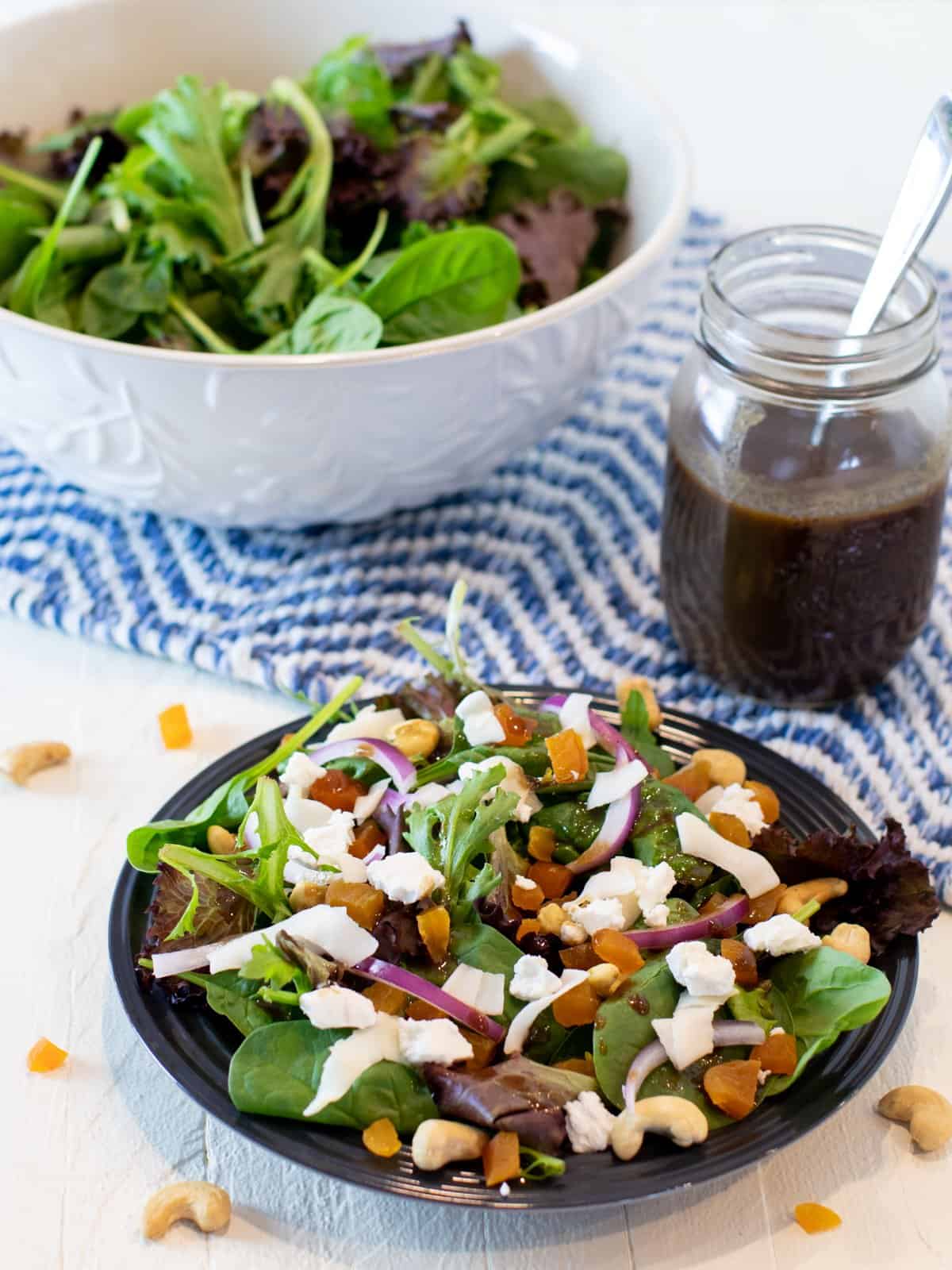 Ingredients You Will Need
Spring mix salad greens – this mix is a collection of baby greens that you can typically find in a bag or clamshell at your local supermarket.
Dried apricots – dried fruit is excellent in a greens salad and these apricots are so bright and flavourful. Dice them up into small chunks.
Roasted cashews – I use salted cashews and keep the nuts whole for a nice toasted crunch.
Coconut chips or strips – these strips of dried coconut are perfect for salads. I prefer to use unsweetened coconut chips.
Goat cheese – crumbled bits of this cheese add a delicious creaminess to each bite. This is one of my favourite additions to this salad!
Red onion – thin slices of the onion give a zesty zing to the salad
Balsamic vinaigrette –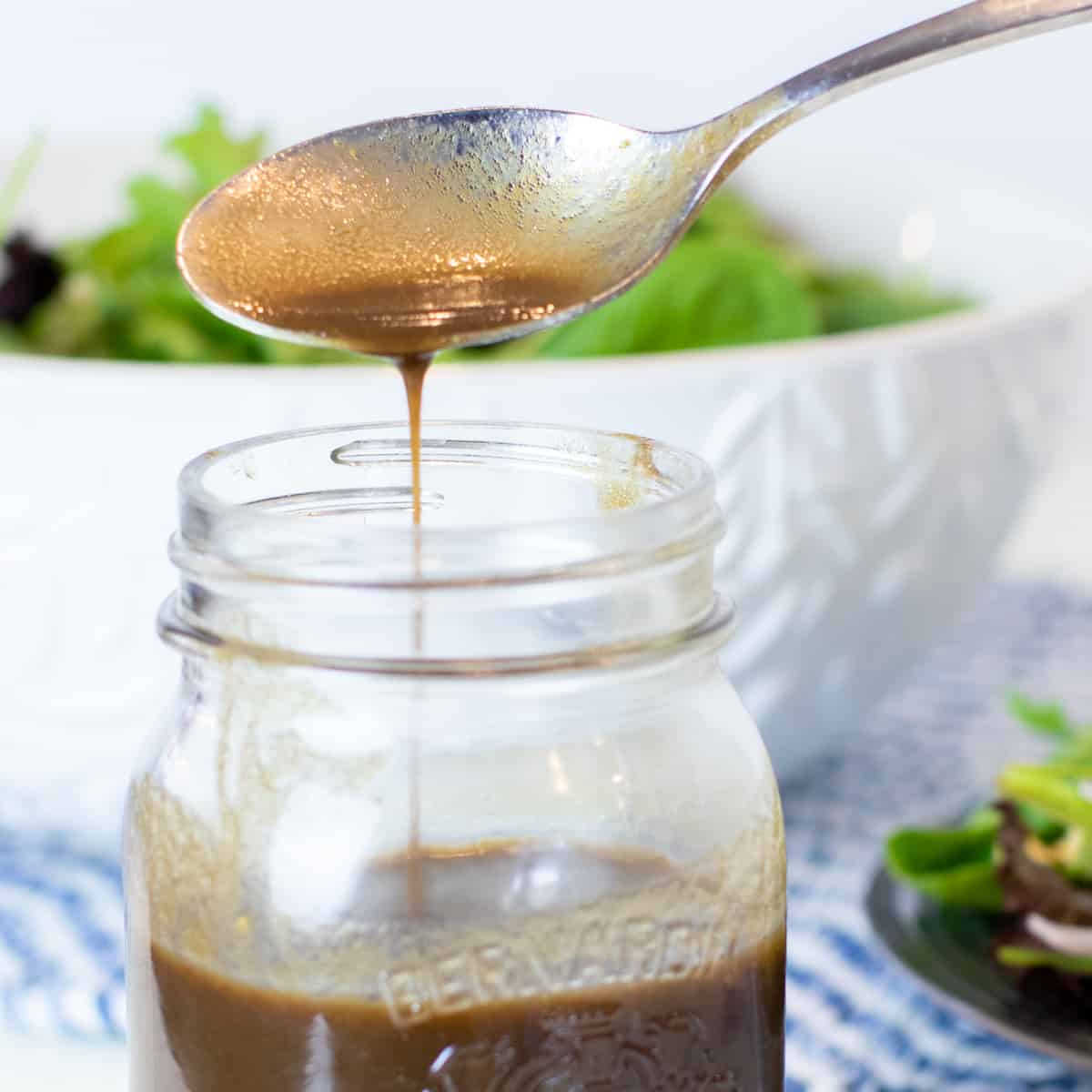 Get Creative with Variations!
I love this combination of ingredients for a salad because they blend together so well.
This salad can be easily switched up to provide endless possibilities.
Replace the dried apricots with dried cranberries, blueberries or raisins. You could even use fresh berries!
Instead of cashews, there are many different nuts that will also work great like, pecans, hazelnuts, peanuts and more
Coconut strips could be switched with tortilla strips, sunflower seeds, sesame seeds, or
Cheese is excellent with salads and instead of goat cheese, you could use extra old cheddar, swiss, parmesan and even curds.
Balsamic vinaigrette is one of my favourite dressings for salad. Some other great dressings that will work include poppyseed, raspberry vinaigrette,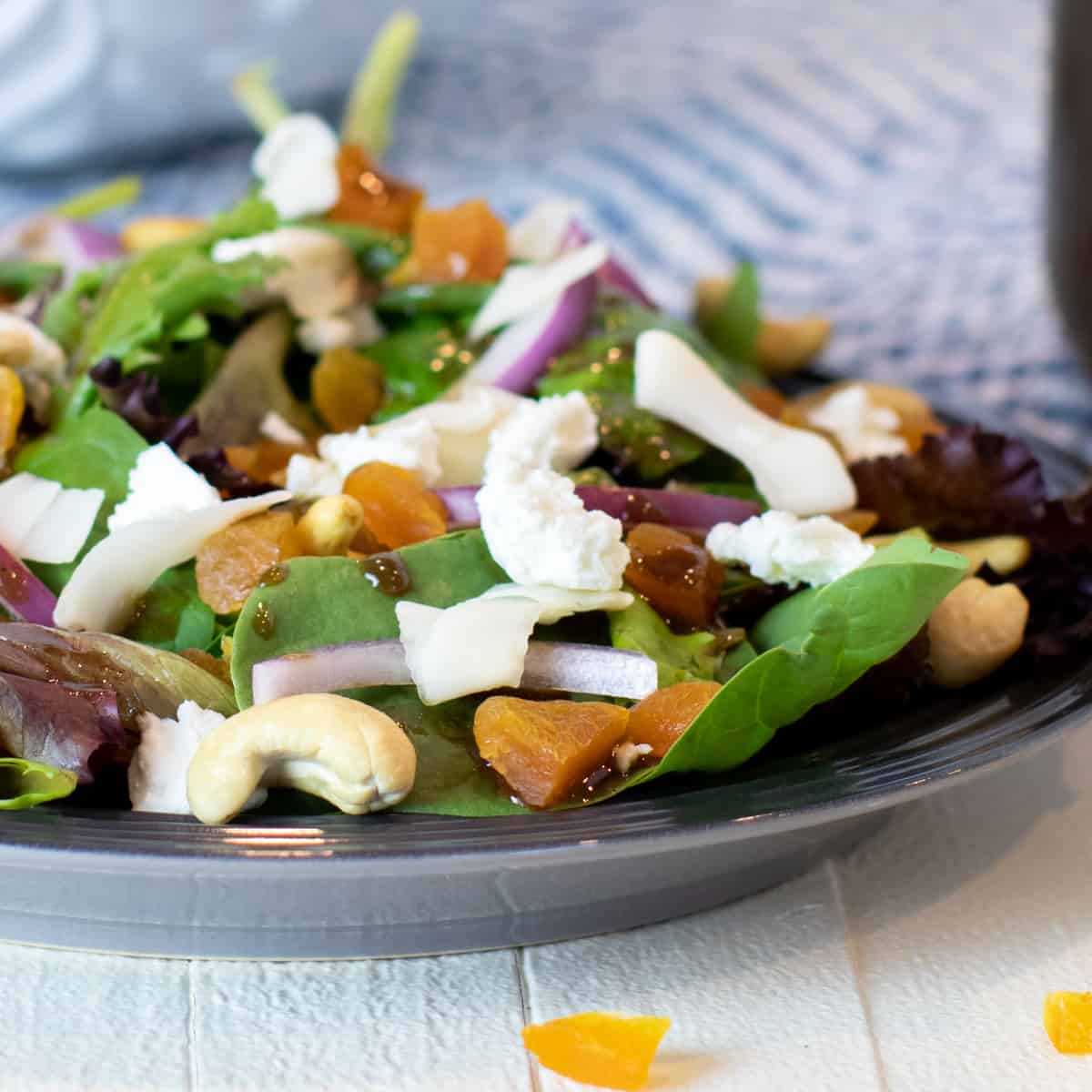 Make the Salad Ahead!
This salad can definitely be made ahead. Just make sure not to toss it in the vinaigrette to keep the spring mix salad greens from getting soggy.
Once you are ready, mix the salad with balsamic vinaigrette and serve. Or, allow people to drizzle the dressing themselves once they scoop some salad onto their plate.
Perfect for Work Lunch Boxes
Make this salad and divide into lunch box and mini vinaigrette containers. Store in the fridge and use one each day for lunch.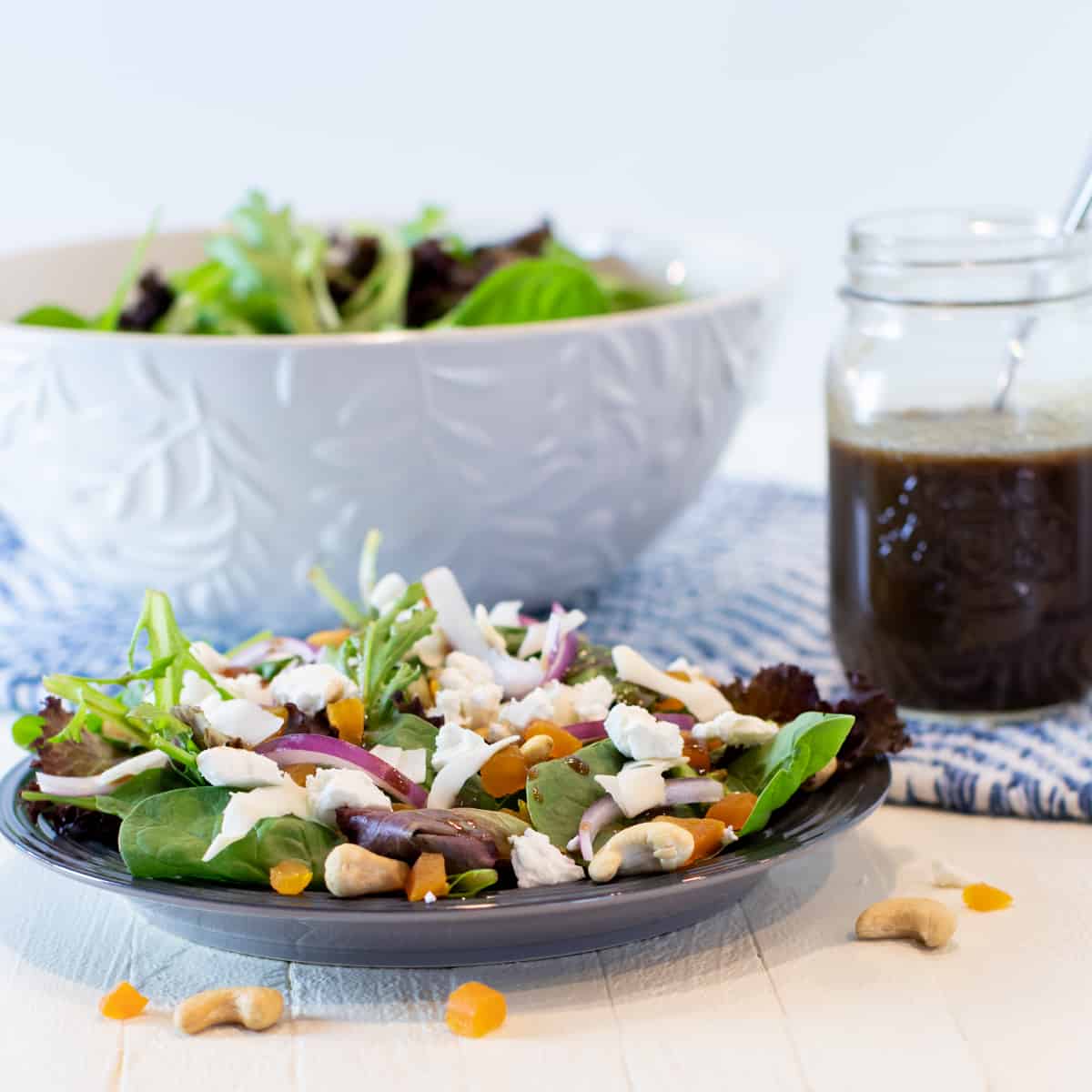 More Great Salads!
Apricot, Cashew and Coconut Spring Mix Salad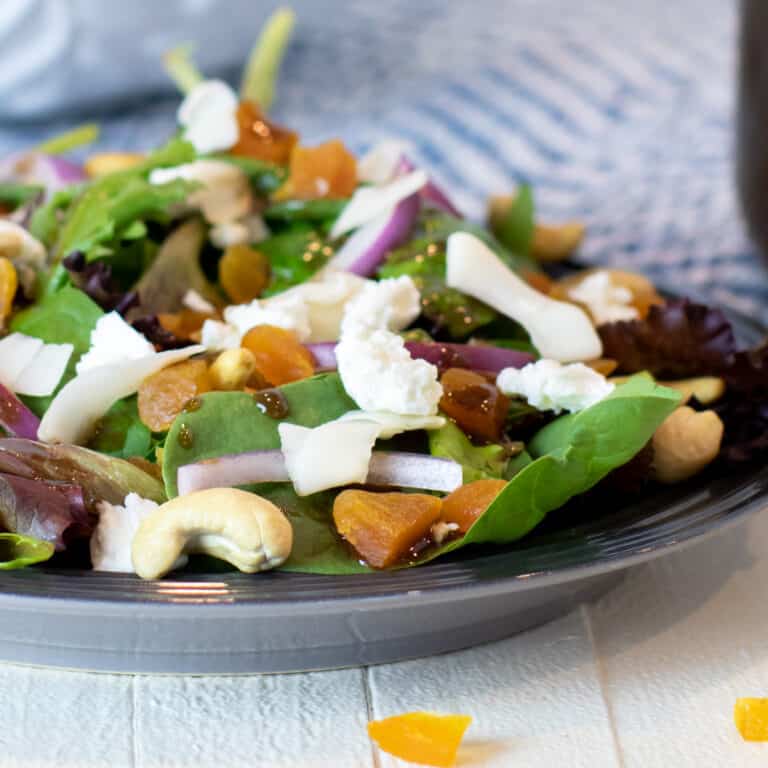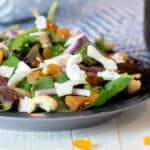 Print
A healthy salad packed with ingredients so that every bite will be unique. Served with balsamic vinaigrette.
Servings: 4
Ingredients
6 cups spring mix salad greens
3/4 cup dried apricots , diced finely
3/4 cup roasted salted cashews
1/2 cup coconut chips or strips
3/4 cup goat cheese , crumbled
1/2 medium red onion , sliced thinly
4 tbsp balsamic vinaigrette
Instructions
Toss everything in a large salad bowl and serve.
Nutrition
Per serving:
Calories: 404kcalCarbohydrates: 30gProtein: 14gFat: 27gSaturated Fat: 9gCholesterol: 20mgSodium: 479mgFiber: 3gSugar: 17g