Dried Apricot, Blueberry and Mixed Nut Trail Mix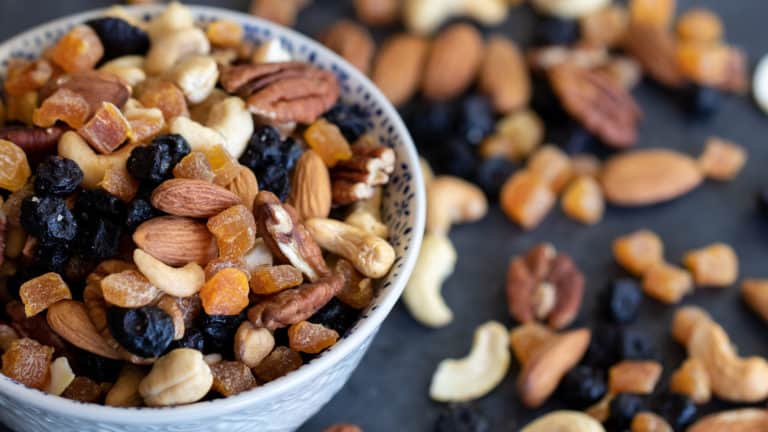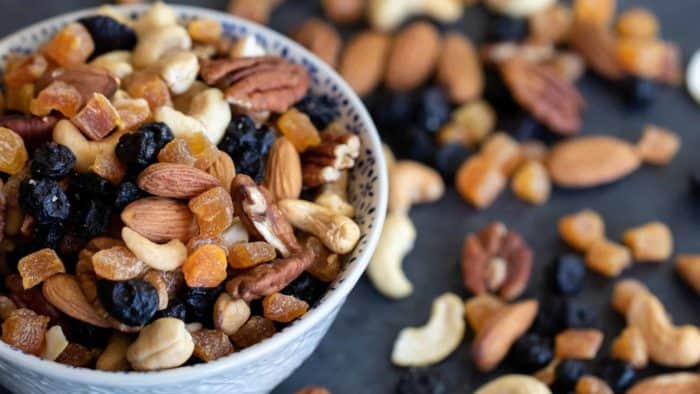 My counter currently has three different jars of trail mixes. Anytime they get low, I fill them back up again. Trail mixes are an excellent snack, and considering we have three hungry teenage kids, I love having healthy snacks out in the open for them to grab a handful any time they are hungry.
Of all the different trail mixes that I have made, this one is my favourite. I love dried whole apricots, so having little cubed bits of dried apricots in this trail mix is just amazing. I did not even realize that you can buy little mini pieces of the dried apricots until one day when I saw them in the bulk food store. They are great in trail mix.
The apricots are not the only dried fruit in this mix, as I also added some blueberries. Dried blueberries are not something I regularly use, but man they are packed with the sweet flavour of blueberries. So good!
For nuts, I mixed in three different kinds. Almonds are probably my most used nut in the trail mixes I make. I really like the amount of protein that are packed in these nuts. Along with them, I also threw in some pecans and cashews. Pecans are my favourite nut and I love tasting them in this mix.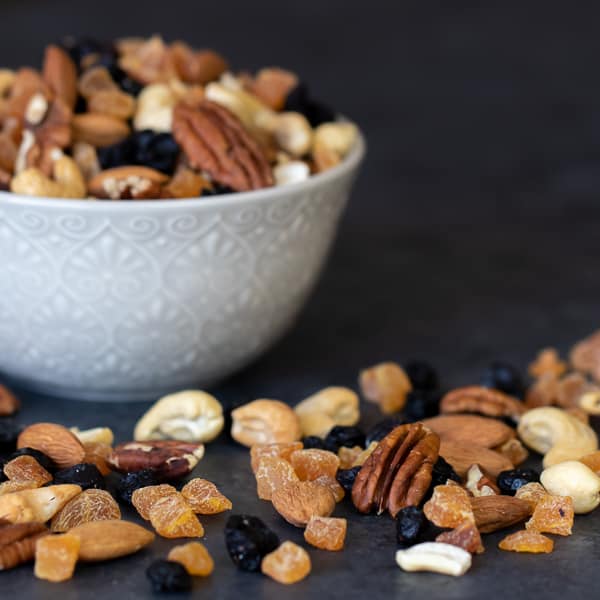 I buy all the ingredients for the trail mix at a local bulk food store. That way I can buy exactly how much I need of each ingredient. I enjoy walking up and down the bulk food aisles to see what is on sale and then try different combinations of stuff for trail mix.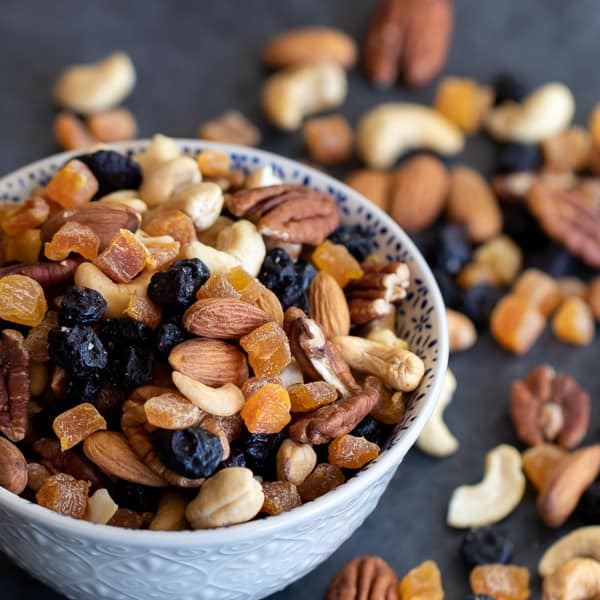 Since starting to make my own trail mixes, I have made a few different kinds. It has been a lot of fun to mixing things up to see which combinations work best together.
Some tips for making trail mixes:
Nuts – I always make sure to have at least one kind of nut and sometimes more – almonds, walnuts, peanuts, pecans, cashews, hazelnuts and pistachios all work great in trail mixes!
Dried fruit – these can give the trail mix some natural sweetness. Some fruits that are great dried include cherries, raisins, apricots, blueberries, cranberries and more!
Seeds – I love the added crunch and flavour that comes from adding seeds to trail mix. Try pepitas (hulled pumpkin seeds), sunflower seeds and others.
Other stuff – there are so many other things that you can add to trail mix that can enhance the flavour and texture. Here are a few ideas: popcorn, pretzels, coconut, chocolate chips, Cheerios, cacao nibs.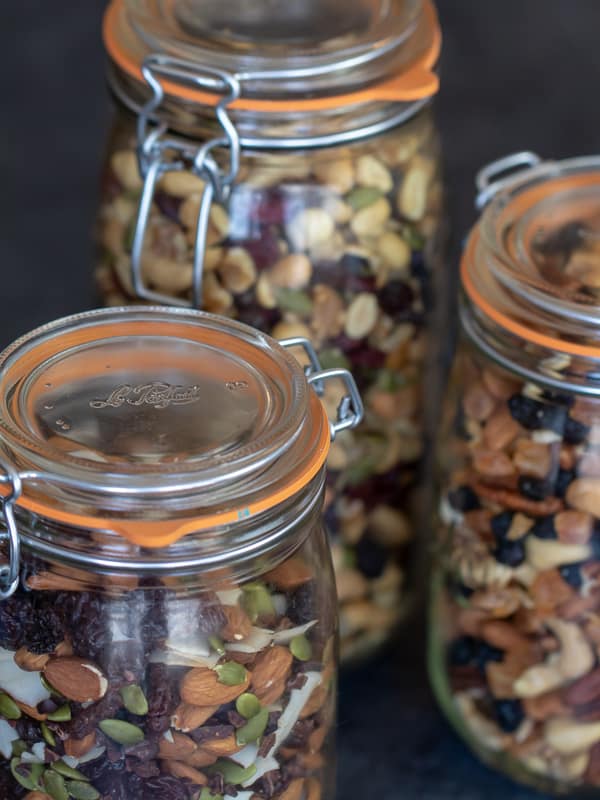 As you can see in the pictures above, I store the trail mixes in glass air tight containers. I have a few jars filled on the counter with some different combinations.
Here is another of trail mix that I made
If you are looking for more of a sweet candy snack mix check out this M&M Rocky Road Trail Mix.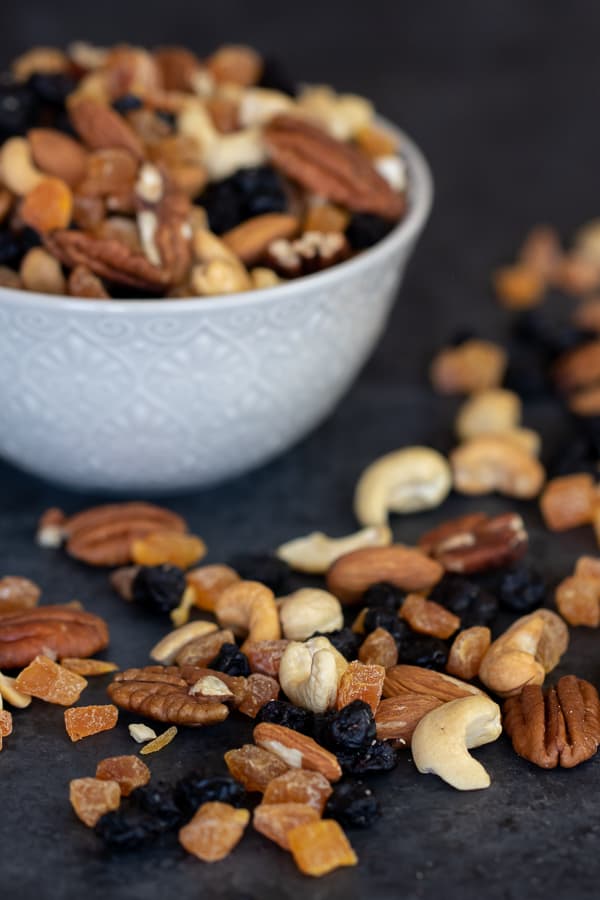 Dried Apricot, Blueberry and Mixed Nut Trail Mix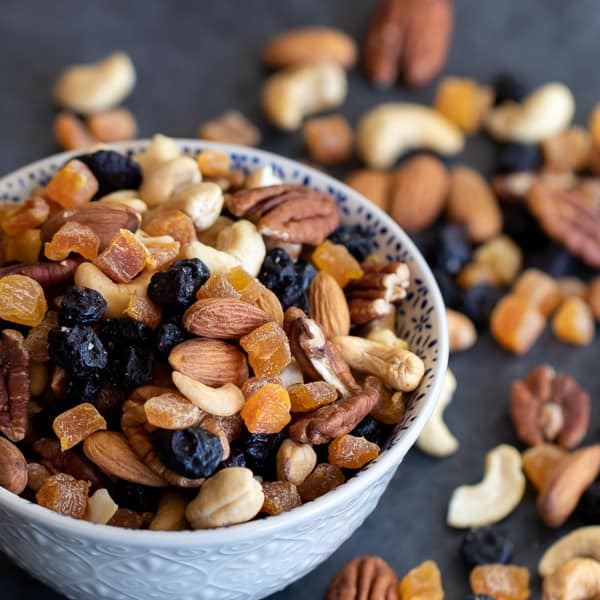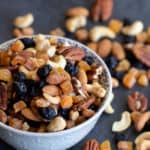 Print
Healthy trail mix of dried fruit and nuts. Pecans, almonds and cashews combine with the dried blueberries and apricots to make a trail mix perfect for snacking!
Servings: 6 cups
Ingredients
1 1/2 cup almonds
1 cup pecans
1 cup cashews
1 1/2 cup dried apricots small cubes
1 cup dried blueberries
Instructions
Mix all ingredients together.

Store in an airtight container.