This sweet and salty trail mix is super easy to throw together and it is perfect for a movie night, gaming marathon or a board game party! Even though this recipe makes one huge bowl, it will not last long.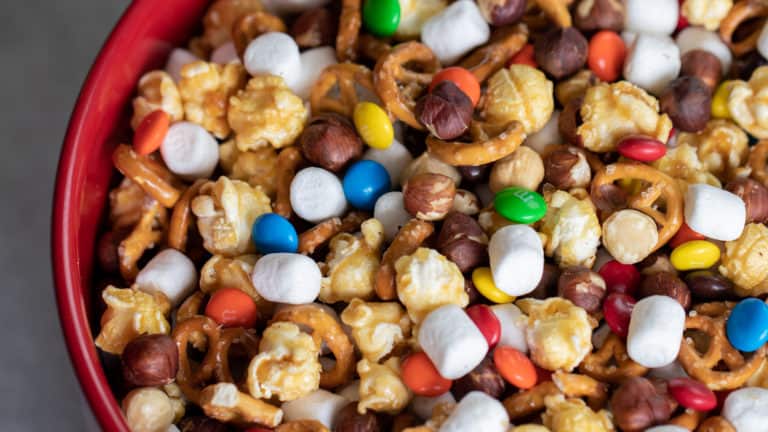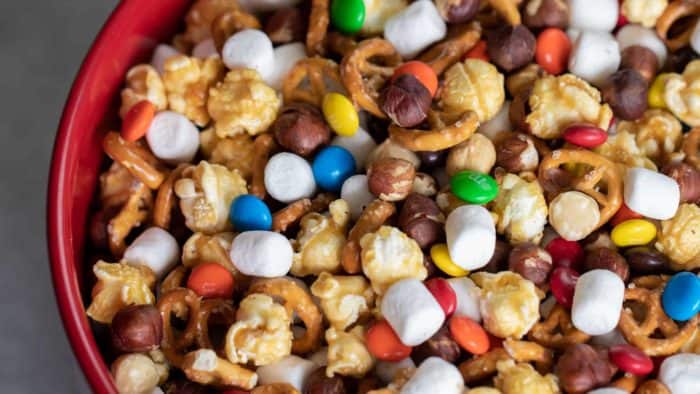 I love trail mixes cause it is so good for snacking. After school, my kids are always hungry and having a bowl of a trail mix is great. Some are a dried fruit and nut kind of trail like Almond Cherry Cacao Trail Mix. I love the fruit and nut trail mixes and will be posting many more.
But, you want more of a candy type of trail mix – something that is both salty and sweet – then this M&M Rocky Road Trail Mix is the perfect choice!
Rocky road is a classic combination of chocolate, nuts and marshmallows. It is popular in many countries around the world and it is a combination used as an ice cream flavour, in some fudge recipes, brownie recipes and more.
There is something special about the combination that makes up rocky road where it just works. So, I figured, lets try a sweet and salty snack type trail mix with a rocky road theme.
I picked up all the ingredients for this mix at a local bulk food store. It is made of 5 ingredients and super simple to make. Dump all the ingredients in a bowl and stir. Yup – that's it!
When my daughter came home from school, I had a big bowl of this trail mix made and she grabbed a handful right away. She loved it and commented that it is not like some other mixes where you go picking through to get the good stuff. She said that everything in this snack mix is awesome.
I don't think I could have asked for a better endorsement!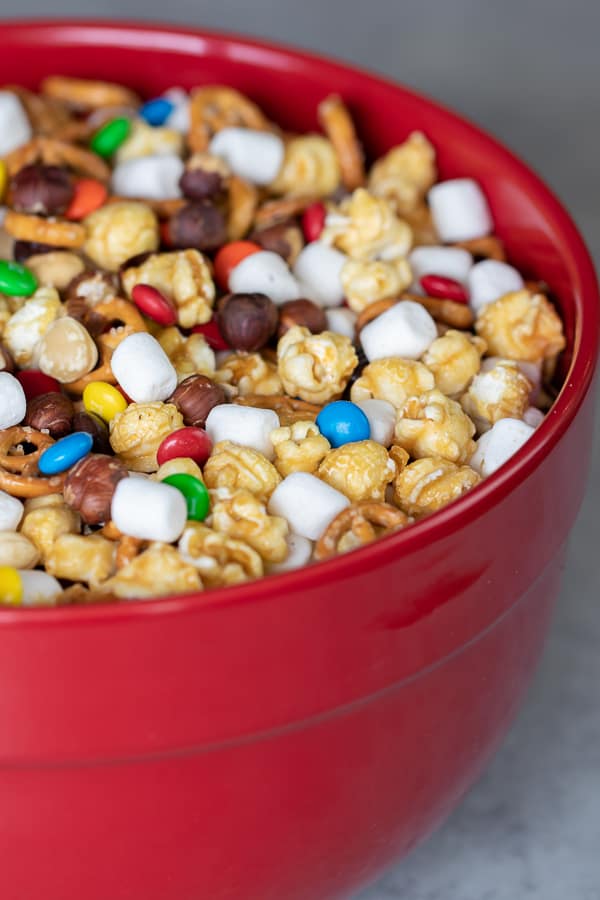 Sweet and salty treats are a great combination and I love how this trail mix has a bit of both. Every handful is filled with so much goodness.
One thing that is awesome about snack mixes like this, is that they are super versatile. There are so many ways that you can change it up. Use chocolate chips instead of the M&Ms. Or try Reese's Pieces – like I have in this Reese's Pieces Trail Mix!
Feel free to switch up the hazelnuts as well. Peanuts, almonds and walnuts would all work great as an alternative.
You don't need to stop there either – you could use potato chips, Doritos, jujubes, and so much more. Sure it might not be a rocky road mixture any more, but this is one of the great things about these trail mixes – there are so many possibilities.
I love to have a bowl of snacking food on the coffee table any time I am watching a game or a movie. Salty snacks are my favourite, so this trail mix is the perfect form of a sweet treat for me since it has a hint of saltiness as well.
Here are some of my other snack food recipes!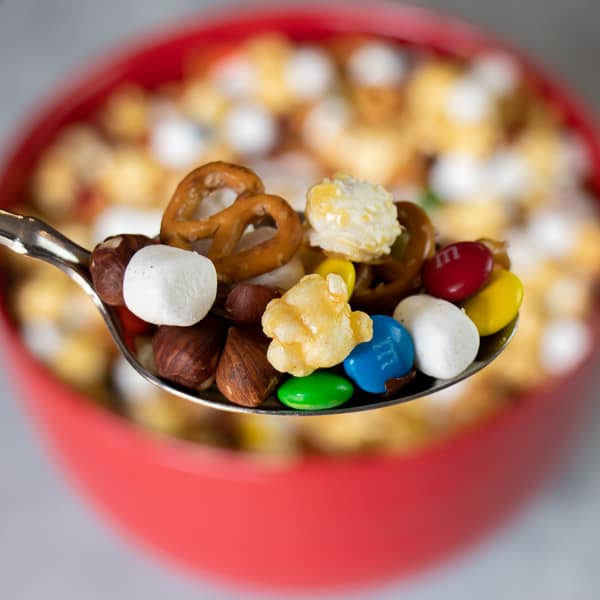 Do not be surprised if this snack mix does not last long. In our house, everyone kept grabbing a handful every time they walked by. Yup, it is quite addictive.
But, if you are wanting to pack it away and store it for another day, make sure to cover it with a lid. You will want to store it in an airtight container, especially with the caramel corn and marshmallows which can dry out and get hard.
But, if properly stored, it should stay fresh for – well, I don't know how long cause ours hasn't ever lasted more than a couple days!
M&M Rocky Road Trail Mix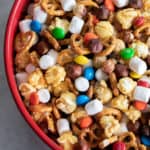 Print
Sweet and salty trail mix recipe made with caramel corn, marshmallows, M&Ms, toasted hazelnuts and mini pretzels. Chocolate, nuts and more, make for a great snack.
Servings: 8 people
Ingredients
3 cups caramel corn
2 cups mini pretzels
2 cups mini marshmallows
1 1/2 cups toasted hazelnuts
1 1/2 cups M&Ms
Instructions
Mix all ingredients together in a large bowl.