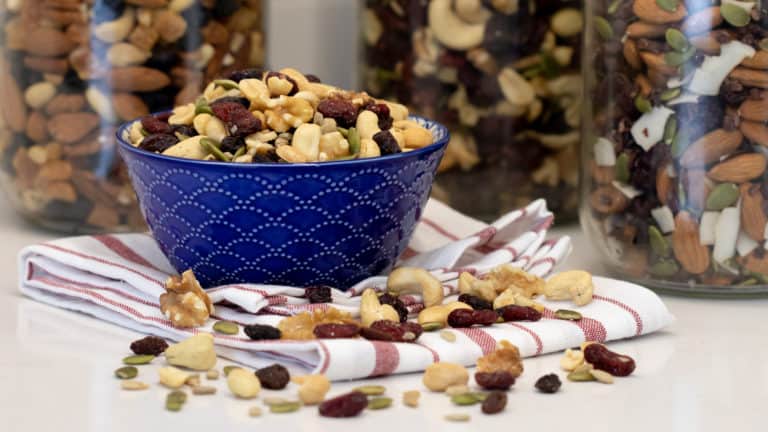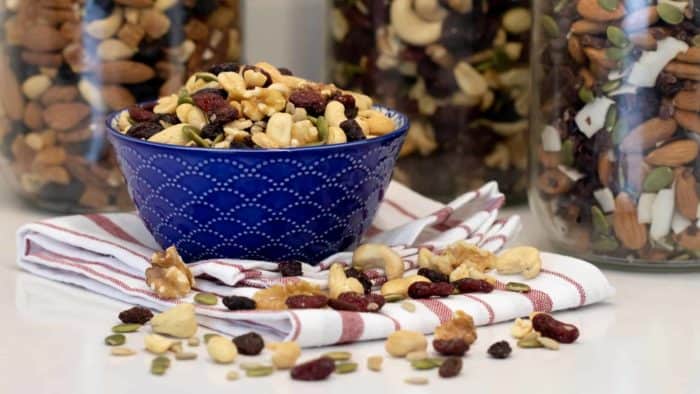 Making trail mix at home is a great way to have a healthy snack. While I used to buy prepackaged trail mix in the stores for years, lately I have switched to making my own. I don't think I will ever go back to those store bought kinds.
Trail mix is great for nibbling. We love them for road trips especially, but they are also ideal when the kids come home from school and they want something small before dinner. I personally love to grab a couple handfuls of trail mix in the evening, while I am watching a show or movie.
I buy the trail mix ingredients at my local bulk food store. They have a great selection of dried fruit, nuts and seeds, which is ideal for homemade trail mix.
This recipe is pretty close to a classic fruit and nut trail mix that you can find in most supermarkets. I used cranberries and raisins for the dried fruit. Most mixes, have more raisins, but I love dried cranberries, so I made sure to have lots of them. For the nuts, I used three kinds including peanuts, walnuts and cashews. To round out the mix I added some pepitas and sunflower seeds.
Every handful of this trail mix is packed with great ingredients. It is delicious and healthy – a great combination!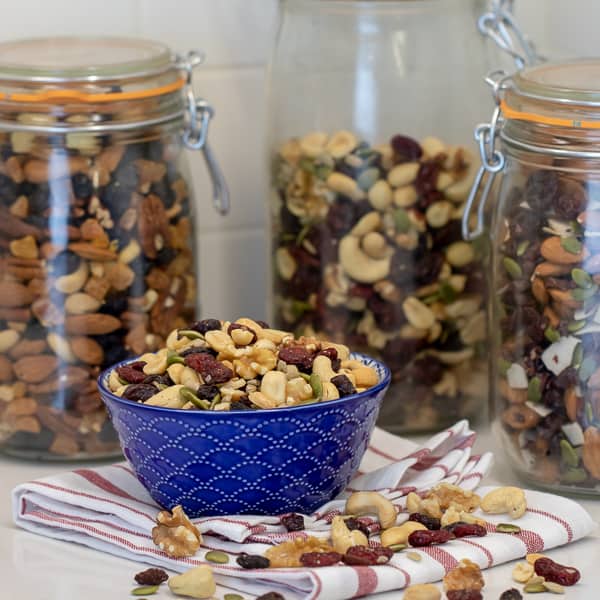 Trail mix is something I love to have in a jar on the counter. With three teenagers, there is always at least one of them hungry in the house. Having a healthy snack available where they can grab a handful of trail mix is great.
For myself, I also love throwing a couple spoonfuls of trail mix in my yogurt, cereal or oatmeal. If you have never made overnight oatmeal, you really need to try it. Not only is it simple and healthy, but with a little of this trail mix, it is very delicious. Such a great way to start the day!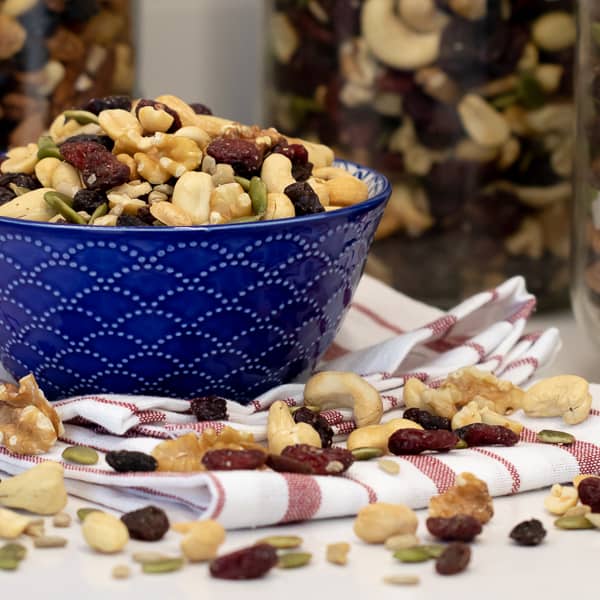 The trail mix in this recipe is probably the kind that I have made most often. It closely resembles many of the classic fruit and nut trail mixes you can buy in stores. The one problem with store-bought mixes, is that I find they have way more peanuts and raisins than anything else. I guess it makes sense, since they are the cheap ingredients.
I like to have more of a balance of the ingredients, which is one of the main reasons I make my own. I don't want to have to go digging for the cashews or walnuts. I like them to be plentiful and in every handful of trail mix.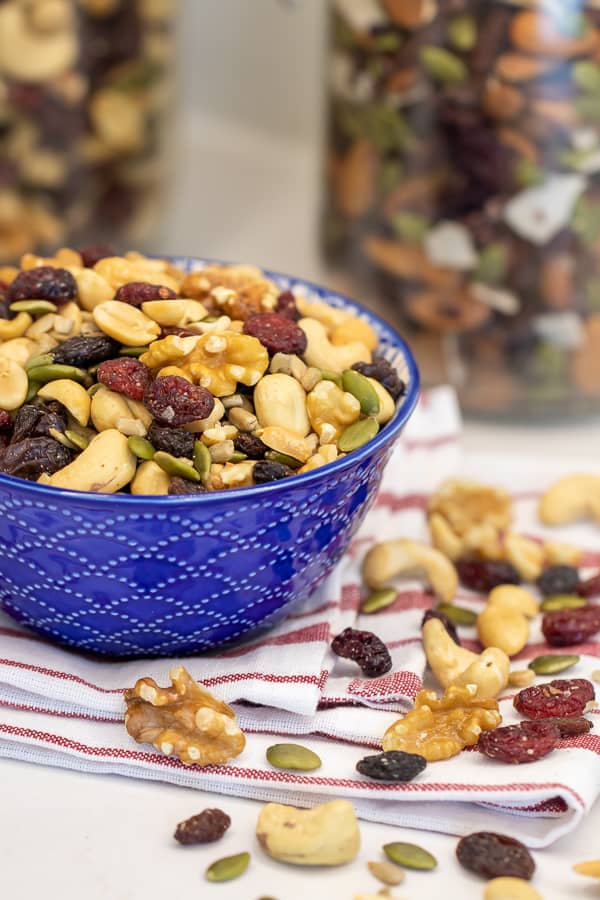 Since starting to make my own trail mixes, I have made a few different kinds. It has been a lot of fun to mixing things up to see which combinations work best together.
Some tips for making trail mixes:
Nuts – Usually, I try to include two kinds of nuts in my mix. Peanuts, are a common choice since they are the cheapest. Some other great nuts for trail mix are almonds, walnuts, pecans, cashews, hazelnuts and pistachios!
Dried fruit – this is where you can give the trail mix some healthy natural sweetness. For this mix, I used cranberries and raisins. Try others as well, like dried cherries, apricots, blueberries and more!
Seeds – I love the added crunch and flavour that comes from adding seeds to trail mix. Try pepitas (hulled pumpkin seeds), sunflower seeds, sesame seeds, chia seeds or flax. There are many options out there.
Other stuff – These extras are a great way to really give some fun and uniqueness to the trail mix you are making! Here are a few ideas:pretzels, coconut, popcorn, chocolate chips, M&Ms, Cheerios, cacao nibs.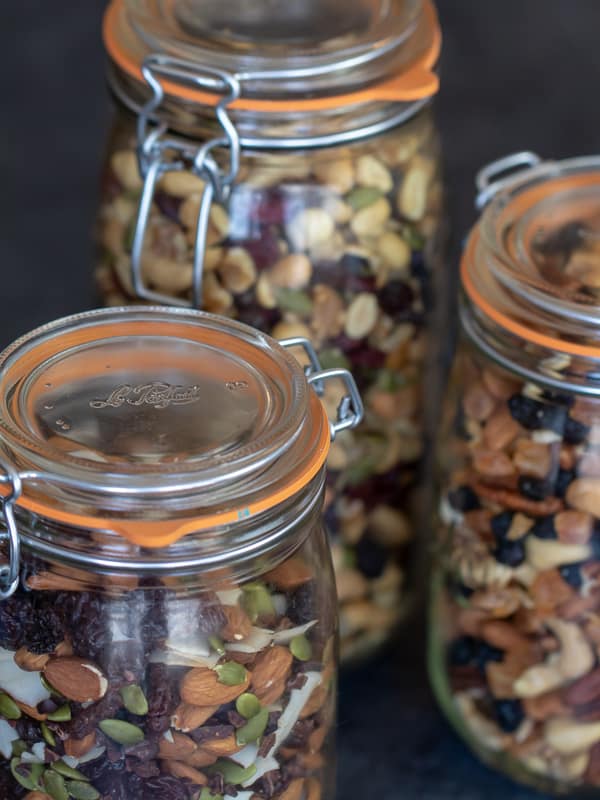 I mentioned earlier that making my own trail mix is one of my new obsessions. There are so many varieties that you can do, that the possibilities are endless.
Here are some of my other trail mix recipes
If you are interested in more of a sweet and salty snack mix, then check these out!
Fruit and Nut Trail Mix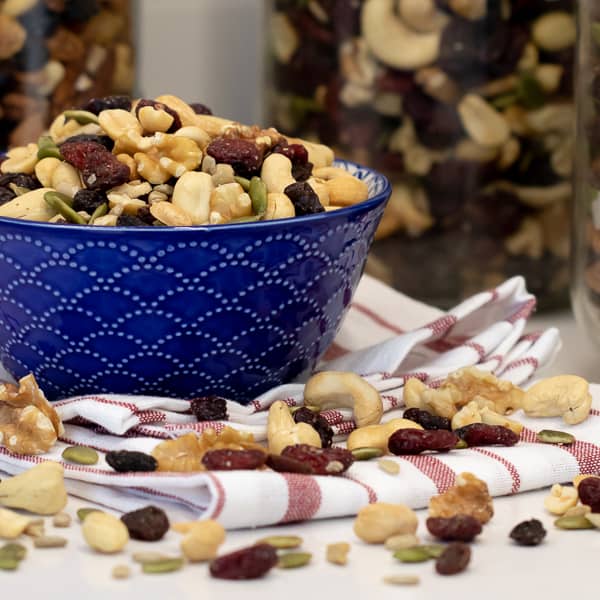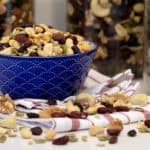 Print
Make your own trail mix at home with a healthy mixture of ingredients. Dried cranberries, raisins, walnuts, cashews, peanuts, pepitas (pumpkin seeds) and sunflower seeds.
Servings: 6 cups
Ingredients
1 1/3 cup peanuts
1 cup cashews
1/2 cup walnuts
1 1/2 cup dried cranberries
2/3 cup raisins
1/2 cup pepitas
1/2 cup sunflower seeds
Instructions
Mix all ingredients together.

Store in an airtight container.