Almond Cherry Cacao Trail Mix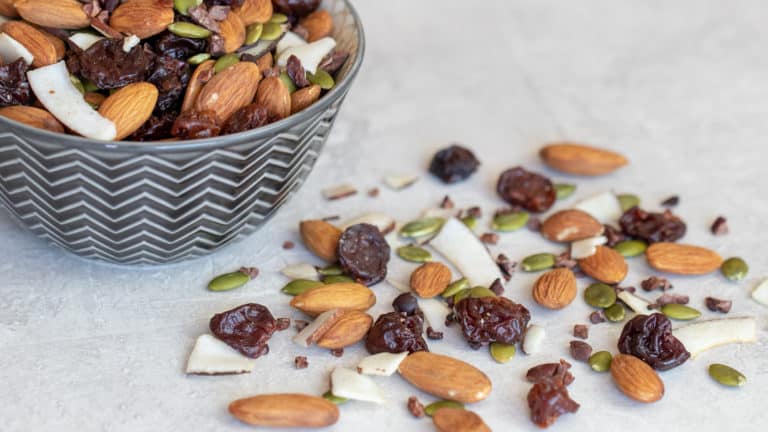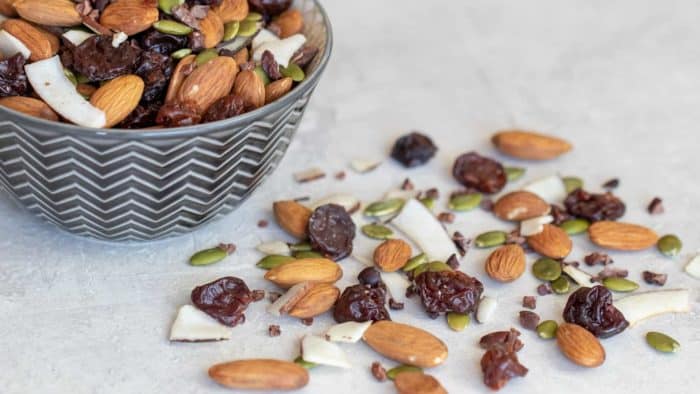 Making trail mix at home has become my new obsession. Lately, we have been trying to reduce the amount of sugar in our diet, so we have been enjoying trail mix as a healthy snack option.
Nibbling on some trail mix is excellent for those hunger times:
in the middle of the afternoon
while watching a show in the evening
during a road trip.
It is during those times when I get hungry, that I make poor choices, eating chips, sweets or other things that are high in fat or sugar.
It is easier to have healthier eating habits when good food is around. It is with this in mind that got me into making trail mix.
Over the last few weeks I have made a number of different kinds of trail mix. While most of them are on the healthier end, I did also make a couple of 'fun' mixes that can be nice as a treat if you want to indulge in something sweet.
Today's recipe is for Almond Cherry Cacao Trail Mix and wow is it delicious.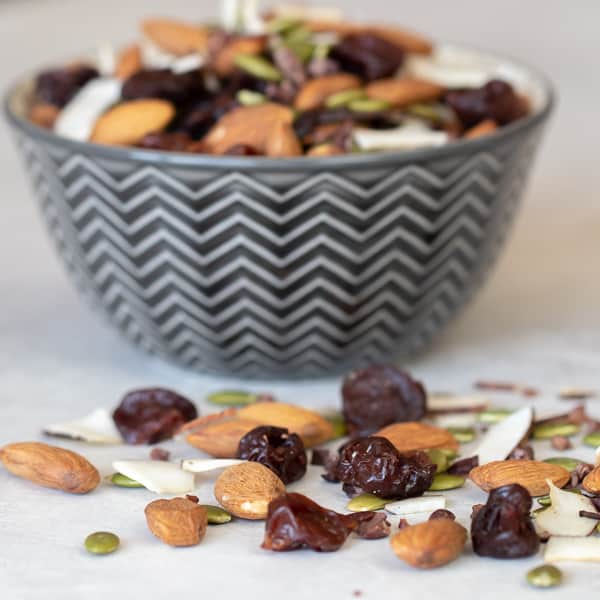 Some trail mixes have chocolate chips or M&Ms in them and, while they are tasty, they do have a bunch of sugar in them. I love adding the flavour of chocolate to trail mixes, especially alongside the almonds and cherries, but did not want all the added sugar. If this was going to be a truly healthy trail mix, I wanted to keep the refined sugar out of this one.
So, that is what make cacao nibs so great! Cacao nibs are the pure chocolate as they are actually small pieces of the cocoa bean.
Chocolate is actually packed with nutrients, so these little nibs are full of nutritional goodness.
Cacao nibs definitely give this trail mix some chocolate flavour. They are potent though, and since there is not sugar, they can be bitter. The nibs probably most closely remind me of cocoa powder.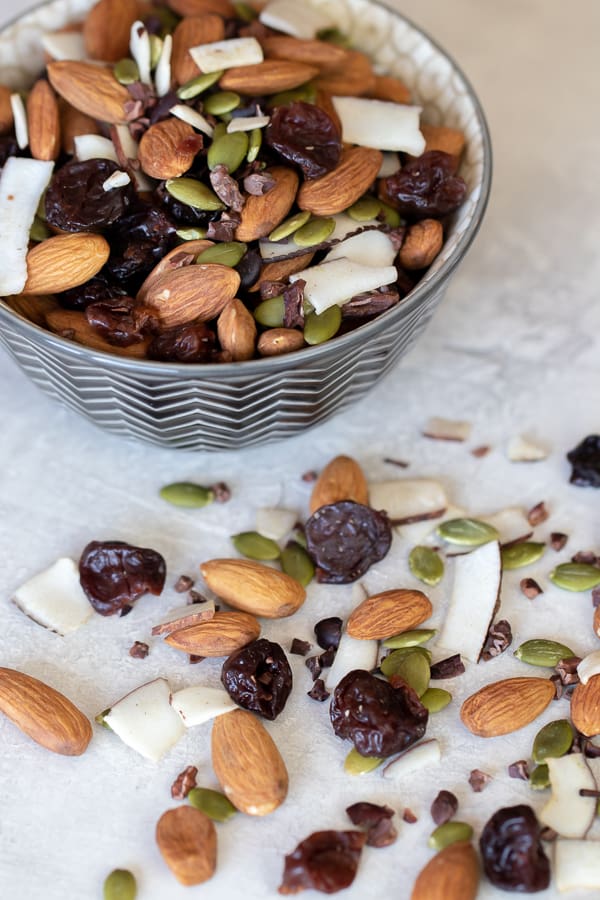 The dried cherries in this trail mix give the natural sweetness needed to go alongside the cocoa flavour from the nibs and it is rich, chocolatey and so delicious. Add the nuttiness from the almonds and pepitas and you have one amazing trail mix.
But, that is not all. I also mixed in some coconut strips. These unsweetened pieces of coconut are so good and really enhance the flavour of this trail mix.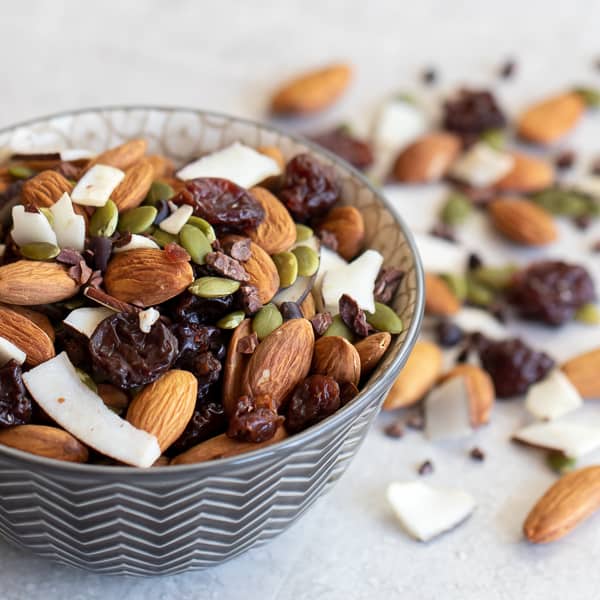 Since starting to make my own trail mixes, I have made a few different kinds. It has been a lot of fun to mixing things up to see which combinations work best together.
Some tips for making trail mixes:
Nuts – I always make sure to have at least one kind of nut and sometimes more – almonds, walnuts, peanuts, pecans, cashews, hazelnuts and pistachios all work great in trail mixes!
Dried fruit – these can give the trail mix some natural sweetness. But, be careful when buying dried fruit because sometimes they have added sugar. Dried mango, in particular, can have lots of sugar. So does banana chips.
Seeds – I love the added crunch and flavour that comes from adding seeds to trail mix. Try pepitas (hulled pumpkin seeds), sunflower seeds and others.
Other stuff – there are so many other things that you can add to trail mix that can enhance the flavour and texture. Here are a few ideas: popcorn, pretzels, coconut, chocolate chips, Cheerios, cacao nibs.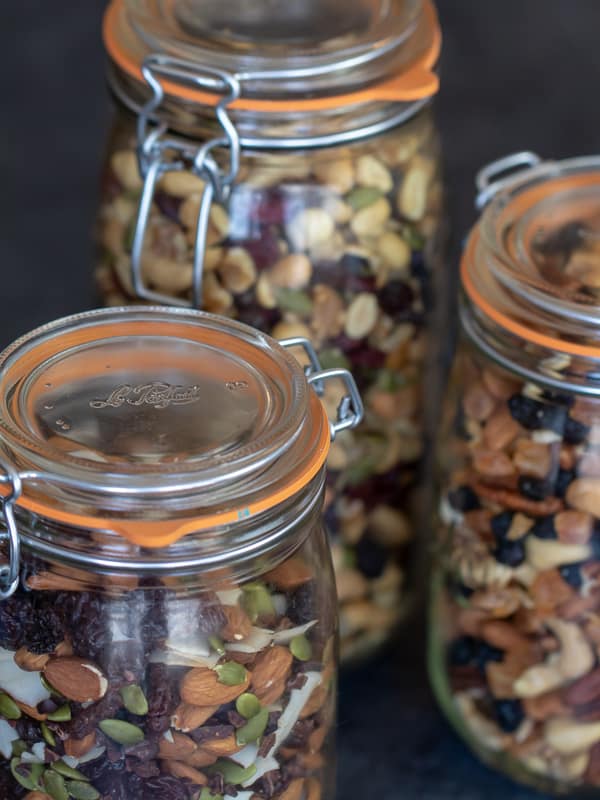 As you can see in the pictures above, I store the trail mixes in glass air tight containers. I have a few jars filled on the counter with some different combinations. Over the next few weeks I will be posting some of my other trail mix recipes. So, stay tuned!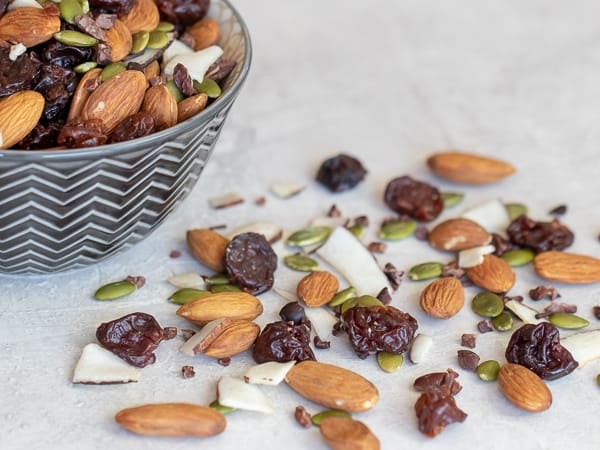 Almond Cherry Cacao Trail Mix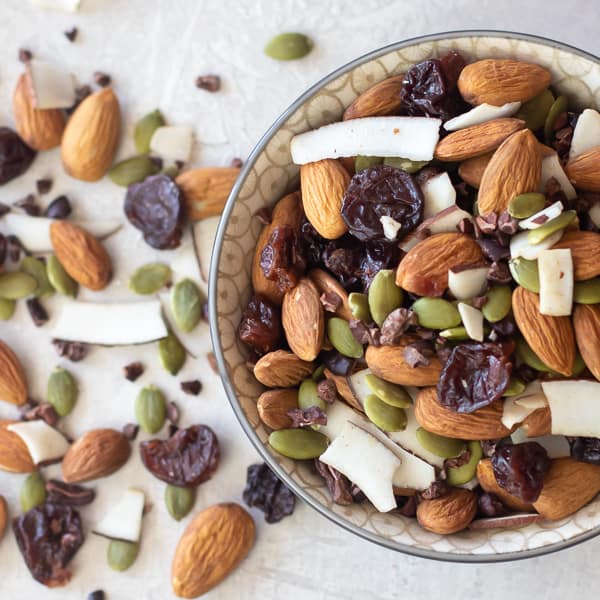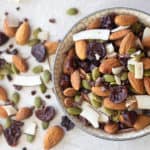 Print
Healthy trail mix with hearty combination almonds, dried cherries, pepitas, coconut strips and cacao nibs. This mix has no sugar but there is a chocolate flavour from the nibs.
Servings: 5 cups
Ingredients
2 cups almonds
1 1/3 cups dried cherries
2/3 cup coconut strips
2/3 cup pepitas
1/3 cup cacao nibs
Instructions
Mix all ingredients together.

Store in an airtight container.