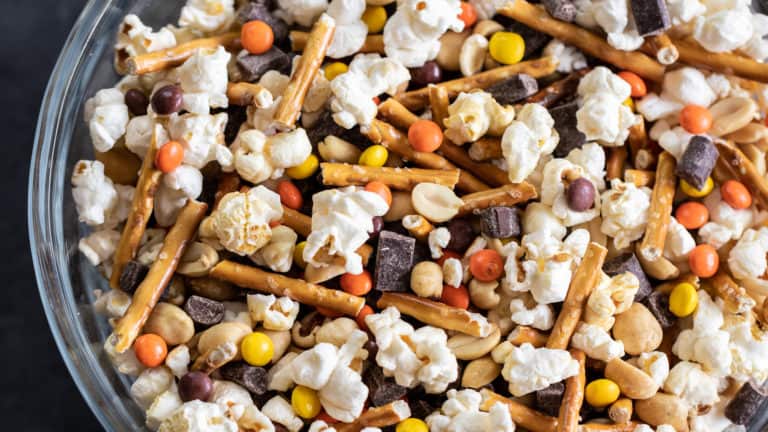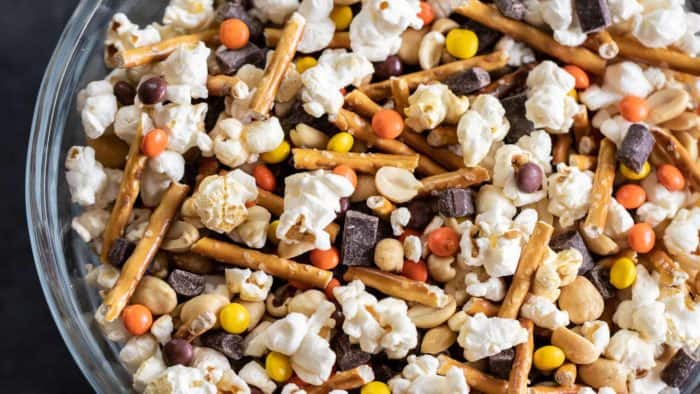 Our family has recently fallen in love with making our own trail mixes and snack mixes. Not only are they super tasty, but it is also a lot of fun mixing different ingredients together to see how they taste together in a trail mix.
We have made some healthy trail mixes with dried fruit and nuts. Other times, when you just want a treat, there some snack mixes like this Reese's Pieces Trail Mix. This recipe uses the classic combination of chocolate and peanut butter to make on amazing snack mix. I used Reese's Mini Pieces for that candy peanut butter crunch. Along with those I mixed in some dark chocolate chunks. Some peanuts were thrown in to add to the nutty flavour.
To round out this mix, I added some broken pretzel sticks. These give the mix such a great salty addition and I just love the crunch. On top of those, I added some popcorn. The popcorn I used was a sweet and salty kind and they were perfect for this mix.
I picked up all the ingredients for this mix at a local bulk food store. It is made of 5 ingredients and super simple to make. Dump all the ingredients in a bowl and stir. Yup – that's it!
This trail mix was made on a day when the kids had some friends over. They all just hovered around the bowl, grabbing handfuls of the goodness. Everyone flipped out saying that this was an awesome snack. After they ate a bunch, they went downstairs for some video games. Every once in a while a couple of them came back up to grab another handful.
Truly, I must agree. This snack mix is seriously good and totally addictive.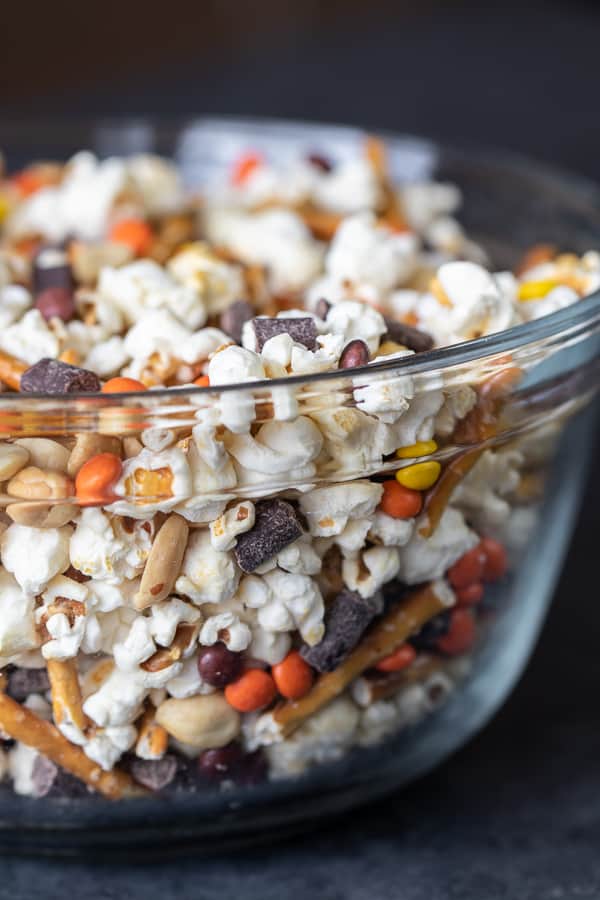 One of my favourite aspects of this snack mix is the mixture of both salty and sweet. Every handful has a bit of both. The saltiness of the pretzels and popcorn as well as the sweetness of the Reese's Mini Pieces and chocolate.
It is just so very good!
For the chocolate in this mix, I used dark chocolate. I prefer the flavour of dark over milk chocolate, but either can easily be used. I pick the chocolate up at my local bulk food store and found these chunks of dark chocolate. They are a little larger than chocolate chips and thought they would be perfect for a trail mix. If you are not able to find chocolate chunks like this, feel free to use chocolate chips.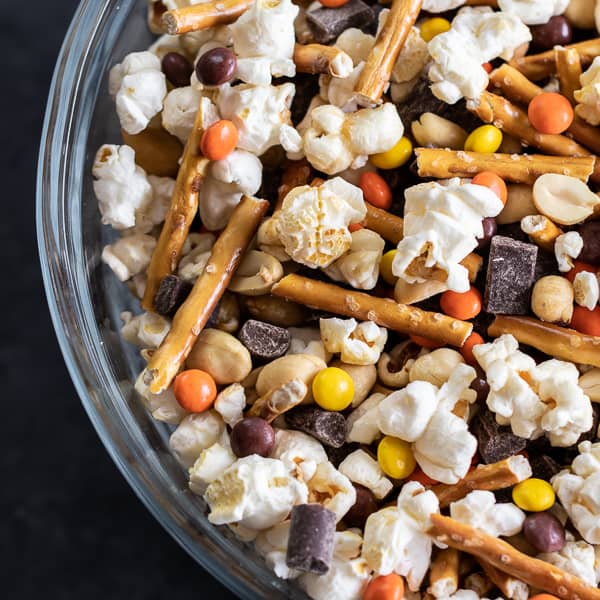 One thing that is awesome about trail mixes and snack mixes like this, is that they are quite versatile. There are so many ways that you can change it up. Use peanut M&Ms instead of the Reese's Pieces!
Feel free to switch up the peanuts as well. Almonds, pecans and walnuts would all work great as an alternative.
You don't need to stop there either – you could use potato chips, Doritos, jujubes, and so much more. Sure it might not be a Reese's Mini Pieces snack mixture any more, but this is one of the great things about these trail mixes – there are so many possibilities.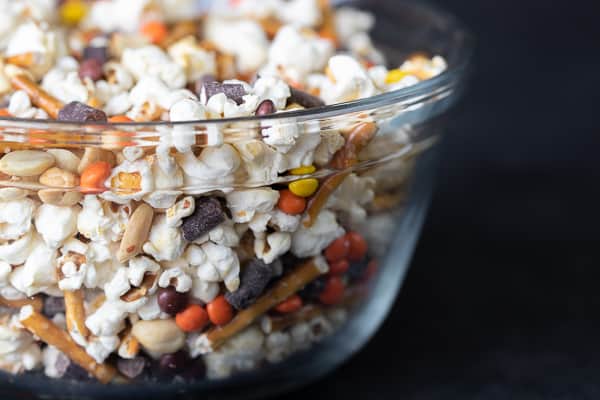 If you are looking for some other trail mixes or snack mixes, then check out these combination recipes.
Reese's Pieces Trail Mix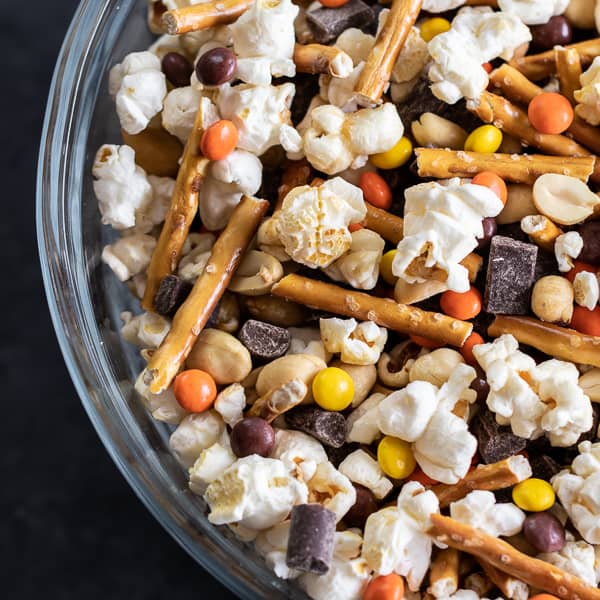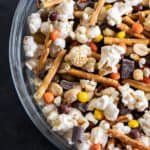 Print
Make a snack mix at home with mini Reese's Pieces, chunks of dark chocolate, peanuts, pretzel sticks and sweet and salty popcorn. Great for movie night, road trips or an after school snack!
Servings: 18
Ingredients
3 cups sweet and salty popcorn
1 1/2 cups broken pretzel sticks
1 1/2 cups peanuts
1 1/2 cups dark chocolate chunks or chips
1 1/2 cups Reese's Mini Pieces
Instructions
Mix all ingredients together in a large bowl.