Reese's Pieces and Peanut Butter Cup Blondies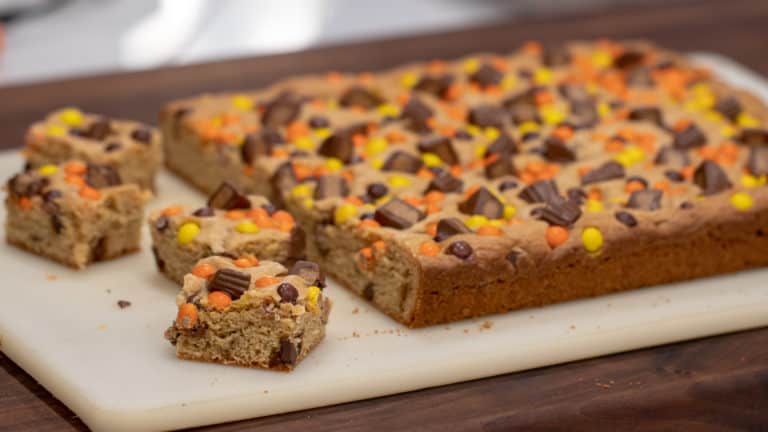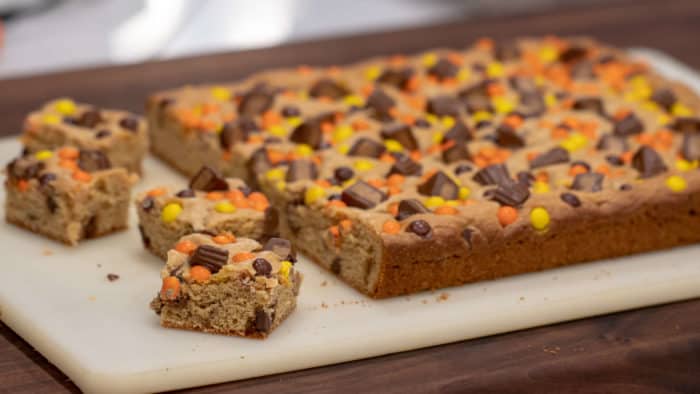 Chocolate and peanut butter.
Could there be a better food combination out there?
With my vote, I think I would have to say 'yes'. While peanut butter and both great on their own, or with other things, there is something special that happens when they are brought together.
I love to bake with chocolate and peanut butter.
Today's recipe uses this classic combination one more time, but this time it is in a blondie.
I chose to make these with a blondie instead of brownie because I wanted to highlight the peanut butter flavour in the dense cake like blondie. There is still plenty of chocolate but they come in bursts of flavour through the chocolate chips and the peanut butter cups.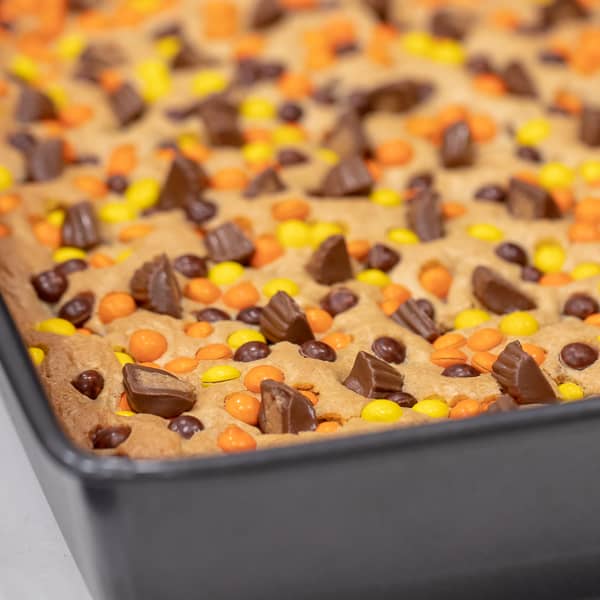 The Reese's Pieces are quite possibly my favourite aspect of this blondie. Not only do they add a splash of colour but the candy coating gives a crispy crunch and a pop of sweetness.
For both the Reese's Pieces and the Peanut Butter Cups, I use the minis. The little versions are much better for baking like this blondie recipe because it spreads the goodies more evenly across the top.
Do not mix either into the blondie batter. Stir the chocolate chips in the batter and pour into a 13×9 pan. Use a rubber spatula to evenly spread the batter.
Sprinkle the Reese's Mini Pieces all over the batter. This is done before it is baked. Once you have sprinkled them on the batter, put the pan in the oven and bake for about 25-30 minutes, or until a tooth pick stuck in the centre comes out clean.
Once the blondies are finished baking, take the pan out of the oven. While still warm, stick the halved mini peanut butter cups all over the top of the blondie. Do not push them all the way in. I press them in so that a little more than half of the peanut butter cup is sticking up and out of the blondie.
Wait until the blondie cools completely before cutting into 'two-bite' size squares. If you cut while it is warm, the chocolate will still be melted and can make a mess during the cutting.
I also like to cut up blondies or brownies when they are out of the baking pan.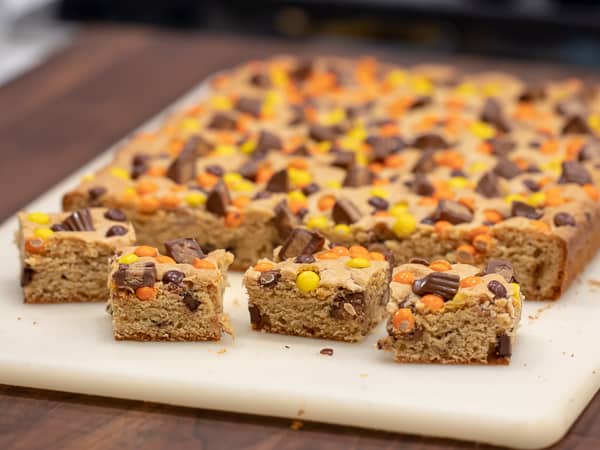 These blondies are so good. While they are amazing just like this, another way I like to have them it to serve them warm with a couple bite size blondies in a bowl and a scoop of vanilla ice cream. Wow – it is just incredible!
Reese's Pieces and Peanut Butter Cup Blondies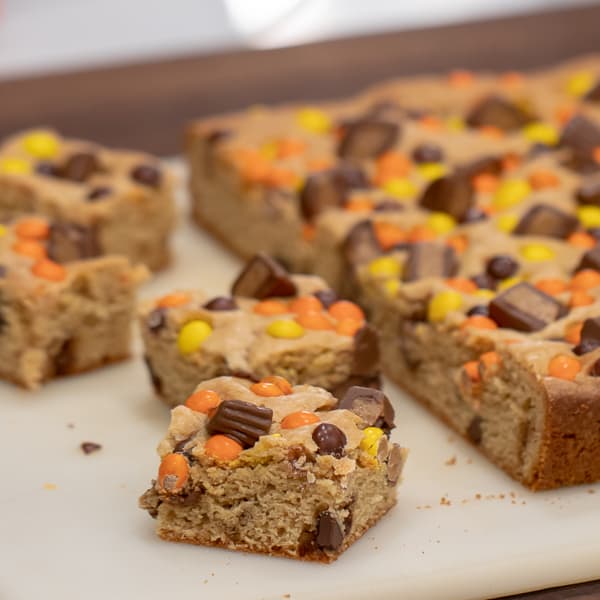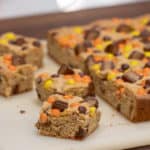 Print
This chewy peanut butter blondie has mini Reese' Pieces, chopped peanut butter cup minis and chocolate chips. A delicious dessert and alternative to a brownie.
Servings: 36 servings
Ingredients
2/3 cup brown sugar
2/3 cup white sugar
1/4 cup butter , melted
1/2 cup peanut butter
1 tsp vanilla
3 medium eggs
1 1/4 cup flour
1 tsp baking powder
1/2 tsp salt
1/2 cup chocolate chips
283g package Reese's Mini Pieces
400g package Reese's Peanut Butter Cup Minis , halved
Instructions
Preheat oven to 350F.

Using a stand mixer, beat the brown sugar, white sugar, melted butter, peanut butter, vanilla and eggs until smooth and creamy.

Slowly beat the flour, baking powder and salt into the wet mixture. Mix in the chocolate chips.

Pour batter into a greased 13x9 pan. Sprinkle the Reese's Mini Pieces on top.

Bake for 25-30 minutes or until a toothpick stuck in the centre comes out clean.

Remove from the oven and press the halved mini peanut butter cups on top of the blondie.

Cool completely and cut into 36 pieces.
Nutrition
Per serving:
Calories: 193.17kcalCarbohydrates: 24.38gProtein: 4.12gFat: 9.44gSaturated Fat: 4.17gCholesterol: 19.81mgSodium: 123.86mgFiber: 1.04gSugar: 19.01g