Chocolate Fudge and Peanut Butter Chip Bar Cookies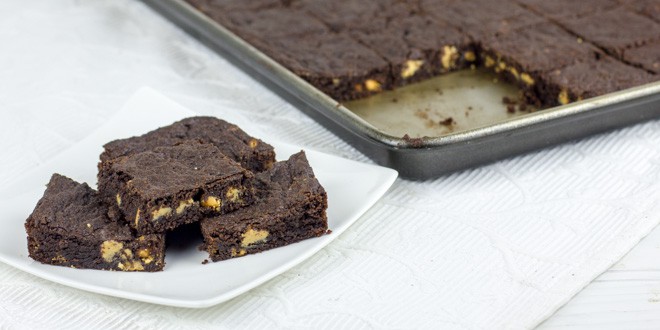 A couple days ago I shared that I was testing our new stove with some baking. I made two different sheets of bar cookies: Chocolate Chip Peanut Butter Bar Cookies was the recipe I shared a couple days ago. Today I am sharing the other kind of bar cookie I made. These are actually a reverse of the first ones. Instead of peanut butter cookies, these are chocolate fudge cookies and instead of chocolate chips, this cookie has peanut butter chips. Bar cookies are so easy to make and they can be in the oven within minutes.
Both cookies tasted great, but this one was my favorite. I just love cookies that have a fudgy texture. They were great on their own, but were incredible with ice cream. Just imagine making an ice cream sandwich with these! Vanilla ice cream sandwiched between two of these bar cookies……AWESOME!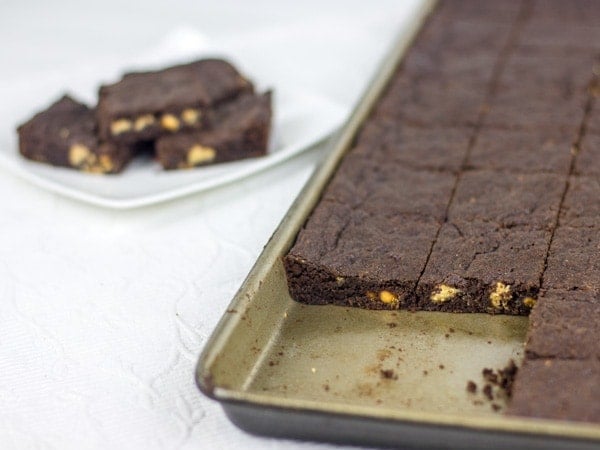 Chocolate Fudge Peanut Butter Chip Bar Cookies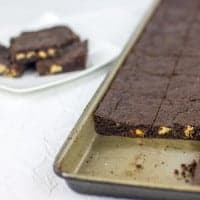 Print
Making cookies has never been easier than with this bar cookie recipe. The flavours of chocolate fudge and peanut butter blend together to make a cookie that is simple yet delightful!
Servings: 35
Ingredients
1 cup butter , softened
½ cup white sugar
1 cup dark brown sugar
1 cup cocoa powder
2 eggs
1½ tsp vanilla
1⅓ cup flour
1 tsp baking soda
½ tsp baking powder
1 tsp salt
1 1/2 cups peanut butter chips
Instructions
Preheat the oven for 375F.

Grease a cookie sheet – either a 15×10 or 17×11.

With an electric mixer, cream the butter with the white and brown sugar until smooth. Beat in the cocoa powder, eggs and vanilla.

Whisk the baking soda, baking powder and salt in with the flour, then slowly beat the flour into the creamed ingredients until smooth and no longer lumpy.

With a wooden spoon or mixer on low, add the peanut butter chips until evenly combined.

Press the cookie dough evenly on the greased cookie sheet.

Bake in the oven for 20-22 minutes if using a 15×10 cookie sheet or 17-19 minutes if using a 17×11 cookie sheet.

Cool on a wire rack and cut into bars.
Nutrition
Per serving:
Calories: 148kcalCarbohydrates: 18gProtein: 3gFat: 8gSaturated Fat: 5gCholesterol: 25mgSodium: 169mgFiber: 1gSugar: 12g