Chocolate Fudge and Peanut Butter Chip Bar Cookies
These bar cookies are a cross between a cookie and a brownie. Lots of chocolate in every bite and the peanut butter chips are such a nice addition.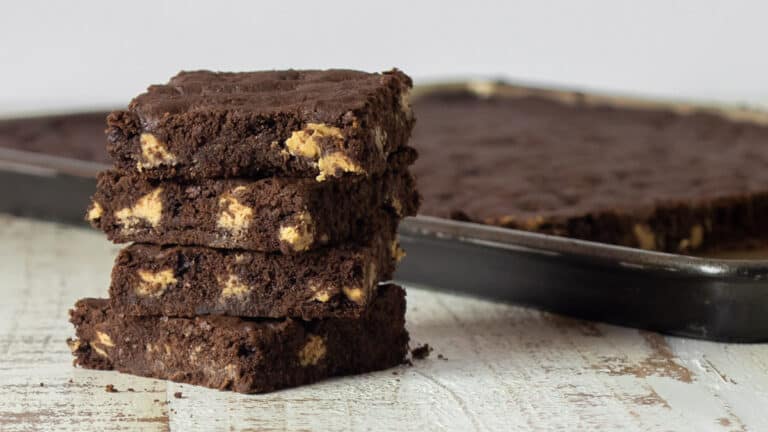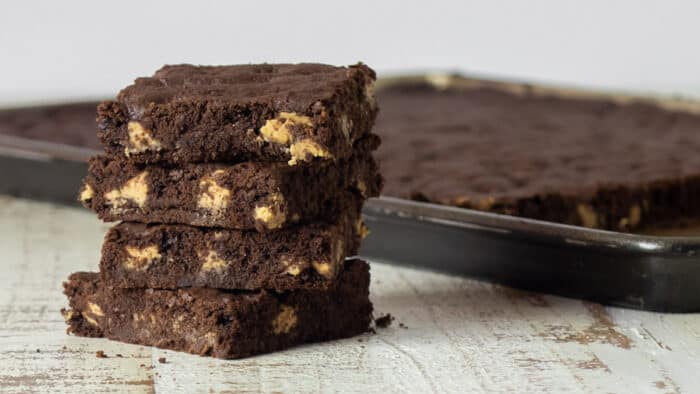 I love slab cookies and these chocolate fudge bar cookies are simple to make and taste incredible. The cookie is chewy and chocolatey. It is almost like a cross between a brownie and a cookie. On top of that, the peanut butter chips mixed into the cookie is just perfect.
I just love cookies that have a fudgy texture. They were great on their own, but were incredible with a cup of espresso, or a scoop of ice cream. Just imagine making an ice cream sandwich with these! Vanilla ice cream sandwiched between two of these bar cookies……AWESOME!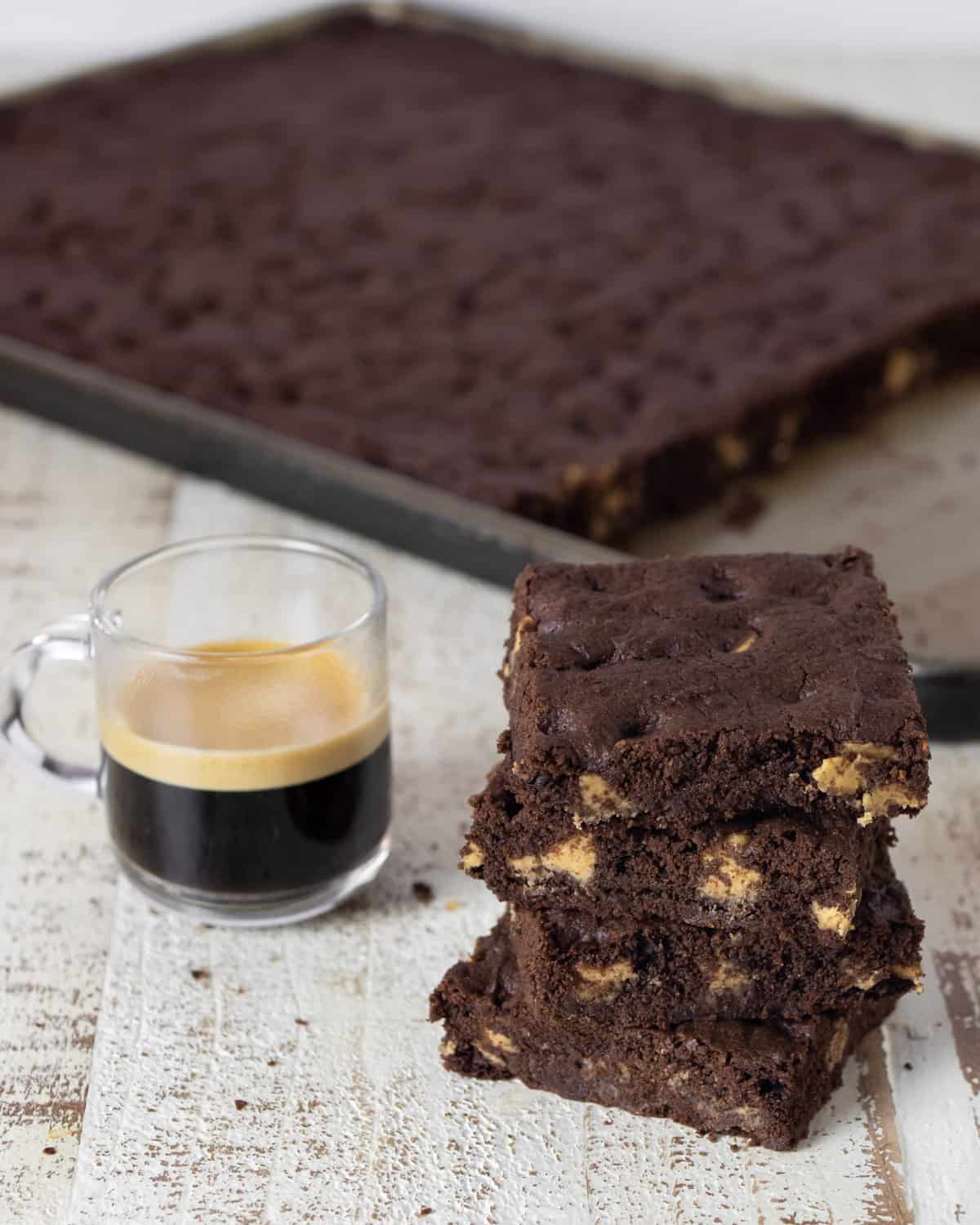 What Are Bar Cookies?
I am a huge fan of bar cookies. They are basically just cookies that are not individually shaped and baked. Instead, the dough is pressed into a baking sheet or dish and baked as a big slab. Once finished baking, the cookie slab is cut into individual bars.
Bar cookies and awesome because, not only are they easy to make, the recipe can be baked in one batch since it is a slab. Typically, cookie recipes need to be baked in a couple batches slowing down the process.
Bar cookies are also quite soft and chewy, almost soft like a dense brownie but being a cookie instead. They are awesome!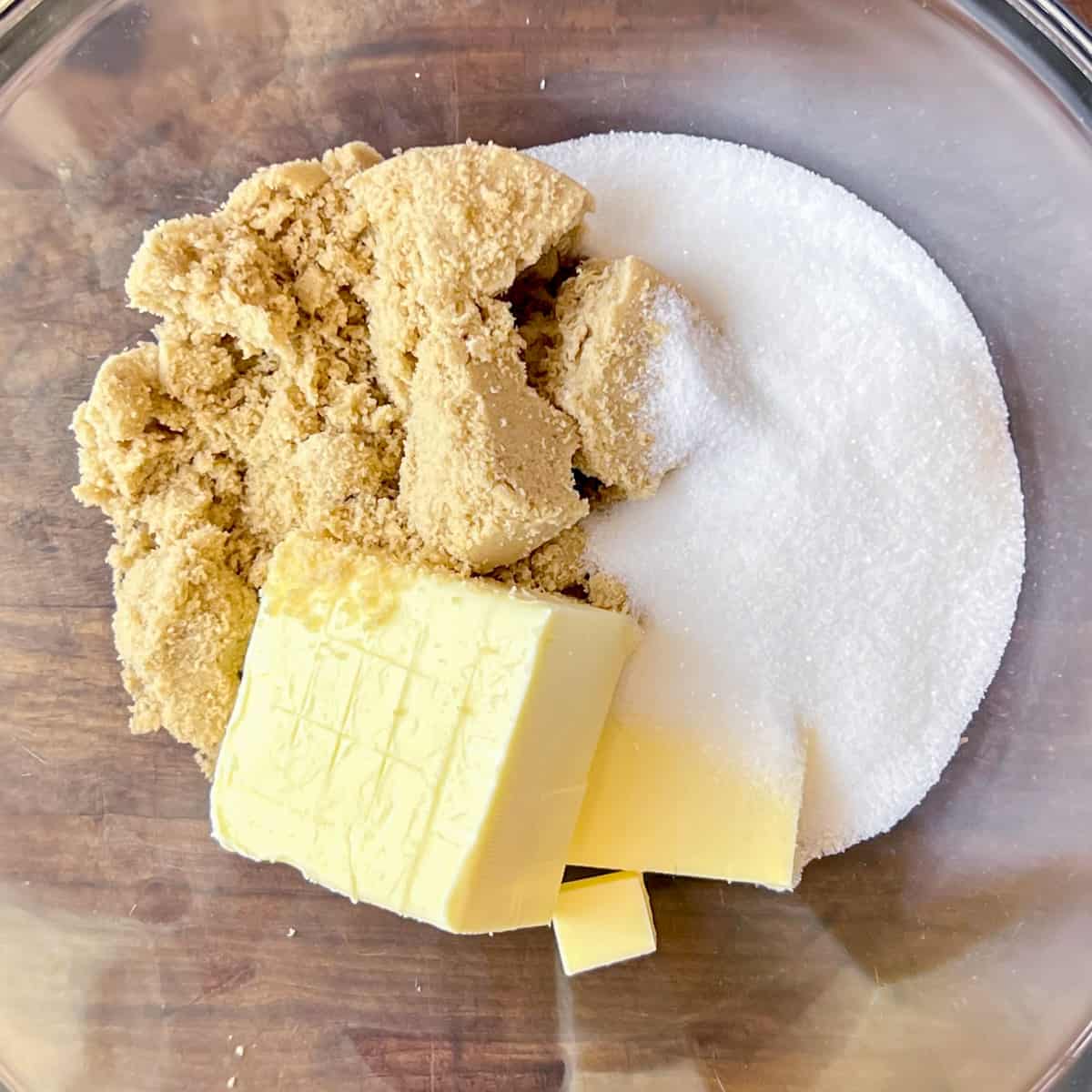 Ingredient Notes
Butter
Cocoa powder
White sugar
Brown sugar
Eggs
Vanilla
Flour
Baking powder
Baking soda
Salt
Peanut butter chips
Beat The Wet Ingredients First
When making cookies, I prefer to mix together the wet ingredients and dry ingredients separately. First, cream together the butter with both sugars. Then, mix in the eggs, vanilla and cocoa powder. Beat with an electric mixer until smooth and creamy.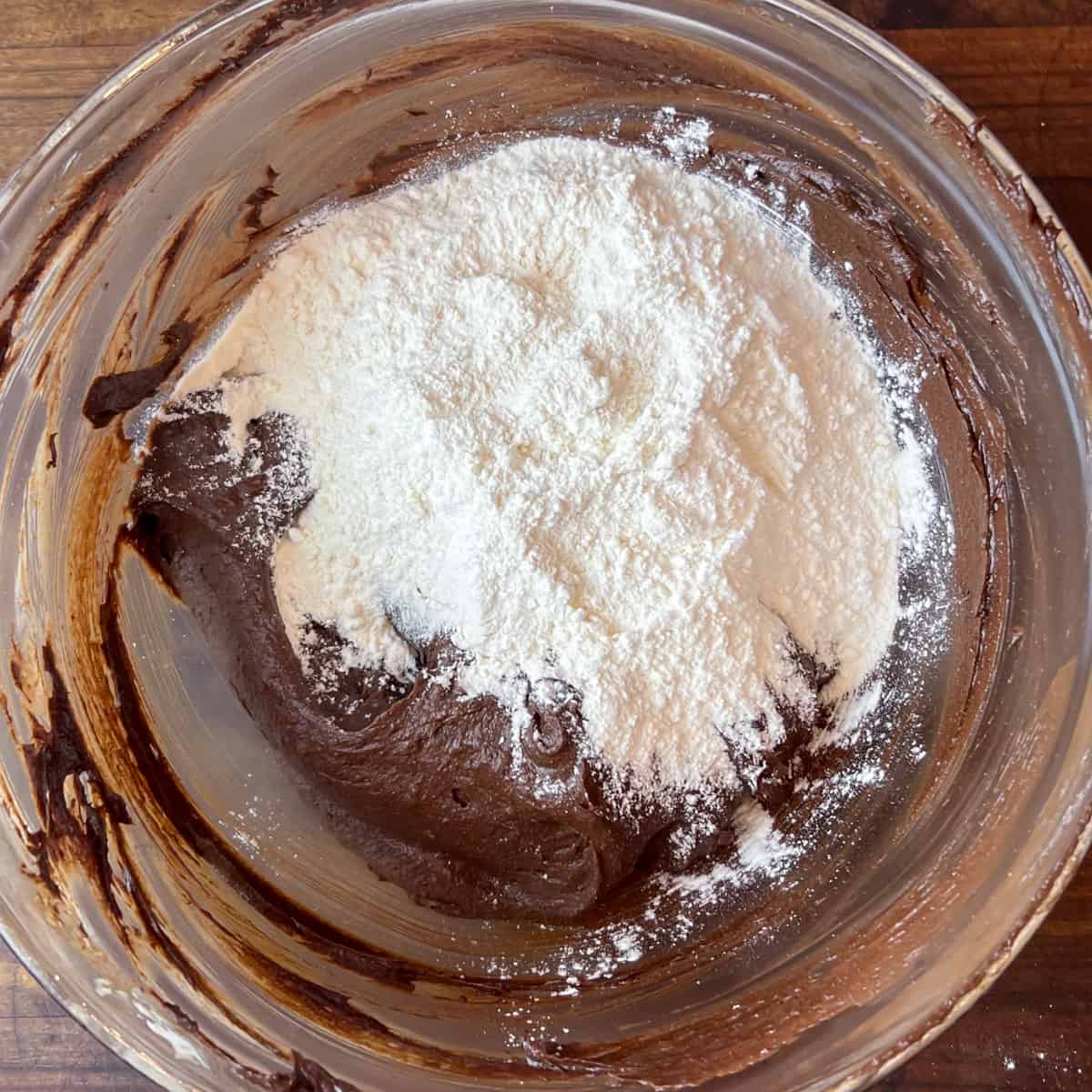 Mix In Dry Ingredients
Next, whisk together the flour, baking soda, baking powder, and salt, in a separate bowl. Then, add the dry ingredients to the wet mixture and beat slowly at first so the flour does not fly everywhere. Mix until well combined and the cookie dough is an even consistency.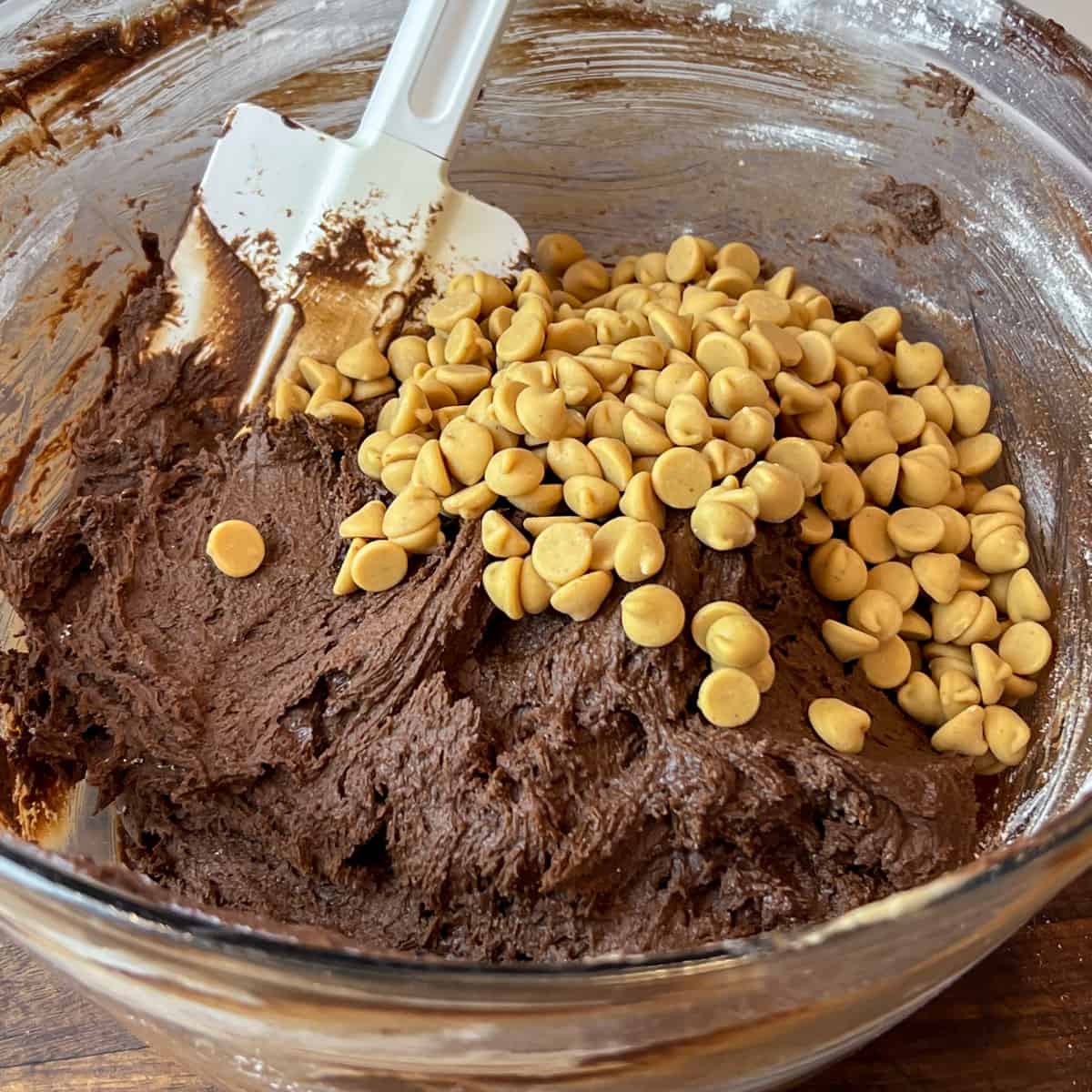 Peanut Butter Chips!
The last ingredient to be added are the peanut butter chips. I have tried dark chocolate chips (amazing!), butterscotch chips (also amazing!), but for these chocolate fudge bar cookies, I find that adding a little bit of peanut butter works so well!
You can beat in the peanut butter chips, or you can gently fold them in with a rubber spatula. Now this cookie dough is done and ready to go.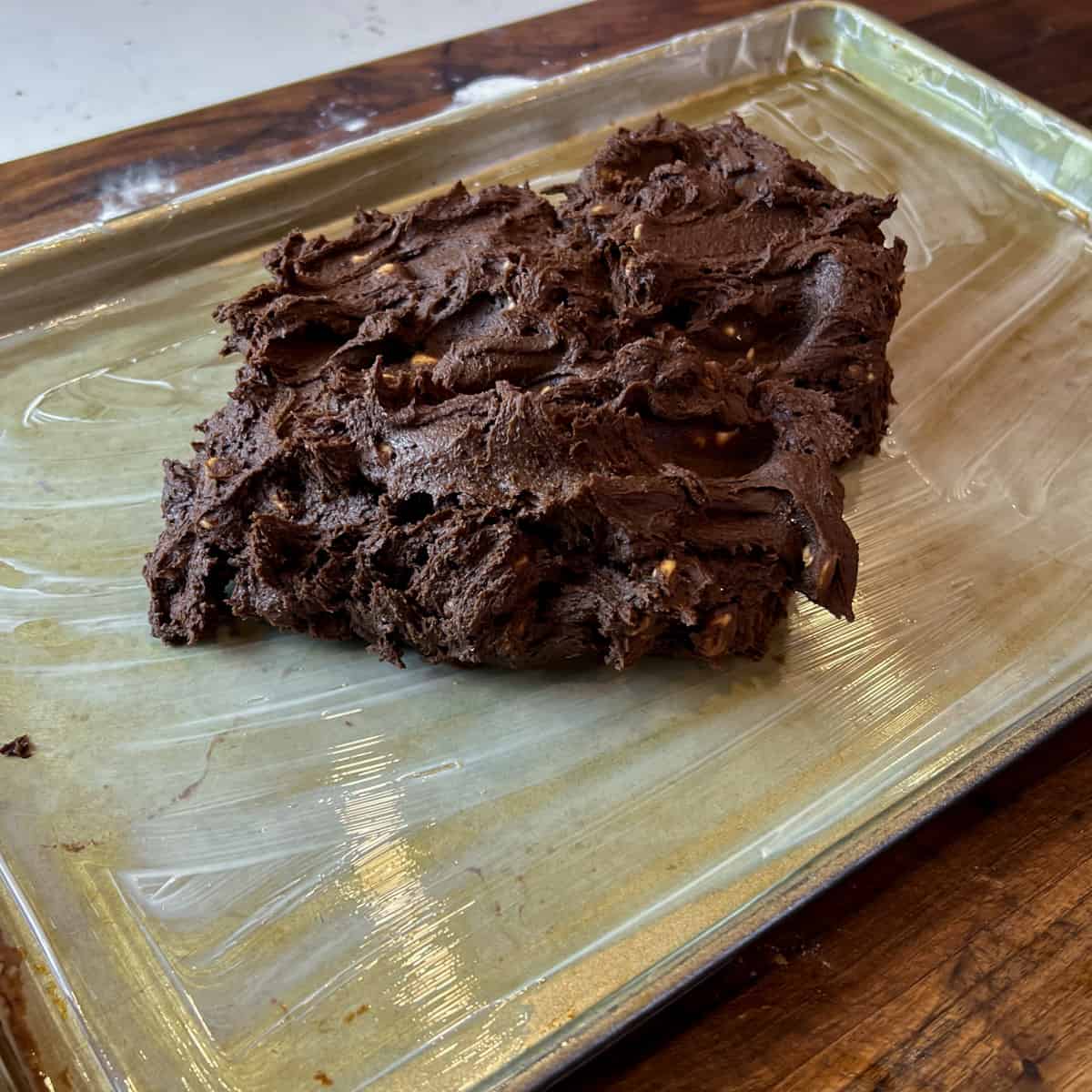 Press Into a Baking Sheet
Take the cookie dough and press it onto a greased cookie sheet. Try to keep the dough in as even of a layer as possible. This will ensure even and consistent baking.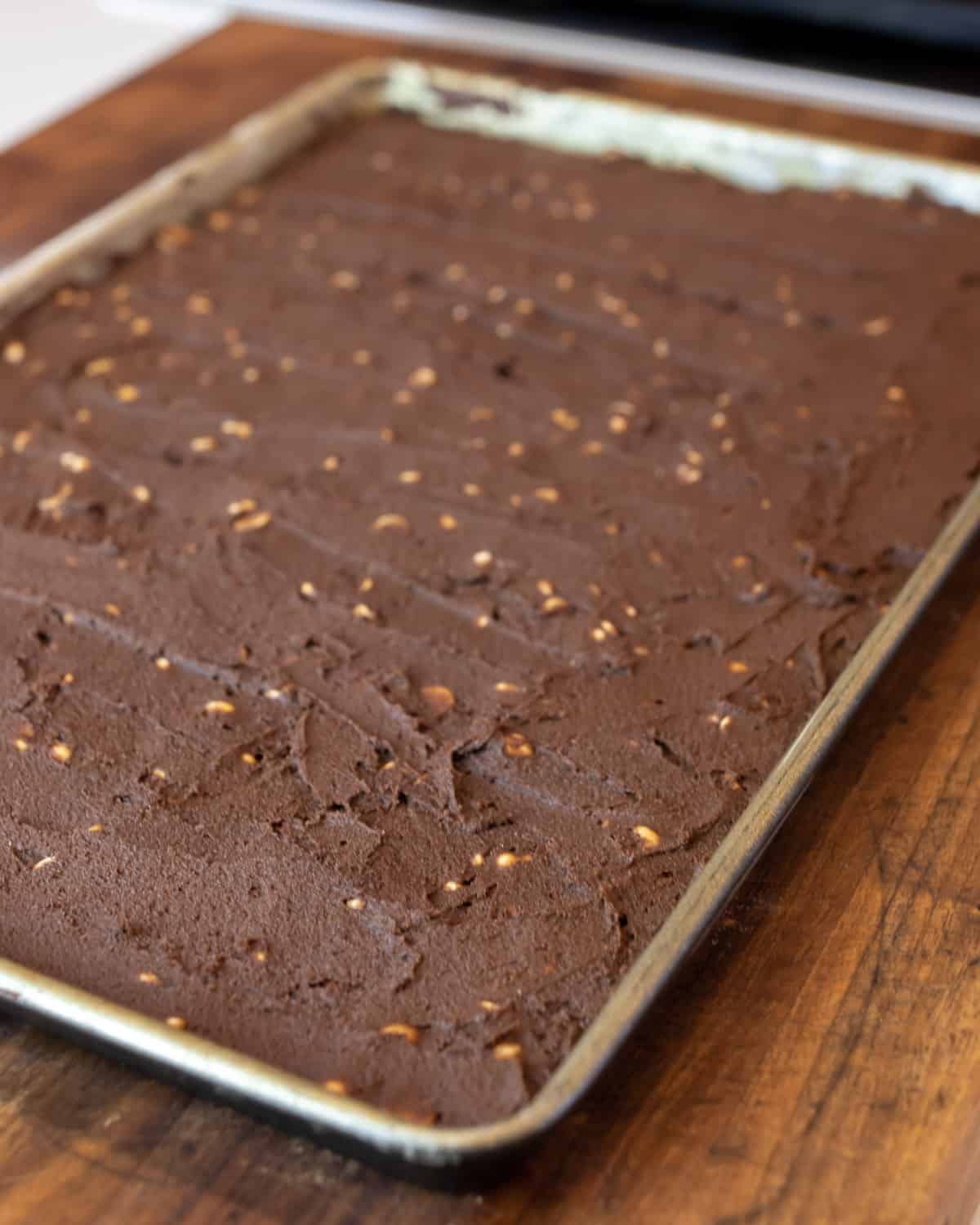 How Long To Bake Bar Cookies
Bake the cookie bars in a 375F oven. Depending on the size of the cookie sheet, the baking time will vary.
20-22 minutes for a 15×10 inch cookie sheet
17-19 minutes for a 17×11 inch cookie sheet
As the cookies bake you should notice that the cookies will rise slightly. Once the baking has finished, take the cookie sheet out of the oven and place on a wire rack to cool. After the cookie slab has had a chance to slightly cool down, you can cut it into bars. I cut it into 35 bars, but you can cut them into whatever size you prefer!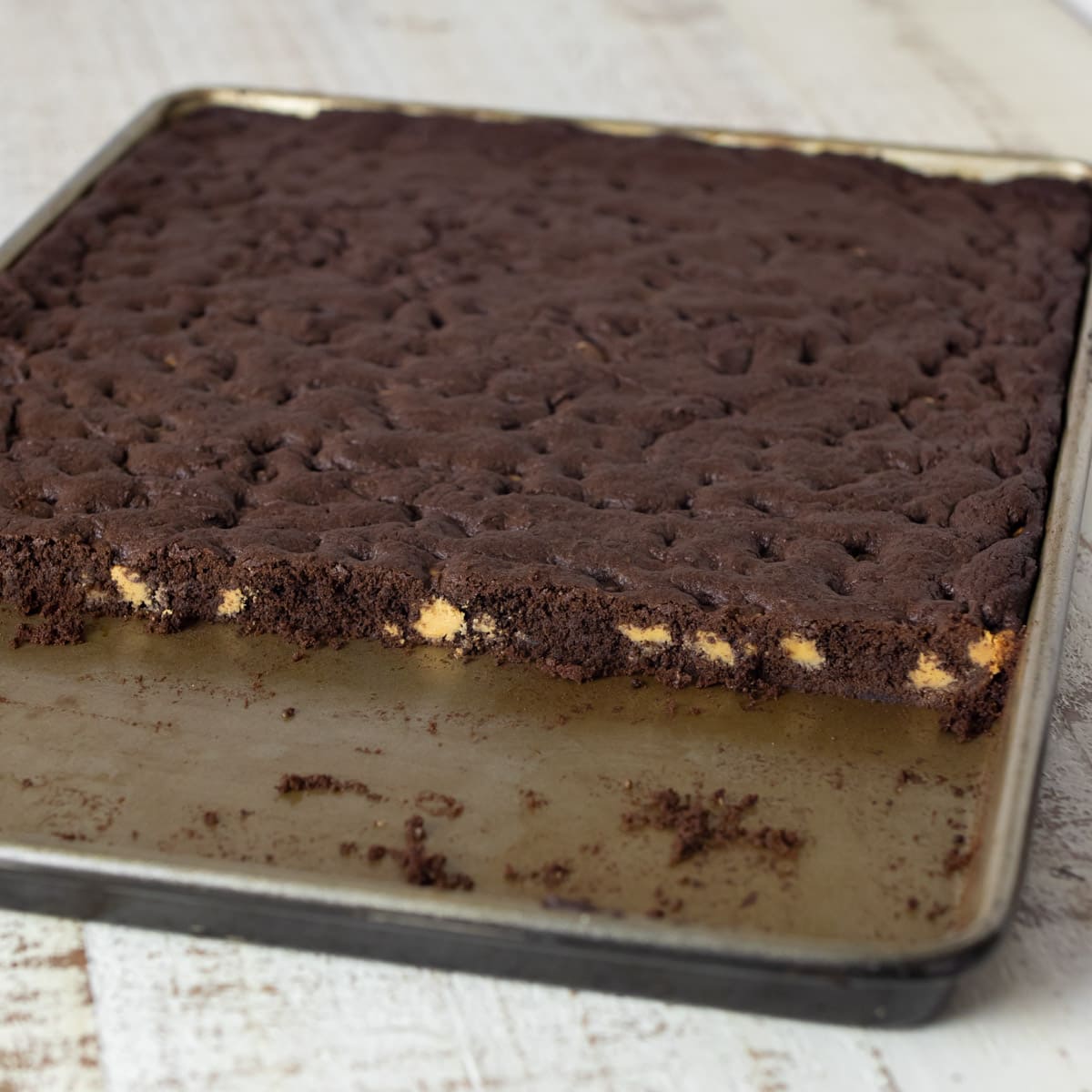 Cool Before Cutting
Once these chocolate slab cookies come out of the oven, you are going to want to cut them into squares immediately. The smell is amazing. Make sure to let them cool first. I find if you cut them right away, the bar cookies can crumble a bit. Letting them cool down will hold them together.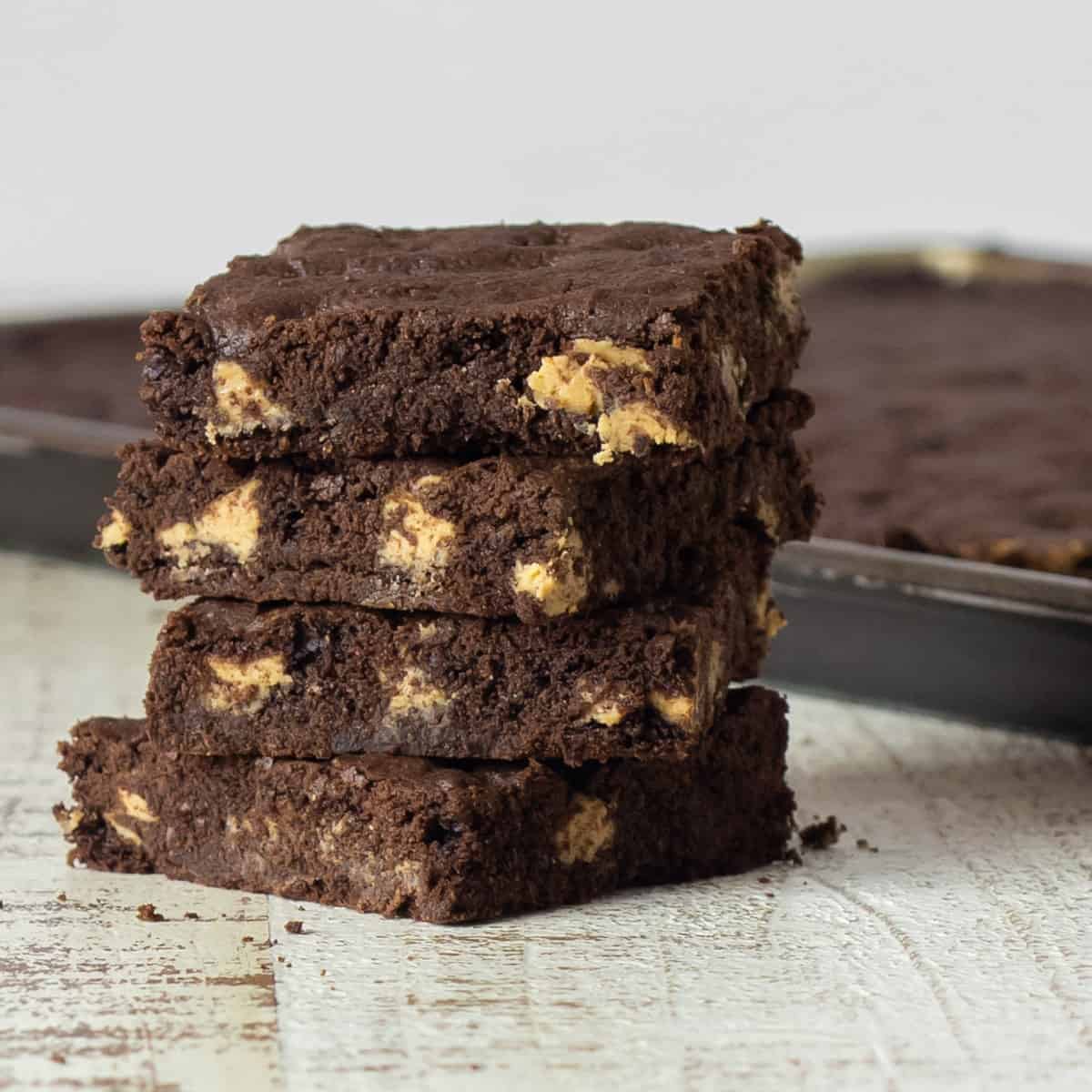 asd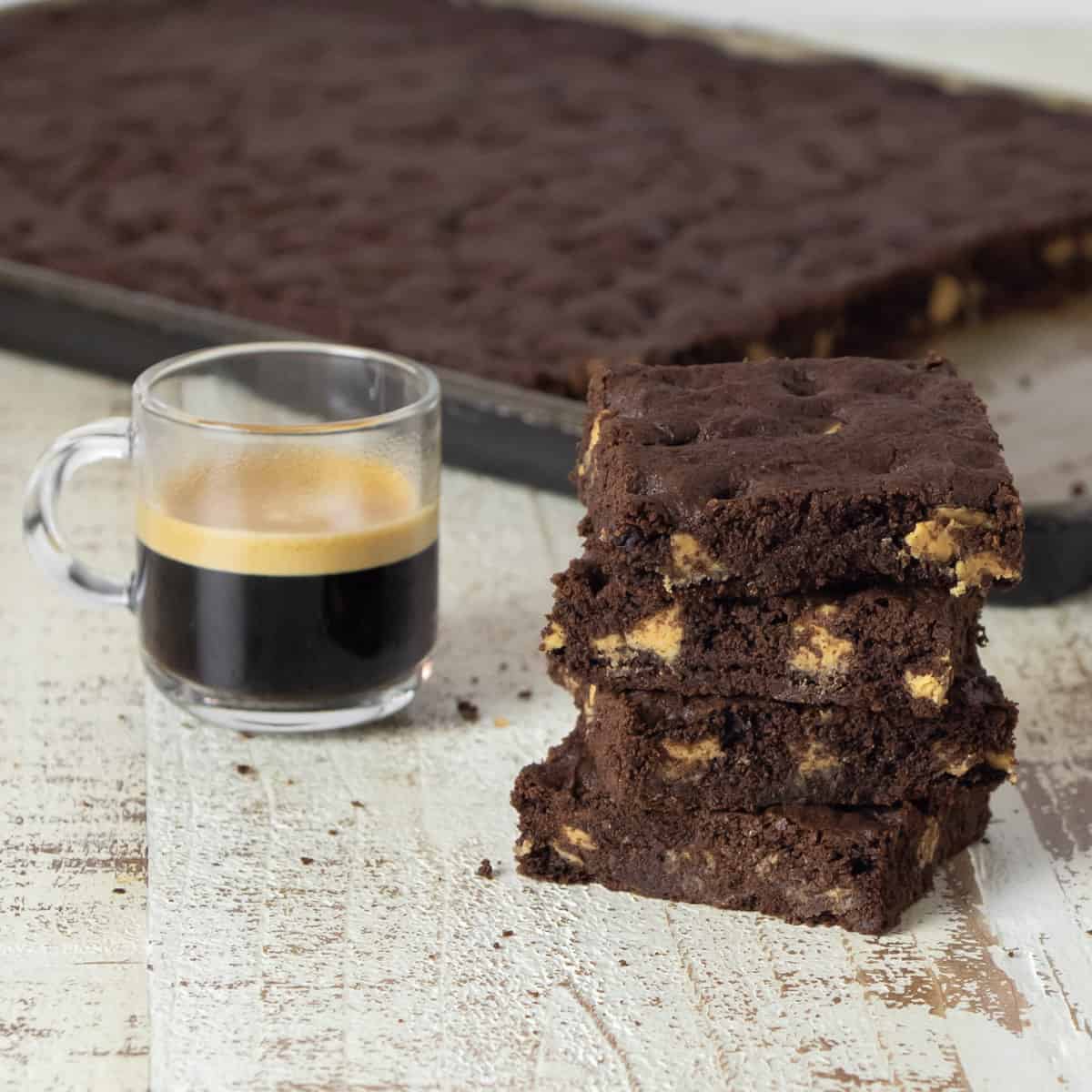 More Cookie Slab Recipes!
If you like slab cookies, then check here are a few more recipes to check out.
Chocolate Fudge Peanut Butter Chip Bar Cookies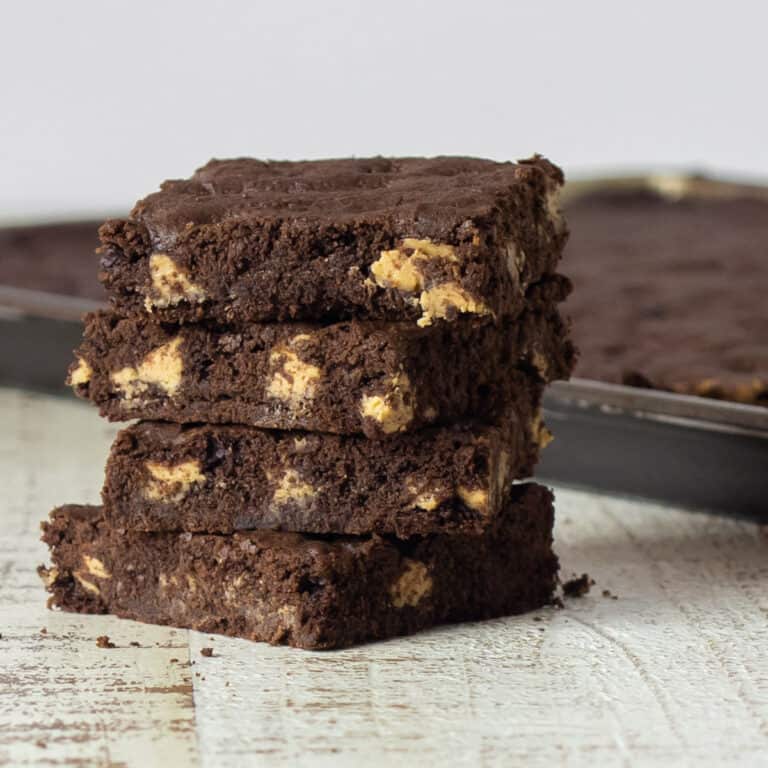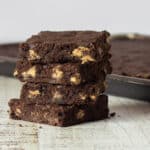 Print
Making cookies has never been easier than with this bar cookie recipe. The flavours of chocolate fudge and peanut butter blend together to make a cookie that is simple yet delightful!
Servings: 35
Ingredients
1 cup butter , softened
½ cup white sugar
1 cup dark brown sugar
1 cup cocoa powder
2 eggs
1½ tsp vanilla
1⅓ cup flour
1 tsp baking soda
½ tsp baking powder
1 tsp salt
1 1/2 cups peanut butter chips
Instructions
Preheat the oven for 375F.

Grease a cookie sheet – either a 15×10 or 17×11.

With an electric mixer, cream the butter with the white and brown sugar until smooth. Beat in the cocoa powder, eggs and vanilla.

Whisk the baking soda, baking powder and salt in with the flour, then slowly beat the flour into the creamed ingredients until smooth and no longer lumpy.

With a wooden spoon or mixer on low, add the peanut butter chips until evenly combined.

Press the cookie dough evenly on the greased cookie sheet.

Bake in the oven for 20-22 minutes if using a 15×10 cookie sheet or 17-19 minutes if using a 17×11 cookie sheet.

Cool on a wire rack and cut into bars.
Nutrition
Per serving:
Calories: 148kcalCarbohydrates: 18gProtein: 3gFat: 8gSaturated Fat: 5gCholesterol: 25mgSodium: 169mgFiber: 1gSugar: 12g