Chocolate Chip Skor Toffee Cookie Bars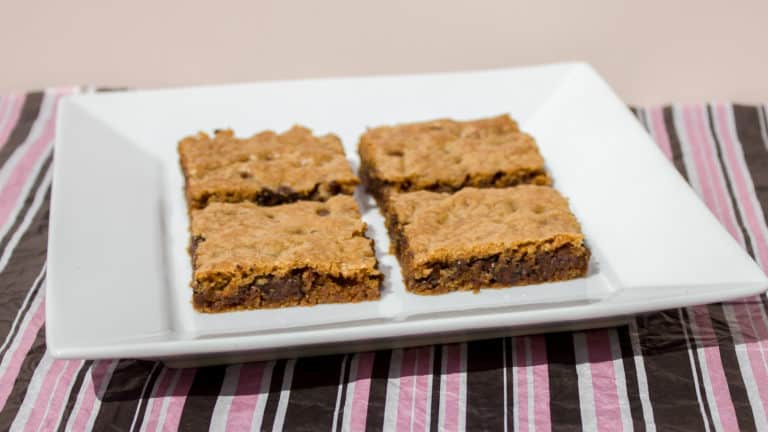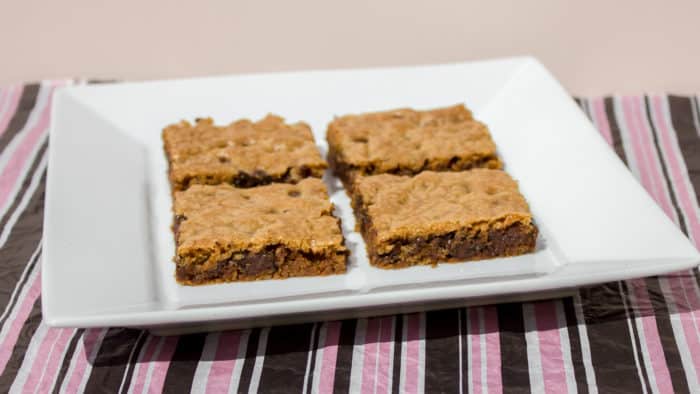 Many people, likely the majority, say that the ultimate ingredient to compliment chocolate is peanut butter. I am not here to diss peanut butter. I love it and it does go great with chocolate. But, I feel that there is another ingredient better with chocolate.
It is butter crunch toffee.
I love toffee. It doesn't matter if it is chewy or crunchy, I will eat it. My favourite is the crunchy goodness of butter crunch toffee and when it is paired with chocolate – YESSIR!!!! Sign me up.
So, when I am buying a chocolate bar, one of my absolute favourite ones has to be Skor. They are so decadent and delicious. My one complaint with Skor chocolate bars is that they are too small! I could eat 2 easily……… and I have.
So, when I make chocolate chip cookies, sometimes I throw in a bag of Skor toffee bits. They add a wonderful caramel flavour to the cookies. Truest me, you will love them!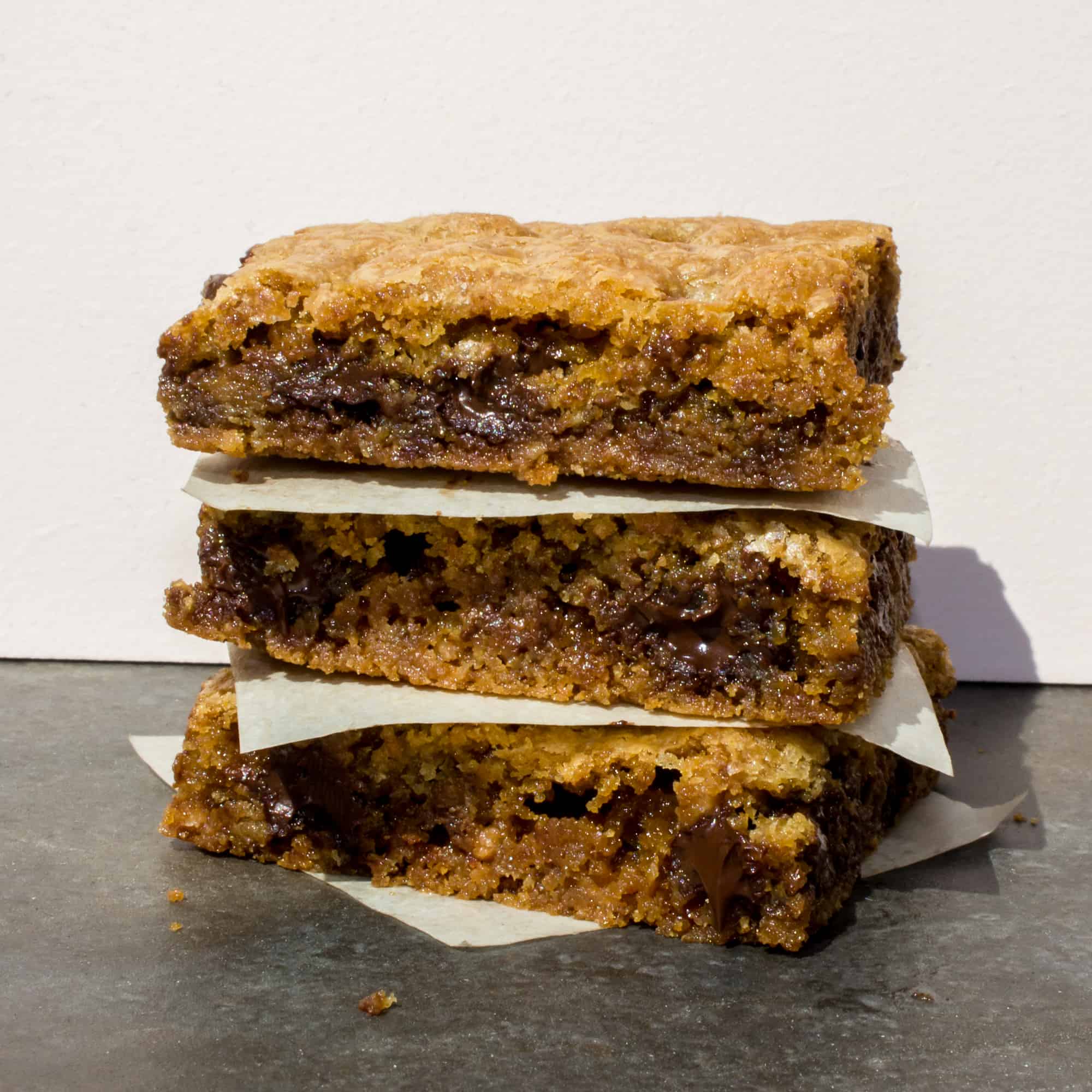 Today, instead of rolling the cookie dough into balls to make actual cookies, I was lazy. Well, I wasn't so much lazy as I was short on time. So, if you need a short cut, press the cookie dough into a cookie sheet and cut it into bars after baking. They come out chewy and delicious every time. On top of the time saved, you may find you actually prefer the texture. There is less chance of over baking them and nothing is more disappointing than over baked cookies.
I encourage you to try this recipe. It is incredibly easy. You could have it in the oven within minutes and it tastes absolutely amazing!!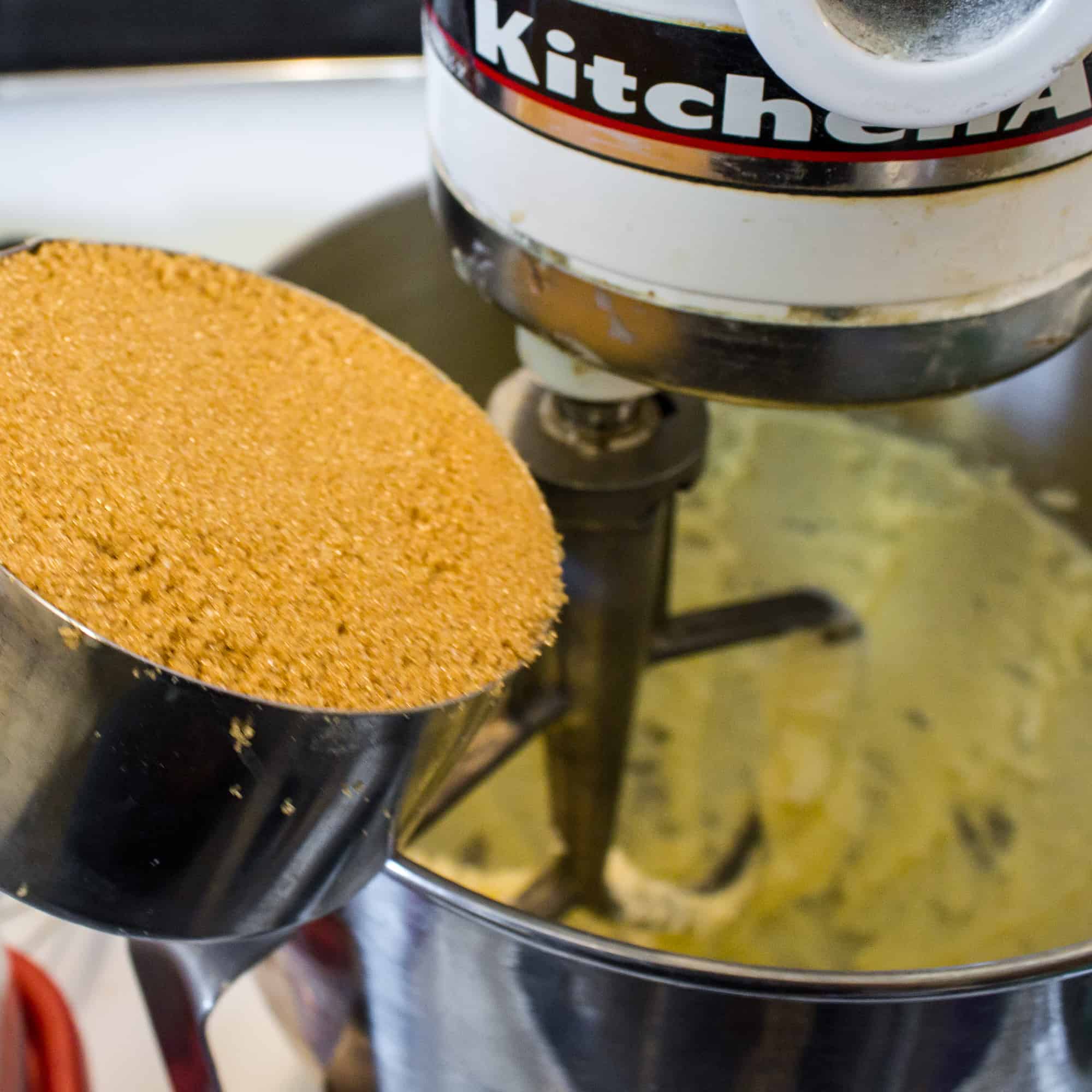 Use dark brown sugar as that adds to the caramel flavour of the Skor bits.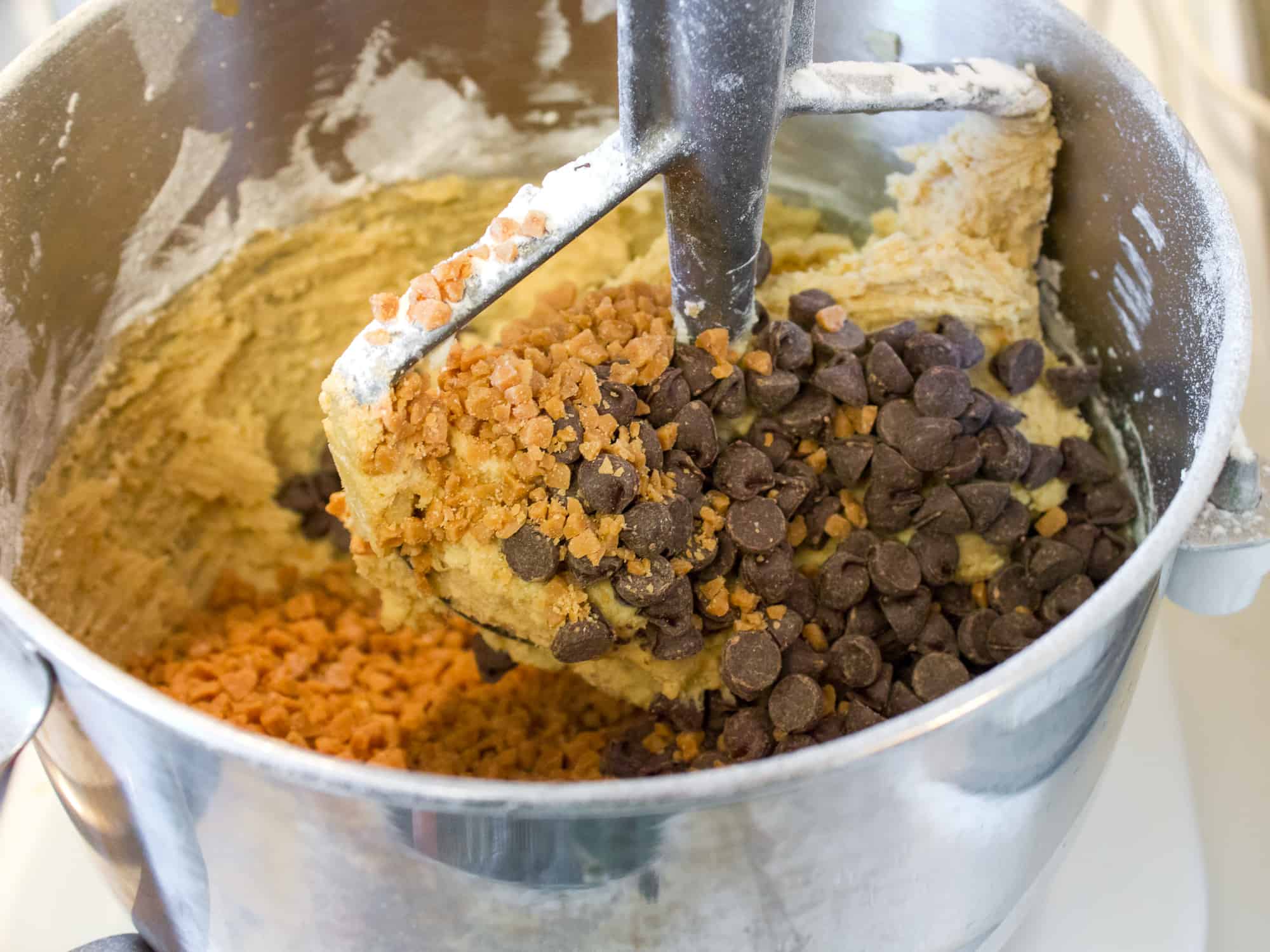 Look at that money shot picture above with the chocolate chips and Skor bits being added to the cookie dough!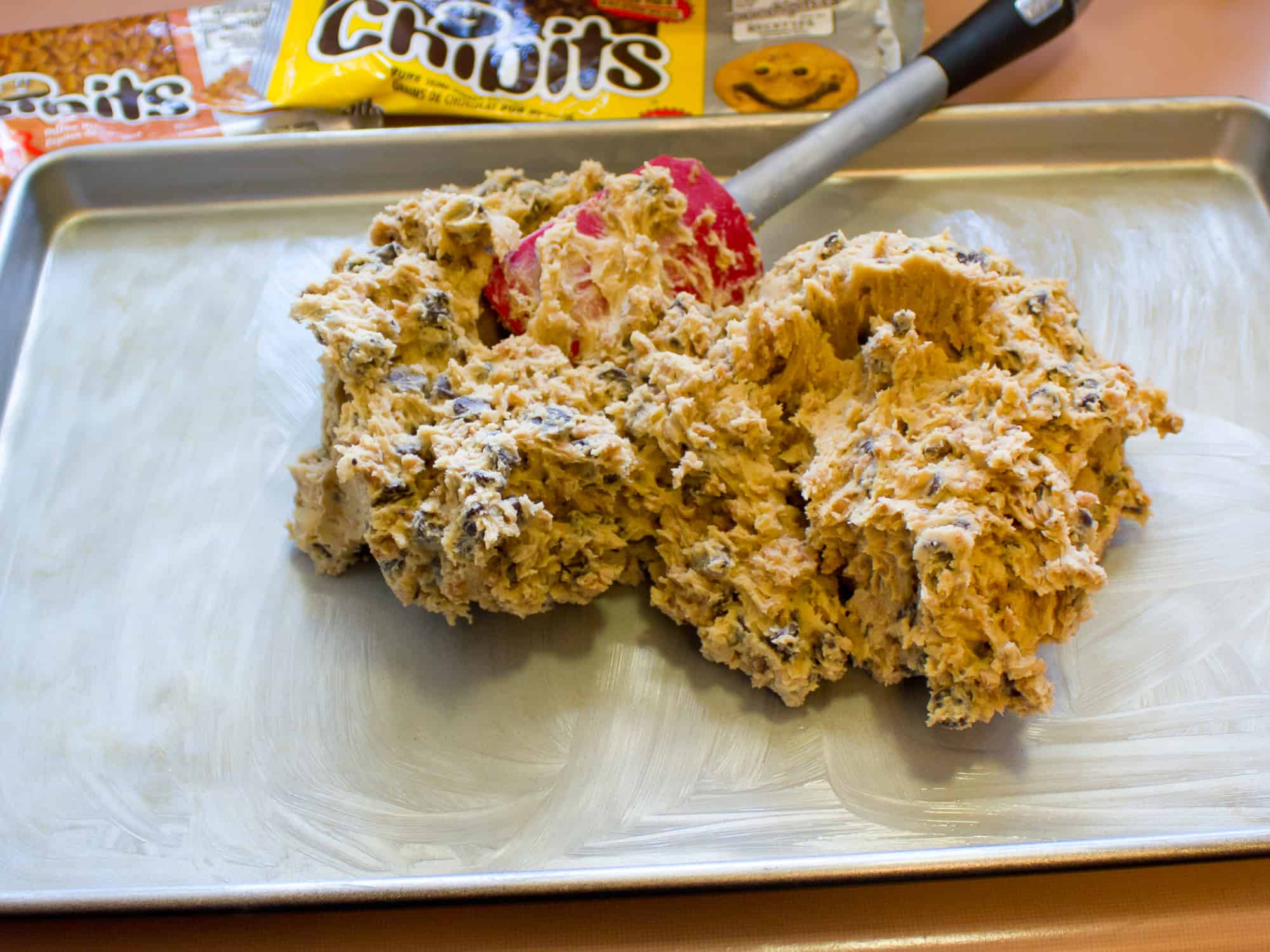 Dump the dough on a greased baking sheet.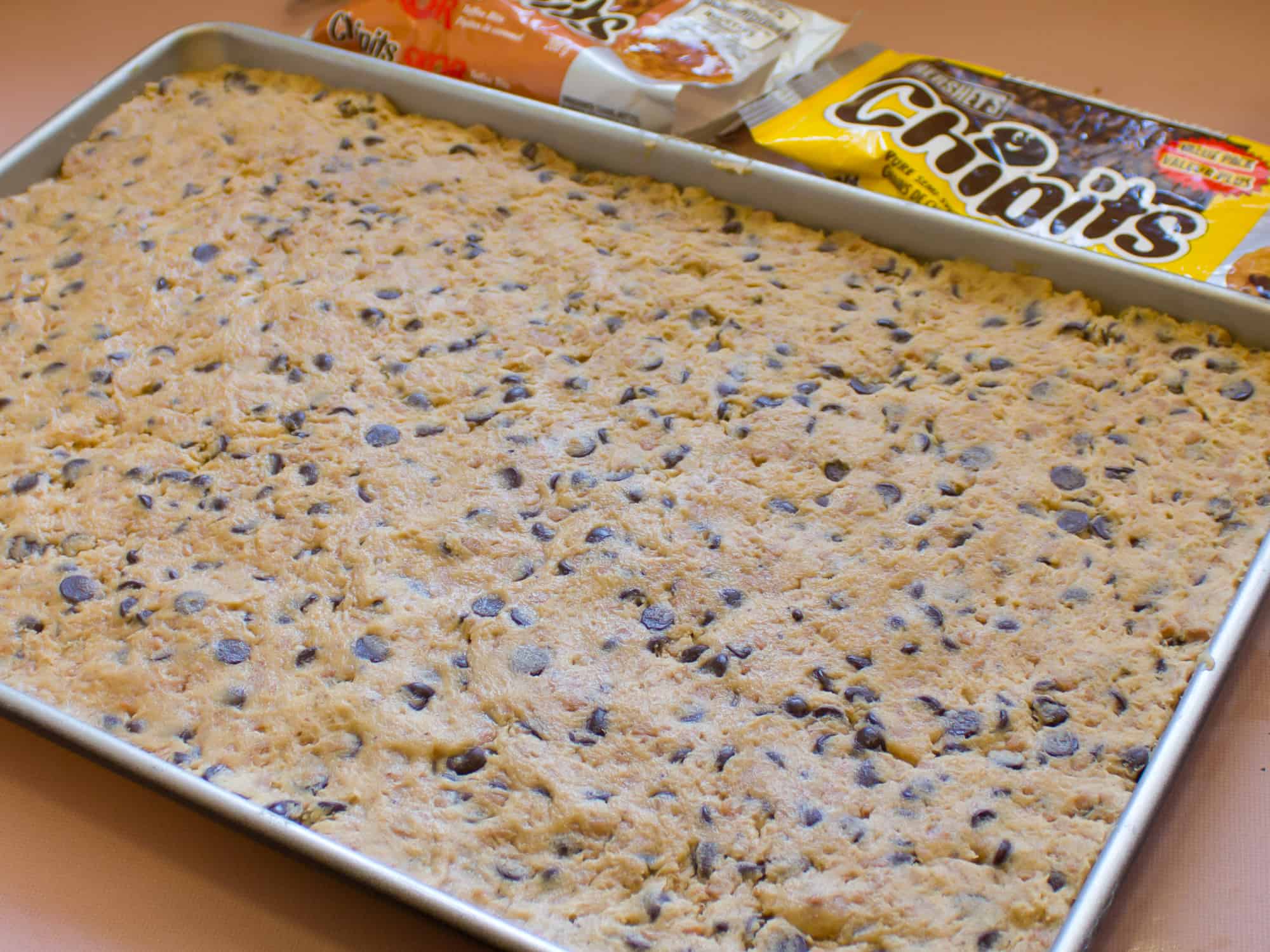 This is where you get your hands dirty and press the dough evenly on the cookie sheet. Make sure that the cookie sheet has a high enough edge because the cookie rises a bit. Bake in a 375F oven for about 20 minutes.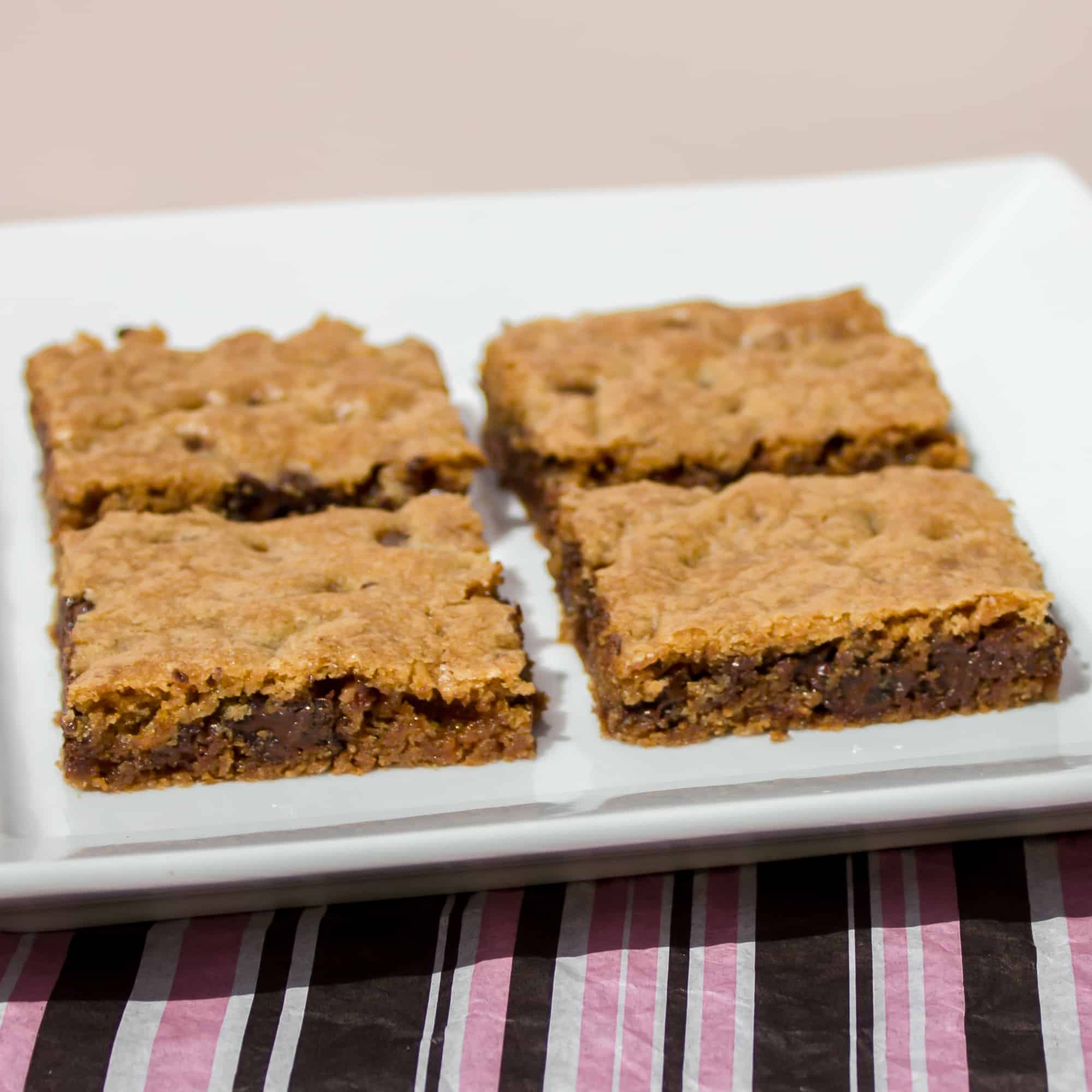 These are truly the ultimate chewy and gooey cookie!
Other recipes with Skor!
Skor Toffee bits work great with cookies, and I have used them in a number of different recipes.
Chocolate Chip Skor Toffee Bar Cookies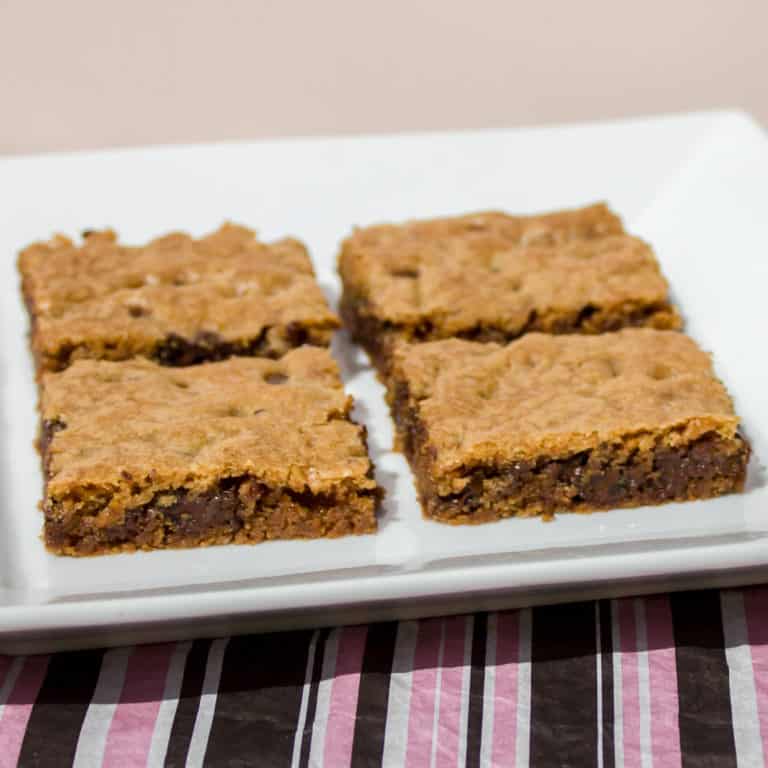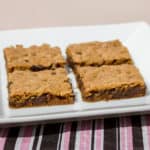 Print
Classic chocolate chip recipe with Skor butter crunch toffee pressed on a sheet, baked and cut into bars. These cookie squares go great with coffee or milk.
Servings: 35 cookies
Ingredients
1 cup butter , softened
1/2 cup white sugar
1 cup brown sugar
2 eggs
1 1/2 tsp vanilla
2 1/3 cup flour
1 tsp baking soda
1/2 tsp baking powder
1 tsp salt
350 g chocolate chips , or 12 oz size
200 g Skor toffee bits , or 7 oz package
Instructions
Preheat the oven for 375F.

Grease a cookie sheet - either a 15x10 or 17x11.

With an electric mixer, cream the butter with the white and brown sugar until smooth. Beat in the eggs and vanilla.

Whisk the baking soda, baking powder and salt in with the flour, then slowly beat the flour into the creamed ingredients until smooth and no longer lumpy.

With a wooden spoon or mixer on low, add the chocolate chips and Skor toffee bits until evenly combined.

Press the cookie dough evenly on the greased cookie sheet.

Bake in the oven for 20-22 minutes if using a 15x10 cookie sheet or 17-19 minutes if using a 17x11 cookie sheet.

Cool on a wire rack and cut into bars.
Nutrition
Per serving:
Calories: 198kcalCarbohydrates: 26gProtein: 2gFat: 10gSaturated Fat: 6gCholesterol: 31mgSodium: 169mgFiber: 1gSugar: 19g