Butterscotch Toffee Chocolate Fudge Cookies
These chewy cookies are full of goodies. Butterscotch chips, toffee bits and walnuts are in every bite of these chocolate fudge cookies. Perfect with a tall glass of cold milk!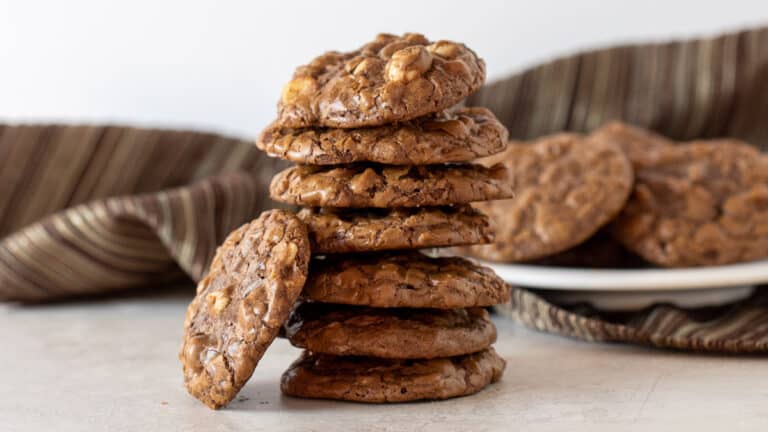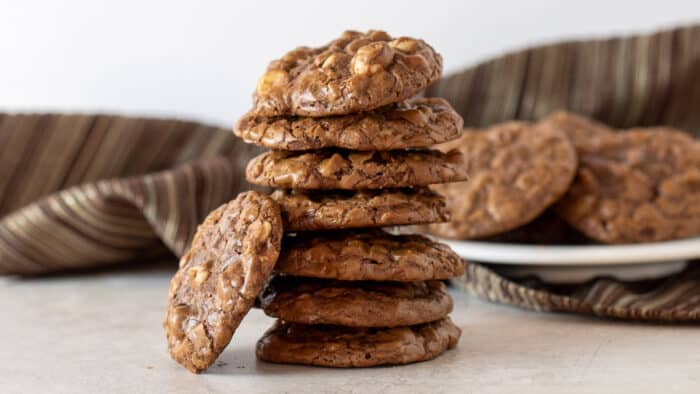 Our local shopping mall has store that makes chocolate fudge. They have a big window where you can stand and watch them make the fudge. It is mesmerizing and I love watching to see what goodies they stir into the fudge. It is the perfect form of marketing because so many people stand and watch them make a batch, only to end up at the cashier purchasing some fudge to take home. These chocolate fudge cookies are everything that is wonderful about fudge and bakes them into a chewy cookie.
Just like the best fudge has lots of goodies mixed in, these cookies are packed with stuff. Butterscotch chips, Skor bits and walnuts. Yes, every single bite of these cookies are awesome.
I will be honest, these came out of me having some half filled bags of stuff in my baking pantry. Many different cookies were baked over Christmas and there were some left over chips and bits that needed to be used up. What better way, than to create a cookie!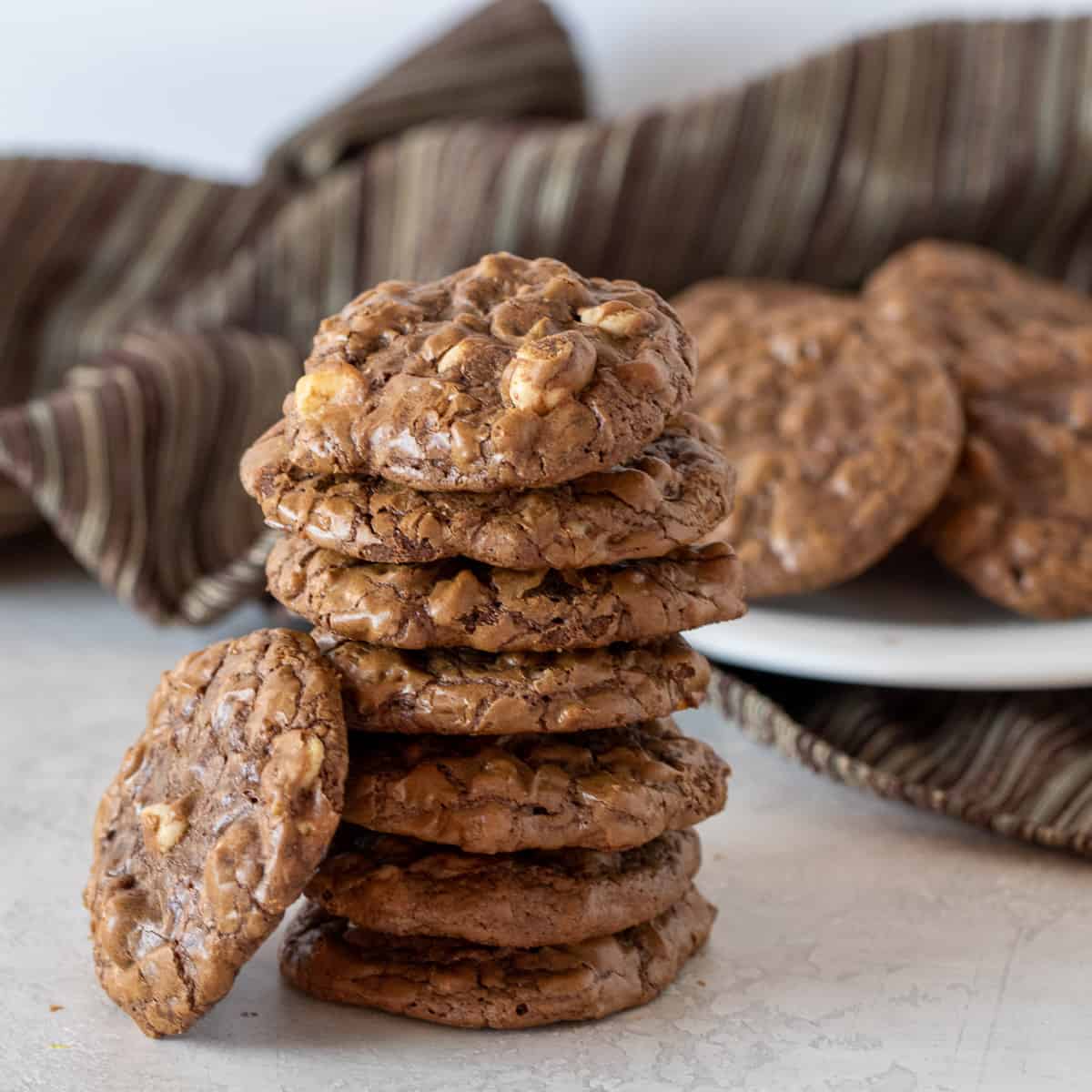 This cookie was thrown together, like an everything-but-the-kitchen-sink cookie. It turned out incredible!!! So chocolately with the taste of toffee and butterscotch and the crunch of nuts. This cookie is a winner.
You could make this recipe following the ingredients exactly or substitute the chips, Skor bits and nuts with so many other options. Some ideas are: chopped up Reese peanut butter cups, chopped up Kraft caramels, chocolate chunks, dried cherries, nuts of any kind, and so much more!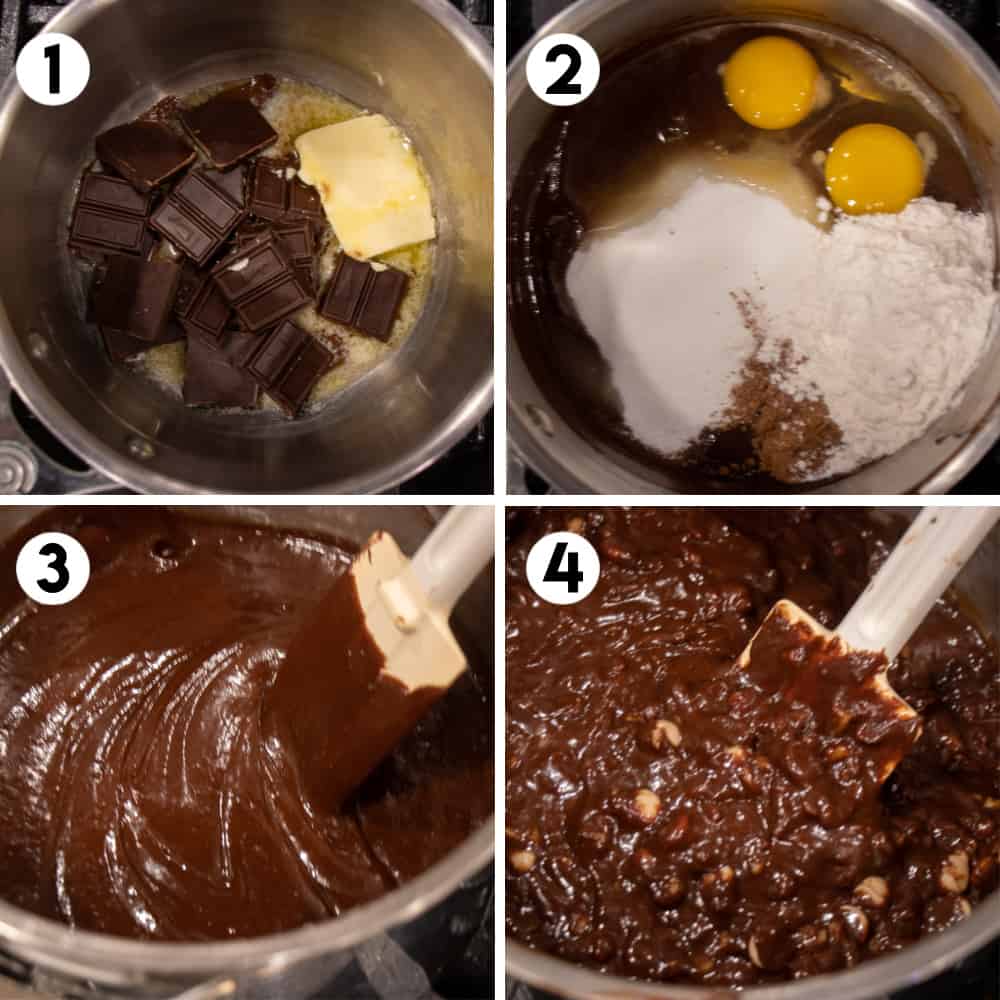 How to make the fudge dough
This cookie dough is very simple to make. It is not necessary to use a stand mixer or even an electric hand mixer. I make the cookie dough with a whisk and a rubber spatula. Also, since the chocolate baking squares and butter are melted in a saucepan, I find it easy to just finish making the dough right in the pot. There is no need to dirty any extra bowls!
Melt the chocolate squares and butter in a saucepan and stir until creamy.
Remove from the heat and whisk in the eggs, sugar, vanilla, cocoa powder and flour. Scrape the sides of the saucepan with a rubber spatula and make sure that the dough is smooth and there are no dry clumps of flour or sugar.
Stir in the butterscotch chips, skor toffee bits and walnuts.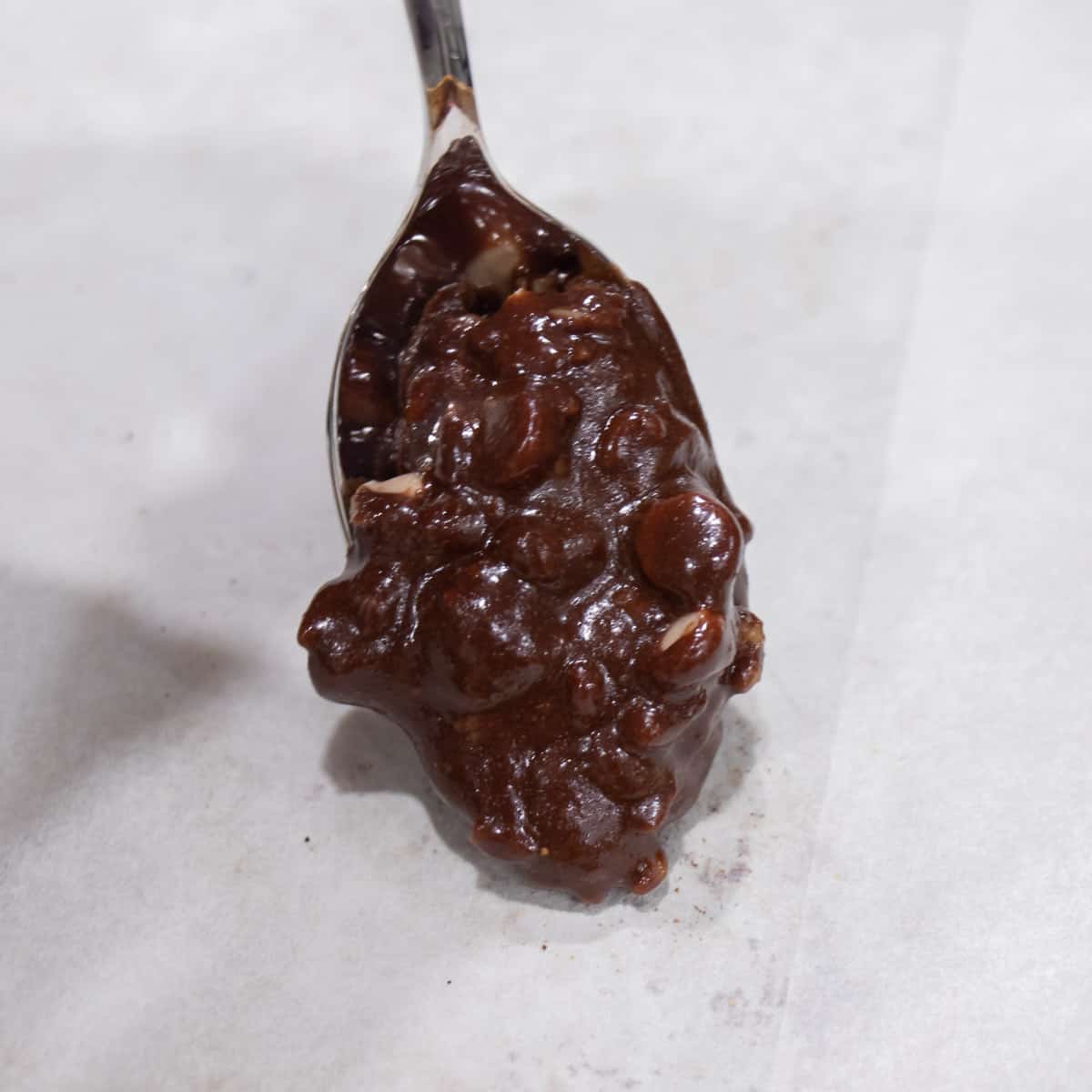 Use a teaspoon to scoop up some of the cookie dough and drop it on a cookie sheet lined with parchment paper. I like to use a second spoon to scrape off any dough clinging to the teaspoon. Using parchment paper or a silicone baking mat on the cookie sheet is really helpful. It will prevent the cookie from sticking and it will lift off easily after baking.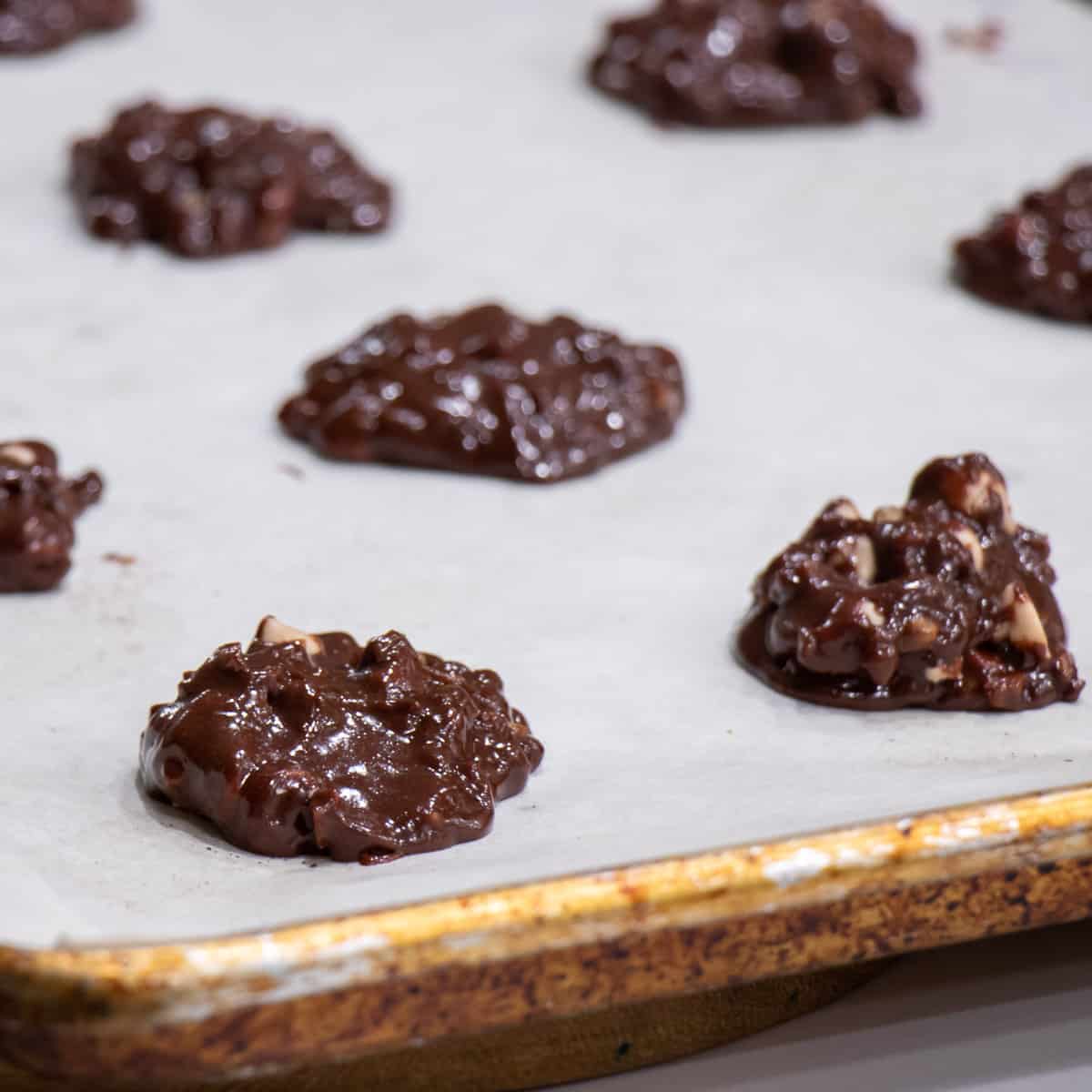 How long to bake the cookies
Bake these cookies in a 350F oven for 10 minutes. These are smaller cookies, so they do not take long to bake. Make sure that you do not over bake them. They will spread and create a crackle on the outer surface of the cookie. But, inside they will be chewy and fudgy.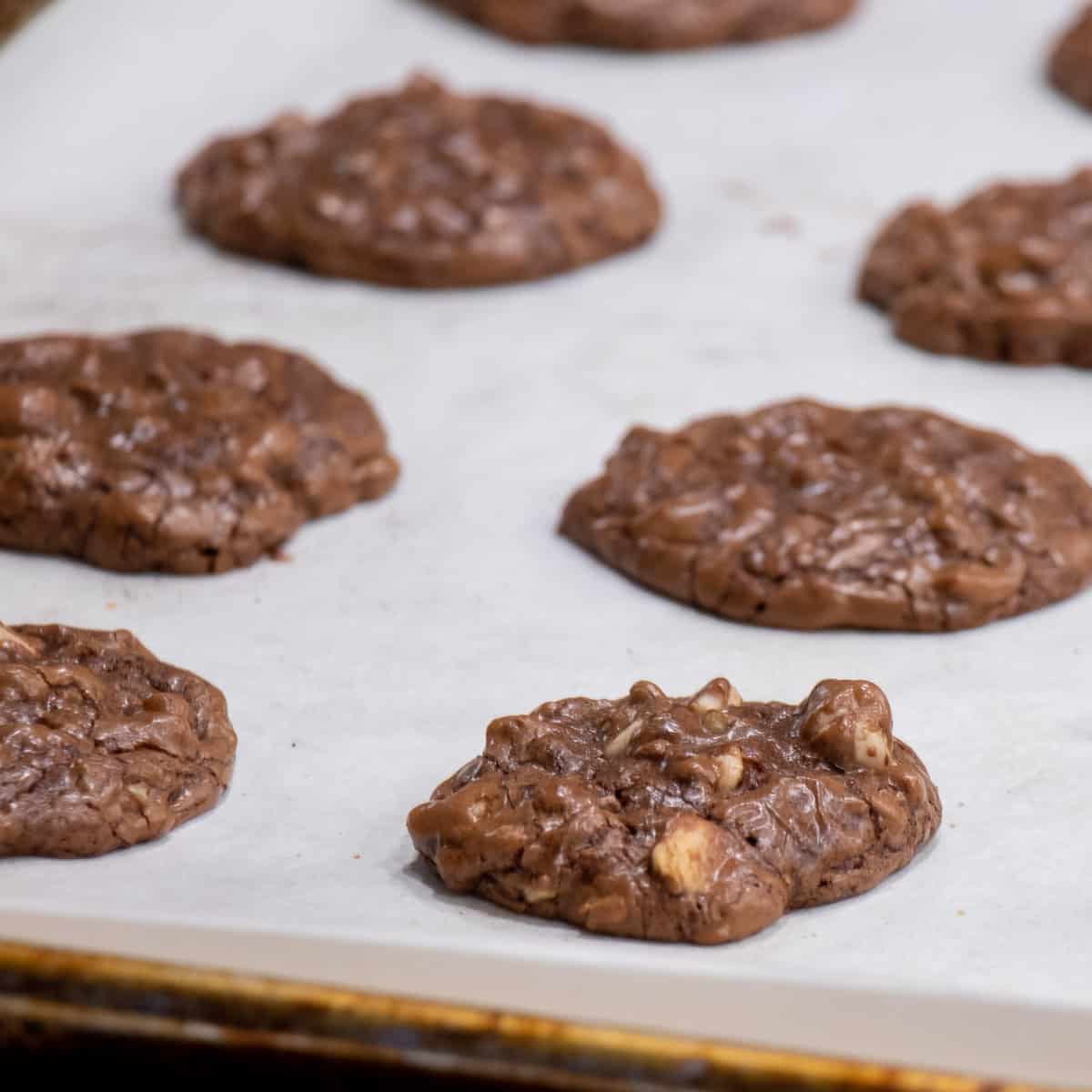 Let the cookies rest on the baking sheet
Once they have finished baking, take the sheet out of the oven and place it on a trivet. Leave the cookies on the baking sheet for about 5 minutes. This allows the cookies to set and for the base to crisp up a little bit. They are so soft in the middle, that they would break up if you tried to lift them off right when they came out of the oven.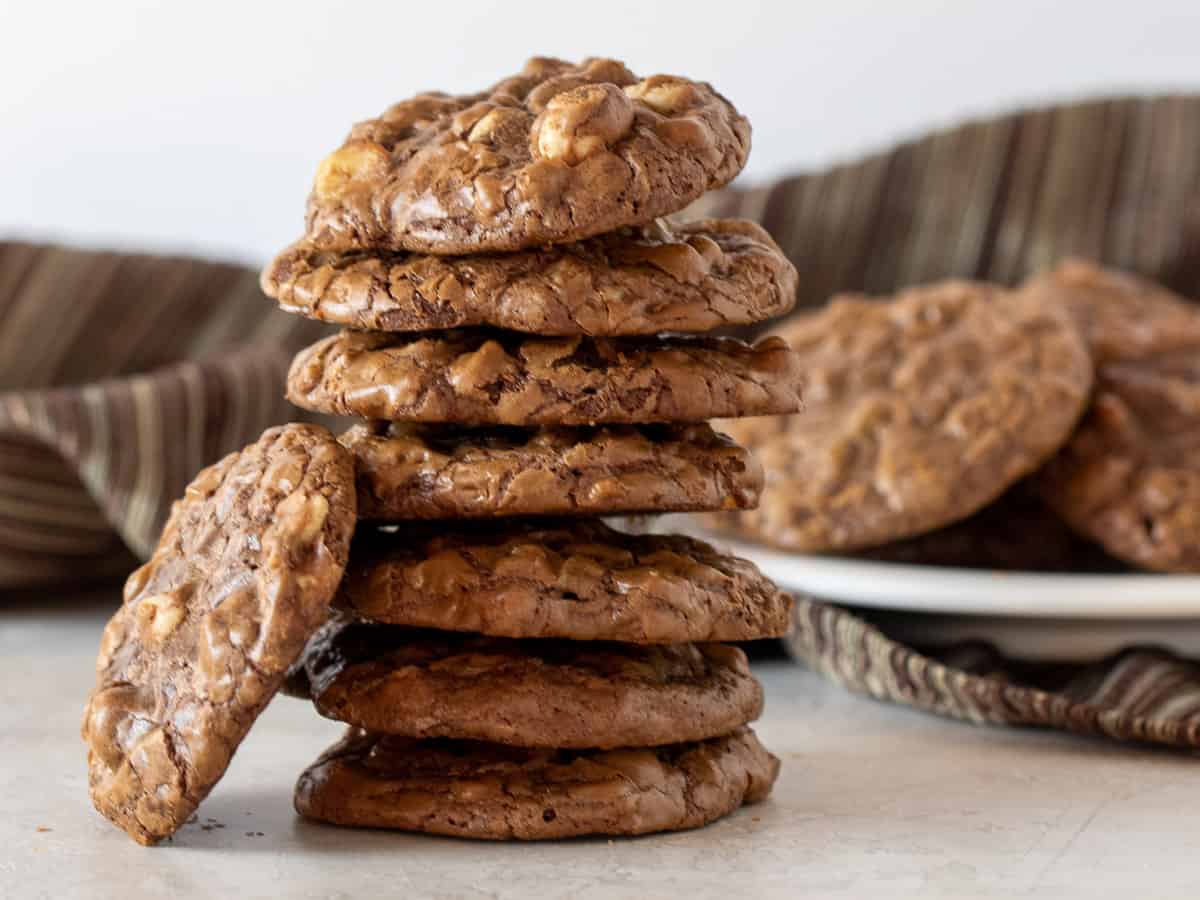 Other cookie recipes
I love cookies and here are a few of my favourites!
Butterscotch Toffee Chocolate Fudge Cookies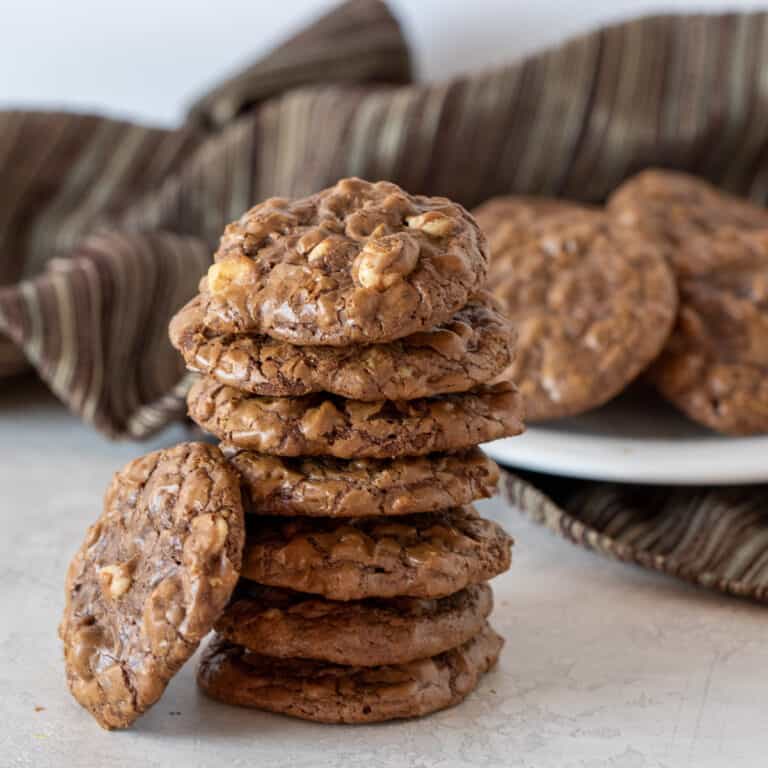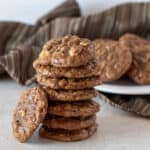 Print
These chewy and fudgy cookies are decadent and packed with so many goodies including nuts, toffee bits and more.
Servings: 30 cookies
Ingredients
8 oz semisweet chocolate baking squares
3 tbsp butter
2 eggs
2/3 cup sugar
1 tsp vanilla
1 tsp cocoa powder
1/3 cup flour
1/2 cup butterscotch chips
1/2 cup Skor toffee bits
2/3 cups chopped walnuts
Instructions
In a saucepan, melt the chocolate squares with the butter. Use medium low heat to ensure the chocolate does not scald. Stir until melted and smooth. Remove from heat.

Whisk in the eggs, sugar, vanilla, cocoa powder and flour until smooth.

Stir in the butterscotch chips, Skor toffee bits and walnuts.

Using a teaspoon, drop cookie dough on a cookie sheet lined with parchment paper.

Bake in a 350F oven for 10 minutes.

Cool on a wire rack.
Nutrition
Per serving:
Calories: 104kcalCarbohydrates: 11gProtein: 2gFat: 7gSaturated Fat: 4gCholesterol: 14mgSodium: 27mgFiber: 1gSugar: 7g