Oatmeal Apricot Almond and Coconut Cookies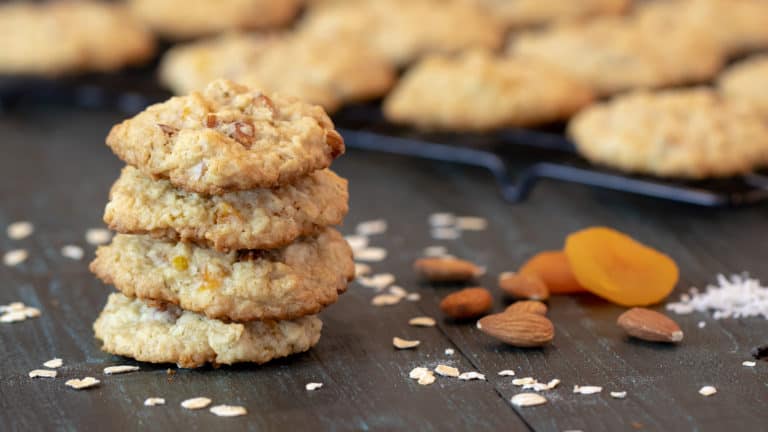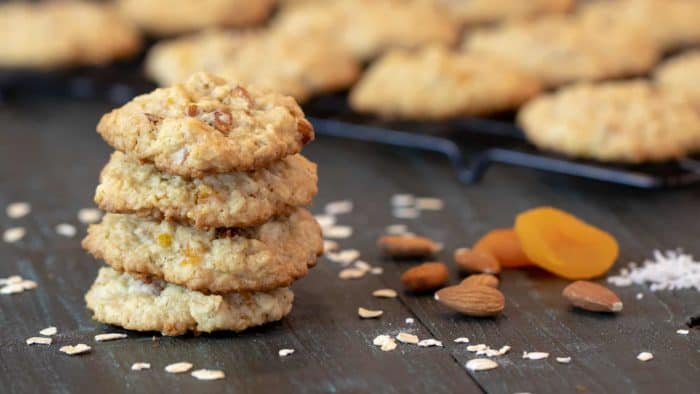 Oatmeal cookies – they are seriously my favourite cookie. I love them chewy and fresh out of the oven. The big debate about oatmeal cookies is what extras are added to the recipe.
Normally, when I make oatmeal cookies, I either mix in chocolate chips or raisins. Our family is split, with some preferring raisins and others liking chocolate chips.
While I do like the chocolate chips, I far prefer raisins in my oatmeal cookies. There is just something about the way dried fruit combines with the chewy oatmeal cookie to make something just awesome!!
The other day, I was in the local supermarket and picked up a package of dried apricots. My kids love them. They are great in school lunches or for a snack. I have never added dried apricots to a cookie, but wanted to give it a try. I am so glad I did!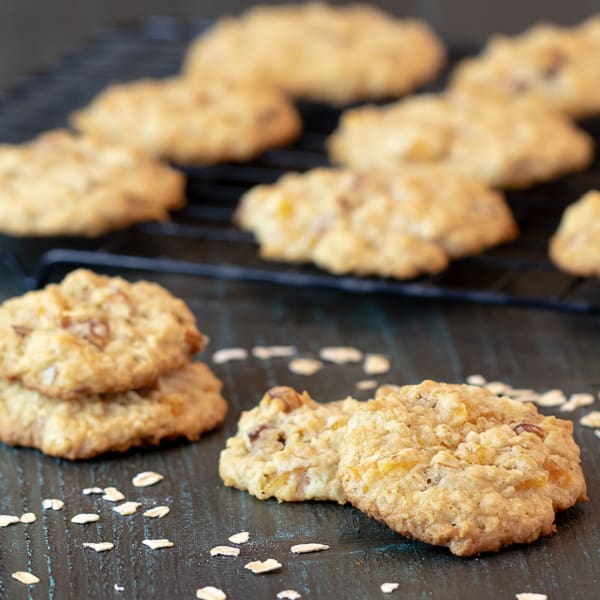 To go along with the apricots, I decided to add some almonds and coconut. This combination worked so well and tasted excellent as part of a chewy oatmeal cookie.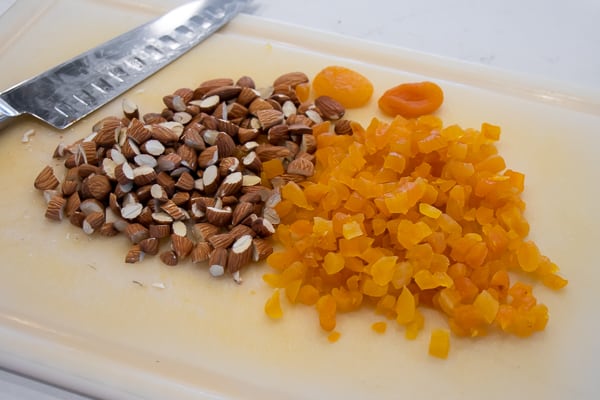 The dried apricots need to be diced prior to mixing into the dough. Cut them up into small little bits that are a similar in size to a chocolate chip. That size allows them to be evenly distributed throughout the cookie dough and you will get some apricot in almost every bite.
Regarding the almonds, I like to chop them up roughly and keep them a little bigger than the size of the diced apricots. I cut each almond into about 3 different chunks, and don't worry about them being the same size.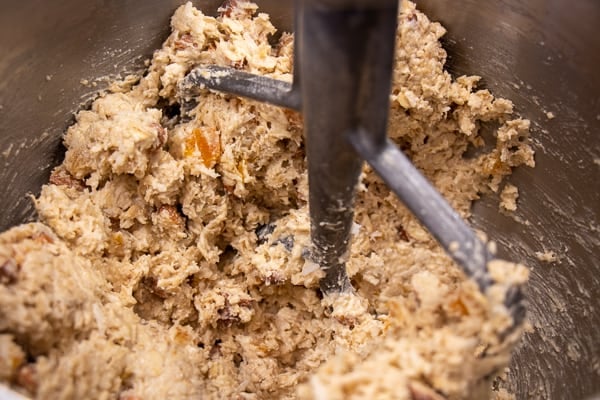 Making cookie dough is super simple and I usually follow a few standard steps.
In one bowl, whisk together the dry ingredients like flour, oats, salt and baking powder.
In a separate bowl, beat the wet ingredients until creamy. This includes the margarine, sugars, egg, vanilla and water.
Slowly beat the dry ingredients into the wet mixture until smooth and consistent.
Mix in the extras – apricots, almonds and coconut.
These procedure will work with various combinations and variations of ingredients for cookies.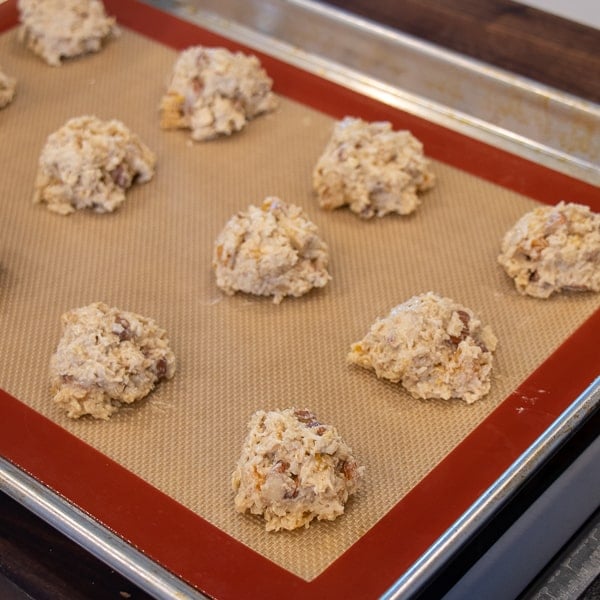 Once the cookie dough is mixed and ready, drop rounded tablespoonfuls of the cookie dough on a baking sheet. Make sure that they are about 1 1/2 inches apart as the cookies will spread some while baking.
I line the baking sheets with either silicone baking liners or parchment paper when I bake cookies. They are great for baking as the cookie does not stick to the baking sheet. On top of that, the silicone baking sheets are super simple to clean.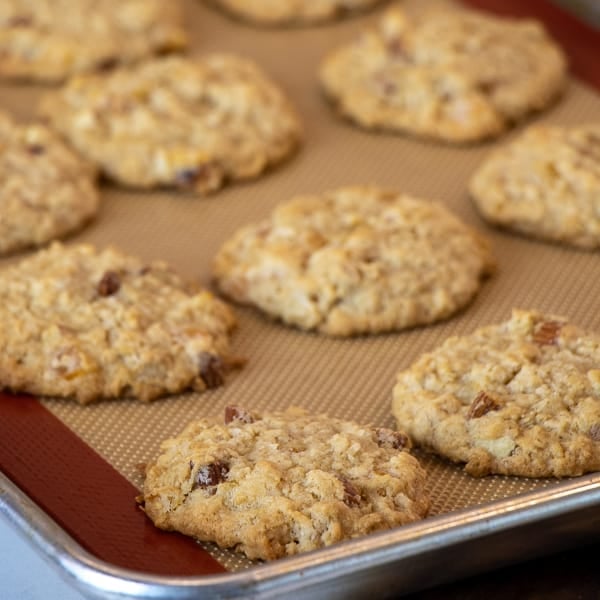 Now the cookies are ready to bake. Put them in a 375F preheated oven for 11-13 minutes or until they have spread out and started to brown around the edges.
Once they have finished baking, take them out of the oven and transfer them to a cooling rack.
The baking sheet I used fit 12 cookies, so I needed to bake 3 batches. If using the same baking sheet, make sure it has cooled completely before starting the next batch.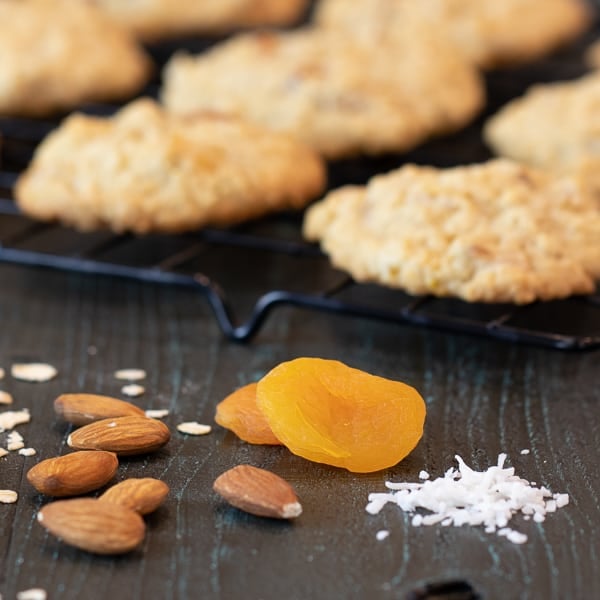 I felt pretty confident that apricots, almonds and coconut would work for an oatmeal cookie. These chewy cookies have a tropical flavour and taste just amazing. Being a huge fan of apricots, I always like to look for new ways to using them in recipes.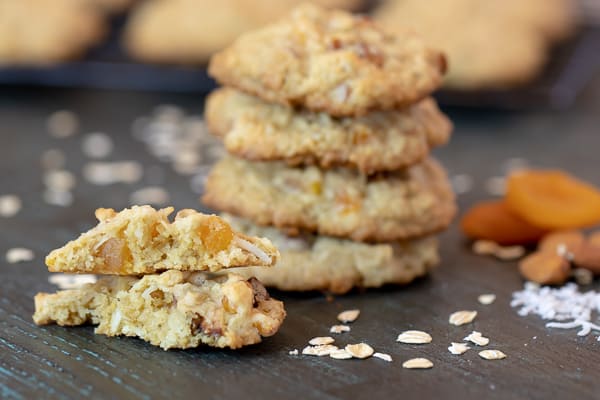 These are not the only oatmeal cookies on the website. Here are some other great recipes for oatmeal cookies!
Aside from cookies, oats are amazing in other types of baked desserts. Check out these other recipes.
Oatmeal Apricot Almond and Coconut Cookies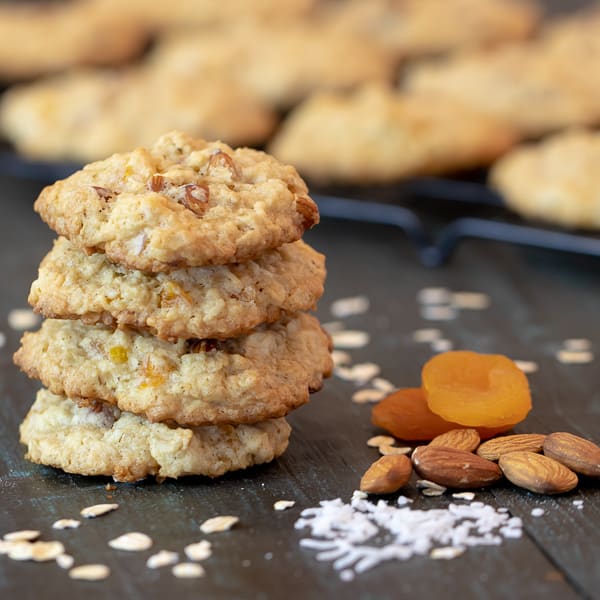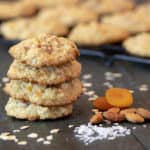 Print
Chewy oatmeal cookie recipe with diced dried apricot, toasted almonds and coconut. Fruity tropical cookie that is a nice change from raisin or chocolate chips.
Servings: 36 cookies
Ingredients
1 cup margarine or softened butter
1 cup brown sugar
1/3 cup white sugar
1 medium egg
1 tsp pure vanilla
1 tbsp water
1/2 tsp salt
2 tsp baking powder
2/3 cup flour
3 cups rolled oats
1 cup dried apricots diced
1 cup toasted almonds roughly chopped
1/2 cup unsweetened desiccated coconut
Instructions
Preheat oven to 375F.

In a large bowl, stir together the oats, flour, baking powder, and salt.

Use an electric mixer to cream together the butter and both sugars until fluffy. Beat in the eggs, vanilla and water.

Gradually mix in the dry ingredients, blending well.

Mix in the apricots, almonds and coconut.

Drop rounded tablespoons of cookie dough, about 1 1/2 inces apart, on a baking sheet lined with parchment paper or silicone baking liner.

Bake 11-13 minutes, or until the edges are starting to brown. Cool on a wire rack.
Nutrition
Per serving:
Calories: 152kcalCarbohydrates: 18gProtein: 2gFat: 8gSaturated Fat: 4gCholesterol: 19mgSodium: 83mgFiber: 2gSugar: 10g