Oatmeal Chocolate Chip and Pecan Cookies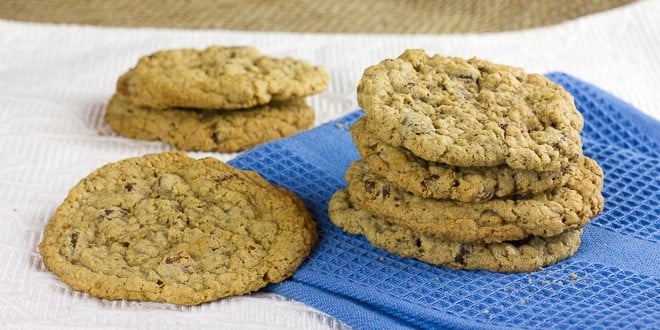 At my wife's place of work they do a Secret Santa every year and, for many days leading up to Christmas, people buy or make little gifts for each other. The person that had my wife's name, learned that she likes baked goodies, particularly the kind with chocolate and nuts (okay, who doesn't like that????). So, one day a big bag of oatmeal chocolate chip and pecan cookies came home. I must say, I am so glad that Janna shared them, because they were amazing!! I quickly asked if I could get the recipe. Apparently, it comes from an old issue of The Toronto Star newspaper from many years back. Wherever it came from, this oatmeal cookie recipe rocks! Thanks Tanya, for introducing us to this delicious cookie recipe!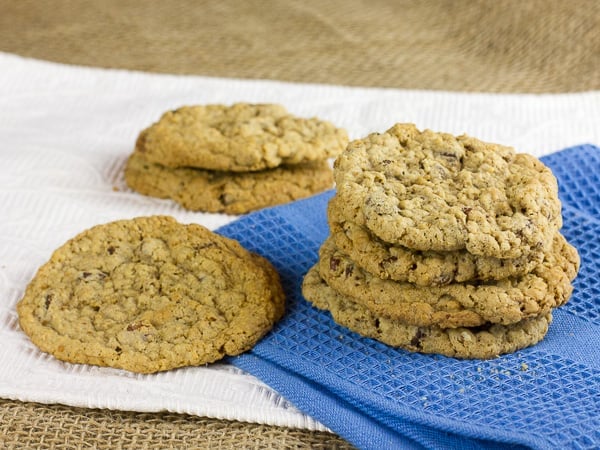 Oatmeal Chocolate Chip and Pecan Cookies
Print
Servings: 50 cookies
Ingredients
2 1/2 cups rolled oats
1 cup flour
1 tsp baking powder
1 tsp baking soda
1 tsp salt
1 cup butter
1 cup sugar
1 cup brown sugar
2 eggs
1 tsp vanilla
12 oz (375 g) package of semisweet chocolate chips
1/2 milk chocolate Hershey bar , coarsely grated
1 1/2 cups chopped pecans
Instructions
Preheat oven to 375F.

In a large bowl, stir together the oats, flour, baking powder, baking soda, and salt.

Use an electric mixer to cream together the butter and both sugars until fluffy. Beat in the eggs and vanilla.

Gradually mix in the dry ingredients, blending well.

Add the chocolate chips, grated chocolate bar and pecans.

Roll dough into balls or use a teaspoon to drop cookie dough onto a cookie sheet that is lined with parchment paper.

Bake 10-12 minutes, or until the edges are starting to brown.