Chocolate Chip Leftover Oatmeal Muffins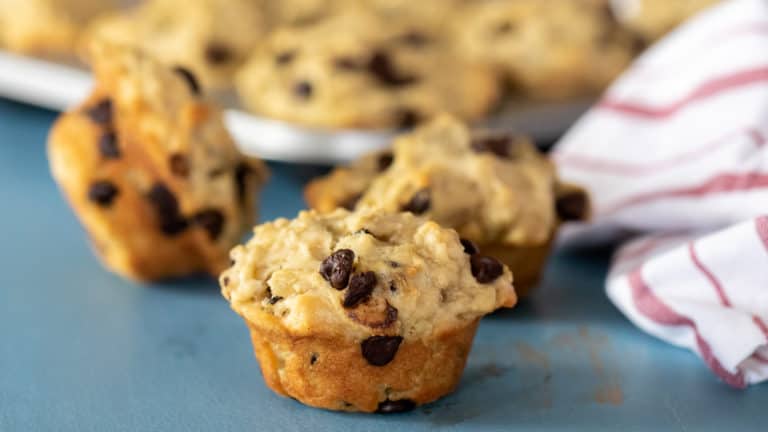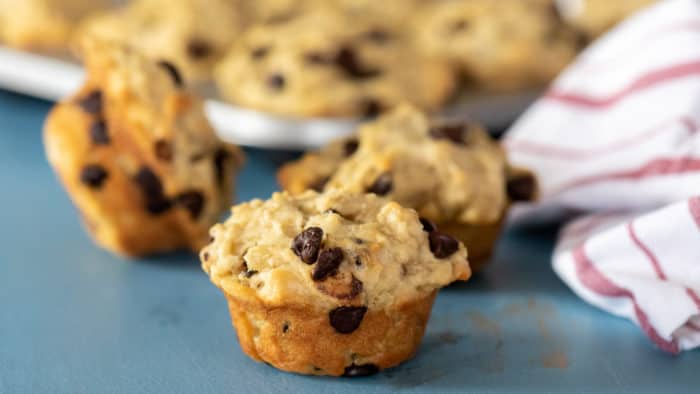 My kids love oatmeal, and I often make a batch on school day mornings. Many times, there is some oatmeal leftover and since I hate to throw i away, I usually use some to make muffins. These chocolate chip leftover oatmeal muffins recipe is the perfect way to use up some cooked oatmeal.
The first muffin recipe I made with leftover oatmeal was this batch of Leftover Oatmeal Muffins with Raisins. I love oatmeal raisin cookies, and this flavour combination works great in a muffin as well.
My kids love chocolate and this recipe for chocolate chip oatmeal muffins is a big favourite. I think that my kids sometimes ask for oatmeal in the morning, because they are hoping I will make these muffins later in the day!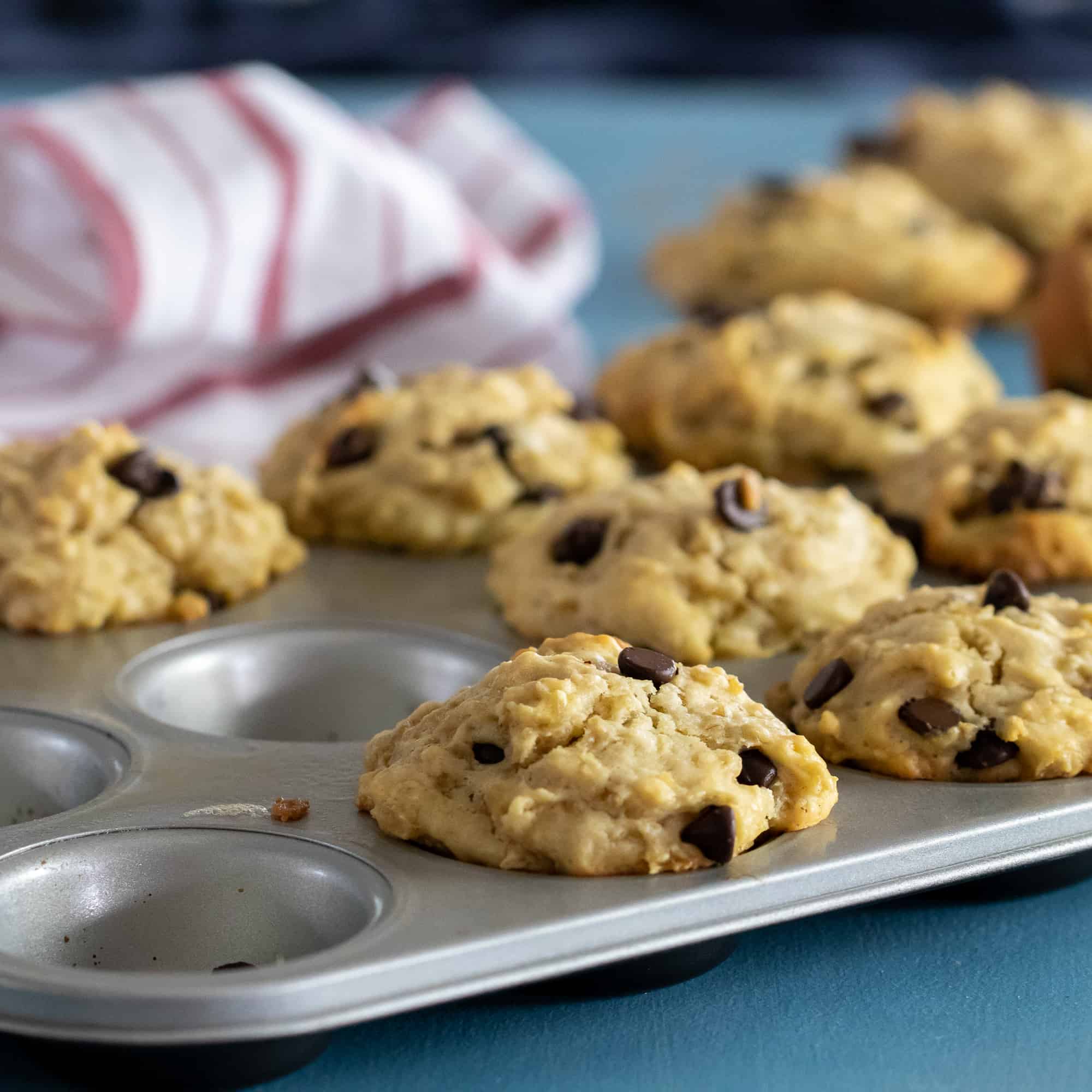 How to Make Muffins
Making muffin batter is a super simple process. I use the same procedure for almost every type of muffins I make.
Mix together the wet ingredients in a bowl.
Sift together the dry ingredients in a separate bowl.
Fold the dry ingredients into the wet ingredients.
Mix in any extras (chocolate chips, nuts, raisins, etc.)
Scoop into greased muffin molds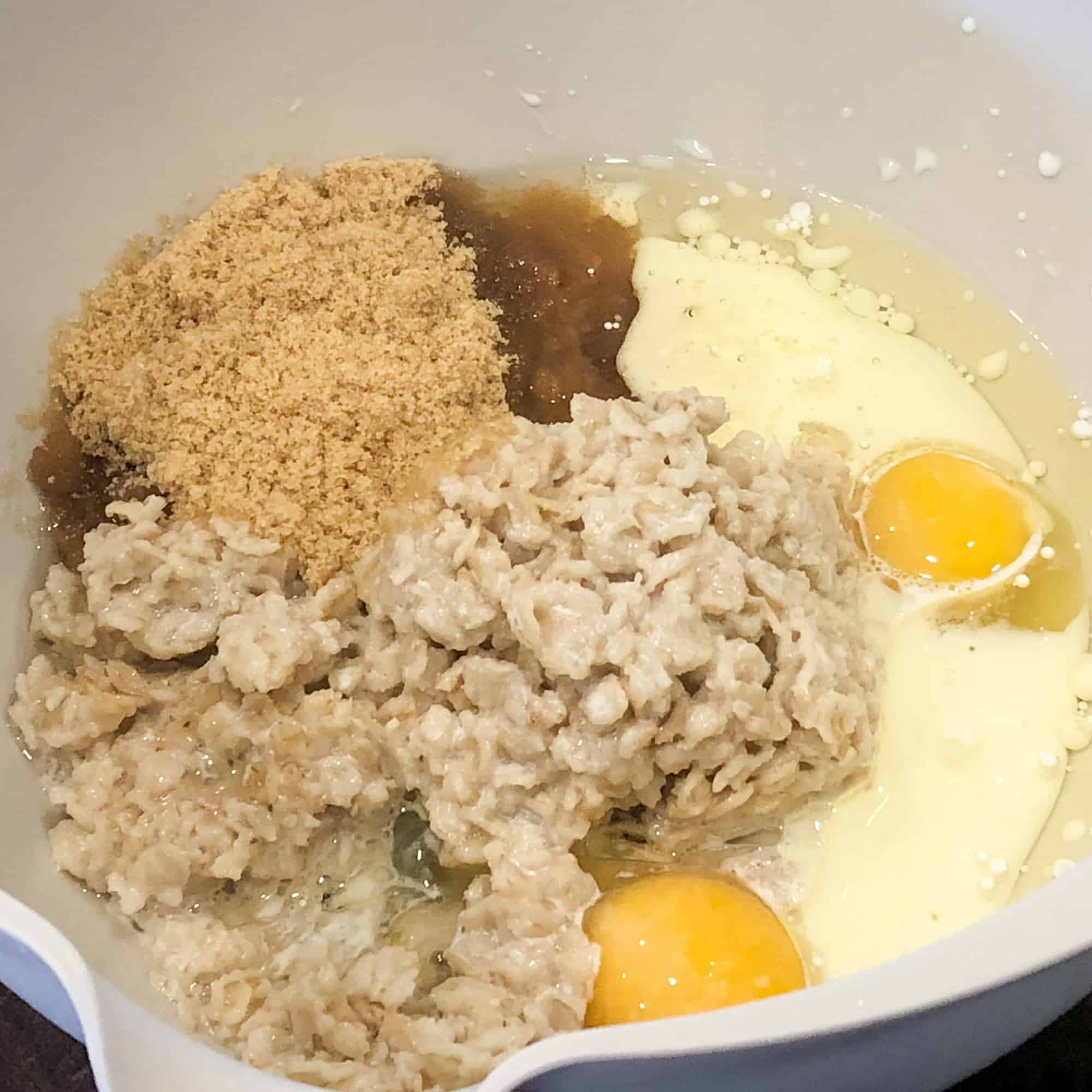 Make sure that the leftover oatmeal is at room temperature prior to mixing into the rest of the wet ingredients.
Sifting the dry ingredients together first allows the baking power and salt to be well incorporated into the flour. I find that this helps ensure that the muffins rise evenly.
Gently fold the dry ingredients into the wet mixture. Using an electric mixer is not necessary and I actually find that it can result in a dense muffin. Folding the batter gently helps make a light and fluffy muffin.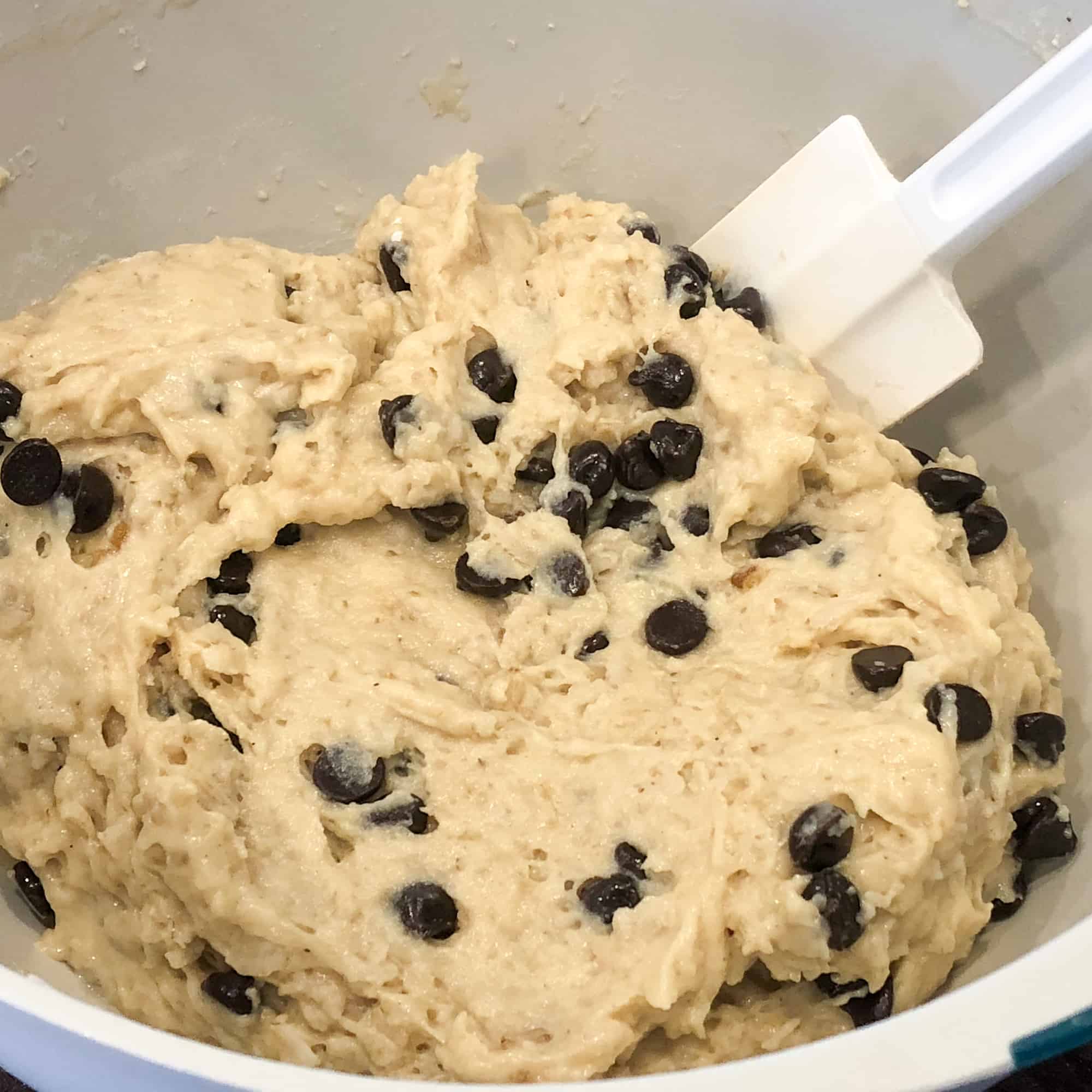 Once the batter is mixed, you can fold in the chocolate chips. If desired, you could also add in some chopped pecans or walnuts. Instead of chocolate chips, you could replace them with fried fruit like cranberries or raisins.
Make sure to grease the muffin tray before scooping in the batter. If desired, you can also use paper liners or reusable silicone muffin cups. This recipe makes 12 nice sized muffins.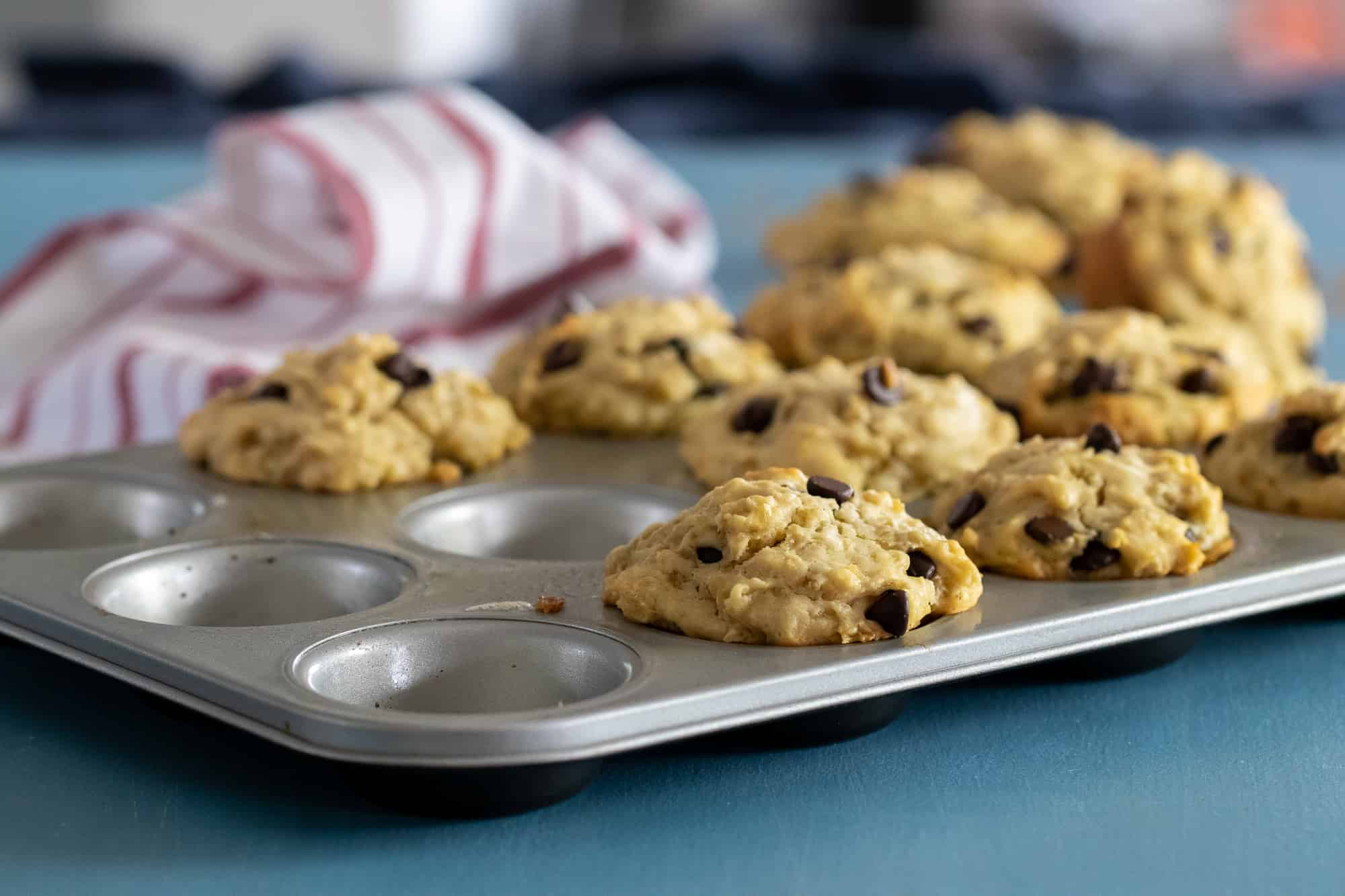 Bake the muffins at 350F for 22-25 minutes, or until a toothpick stuck into the centre comes out clean. These chocolate chip leftover oatmeal muffins recipe are delicious and the perfect way to use up leftover cooked oatmeal cereal.
Chocolate Chip Leftover Oatmeal Muffins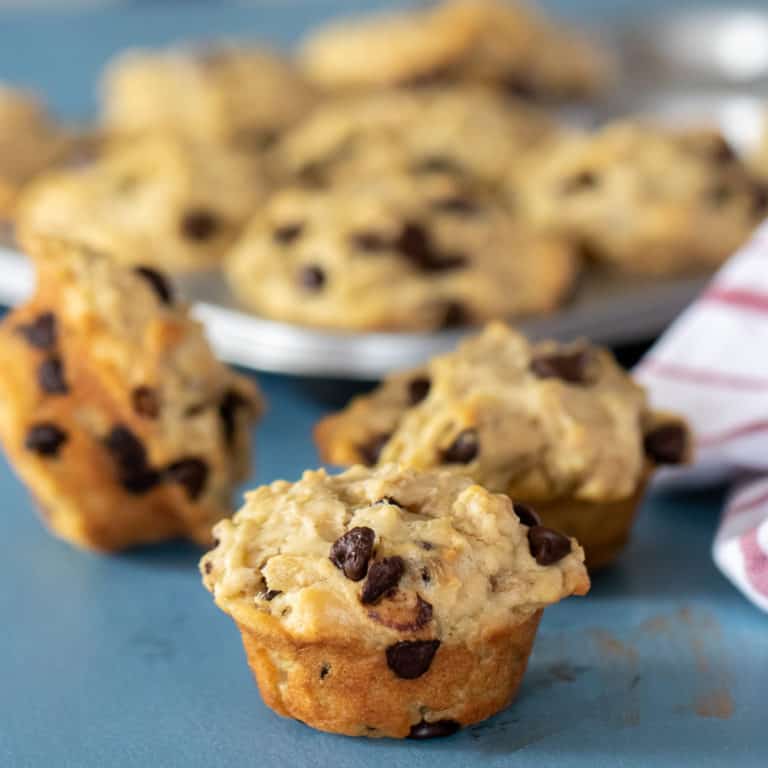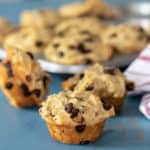 Print
These chocolate chip muffins are a great way to use leftover oatmeal. This very simple recipe yields twelve fresh baked muffins.
Servings: 12 large muffins
Ingredients
1 1/2 cups leftover oatmeal
2 eggs
3/4 cup oil
1/2 cup milk
2/3 cup brown sugar
1 tsp vanilla
2 1/4 cups flour
1/2 tsp salt
1 1/2 tbsp baking powder
3/4 cup chocolate chips
Instructions
Preheat oven to 350F.

Grease muffin tins or line them with muffin cups.

Whisk together the leftover oatmeal, eggs, oil, milk, brown sugar and vanilla until smooth and there are no clumps of oatmeal.

In a separate bowl, whisk together the flour, salt, baking powder.

Fold the flour mixture into the wet mixture until combined. Be careful not to over mix.

Stir in the chocolate chips.

Spoon into prepared muffin cups. This recipe will make 12 large muffins. If you prefer smaller muffins, this recipe will make about 18.

Place on the middle rack of the oven and bake for 22-26 minutes, or until a toothpick inserted into the center comes out clean.

Cool the muffins before removing them from the muffin tin.