Light and fluffy, these muffins are just like the kind from a bakery or coffee shop. The muffin tops are amazing with all the chocolate chips and coarse sugar!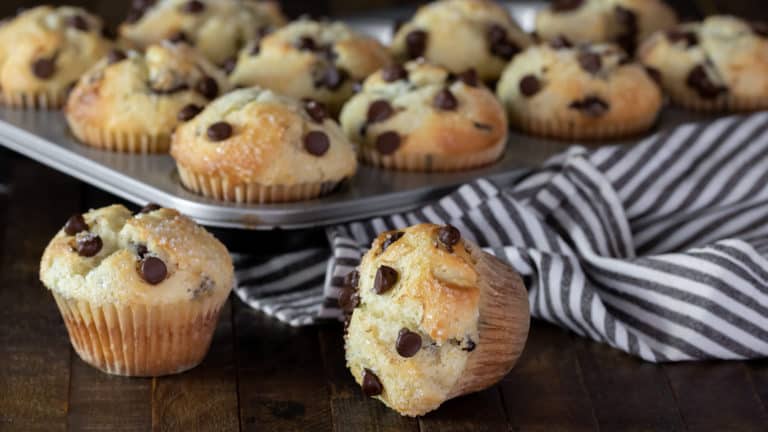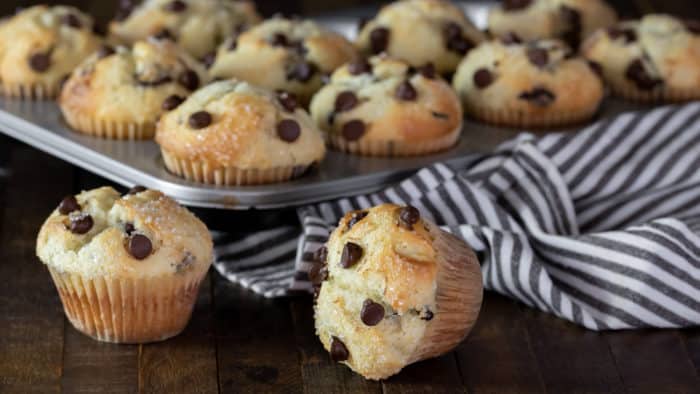 Anytime I stop at a coffee shop, I am often tempted by the fresh baked goods. The muffins are my big weakness and I regularly find myself leaving the coffee shop with a chocolate chip muffin along with my cup of coffee.
Over the years, I have made these chocolate chip muffins many times. They are so good, very moist, light and cakey in the middle. But, it is the muffin top that is especially incredible. Extra chocolate chips and the sweet crunch of sugar on top, make these muffins seriously addictive.
This muffin uses a standard batter recipe that I use as a base for many of my muffins. It produces a moist muffin every single time.
Here are some other delicious muffin recipes.
How to Mix Muffin Batter
While I use a stand mixer to beat the muffin batter, hand mixers will also work very well. Make sure to use a large enough bowl for the batter to mix. I also like to place a rubber or silicone trivet under the bowl to keep it stable when the batter is being mixed.
The first step to making these muffins is to cream together the wet ingredients. I use a stand mixer and beat the eggs, sugar, oil and sour cream on medium until we mixed and creamy.
While I use sour cream, you could substitute that with plain yogurt. Also, instead of oil, you could also use softened butter or even margarine.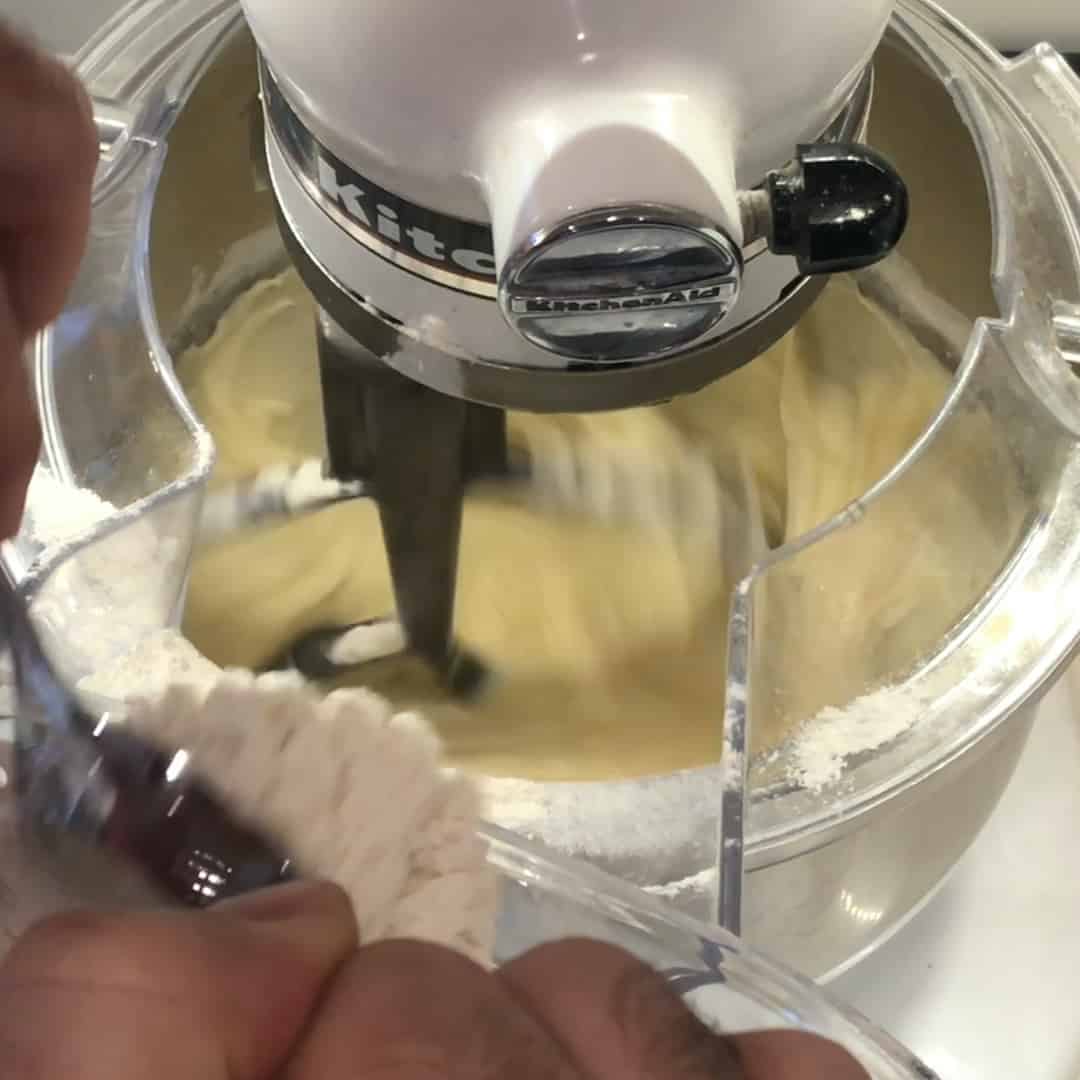 Lower the speed of the stand mixer to low and slowly dump in the dry ingredients. I have already stirred together the flour with the baking powder, baking soda and salt. Mixing them together first, in a separate bowl, allows the baking powder and baking soda to be thoroughly dispersed in the batter.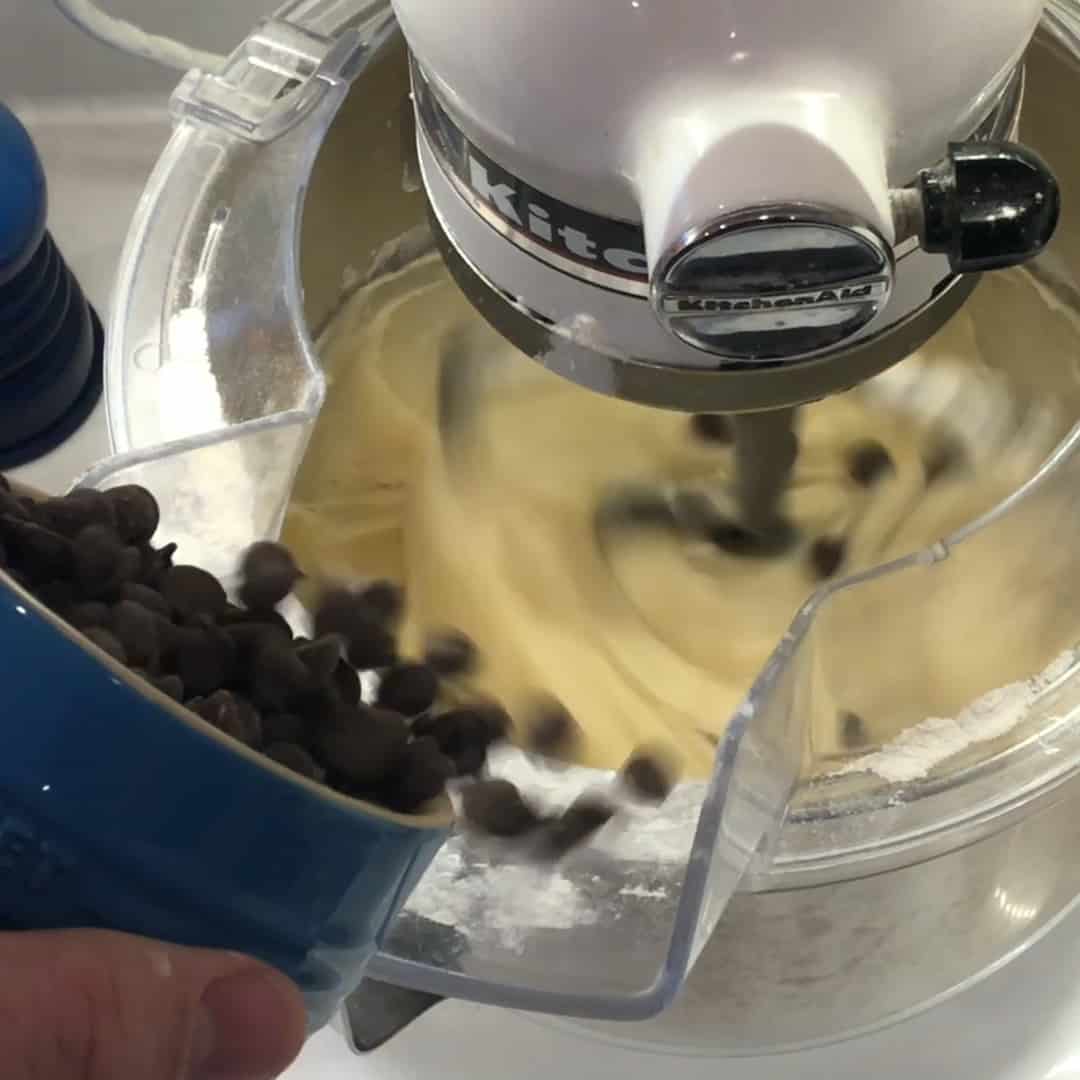 With the mixer still on low, dump in 1 cup of the chocolate chips. If desired, you could even mix them in with a wooden spoon or rubber spatula. All that is needed is to make sure that they are mixed throughout the batter.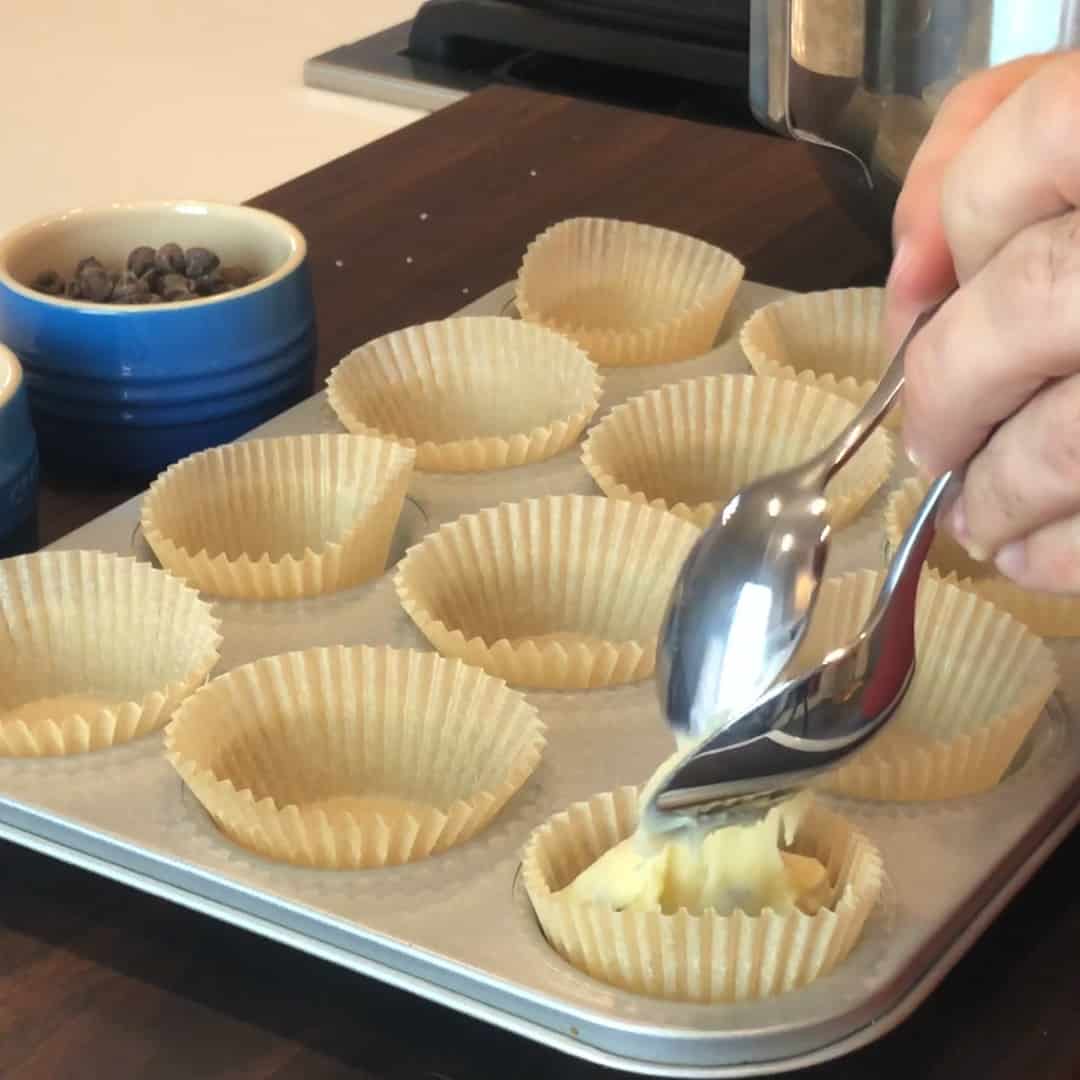 There is enough batter to make 12 muffins. I like to line the muffin tray with parchment paper liners. These kind of liners are really good as they come off the baked muffin very easily after baking.
Spoon some batter into each of the muffin liners.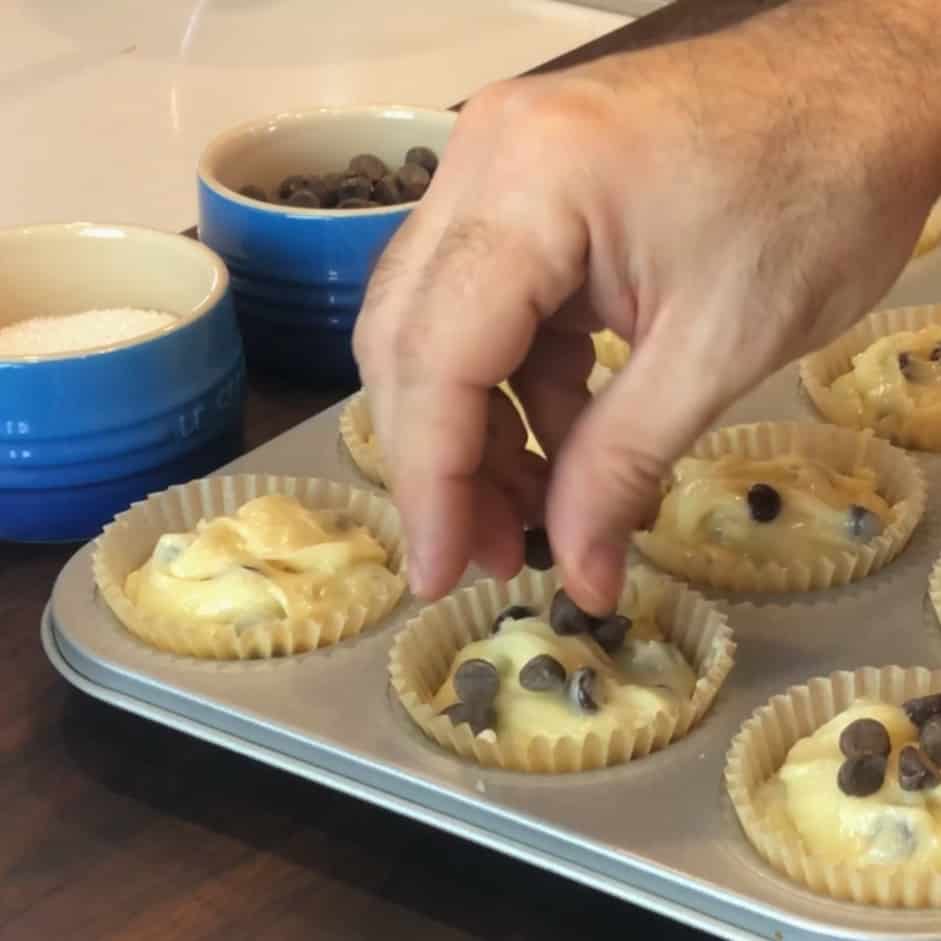 The topping of these muffins is what truly makes these amazing and taste like they come from a bakery. I sprinkle the top of the muffin batter with some extra chocolate chips and coarse sugar.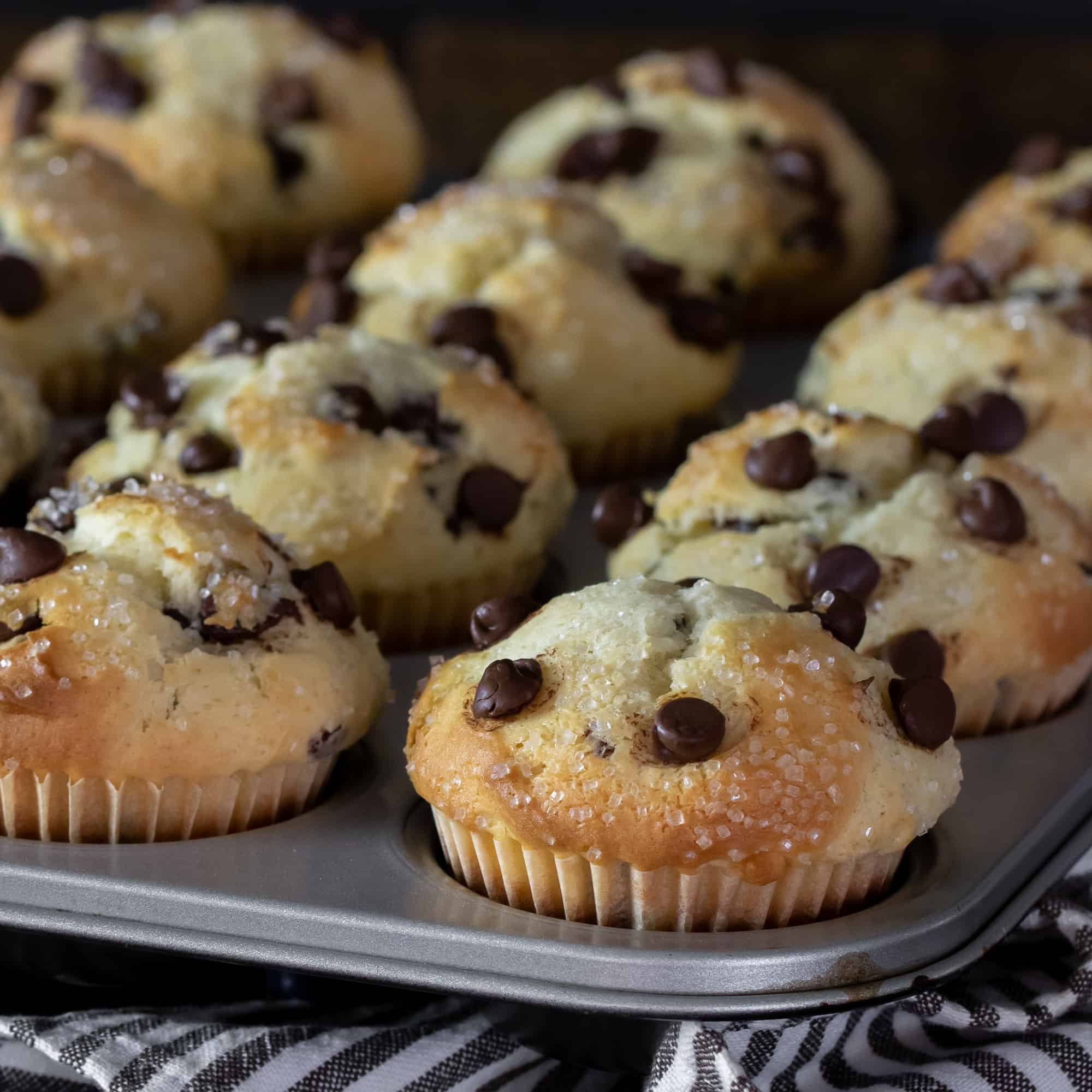 What temperature and how long to bake muffins?
I bake these muffins at 400F. While this may seem like a higher than normal temperature for baking, this allows them to rise quickly and stay very moist in the middle.
The muffins should bake for around 16-18 minutes. Every oven is a little different and the baking time may vary. A great way to test the doneness of muffins is to stick a toothpick in the centre. If the toothpick has no batter on it, then the muffin is done and can be removed from the oven. Obviously, there will likely be some melted chocolate on the toothpick, but you are looking to see if there is any of the actual batter.
Once the muffins have finished baking, let them cool on a wire rack.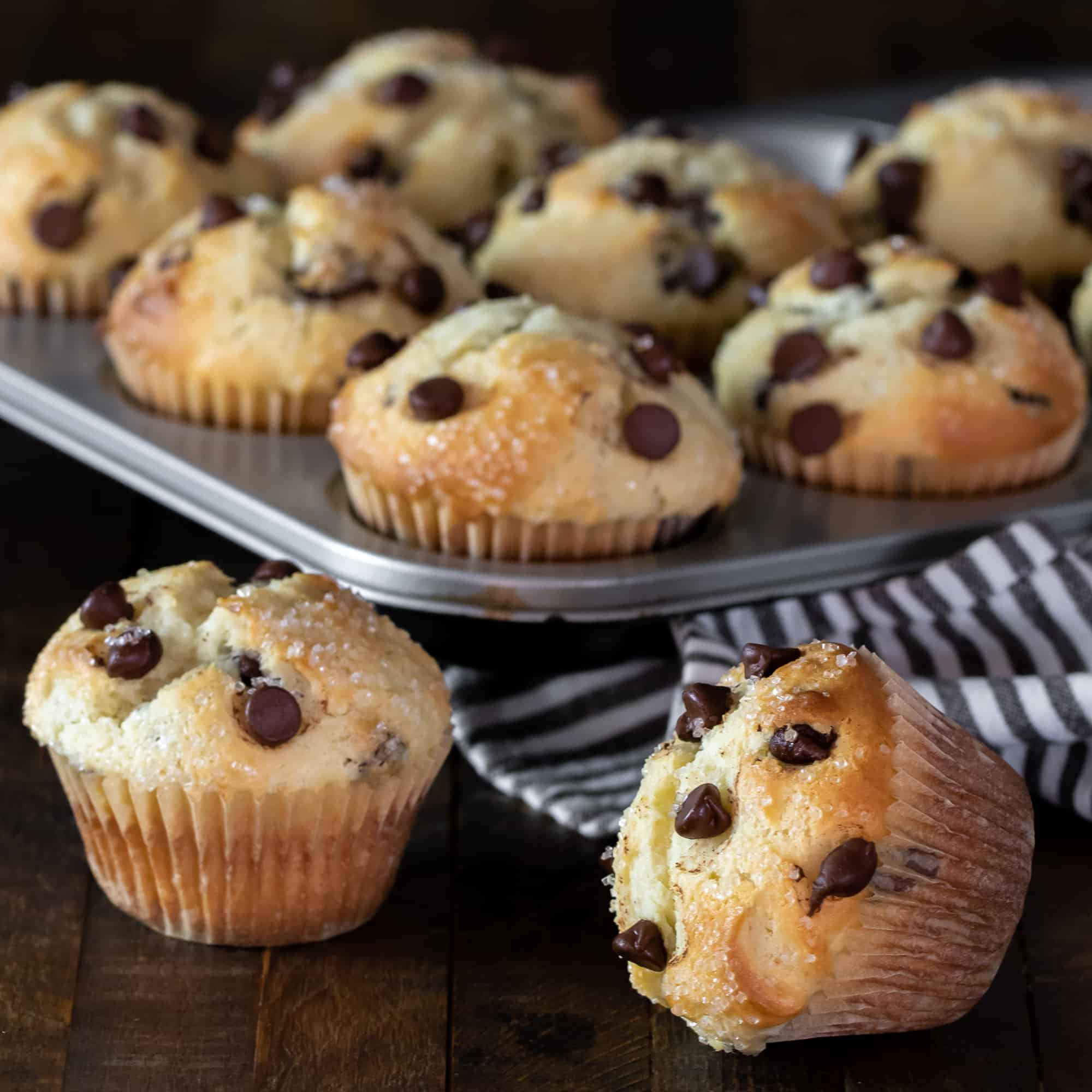 Chocolate Chip Muffins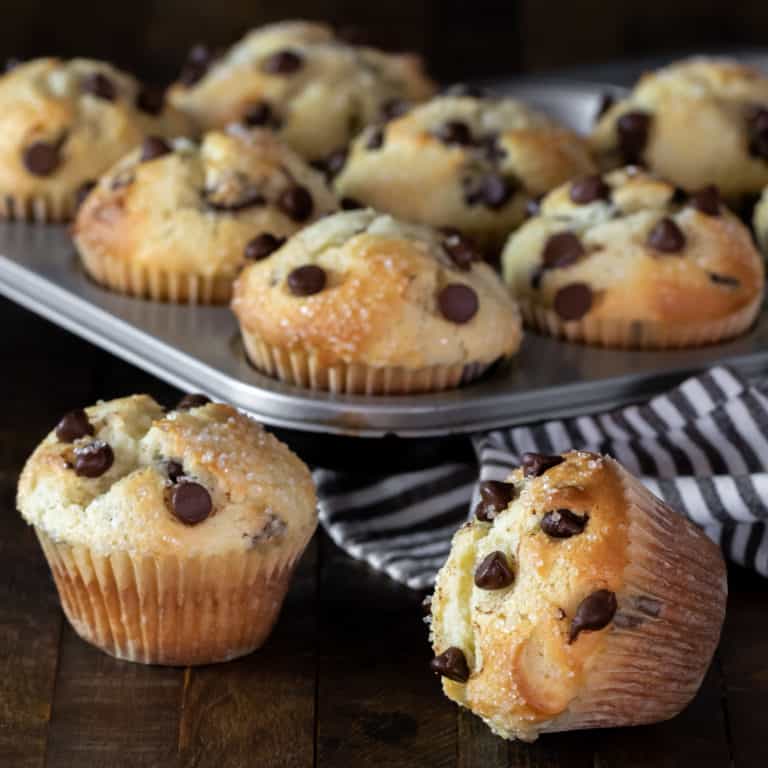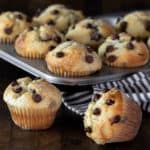 Print
Easy recipe for the best chocolate chip muffins that taste just like they are made at a coffee shop bakery. Moist muffin with coarse sugar on top.
Servings: 12 muffins
Ingredients
2 cups all purpose flour
1/4 tsp baking soda
1 1/2 tsp baking powder
1/2 tsp salt
1/2 cup oil
2 eggs
1 cup sugar
1 cup sour cream
1 1/4 cup chocolate chip
2 tbsp coarse sugar
Instructions
In a large bowl, whisk the flour with the baking soda, baking powder and salt. Set aside

With an electric mixer beat together the oil, eggs, sugar, and sour cream until smooth and creamy.

With an electric mixer on low, slowly dump the flour mixture in with the wet ingredients. Mix until combined. Stir in 1 cup of the chocolate chips in with the batter.

Scoop the muffin batter into a muffin tray with liners. There should be enough batter to fill 12 muffin cups. Sprinkle the tops of each muffin with remaining chocolate chips and coarse sugar.

Bake at 400F for 16-18 minutes. Check with a toothpick and if it comes out of the muffin with no batter, they are done.

Cool on a wire rack.
Nutrition
Per serving:
Calories: 373kcalCarbohydrates: 48gProtein: 4gFat: 18gSaturated Fat: 6gCholesterol: 40mgSodium: 159mgFiber: 1gSugar: 31g