Banana Chocolate Chip Mini Muffins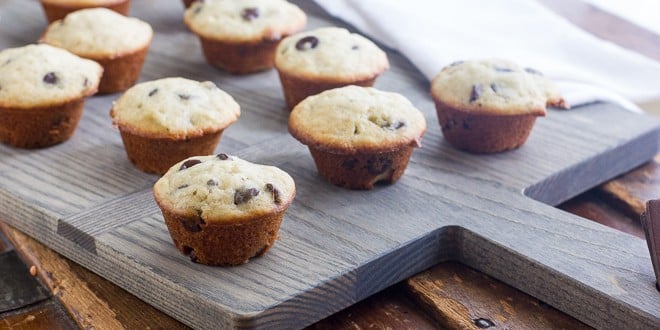 Chocolate chip banana muffins are an excellent way to use ripe bananas. We always seem to have a few bananas that have reached that level of ripeness where no one wants to eat them. It is at this stage when they are perfect for making muffins or banana bread. These bananas can even be thrown in the freezer and will be ready to use whenever you have a little bit of time to make some muffins.
I have made full sized banana chocolate chip muffins for years, but lately have been making them in the mini muffin size. I actually find that this size results in a better tasting muffin. It is light and fluffy with the perfect balance of banana and chocolate.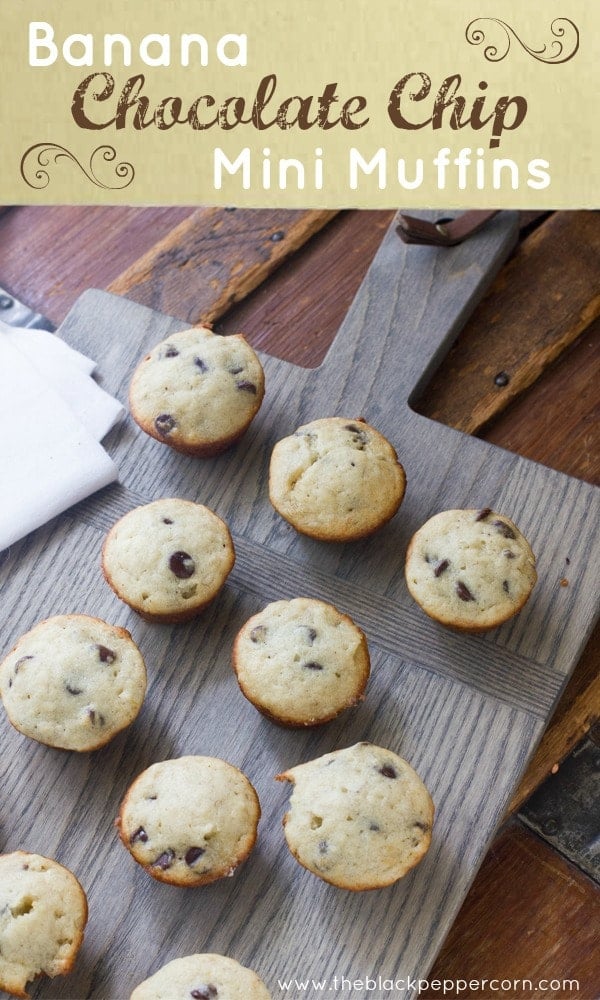 These mini muffins are ideal for school lunches. Simply throw a few of them in a sandwich bag or container and place in the kids lunch boxes. My kids just love them and they have said multiple times that the other kids at the school are envious because they look so tasty!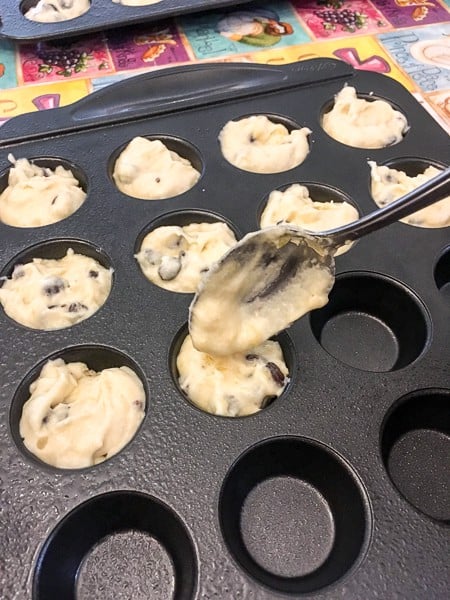 I greased my mini muffin tins with cooking spray. I personally find it a lot easier than manually getting into each one with some soft butter to grease it. Using cooking spray greases the whole tray in a couple seconds. I am all about saving time like that!
Spoon the batter into each mini muffin mold. I try my best to put the same amount into each mold. I aim for coming just short of filling the mold right up. With that amount, I can get enough batter into all 48 molds.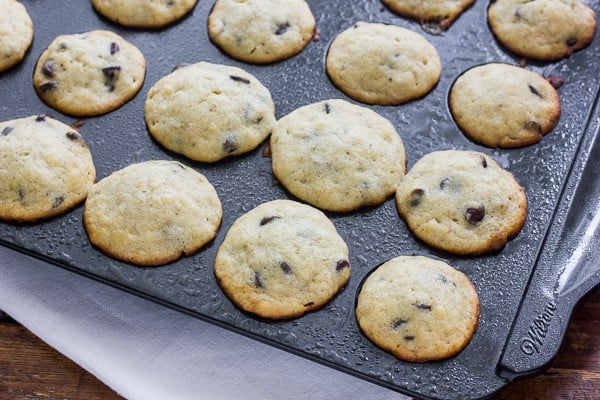 I bake the mini muffins at 350F for 13-16 minutes. It really does not take long for these mini muffins to bake through. At around the 13 minute mark, I poked a couple with a toothpick to see if it came out clean. Obviously, it may have some melted chocolate, but you want to make sure that there is no batter on the toothpick. Since every oven is different, it could vary by a few minutes as to when they are done, but regardless, it does not take long for these little guys to finish baking.
Once done, remove them from the oven. Let them cool for a few minutes before trying to remove any of the muffins from the tray. I place the tray on a wire rack to cool, so that some cool air can get underneath the muffin tray.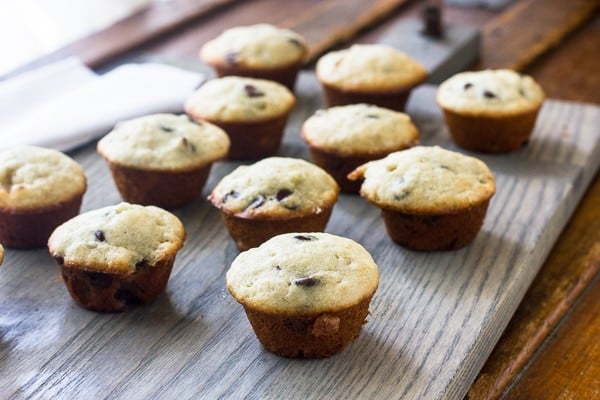 These mini muffins are just delightful. It is great because this recipe yields 48 mini muffins. Don't think that with so many, they will last for a while. Nope, these guys get gobbled up fast. I found that the kids were never just grab one. They usually put 2, 3 or even 4 of these guys in their hand as they walked by!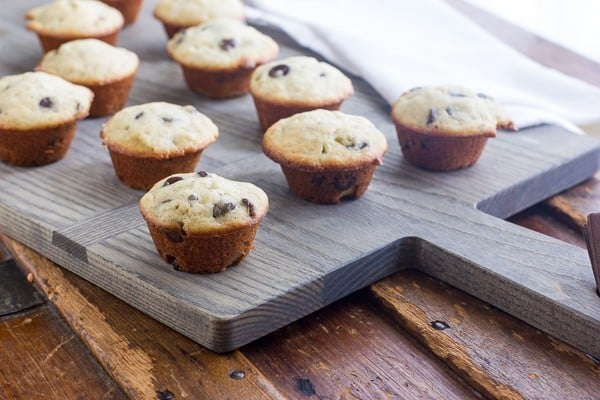 Banana Chocolate Chip Mini Muffins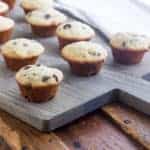 Print
These banana chocolate chip muffins are little mini delights! Moist and fluffy with the perfect balance of banana and chocolate. Simple to make and perfect for a bite sized treat.
Servings: 48 muffins
Ingredients
1/2 cup butter or margarine , softened
1 cup white sugar
2 eggs
3 ripe bananas
1/4 cup half and half cream
2 cups flour
2 tsp baking powder
1/2 tsp baking soda
1/2 tsp salt
1 1/2 cups chocolate chips
Instructions
Preheat oven to 350F

Using a stand mixer, cream the butter and sugar together. Add in the eggs, bananas and cream. Mix until fairly smooth.

In a separate bowl, whisk together the flour, baking powder, baking soda and salt.

Slowly mix the dry ingredients into the wet ingredients until well combined and there is not more visible dry flour. Stir in the chocolate chips.

Spoon batter into greased mini muffin tins. Try to make sure that the batter is evenly spread amongst the 48 mini muffin molds.

Bake in the oven for 13-16 minutes or until a toothpick comes out clean. Cool on a wire rack.
Nutrition
Per serving:
Calories: 91kcalCarbohydrates: 14gProtein: 1gFat: 4gSaturated Fat: 2gCholesterol: 13mgSodium: 60mgFiber: 1gSugar: 9g